The Definitive Guide to the Paleo Diet
To visualize what the most popular diets in America really look like, we built our own pyramids. Here's what a day eating paleo should look like.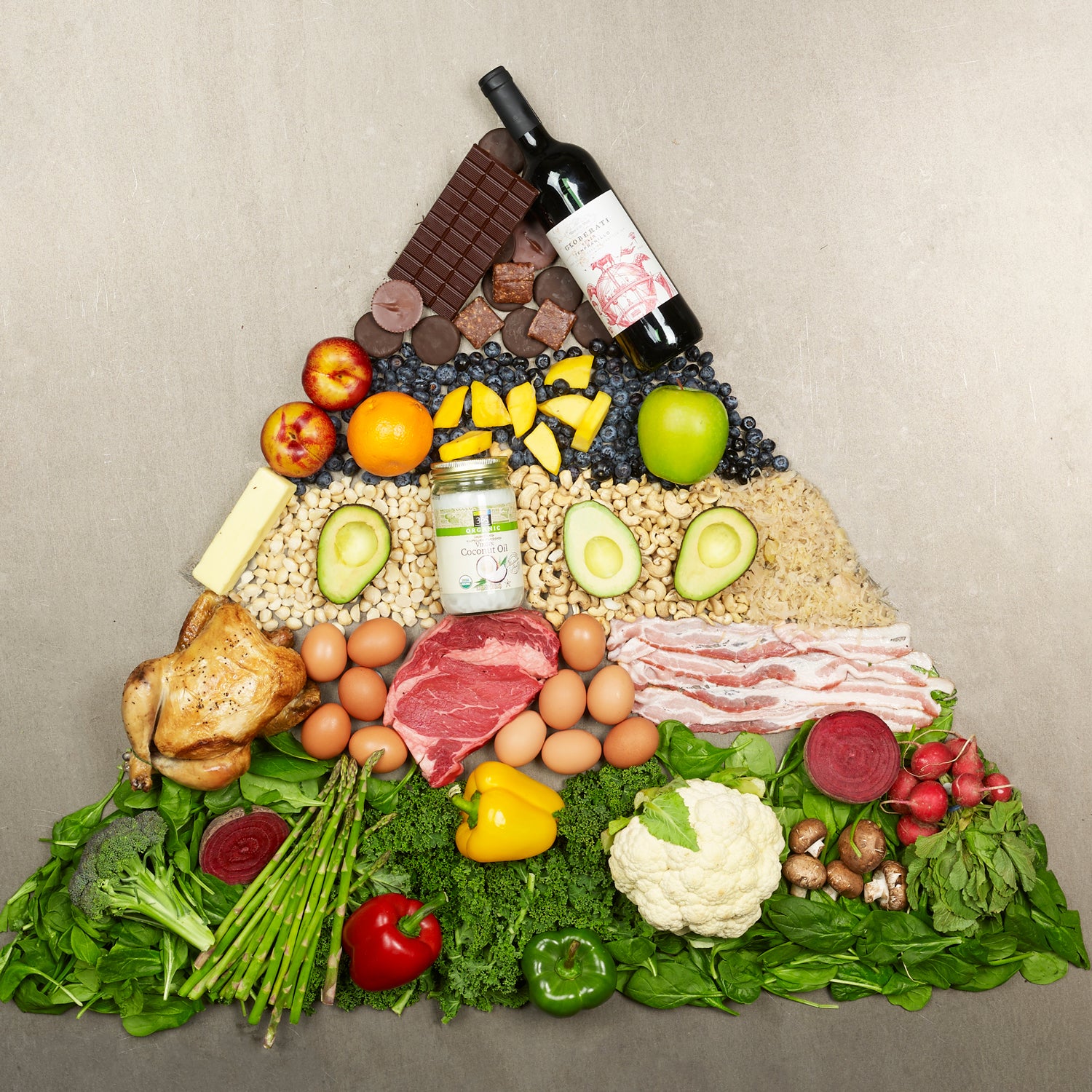 Heading out the door? Read this article on the new Outside+ app available now on iOS devices for members! Download the app.
In 2002, Loren Cordain, a professor at Colorado State University's Department of Health and Exercise Science, published a book titled The Paleo Diet. In doing so, he introduced Americans to to a way of eating modeled on the primal diet of our caveman ancestors. Since then, the paleo diet has become hugely popular; in 2013, it made its way onto Google's annual Zeitgeist list as the most-searched diet term of the year.
Going paleo means eating only what our many-times-removed ancestors might have eaten—at least theoretically, since "no one knows exactly what our ancestors would have eaten," says Cate Ritter, a Pebble Beach, California–based nutritionist and health writer. The mainstream characterization of the diet has drawn some ire from scientists who study early humans and say that our ancestors were opportunists and would have eaten any kind of fruit, grain, or sugar available. This is a view many paleo supporters would agree with, and in his book, Cordain even suggested that carbs made up anywhere from 30 to 70 percent of our paleolithic diet.
Historical accuracy aside, many practitioners like the diet because "it eliminates those processed foods that have become the norm for so many of us," says Ritter. Meals are composed of nonstarchy veggies, high-quality animal proteins like grass-fed steak or pastured eggs, and healthy fats like coconut oil and avocados.
To help you navigate the paleo diet, we've created a pyramid guide. Like the original USDA food pyramid, foods on the bottom should be eaten the most, while the stuff at the top should be eaten sparingly. Additionally, Ritter says that serving sizes are highly variable, relative to the diet, the food group, the specific food and how it's prepared, and even the individual. We recommend doing more research and talking with a dietitian to lock down exactly what a serving of each food group would be for you.
---
The Paleo Pyramid
Eat Mostly Plants: On the paleo diet, you're going to predominantly eat nonstarchy veggies, like spinach, cauliflower, broccoli, bell peppers, radishes, kale, and asparagus. Ritter says you essentially can't eat enough veggies—the more, the better. That said, two to three servings per meal is ideal.
Get Plenty of Protein: Protein is key, and you can get it in a variety of ways, including from eggs, steak, chicken with skin, organ meats, and bacon. Get at least one serving, or about 25 grams of protein, per meal. You're aiming for three to six daily servings.
Don't Neglect Fat: In the middle of the pyramid are nourishing foods and healthy fats. Nourishing foods are things paleo practitioners claim heal their bodies and guts, like fermented foods such as kimchi, kefir, and sauerkraut. Bone broth, which is said to be good for the gut, is another popular option. Healthy fats like avocados, coconut oil, nuts, and butter are also celebrated. Shoot for one serving of nourishing foods or healthy fats per meal.
A Small Amount of Grains and Dairy Is OK: Fruit, sweet potatoes, dates, and natural sugars like maple syrup and honey are how paleo athletes carb up. These are eaten sparingly, but they're not forbidden. Ritter says that the recommended daily servings vary widely depending on how active you are—athletes need more carbs—but a good rule of thumb is one to three servings per day.
Treat Yourself with Wine and Chocolate: Wine, which is fermented grape juice, is technically paleo, but try to limit yourself to two to four glasses per week. Dark chocolate is OK, too, though be sure to get the no-added-sugar variety. A couple squares daily is ideal.