Indefinitely Wild
Essential Party Camping Gear
Having a good time outdoors has gotten a lot easier thanks to technical innovations in the party camping space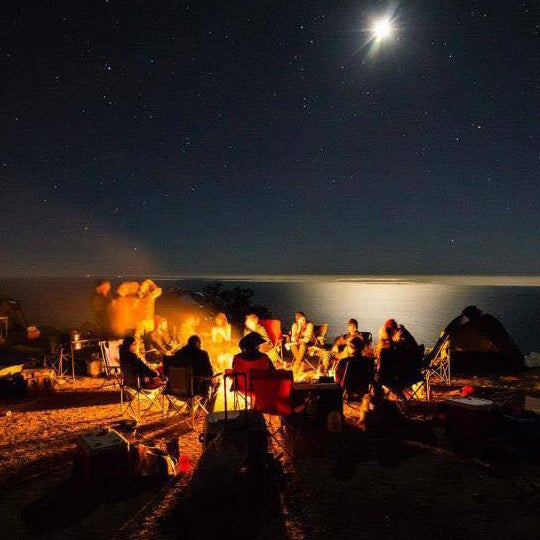 Heading out the door? Read this article on the new Outside+ app available now on iOS devices for members! Download the app.
Don't get me wrong: climbing mountains, paddling rivers, bagging a year's worth of meat, and tackling challenging trails are fun, but sometimes all a weekend needs are a beautiful view, fun people, and a lot of booze. Partying is one of my favorite excuses to take people camping. Here's the gear I use to maximize our fun. 
Bonus: All this stuff will also make camping at a music festival or going to the beach that much more fun.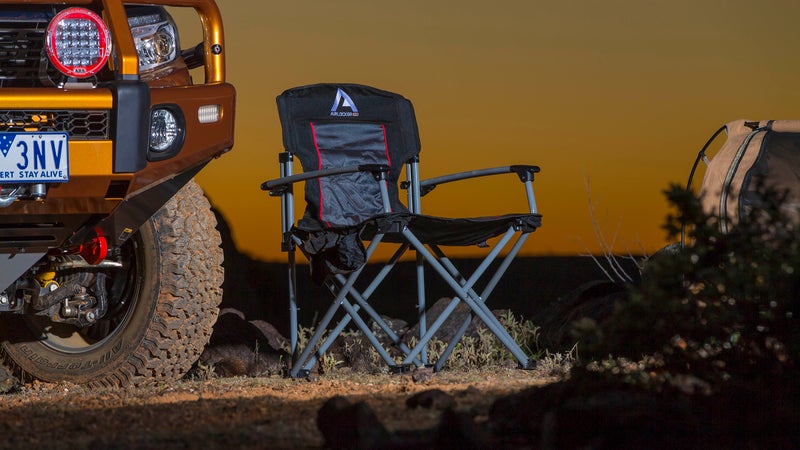 Chairs
The last thing you want to do is go party camping without a comfortable chair. Whether you're watching a campfire, a sunset, or the cook, you'll spend a bunch of hours sitting, and you don't want to do that on the cold, hard ground. 
The Luxury Option: Australian 4×4 accessory maker ARB sells the most ridiculously overbuilt camping chair. If you're large-framed or just want a big chair, this thing will hold you, no problem. It'll last a long time and endure much abuse, but the penalty for its overbuilt nature is that it's heavy, expensive, and doesn't pack terribly small. I opt instead for the REI Hang Time chair. You sit lower to the ground, but it's still a very strong, very comfortable chair, complete with bottle holder. 
The Portable Option: Therm-a-Rest makes these great little Quadra chairs that pack into their own legs and look like an oversized pill. They're too big and heavy for backpacking, but for anything vehicle-based, they're a comfortable, robust option that will help reduce the size and weight of stuff you have to carry with you. 
If I'm carrying stuff on my back, my go-to is the Therm-a-Rest Z Seat. It's light and indestructible, can be strapped to the outside of your pack, and is surprisingly comfortable, especially if you rig up a couple rocks to work as a backrest. 
The Cheap Option: Walmart and big-box stores sell folding camp chairs for about $10. They're effectively disposable but will provide a comfortable seat for one or two trips if you're careful with them. They're a great option if you're flying somewhere: grab a few when you land, use them during your trip, and then throw them out on your way back to the airport. Suitable for car camping only.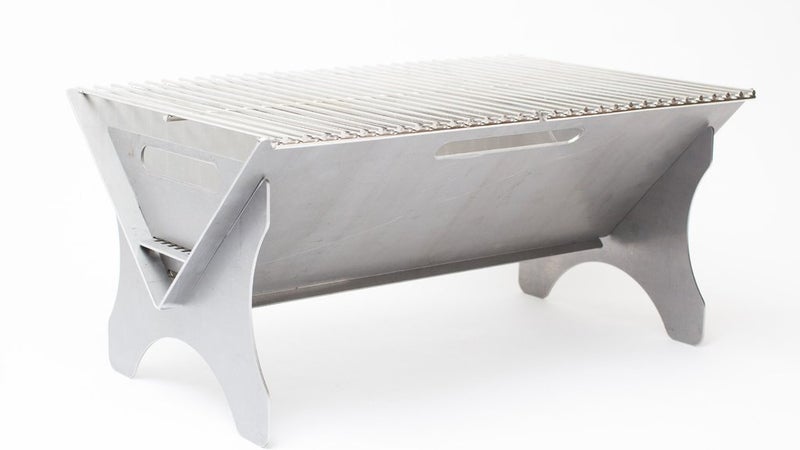 Grill
Cooking meat over fire is half the fun of camping in the first place. A good grill will make that easier and can make fires possible in areas that might otherwise not permit them. 
The Luxury Option: My friend Andrew is a product designer during the week and a dedicated off-roader and camper most weekends. He just designed this really cool flatpack fire pit/grill. Sized to accept standard 22-inch firewood (you can't gather fallen wood here in California), the Fold-a-Flame is big enough to have a real campfire but also works as a grill with charcoal. It's made from heavy-duty 11-gauge steel, so it'll hold up, but it packs down to just a 3/4-inch stack for easy transport. 
The Portable Option: UCO makes a great little 20-ounce grill that packs into a single tube for storage. You can pair it with a fold-up fire pit if you can't burn wood on the ground. 
The Cheap Option: Roll up tinfoil to make grill slats, or just spread out super-hot coals and sear directly on those. You can also wrap your veggies and meat into a single foil package and shove that in your fire. The juices are held in, so the food won't burn.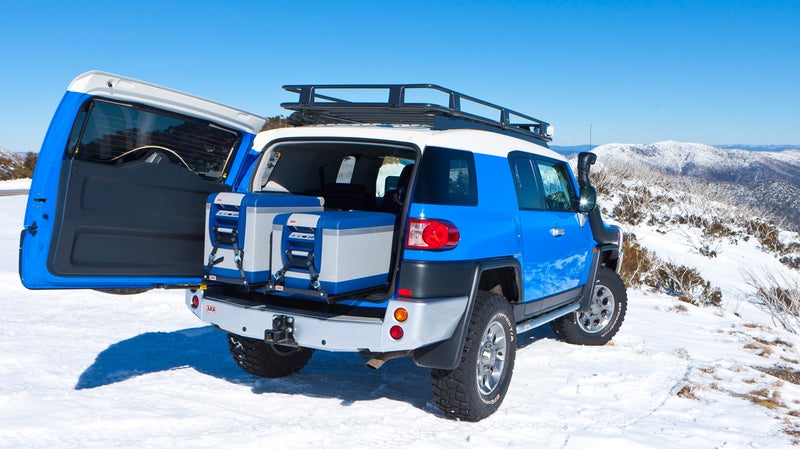 Coolers
You need to keep beer and food cold, hopefully all weekend, hopefully without soaking everything in melt water. Your old Playmate is hopelessly outdated. 
The Luxury Option: ARB makes its 12-volt refrigerator/freezer in multiple sizes that are designed to fit anywhere from a pickup's bed to a Subaru's hatch. You dial in the temperature digitally, and the cooler holds it there for the duration of your drive. While the car is parked, an included battery monitor will shut off the fridge before it drains your battery, but you should be good running the thing nonstop for two days with your car off. Since you aren't relying on ice, you never risk your food getting soaked, and the fine temperature control helps you avoid spoiling tricky stuff like fresh oysters. Yes, a portable fridge means you can take fresh seafood camping in the desert. 
The Portable Option: Even the smallest Yeti Hopper is too big to take backpacking, but its shoulder strap means you can easily carry it around an outdoor concert or even through an airport. I've had mine for two years, and its leakproof zipper has never dripped a drop, even when serving as carry-on luggage. 
The Cheap Option: Use the cooler you have already, but freeze as much of your food and liquids as possible before loading it up. How you use it is often more important than the cooler itself. Do you own a big chest freezer? Freeze both your cooler and its contents overnight before you leave.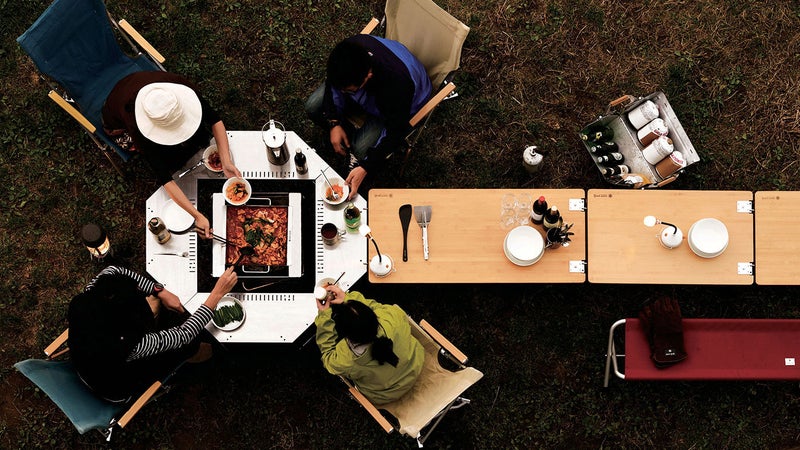 Tables
The Luxury Option: Snow Peak sells gorgeous folding bamboo tables. They're incredibly pricey, but they're light, stable, and work great. Some even have fire pits built into the center, Korean barbecue style. 
The Portable Option: I try to keep the weight and size of stuff I carry off-road to a minimum so I get the best performance possible out of my Land Rover over difficult terrain. That also means I have more room for beer. REI Co-Op sells a great roll-up aluminum table that, at eight pounds, is reasonably light and compact but gives you just the right amount of room to cook dinner for a small group. 
The Cheap Option: Put some plastic down and use your tailgate. Hanging a piece of cloth as a curtain will keep greasy food smells out of your car.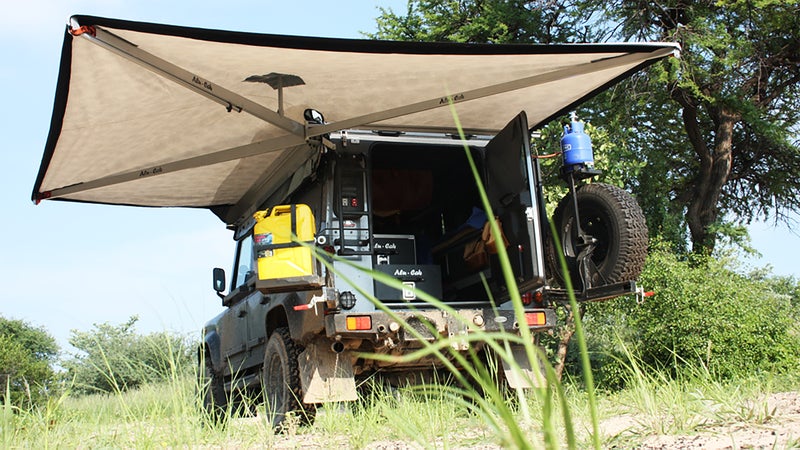 Shade
The Luxury Option: A vehicle-mounted awning creates a large, easily deployed shade and rain structure without taking up space inside your car. And with your vehicle as an anchor, the awning will never blow away. These are especially great if you use your tailgate as a kitchen. ARB makes really nice awnings in a variety of sizes, with enough accessories to turn them into totally bug-proof enclosed shelters. But, man, the 270-degree Alu-Cab Shadow Awning offers just a ton of coverage from a very slim stowed package. 
The Portable Option: Nemo's new Victory sunshade is built like a backpacking tent and packs up similarly small and light. Bonus points if you pair it with the matching Victory blanket to create the ultimate party-camping hangout shelter. 
The Cheap Option: The Coleman Instant Canopy is relatively affordable but can prove difficult to set up. It's also vulnerable to blowing away in high winds, and its fabric tears easily.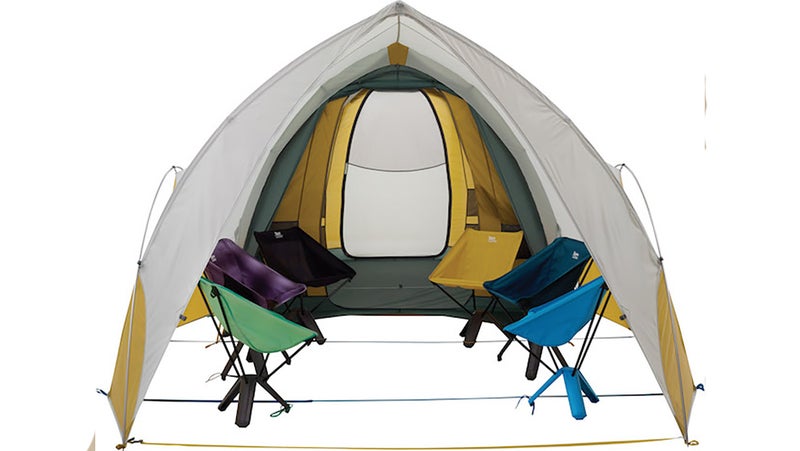 Shelter
Tents focused on car camping used to be cheap and basic, but recently, more technical brands have been innovating in the space, bringing much-improved quality and vastly increased livability to car-camping shelters. 
The Luxury Option: The Nemo Wagontop forms the basis of my radical rooftop-tent-on-the-ground overlanding solution. Pair it with the matching garage to create an absolutely enormous home away from home. Therm-a-Rest has also just entered the party-camping sphere with its new Tranquility tents. The 6P is tall enough to walk through and pairs with an optional removable shade structure/vestibule. I've been car camping in the 4P for a couple months and find it a reasonably spacious place to spend a night yet still cinches up very small. They're both fun, comfortable tents that open up fully on both ends but seal up easily for solid privacy. 
The Portable Option: Nemo's new Front Porch is a 2P backpacking tent body covered with the world's largest awning. It allows you to sleep in a tight, cozy space, while still providing an ample outdoor living room. It's probably not the right thing for backpacking, but it'd be perfect at a music festival. 
The Cheap Option: The Amazon Basics 4P Dome is as close to free as a tent gets while still providing a comfortable, well-ventilated, bug-free home for two people. It won't last multiple years, but it will last a summer's worth of fun outdoor experiences. You'll find similar bargains, with similar limitations, at big-box stores.
Sleep
You don't have to be uncomfortable outdoors. With the right sleeping pad and bag, you should be as—or more—comfortable and warm than you are at home. And some of these models even support vigorous nighttime activities. 
The Luxury Option: I've written about it before, since it delivers the best sleep and best sex I've ever had outdoors, but the Exped Megamat Duo remains totally unique in the luxury camping market. A memory foam outer surrounds an inflatable inner core, creating a 2P bed that's more supportive and more comfortable than the expensive Tempur-Pedic mattress I use at home. Paired with full-size flannel sheets and a big down technical comforter, you will never be warmer or more comfortable outdoors. 
The Portable Option: Big Agnes has a new 2P Q-Core SLX sleeping pad that pairs perfectly with its Sentinel 30 sleeping bag to create a package that's supercomfortable for two but weighs less than three pounds per person. I'm going to write a separate article in which I tell you how to shave weight for backpacking by working as a couple, but this is the sleep system that forms the core of that approach and does that without being constrictive or making you sleep separately. 
The Cheap Option: Please don't use one of those uninsulated air beds they'll sell you at Walmart. They sag, they leak, and because they lack insulation, they make you sleep cold, even in mild temperatures. Adding a bunch of blankets and pillows to your backpacking setup will help you party camp much more comfortably. If you have the budget for just one camping setup, make it a decent, light, backpacking arrangement. I like the Therm-a-Rest NeoAir All Season pad (trust me, your back will thank me) and the Kelty Cosmic Down 20 bag.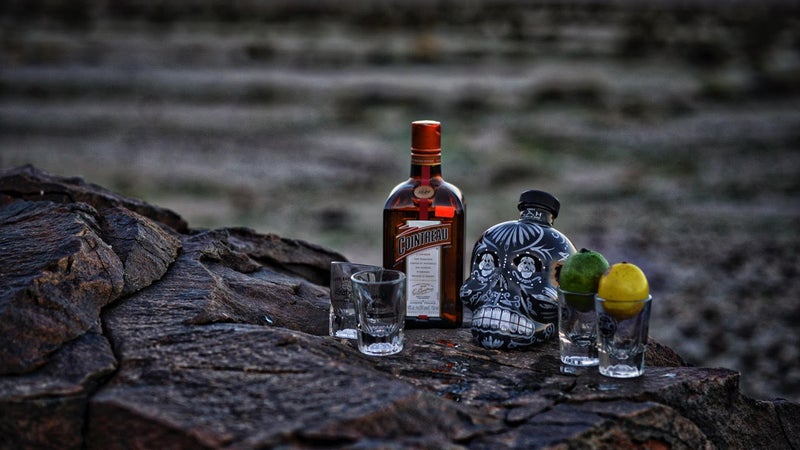 The Bar
Because warm beer is for suckers.
The Luxury Option: The best addition to my camping arsenal in the past year has easily been the Stanley Happy Hour Shaker. Available with two or four insulated stainless-steel tumblers, this shaker will mix your margaritas (per drinker: juice of one lime and one lemon, one shot of orange liqueur, two shots of tequila) like a champ, while keeping your drinks cold. The best part? It's only $30. 
The Portable Option: Platypus makes a hyperpackable bladder perfectly designed to store a bottle of wine. In my extensive product testing, it has proved equally adept at housing whiskey. 
The Cheap Option: A one-pint army surplus pilot's flask is just $7. I've had mine for a decade, and it's never leaked. A friend stole it, took it on a yearlong worldwide tour with his band, and brought it back no worse for wear.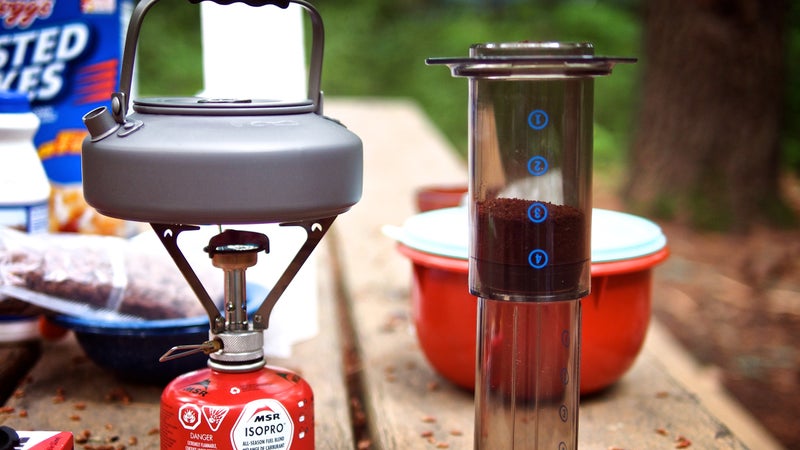 Coffee
Something to make you feel better the next morning. 
The Luxury Option: There are all manner of expensive, complicated devices for portable coffee brewing, but none has yet surpassed the simple efficacy of the humble AeroPress. Replace its fussy paper filters with a permanent metal alternative and have some good espresso beans ground for a French press, and you'll be onto the best coffee of your life, regardless of location. It's simple, light, and easy to clean, and it will last you decades. I pair my AeroPress with a couple Yeti Rambler tumblers to keep coffee hot on cold mornings. This setup is so good and so robust that it's replaced all the other coffee makers in my home, too. 
The Portable Option: We're all familiar with the little single-serve packs of Starbucks Via. But those are pretty awful. These days, Alpine Start offers a much nicer brew in an identical format—that's what I'd recommend if you don't want to take your AeroPress backpacking. Whatever you do, avoid the Trader Joe's single-serve coffee packs—they're the worst I've ever tasted. 
The Cheap Option: There's not a lot wrong with a standard old percolator. It even looks nice around camp with its vintage enamelware design.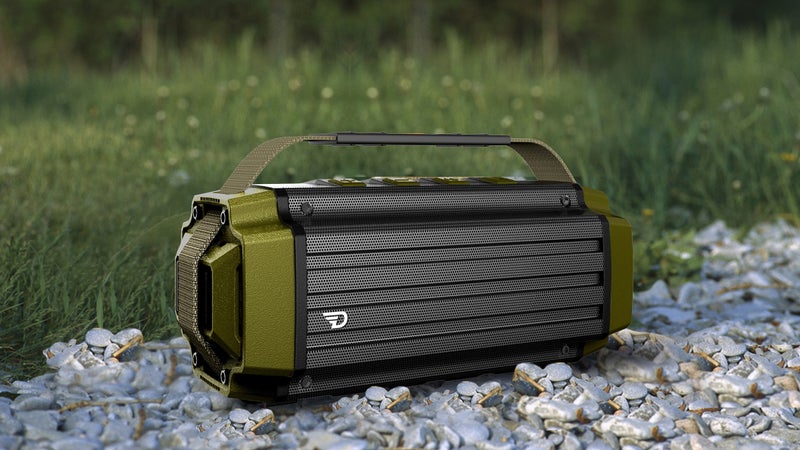 Music
The last piece of the puzzle is taking your music camping with you. 
The Luxury Option: The Dreamweave Tremor delivers robust, full, and very loud sound, along with a very long battery life. Fifteen hours of music should be more than enough for a long weekend's worth of listening, and this speaker delivers home-audio quality in a weatherproof package. 
The Portable Option: I bring along an OutdoorTech Turtleshell 2.0. It offers great sound for such a small package and has good battery life (16 hours). Choose a bright color so you don't lose or forget it. 
The Cheap Option: Amazon Basics will sell you a serviceable Bluetooth speaker for $20. It gets the job done, but not much more.