The Best Summer Packs of 2017
Beasts of burden that shoulder the load for you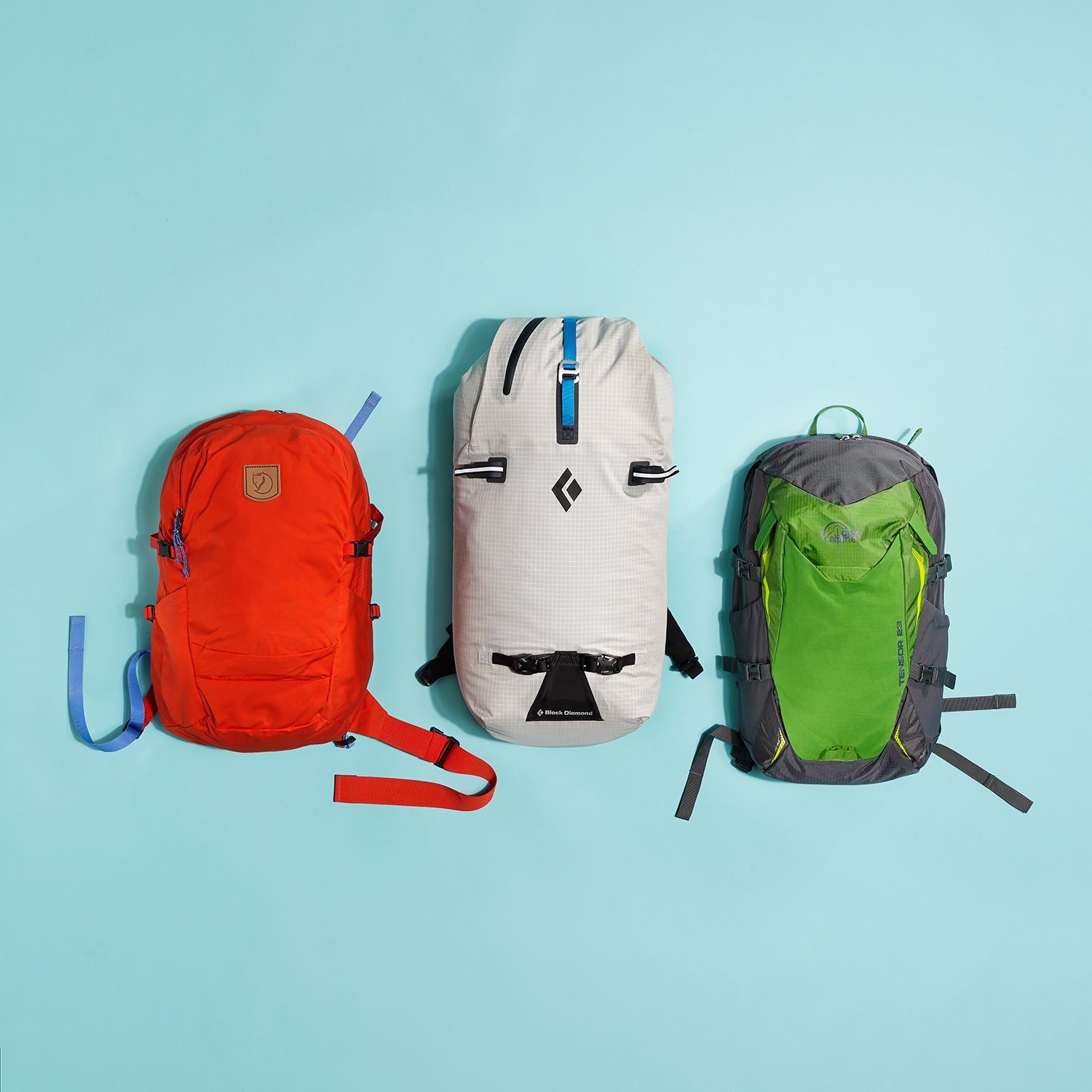 Inga Hendrickson
Heading out the door? Read this article on the new Outside+ app available now on iOS devices for members! Download the app.
Beasts of burden that shoulder the load for you.
---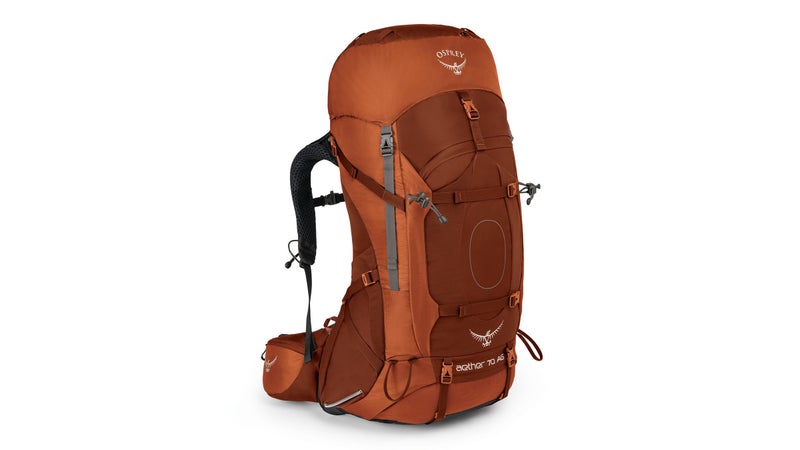 Osprey Aether AG 70 ($310)
Gear of the Year
It seems like every pack this year is trotting out a creative new spin—from a sliding waist belt to a cinching design that turns an expedition loader into a daypack. Nowhere is that progress more blissfully apparent, and comfortable, than with the Aether AG (and its sister pack, the Ariel AG 65) and its trampoline-like back panel. The suspended mesh dispersed weight over every lumbar contour and made a 40-pound load feel like helium. That panel pushes weight a smidge away from the center of gravity, but not enough to tip us backward. And that's just the start of Osprey's master class in design: side pockets stow tall, narrow bottles and chunky Nalgenes. Shoulder straps add thickness where you need it (collarbones) and not where you don't (rib cage). The lid converts into the most fully realized summit pack we've ever seen. Think of the Aether as the Escalade of packs—big, blinged out, and badass. 5.2 lbs (men's) / 4.9 lbs (women's)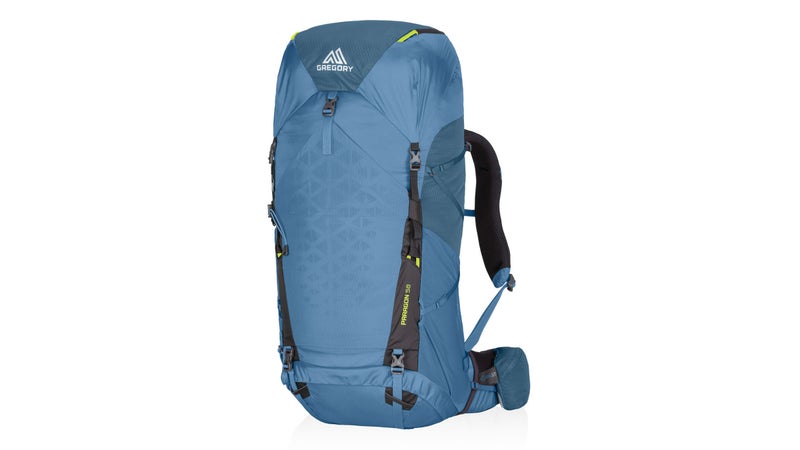 Gregory Paragon 58 ($230)
Best For: Lightweight weekends.
The Test: The Paragon is a sizable pack without the heft you'd expect. Built to carry loads on long weekend comfort-camping trips, it slides in at just under four pounds—and that's with the external-access sleeping-pad compartment, integrated rain cover, and hydration sleeve that doubles as a summit pack. For a hauler with a capacity close to 60 liters, the waist-belt padding is on the thin side, but we loved the well-aerated back panel, roomy side pockets, and sturdy, easily adjustable suspension. The details are spot-on, too, like the sunglasses and trekking-pole loops that pull double duty keeping the compression straps from flailing around. 
The Verdict: Where most lightweight packs compromise in load stability, ease of use, and creature comforts, the Paragon stands firm. 3.9 lbs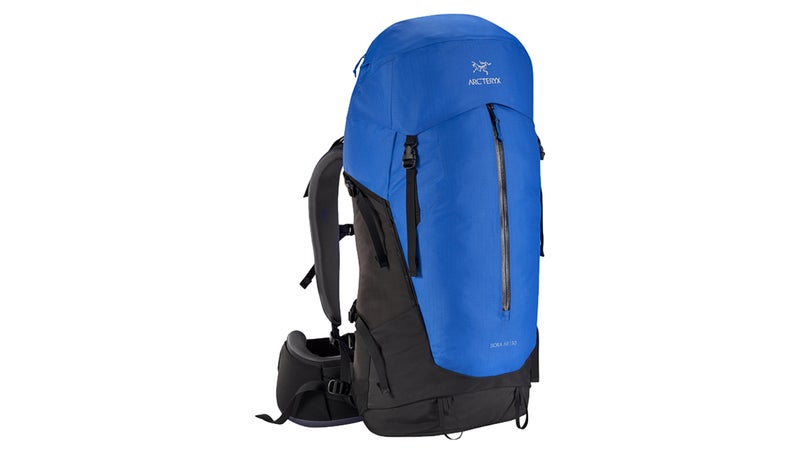 Arc'teryx Bora AR 50 ($499)
Best For: Dynamic missions in frightening weather.
The Test: Lots of packs are equipped with a pivoting hipbelt, but the Bora has a trick up its ripstop-nylon sleeve. Reach for a handhold or lean under a tree and the belt slides up a track in the back panel, leaving the pack's mega-thick pads comfortably locked on your hips. Beyond that, both the men's and women's Bora are fully waterproof, indestructible top loaders with a convenient front-entry zipper and brilliantly adjustable, awesomely sturdy carbon-fiber suspension, delivering a locked-in, stable feel under loads upwards of 40 pounds. One drawback: the narrow cargo hold means efficient organization is a must.
The Verdict: For smart packers who move a lot, the Bora is a work of art. 4.8 lbs (men's) / 4.7 lbs (women's)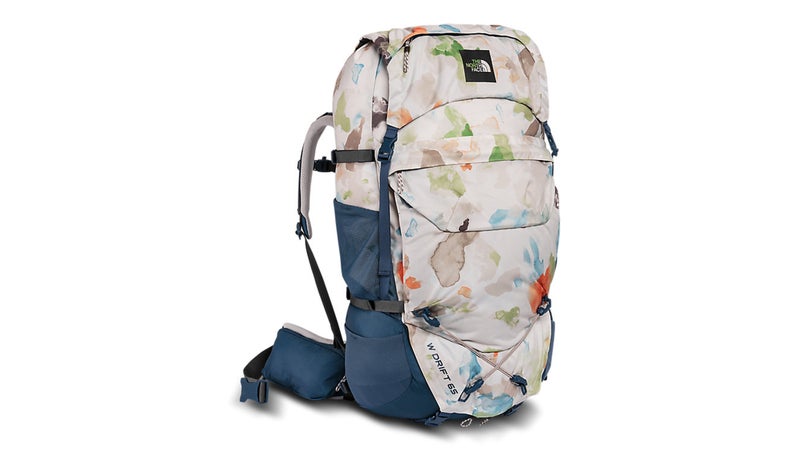 The North Face Drift 65 ($179)
Best For: Entry-level pack rats.
The Test: First-time hiking is so much more appealing when it's comfortable, which means having a gear toter with abundant padding, lots of pockets, and a hull that can swallow bulky cargo. That's where the women's Drift 65 (shown here) and the men's Drift 70 excel. It has swollen hip and shoulder pads, suspension that can handle a yeoman's load, and straps for a thick, rolled sleeping pad. The abuse-ready 600-denier polyester fabric is water-resistant, and the narrowly spaced shoulder and waist belts carried well on testers. We'd have liked more adjustability, but sometimes that's the price for being a newbie on the trail.
The Verdict: The ideal starter pack. 4.7 lbs (men's) / 3.8 lbs (women's)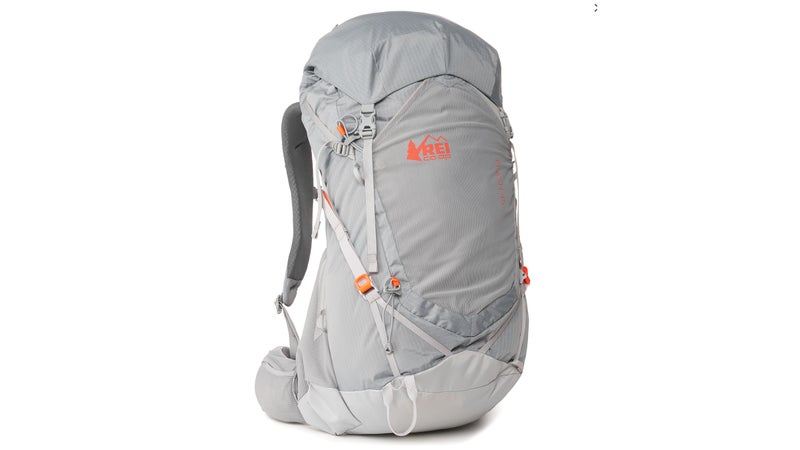 REI Flash 45 ($149)
Best For: Bringing along just enough.
The Test: The Flash wasn't the lightest of the lightweights, but it was the most well balanced, stable, and comfortable when it came to weekend backpacking trips. It boasts a whole menu of nice details that make it a joy, including an adjustable torso, a floating top lid, a stretch stash pocket, and a proprietary strap that pulls the load directly onto the frame to keep the pack from sagging. Amply padded shoulders paired with a nicely contoured waist belt made for a stable, confident carry of under-three-day loads. Our gripes were minor, like the fact that the side pockets lack compression straps, so tent poles have to go inside. And the waist padding stopped right at the edge of many testers' hip bones, so check the fit before you buy.
The Verdict: A big, smart pack in a compact package. 2.8 lbs (men's and women's)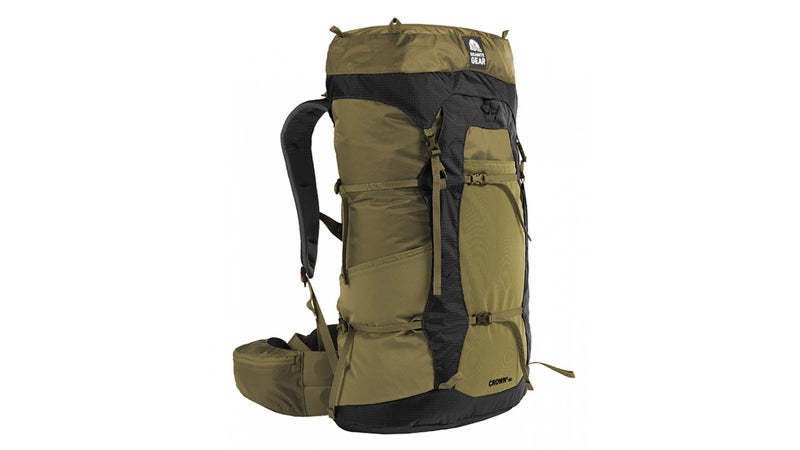 Granite Gear Crown2 60 ($200)
Best For: Ultralight through-hiking.
The Test: It feels like cheating to hoist a 60-liter pack that tips the scales at only two pounds. The Crown2 hits that feathery weight by ditching most of the structure in its suspension, resulting in a flexy, floppy minimalist with lightly padded waist straps, thin 100- and 210-denier nylon fabric, and narrow ten-millimeter webbing. There are no side­entry zippers or other fancy amenities here, just a simple, cavernous rolltop with a zippered, floating lid. Don't think of loading it up with more than 30 pounds, though, lest the flexy polypropylene framesheet buckle. We love that the waist belt is gender specific and can be adjusted on the fly, but unfortunately the torso is a fixed length. Size appropriately.
The Verdict: Our pick for extended trips where low weight means everything. 2.1 lbs (men's and women's)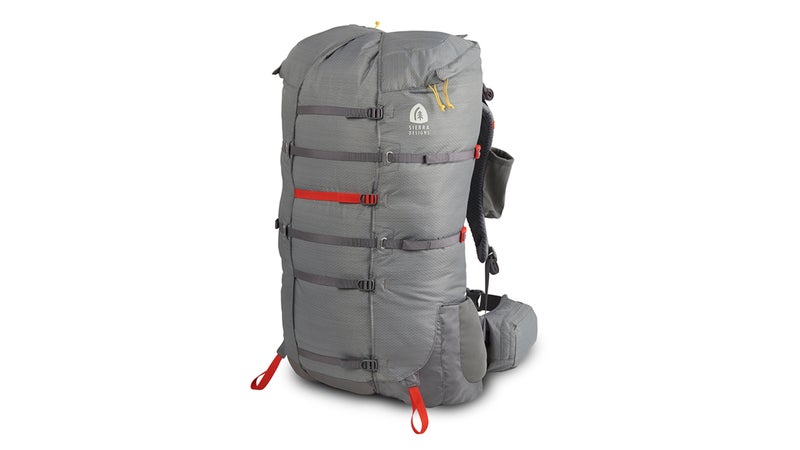 Sierra Designs Flex Capacitor 40/60 ($200)
Best For: Mixing it up.
The Test: The Flex Capacitor is a Proteus that can shape-shift between 40 and 60 liters via a pair of compression straps that encircle the main compartment—a novel approach that kept our load stable and ­secure no matter what the volume. Unlike the flimsier Granite Gear, the Capacitor's suspension effortlessly totes up to 50 pounds, and it pivots in a way that lets your shoulders swing independent of your hips. (Although the back and lumbar pads could have been a bit comfier.) We loved smart touches like the shoulder pouch, which fits a 20-ounce water bottle or a canister of bear spray. We didn't miss a floating lid, as the zippered top opening provides easy gear access.
The Verdict: An ultralight companion with best-in-class versatility. 2.7 lbs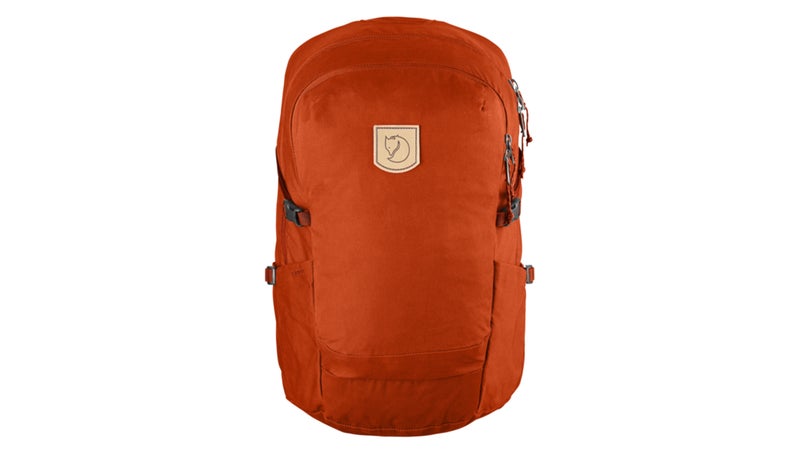 Fjällräven High Coast Trail 26 ($125)
Best For: Trail fashionistas who want just a touch of technical.
The Test: The High Coast is a snazzy-looking town piece that can handle a day in the woods. While it's built for style, with cool waxed poly-cotton fabric and retro leather logo details, this simple clamshell day pack hides a surprising amount of extra features, including an integrated rain cover, side compression straps, hydration sleeve, and stowable waist strap. The expandable side pockets are better suited for a bottle of vino than a Nalgene. Two quibbles: that cool-looking fabric gets soiled quickly, and the unusually stiff, flat back panel makes for an awkward fit in the shoulder straps under a big picnic load.
The Verdict: A dash of trail moxie in casual form. 2.5 lbs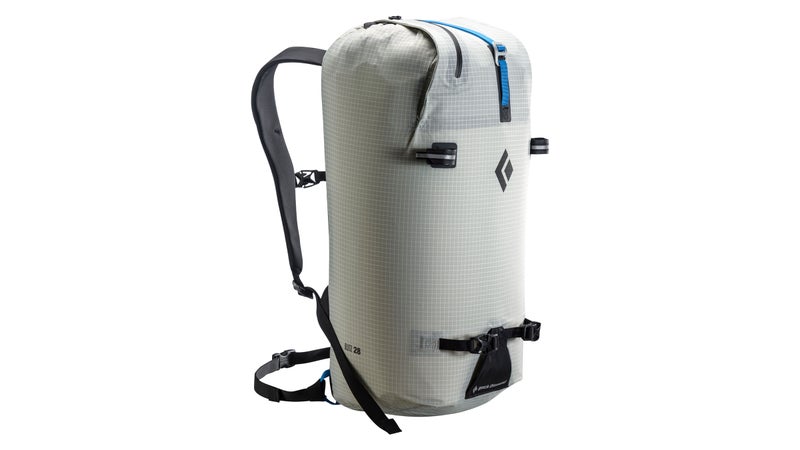 Black Diamond Blitz 28 ($100)
Best For: Alpine assaults.
The Test: There's almost nothing to the Blitz—and that's a compliment. It's a minimalist, top-loading climbing pack made of bomber Dyneema fabric: tough, sleek, and devoid of a single unnecessary gram. There's just a removable stabilizing waist belt, two ice-tool attachments, and a small zipper pocket. We loved the novel one-handed closure system—pull the drawcord and a flap swings over to seal the opening, which itself cinches shut for added security. The flexible, removable framesheet is just thick enough to soften the hard protrusions of a climbing rack, but a fully packed load pulls the straps away from your back, costing some shoulder mobility unless you loosen them. 
The Verdict: A daypack for those whose day involves summiting a gnarly peak. 1 lb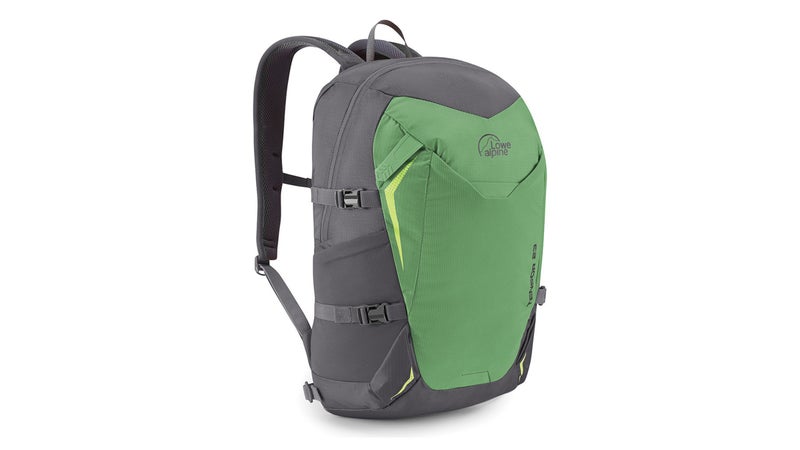 Lowe Alpine Tensor 23 ($95)
Best For: Mellow day hikes.
The Test: The Tensor takes the basic ­clamshell design and ratchets it up a few notches, with a foamy, well-ventilated back panel, bottle-ready side pockets, hydration sleeve, four side compression straps, and interior and exterior stuff pockets. We loved the smart trekking-pole stow system: a simple Velcro strap and two retractable tabs that hold the tips. The waist belt is for stability only, not providing much help with substantial loads, and the framesheet is more protective than weight-bearing—limit this pack to cargo in the 20-pound range for sustained carries. Bonus: those side compression straps can even haul mid-fat skis in winter.
The Verdict: Comfort combined with a rich suite of features. 1.3 lbs
Trending on Outside Online