The Basque Guru Who Trains the World's Best Climbers
Rock climbers from around the world suffer under Patxi Usobiaga. But why?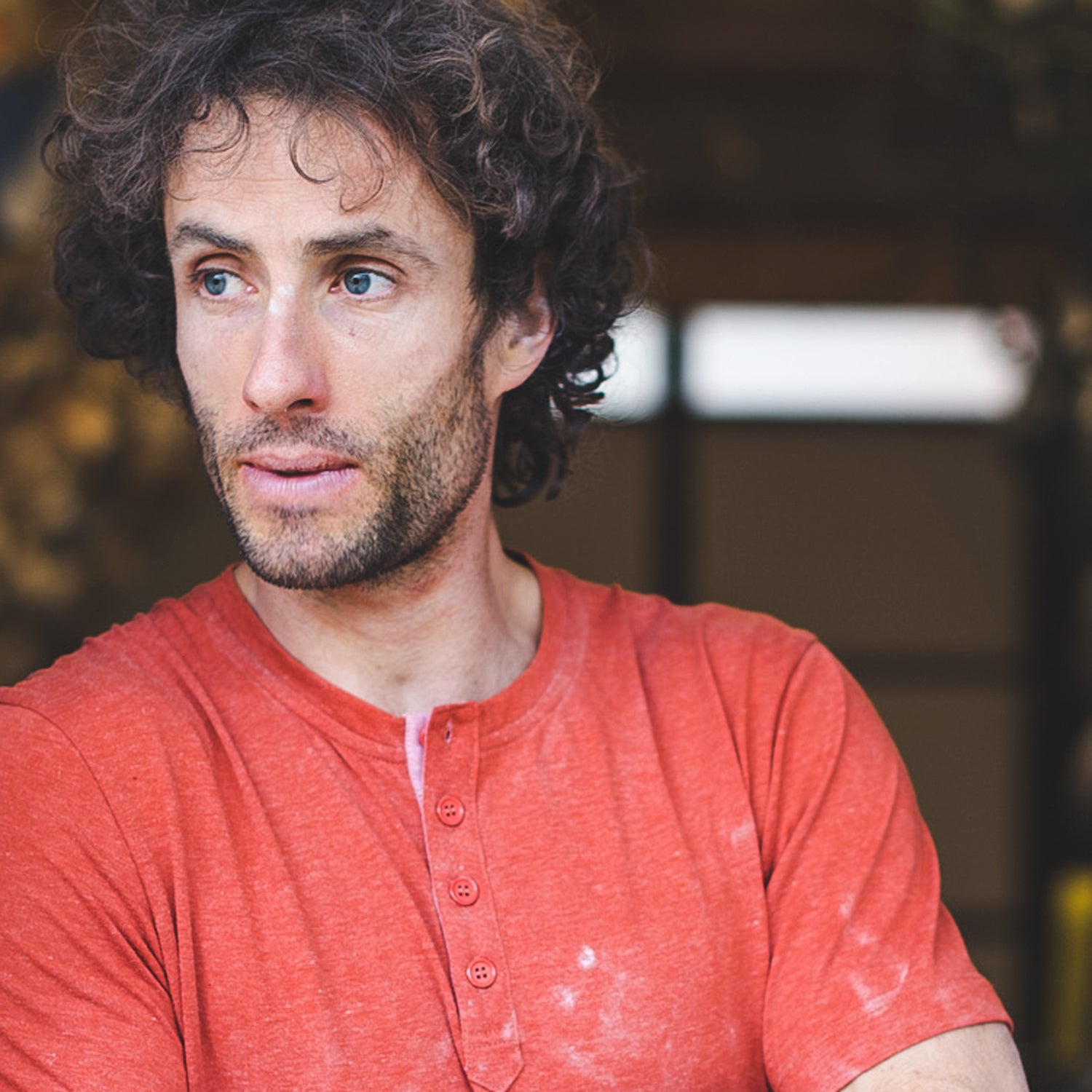 Francois Lebeau(Photo)
Heading out the door? Read this article on the new Outside+ app available now on iOS devices for members! Download the app.
Patxi Usobiaga is standing with a stick in his hand, pointing to my next move on a climbing route, and screaming at me: "Venga! Va. A muerte!" (Come on! Go! 'Til Death!) It's January 21, my fourth day in a row of training with Patxi at Chris Sharma's climbing gym in the heart of Barcelona, Spain, and I'm trying to lug myself up the wall. I've been putting in six- to eight-hour days on a three-month training cycle, and my body is starting to feel like a sack of potatoes.
My fingers are taped to keep my cuts from bleeding. I have abrasions in my skin from the repetitive sets of campusing (ascending the wall using only your arms) and making hundreds of moves on the plastic gym holds. "It is only when your body is totally broken down that the training can really begin," Patxi tells me in Spanish. (We typically communicate in Spanish.) "You have to train at your lowest, you need to be tired, to feel this desire to quit, but fight through this."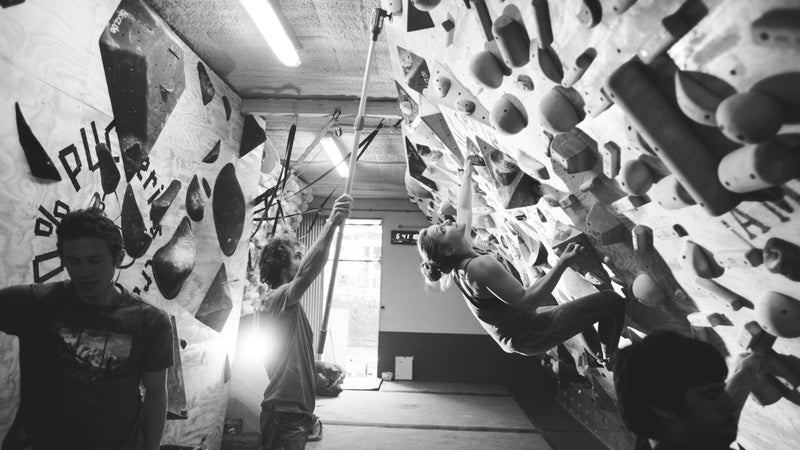 So why would I put myself through this kind of torture? Because Patxi is one of the most decorated climbers in the world. He won world cups in 2006 and 2007, when he was in his mid-twenties, and took the world championship title in 2009 at 28 years old. He trained for competitions seven days a week, and was known as a recluse. He meticulously accounted for every morsel of food he consumed, trained eight to ten hours each day, and abstained from social events and competition after-parties. His sole interest was winning.
"The other climbers are really talented so they don't need to train as hard as I do. But I have to work fucking hard," Patxi says in the 2009 climbing film Progression. "My talent is being a masochist. My training totally breaks your body and your mind. But it's worth it to be a champion."
Patxi knows what it's like to push through adversity. In 2011, just as Patxi was in peak form, a catastrophic car accident left him with a severe herniated disc. When he exerted any upper body force, he had severe neck pain. The injury was so severe that Patxi had to quit climbing completely—he announced his retirement that fall. "I blocked out everything, to the point that I believed I was no longer a climber—something that I had been for over 20 years," Patxi says.
Over the next two years, the itch to climb came back. But Patxi's body had changed: he had gained weight and was out of practice, but the pain of his injury has largely subsided. So he designed a training regimen to bring himself back to the point where he could pull down on hard routes. He coined his practice PUC Series Training, an acronym for Patxi Usobiaga Climbing, and discovered that he could transmit his passion and knowledge to others.
To date, Patxi has worked with some of the world's best: Adam Ondra, Daniel Woods, and Chris Sharma. His training regimen involves alternating strength-and-power routines and volume-and-endurance routines, on back-to-back days, several days at a time. It incorporates climbing-specific skills, like performing dynamic wall movements, and includes exercises pertaining to climbing-specific muscles, such as dead hangs. Sharma describes training with Patxi this way: "You find this place where you're really pushing yourself to the point that you're so exhausted or you're about to break. To get stronger involves suffering, for sure. There's no easy way. I improved in a number of ways and it has given me a foundation that I can build on, which is pretty cool after climbing for over 20 years."
Patxi was born in Eibar, a town in Spain's Basque country, in 1980. "I started climbing because I saw a television program called Al Filo de lo Imposible about Miriam García Pascual. I guess that I was nine at the time and it was a bit of love at first sight. So until I was able to tie in to a rope and chalk up my hands, I didn't stop pestering my parents to let me try climbing."
When he was 18 years old, his father bought him a van with a kitchen and a bed in it so that he could climb around Europe. He won some youth competitions but he was not even the strongest climber in Spain. Most notably, he wasn't interested in training, says Edu Marin, a Spanish climbing champion who competed against Patxi in his formative years.
"Patxi thought that training was crap and that it was not worth anything," Marin says. But one day at a crag Patxi watched one of his competitors complete an 8c problem that Patxi had been struggling with, and had a revelation. "From this moment, he changed his mentality," Marin says. "He saw that we were very strong because we were disciplined with our diets and our training. He started looking for a coach to help him give his best and he changed his way of thinking. He got into a world of routines, diets, sacrifice…all to be the best."
Patxi ascended the climbing ranks, but at the cost of life experience. After Patxi's injury in 2011, Marin says, the climber took the opportunity to explore life in other ways: surfing, partying, girls. Most importantly, Patxi was able to get away from the regimen he'd been locked into for years and relax. When he returned to the sport in 2013, he seemed happier, Marin says. "Now, again, he is motivated."
At the end of my trip in Spain earlier this month, having accomplished a handful of 5.14 sport climbs in Oliana that I had set back in January when I began training, I went to visit Patxi at his house. We had just spent the day climbing until the last hour of sun, and returned back to his house at 10 p.m. Patxi opened a bottle of Jan Petit from Costers del Segre, and poured a full glass for each of us.
"I am happy," Patxi said with a smile on his face and his dog, Zeru, on his lap. He sipped from his glass of wine, his freshly tattooed arm exposed, showing an image of Zeru. "It is the simple life that is important. I do not worry for the future because I now understand the importance of each day. To be surrounded by good energy, appreciating the rock, feeling strong, eating well, and enjoying the life. This is what is important."
Now Patxi lives in Ponts, the center of the hard rock climbing in Catalunya. Recently, he accomplished his first 5.15 since 2007, a grade that he thought he would never realize again. "I realized that with hard work and motivation, I can. You can. We all can realize our goals but it takes focus, hard work, but most importantly, happiness."
Lead Photo: Francois Lebeau
Trending on Outside Online