Gear Guy
Why This $130 Bottle May Actually Be Worth the Money
Yeah, I know that price tag is absurd. But I've found the Austin brand's new Gallon Jug to be one of best ways to beat the heat while playing outside.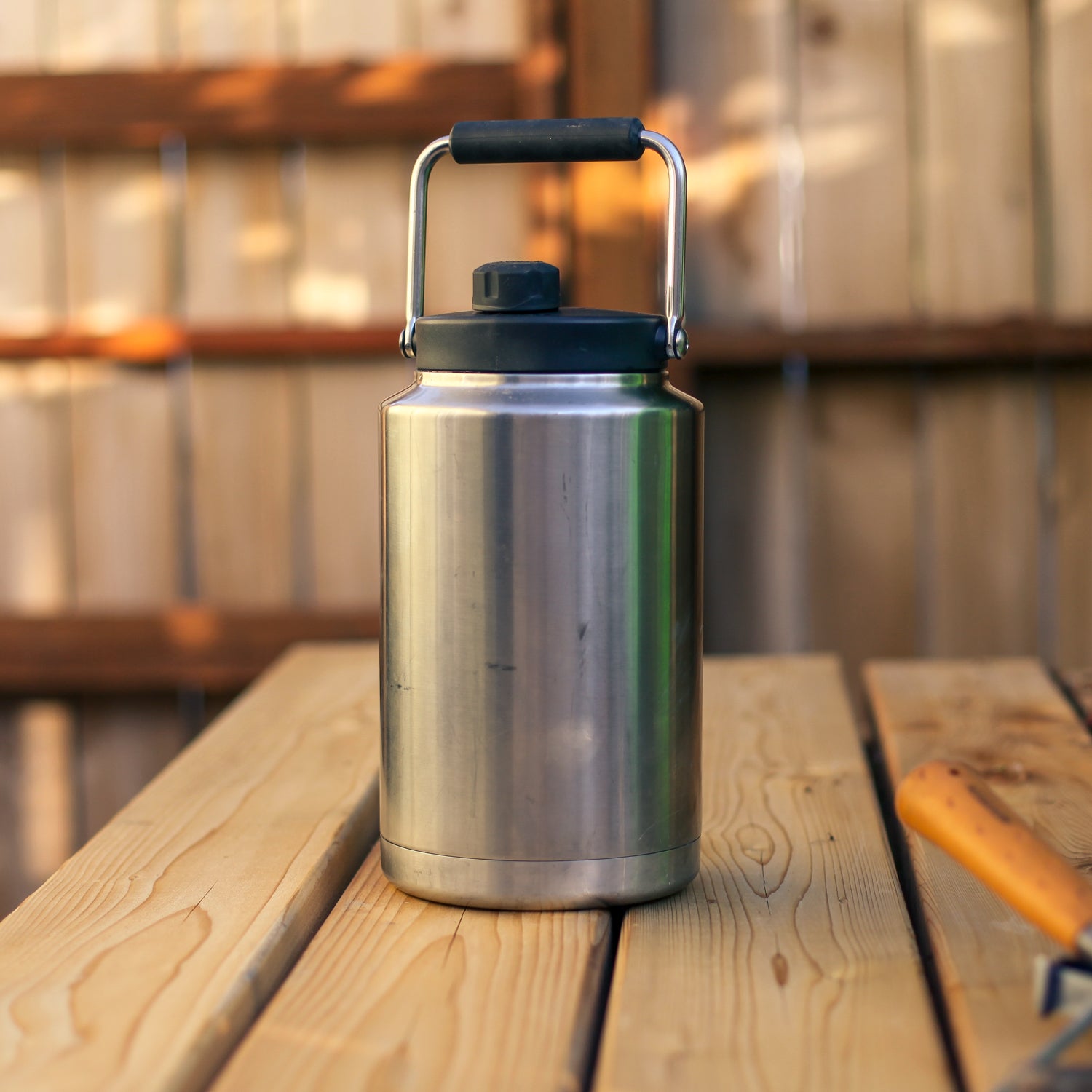 Sarah Jackson(Photo)
Heading out the door? Read this article on the new Outside+ app available now on iOS devices for members! Download the app.
Every time Yeti puts out a new product, I think to myself, "OK, they've finally gone too far. I'll never use that thing." That was the case with its new, outrageously priced Rambler One Gallon Jug, which comes in at $130 and is essentially a durable insulated milk jug. I couldn't for the life of me figure out who the audience was. But then I called one in for review, and the heat hit, and I have to admit: I'm now a believer.
The change happened last month when I spent 108 hours on a boat during a weeklong shift as part of a swiftwater rescue team stationed on a big waterway construction project. Many days, I worked 24 hours straight and didn't get off the boat for at least 12 of those. During the day, temperatures often reached into the mid-90s.
I wasn't in any imminent danger of heat stroke, but I was constantly uncomfortable, and the Jug was my only recourse. Each morning, I packed it full of ice and water, and then drank the entire thing. Like all Yeti products, the thermoregulation was so good that I had to be careful not to pack too many ice cubes, because it kept them frozen, leaving me to chew on ice instead of chug cold water.
Granted, not many people other than fishermen find themselves on a boat for that long. Yeti obviously had boats in mind with the jug, but I can also see it striking a chord with anyone who has to work outside all day. It puts those red plastic water jugs to shame and will make believers of anyone who knows the value of cold water.
Even for those who don't work outside, there's still value. Any car-camping water you bring will likely heat up sitting in your trunk or truck bed, so the Jug guarantees as least a day's worth of ice-cold liquid. I'm also a firm believer that when I have water around, I'm more likely to drink it. I can't see tons of people hauling the Jug into work, but it would be great for long summer road trips and as your go-to for a hot soccer game, etc. And then there's winter. There's no better way to transport a ton of hot soup or coffee than in the Jug. Bring it out ice climbing, into your favorite hut, or leave it in your car for après in the parking lot.
In terms of durability, it's a Yeti product, so that's sort of a given. During my stint on the water, the Jug got banged around and still looks new. I have seen Yeti lids fail, however, so I gave that part a more thorough test when I got home. I started by filling the Jug with water, and then I dropped it three times from chest height onto pavement, directly on the cap. Then I climbed a ladder and dropped it from six feet. Finally, I dropped it on its cap from my roof.
At the end of that torture session, the rubberized exterior of the lid looked like it had been chewed on by a Rottweiler, but it is was still fully functional. Also important to note: The magnetic lid function still worked. That lid, which unscrews from the bigger cap to reveal a drinking spout, nests magnetically in the cap so you don't lose it. The magnet is so strong that you can let go after unscrewing and it still finds its place. For fun, I actually tossed the top from about a foot away, like a game of cornhole, and it almost always found its parking spot.
The only major drawback to the Jug is its weight. Empty, the thing weighs more than 4.5 pounds. Filled with water, it comes in at nearly 13 pounds. That means you always have to drink with two hands, so you can't drive or row and drink at the same time. Out on the raft, my buddy liked to joke, "You're going to get in shape drinking out of that kettlebell!"
Nonetheless, I'd still buy the Jug. I get a lot of free gear that's fun to play with but doesn't merit the high price. That's not the case here. With a gallon of cold water near me at all times, I've found that I'm already significantly better hydrated, even just sitting at my computer. The Jug is something that has fundamentally changed my routine, inside and outside. And I can't wait to use it this winter.
Lead Photo: Sarah Jackson