This Surf Company Wants to Make Skin Protection Sexy
Two San Francisco surfers are upgrading swimwear by eschewing the bikini for UV-deflecting, skin-protecting leggings
Heading out the door? Read this article on the new Outside+ app available now on iOS devices for members! Download the app.
Long surf days are hard on the body. You risk cuts and scrapes from the shore and reef, but the most pernicious threat comes from above: the sun.
Robyn Tosick and Angeline Kung, two surfers from San Francisco's Ocean Beach, experienced this firsthand in 2014 during a weeklong surf trip to Zihuatanejo, Mexico, on the Pacific Coast. After the first day, when great waves led to eight hours of surfing in the blazing sun, the women, alarmed by their impending burns, worried about putting their bodies through six more days of the same abuse.
Unwilling to forgo time in the water, they donned yoga leggings in the lineup. By the end of the trip, other women had done the same. When the pair returned to San Francisco, they had the nugget of a business idea. "When we got back, we did a bit of research and, sure enough, Roxy, Hurley, O'Neill, Billabong, they were just starting to come out with leggings," says Kung. "But we felt like there was a way to do it in a much more beautiful, custom, and high-performance way."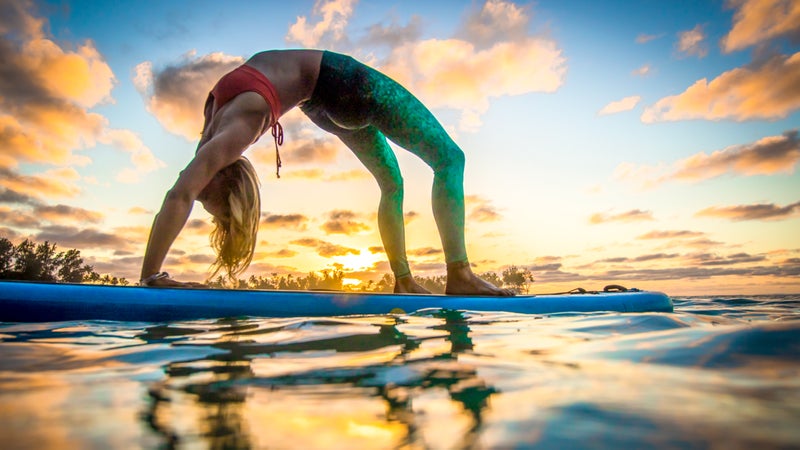 So, in November 2015, they started Okiino—a line of women's surf leggings whose name translates to "the land that fronts the open sea" in Japanese—with the goal of making high-performance protective gear as effective as it was good looking.
In my experience, the problem with sports leggings is that they're rarely comfortable. They're thick, constricting, and often dig uncomfortably at the waist. Comfort is the first thing that sets Okiino apart from other athletic leggings. The product I tested is formfitting without being restrictive. The snug Italian fabric is light, breathable, and flexible and moved with my body.
The hallmark feature—and the company's original goal—is built-in skin protection. The leggings have an ultraviolet protection factor of 50-plus, the highest possible rating given to clothing. (The Skin Cancer Foundation is one of three nonprofits Okiino donates to.)
Another standout feature is the ultraquick-dry fabric, which took me from swimming in the ocean to dry and ready for a lunch date in a matter of about seven minutes. The moisture-wicking and temperature-equalizing qualities came in handy during a sweaty hot yoga class and during a vigorous hike. Plus, I found the leggings so flattering and comfy that I wore them to meetings and on errands.
The tight's main drawback is a lack of insulation. Okiino leggings are best suited for warmer climates and waves, which is one reason I appreciate their versatility so much: if it's too cold to surf in these leggings, I'm rock climbing or running in them.
Now it's a matter of getting beachgoers and surfers on board with leggings—something Kung believes will be "an easy pill to swallow." "The fashion trend is moving toward one-pieces anyway, so more coverage, but done in a beautiful, sexy, feminine way," she says.
There will always be those who prefer a bikini bottom, but Okiino offers another option for active women. Not to mention, they'll never fall off as you pop up on a wave.