On the Front Lines of South Africa's Baboon Wars
Raiding troops of baboons face off against city employees armed with paintball guns on a regular basis. And it brings into question the very way we coexist with nature.
Heading out the door? Read this article on the new Outside+ app available now on iOS devices for members! Download the app.
May 9 was like any other day at the Happy Valley homeless shelter near Cape Town: tranquil—until the baboons arrived. At 10 a.m., several residents sat smoking hand-rolled cigarettes beneath the trees, gazing out over the smooth waters of False Bay. The baboons had gathered on a ridge high above the gorge, clambering over sandstone boulders against a backdrop of silver cloud.
"Soon they'll be down here," said supervisor Patrick Msakayeya, 29, sitting in his office with the screen door latched shut. He watched the baboons, still dark specks in the distance. "They know what time we serve food. Usually they come right before lunch."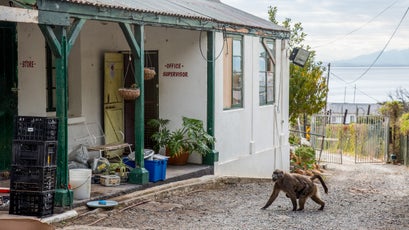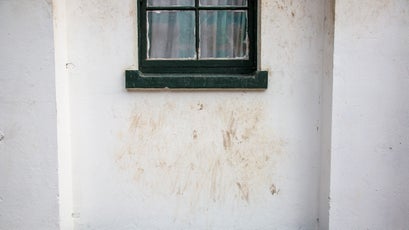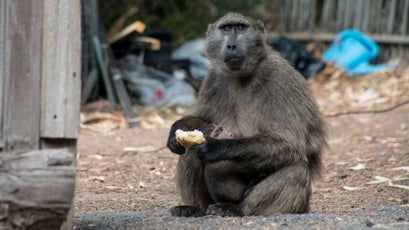 Two hours later, the troop had descended. An alpha male with the physique of a small bear squatted on the kitchen roof, waiting for a gap to enter. Two juveniles leaped up to join him, adding to the collection of muddied paw prints on the walls. A mother baboon paced in front of the building with an infant clutching her breast, glowering at anyone who dared approach her. "It's always like this," said Msakayeya.
This interspecies battle recurs daily on Cape Town's southern peninsula, a crooked rocky finger that curls into the Atlantic. Confined to a narrow mountain range by urban sprawl, ten chacma baboon troops, each comprising between 20 and 70 individuals, engage in an incessant quest to rob food from adjacent neighborhoods. They rifle through trash, break into homes and cars, and threaten residents with their inch-long fangs. To repel them, the city employs rangers armed with flares and paintball guns, but the baboons are persistent. When the rangers open fire, the troops retreat to the hills, circling back as soon as they can. These running battles have become a flashpoint for deeper tensions in wildlife conservation, spawning bitter disputes not just about baboon management but also about how to coexist with nature.
As human settlements expand across the earth's surface, conflicts with wildlife are increasing. According to a review in the journal Animal Conservation, this represents "one of the most widespread and intractable issues facing [conservationists] today." Researchers have been paying closer attention to these clashes: The number of scientific articles published annually about human-wildlife conflict (ranging from grain theft by rodents to farmers being trampled by elephants) increased from zero to more than 700 between 1995 and 2015, as indexed by Google Scholar. There have even been calls to coin an entire new discipline for studying the issue: anthrotherology, combining the Greek words for human (anthropos) and wild animal (ther). To understand the anthrotherologist's dilemma, look to other countries' parallels, like Japan's wild hog problem or, closer to home, many national parks' issues with bears. Humans—whether shooting animals or feeding them junk food or advocating for their rights—always complicate things.
---
Spearheading the resistance to Cape Town's baboon management is Jenni Trethowan, an activist whose relationship with environmental authorities has run to ruin in the past 25 years. A slender, middle-age woman, Trethowan once ran baboon monitoring programs on behalf of the city, but today she is excluded from all management decisions, instead occupying a self-styled watchdog position at the periphery.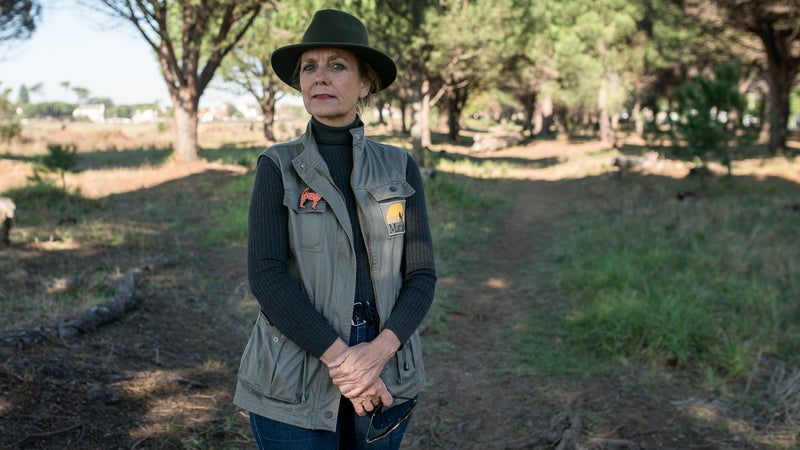 Known by many Capetonians as "the baboon lady," Trethowan has an abiding reputation as an expert and wields considerable influence outside scientific circles, appearing regularly in newspapers and on radio shows. Her mistrust of prevailing anti-raiding protocols like aiming paintballs at baboons, which she deems ill-conceived and inhumane, has spurred groundswells of opposition among locals and, via social media, a growing international army of online activists. "The heart of the problem is that baboons get easy rewards in residential areas," Trethowan told me. "We're a wasteful species and throw away huge quantities of food. We should be focusing on that, not killing healthy animals for raiding."
Researchers and conservationists say that although Trethowan's efforts are rooted in genuine care, they spread misinformation and ultimately undermine baboon welfare. The city asserts that its approach is essential for sustaining viable troops on the peninsula, where baboons have established strong raiding traditions and lost their fear of humans. Once baboons learn to associate residential areas with food, they seldom revert to natural foraging, their intelligence and dexterity predisposing them to becoming pests.
The city employs monitors armed with flares and paintball guns, but the baboons are persistent and often find ways through.
"If we're going to coexist with baboons in this highly transformed landscape, we'll need to keep making unpopular decisions," says Justin O'Riain, an ecologist at the University of Cape Town who founded the Baboon Research Unit (BRU) in 2006. "Wildlife management can be ugly."
While it remains legal to hunt baboons in many part of South Africa, the peninsula's baboons have been formally protected since 1998. This has not stopped residents from responding violently to raids, with scenes often assuming a nightmarish tilt. In 2011, an elderly man fatally shot a baboon, claiming it had attacked his wife after nine other baboons stormed their kitchen. Last year, at a naval barracks, a raiding juvenile died after being shot with pellets and stoned.
To quell skirmishes, the city has resolved to chase troops from urban areas, with strictly governed provisions for culling particularly troublesome individuals. Baboons that commit serious offenses—attacking humans, breaking into homes, raiding more than five times in a single week—are placed on observation and their behavior is written up in detailed case files. Animals deemed irredeemable are killed by lethal injection.
Since 2009, officials have culled 65 baboons for posing threats to public health and safety, a practice that Trethowan's nonprofit organization, Baboon Matters, considers abhorrent. A message on the organization's website pledges: "We will continue to provide a voice for baboons…to ensure that lethal management becomes a thing of the past."
---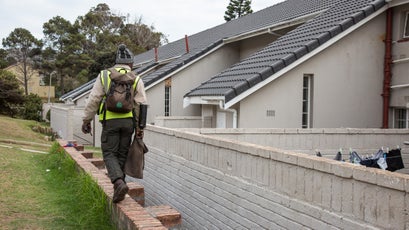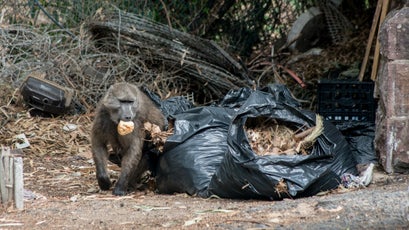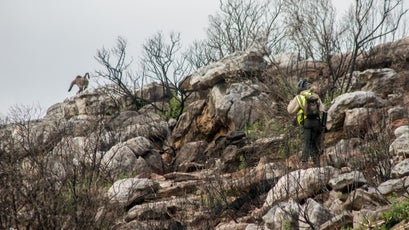 Trethowan first got involved in baboon conservation in the early 1990s, a few years after officials culled an entire troop near the small beachside town of Kommetjie, where she still lives today. By 1998, Trethowan was running the city's first baboon monitoring project, training unemployed men from a nearby township to "hold the line" and ward burgling troops away from Kommetjie. She also set up a small ecotourism venture called Baboon Stories, advertising guided walking tours. On several occasions, while visiting the animals, Trethowan had the sensation of communicating with them directly. When she was invited to give an introductory speech when the primatologist Jane Goodall visited South Africa in 2008, Trethowan approached one of the troops for advice.
"I walked up to Eric, one of the alpha males, and asked him what I needed to say. I got the message as clear as daylight: 'You are a wasteful species. You are wasteful with your emotions, with your things, with your knowledge,'" she says. "What I said to Jane Goodall came straight from Eric the baboon."
Pronouncements such as these—mixing gut-feel reasoning with a lack of factual evidence—have placed Trethowan at odds with the scientific community, with whom she has been embroiled in an acrimonious spat for more than a decade. In the beginning, the two sides were natural allies; Trethowan's advocacy played a key role in obtaining protected status for the peninsula baboons in 1998. "We were great friends at first," says O'Riain, the ecologist, who has since become one of Trethowan's fiercest sparring partners. "She really brought attention to the plight of Cape Town's troops, which were in decline due to human development."
"I can't stand this shit anymore. It's impossible to live like this."
Yet disagreements about how to manage the animals soon formed a split. The trouble started, O'Riain says, when one of his students reported Trethowan's monitors for throwing rocks at the troops while herding them from town. Trethowan accused the student of lying and then laid cruelty charges against O'Riain, who had fitted several baboons with GPS collars to map their home ranges. When the story ran on the front page of a prominent local newspaper, senior university officials hauled in O'Riain for questioning. (A faculty ethics committee had already cleared the project.) His relationship with Trethowan has never recovered.
"She cares deeply for animals, just like I do, but we have completely different approaches," says O'Riain. "She seems to want to hold and protect them. I want them wild and at a distance, doing their own thing."
In time, their dispute widened into an ideological gulf that splits many other conservation movements globally—like the eradication of invasive mammals from Atlantic Islands or deer culling in the United States. When O'Riain's students released data showing that Cape Town's baboon population was expanding at an average rate of 4 percent each year, Trethowan maintained that the animals were still at risk. "Baboon troop growth is either stagnant or declining," she told National Geographic in 2016, more than a decade after the first studies were published.
Of course, she vehemently objected when, in 2012, researchers first proposed keeping raiding animals at bay with paintball guns. As the fight roiled on, O'Riain convened a public meeting, inviting UC San Diego professor Shirley Strum, an anthropologist and global baboon expert, to share her views. According to O'Riain, Strum told the audience that Cape Town's troops were a "disgrace."
"She'd never seen such terrible raiding behavior," says O'Riain. "She said that people opposed to scaring the baboons were complicit. Her exact words were: 'They've been loving the baboons to death.'"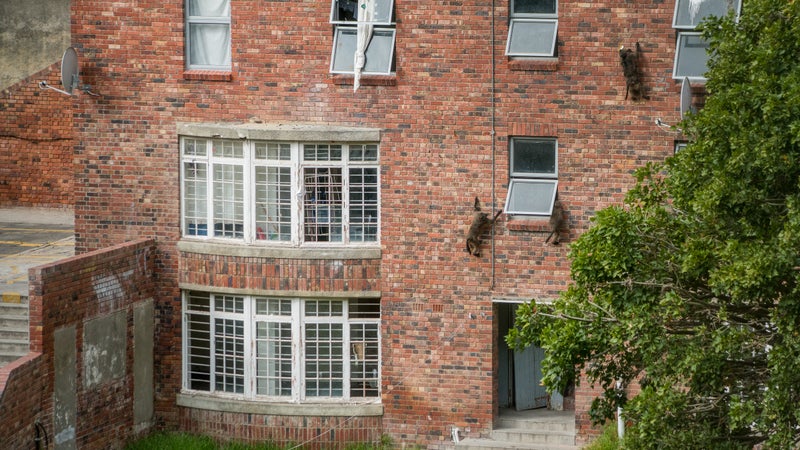 Trethowan was not invited to that meeting. She'd lost her baboon monitoring contract to a rival company in 2009 and had been banned from conducting walking tours, which she'd been conducting without a permit. "People hate us," she says. "Baboon Matters has zero say in decisions anymore."
Yet the organization has a large social media presence, with more than 21,000 followers on Facebook alone. When a mountain fire killed 12 baboons in 2015, Baboon Matters blamed monitors for herding the troop into burning areas, filming a conspiratorial YouTube video that briefly went viral. When a young baboon died from injuries sustained in a separate fire this January, the organization accused authorities of negligence, provoking a heated public outcry. "You cruel bitch! You should have died in that fire," a passing motorist yelled at one baboon monitor soon afterward.
The city has struggled to counter many of these claims, tangled in unwieldy bureaucratic procedures. When controversies break, the city often fails to respond before Baboon Matters. Media releases are carefully vetted, slowing communication. A blanket ban on filming baboons or accompanying monitors, imposed after documentary crews baited troops with food, inhibits reporting. (For this story, we skirted the ban by locating a troop ourselves and observing their raid, with permission, on private land.) "It is regrettable that factually inaccurate information is disseminated to the public," said Brett Herron, a councilor for the City of Cape Town. "But lobby groups exist in every sector of society, and they have a right to express their views."
This January, the city's current monitoring contractor, Human Wildlife Solutions (HWS), attempted to hit back on Facebook. "Beware fake news! The [Cape Town baboon] population is not at risk or in any danger." The post was shared twice, while a response from Baboon Matters was shared more than 40 times.
Amid all this, HWS has been more successful in decreasing raids: According to its comprehensive monthly reports, the 11 managed troops, numbering some 420 individuals in total, have spent less than 2 percent of their time in urban areas since 2012. These figures obscure raids by individual baboons, painting a slightly rosier picture than many residents experience, but nevertheless represent a striking success. "The problem is largely under control now," says O'Riain. "But certain areas are still a disaster."
Directly opposite Happy Valley, at a grim naval barracks, the baboons have begun scaling the walls. Most of the apartment windows are wide open, defying regulations issued by the city to deter raiding—an oversight both Trethowan and HWS have repeatedly pointed out. By the time the monitors arrive, several animals have swung inside and are rummaging through cupboards and garbage. They scatter over the roofs as the city monitors yell and pump paintballs, many baboons dropping their loot and tumbling 30 feet to the ground.
One of the monitors pursues a breakaway group up a hill, passing one of the homeless shelter's large dormitories. A small plaque marks the spot where, in 2010, an elderly man died after being knocked over by a fleeing baboon. A few residents stand at the entrance, drawing the doors shut after driving an animal from their room. "I can't stand this shit anymore," one of the men mutters. "It's impossible to live like this."
Leaving them behind, the monitor ascends a stony hill behind the building as one of his colleagues approaches from the left, driving a separate band of raiders from the military flats. It falls suddenly quiet at the edge of the property, the dark cliffs sweeping into the sky. Another monitor wipes sweat from his eyes after firing off a final round. "They never stop trying," he says.