How to Prep for Your First Bike Race
It's more doable than you think. Just don't forget the chamois cream.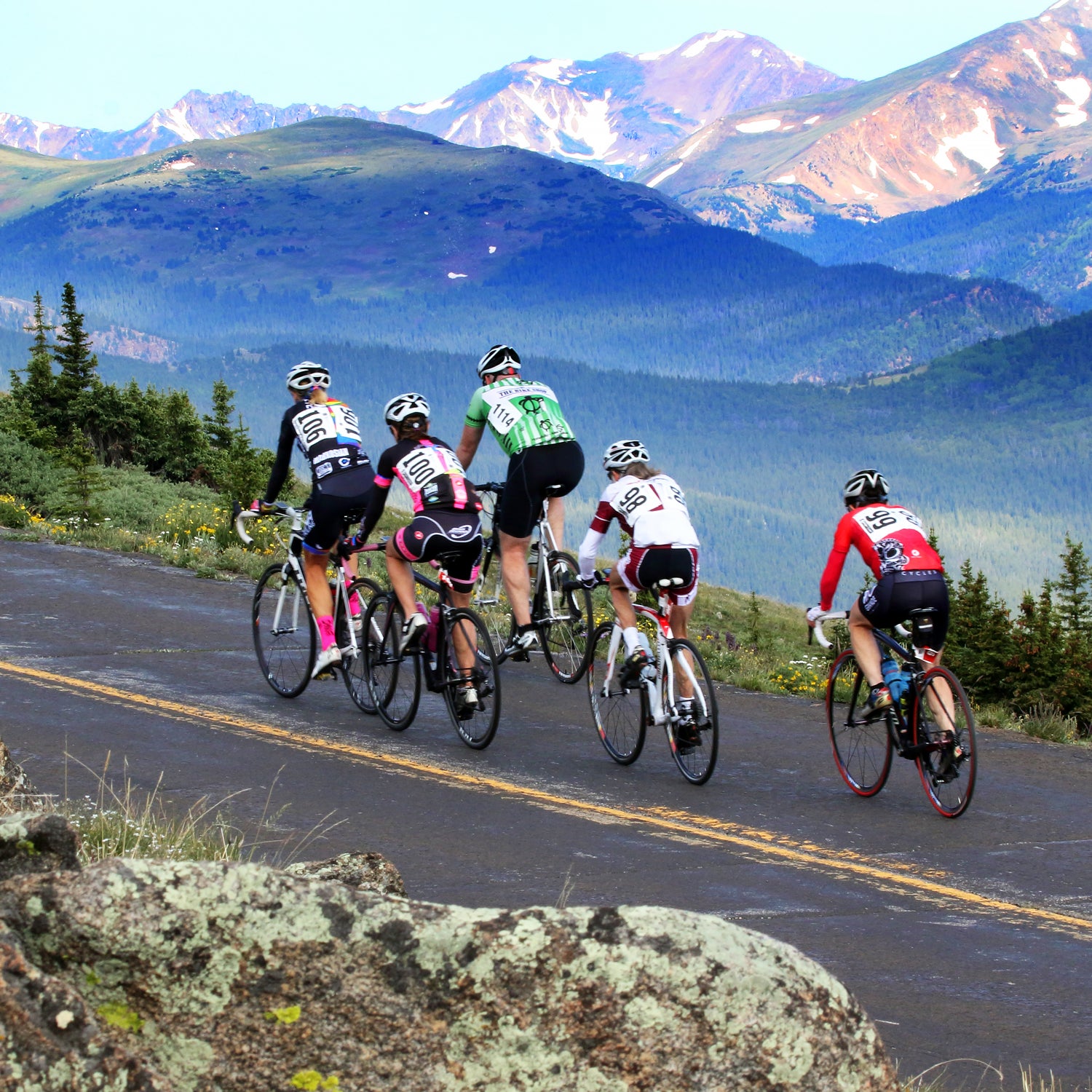 Heading out the door? Read this article on the new Outside+ app available now on iOS devices for members! Download the app.
Once you sign up for a race, you're agreeing to take a recreational hobby to the next level. That takes work. Bike racing can be particularly tough to step into, thanks to its reputation as a sport filled with elite teams, expensive gear, and weeklong events. But we're here to tell you that there are plenty of beginner-friendly races out there for you to try. Here's how to pick the right one, pin on your bib, and hit the start line feeling confident and ready.
#1. Find the Right Race
Gravel grinders: Part of a new, booming category of bike racing, gravel races are a great place for beginners to start, says Nathan Wadsworth, owner and coach at Elite Training Solutions in Wichita, Kansas, and a top regional cyclist. On the back roads of America, you'll find a welcoming culture similar to road running. "Gravel is more technical, skill-wise, than riding on a paved road," Wadsworth says. But you can develop this skill easily with a bit of training on any dirt surface.
Road races and criteriums: Here, you get a chance to ride fast, and you'll find a more serious racing scene. Road races usually range from 30 to 200 miles and are sorted into categories ranging from five (new racers) to one (just below professional), so you have the opportunity to ride with people of comparable skill level. Most riders, however, are part of a team, which works together during races. Gran fondo rides are more relaxed events that welcome all levels of ability in one peloton and appeal more to the masses. Courses are rated for length and level of difficulty, which you can research before you sign up. In criteriums, riders complete a looped course for 30 to 60 minutes. You need to be prepared for tight corners, bunched packs, and all-out efforts.
Mountain bike races: You'll go off the road onto trails that range from jeep-friendly to gnarly singletrack littered with roots and rocks. You can find a wide variety of distances at MTB races and festivals, and they typically offer different categories for various levels of ability. There's a huge amount of variety within this category—from smooth cross-country courses that favor aerobic monsters to technical, fast downhill trails—which means you can largely select the type of people you'll be racing against.
Cyclocross: In these short races, riders complete laps on courses that take them over steep hills, mud, and obstacles that require jumping and carrying their bikes. Beginner's races typically last only 30 minutes, but they are high-intensity, all-out rides requiring considerable bike skills. That said, the atmosphere tends to be relaxed, more like the mountain bike scene than road races.
#2. Get Your Gear
Wadsworth, who was an elite runner before he became a cyclist, notes that equipment has a much greater impact on your performance in cycling than it has in running—sometimes it is about the bike. To start, however, the main thing is to have the right type of bike. Road, gravel, mountain, or cyclocross bikes differ significantly.
If you're looking for a versatile bike that can do a little bit of everything, Wadsworth recommends a gravel bike. While designed for dirt roads, they can also handle tame trails and won't bog you down much on a paved road. Gravel bikes have drop handlebars like road bikes but wider tires and typically more relaxed geometries to ease out rougher terrain.
A hardtail mountain bike is also versatile: It can carry you stably over any terrain, from rough trails to city streets, and it puts you in a more upright, less-aggressive riding posture—but know that all the riding will be slower. Mountain bikes come in different styles, with geometry, gears, suspension, and tires tuned for specific types of riding.
Road bikes are light, keep you in an aerodynamic tucked position, and let you fly, but you're confined to the asphalt. Models differ primarily in materials, with weight and aerodynamics largely determining the price range. Bike geometry also varies, which determines your posture and how a bike fits.
Finally, cyclocross bikes look like road bikes with slightly wider tires and have unique geometries designed for acceleration and to provide room to throw them on your shoulder.
A bike shop can help you select the best ride for you and make sure it's the right size and shape for your frame.
In addition to the bike, you'll want a helmet, which come in different styles for the race type. Road helmets emphasize aerodynamics and ventilation, while mountain bike helmets tend to have more coverage in the form of a visor and protection at the back of your head.
Then there's apparel: For road biking and cyclocross, you'll want a formfitting spandex kit, with a jersey and bibs with a built-in chamois. Mountain biking's de facto uniform is baggy shorts and a T-shirt (basically anything performance- and wicking-oriented will do). If you're cross-country mountain biking, you'll want to go spandex, like the roadies.
Finally, the shoes: It is possible to wear any shoe for riding and use a strap over the pedal to secure your foot. Going flat is especially convenient for commuting and serious downhill. But many riders quickly go clipless, and we recommend you do, too. You'll actually gain stability and power. There are pedals built for road and for the trails, so research what works best for you by visiting your local bike shop. Mountain bike shoes embed the cleat into an outsole tread so you can still walk or run in them when necessary. Road cycling shoes have a large, exposed cleat and a rigid sole for a light, secure, and direct transfer of power.
For long rides, you will also need an extra tire tube, repair kit, and portable air pump.
#3. Build Strength and Skill
Preparing for a bike race requires building both fitness and riding skill. You need to train your muscles and cardiovascular system to ride multiple hours of a road or mountain race or to ride hard and fast for 30 to 60 minutes of a criterium or cyclocross event. You also need to be comfortable enough to handle the terrain and conditions of the race you've chosen.
Go often. "You've got to spend time on the bike," says Wadsworth. Consistency is key. Getting out and riding nearly every day is the only way to transform your body. Top local riders will train 15 to 20 hours a week, but an hour a day can get you ready for a shorter race. Whatever your training protocol, frequency is key.
Go long. Once you're used to being in the saddle four or more days a week, add a weekly ride that's longer. Going long will help prepare your body for any race distance and is essential if you're training for a longer ride like a century. "Build up your long ride slowly over a couple of months," says Wadsworth. "You may start with five miles and quickly realize that you can go ten miles, then maybe 20." Top riders will go out for five or six hours on their weekend long ride.
Go fast. Complete your weekly schedule by adding tempo and interval workouts. For a tempo ride, pick up the pace to a level that is fast but not straining. You should feel like you could keep the pace for several miles without it getting too hard to sustain. Hold this pace for 15 to 20 minutes before you slow to your normal conversational pace. Intervals involve going hard for a short segments, alternating with rest periods. Crank up to a hard gear and get out of the saddle for anywhere from one to five minutes, then drop the gears and spin for an equal rest break. Repeat three or four times and build up to more reps as you get stronger. These workouts will improve your ability to ride faster for longer, help you hone your pacing skills, and "give you a lot of bang for your buck if you don't have a lot of time," says Wadsworth.
Get specific. Make sure you do some of your training on the same terrain you're going to race on. "Gravel is more technical, skill-wise, than riding on the paved road," Wadsworth says. "If you're going to sign up for a gravel race, make sure you train on the gravel. You get bounced around a little more." Mountain biking and cyclocross require even more bike-handling ability that needs to be honed in training. Road racers need to get comfortable drafting and riding in a tight pack. "You're going at high speeds, cornering, braking, and accelerating with other bikes just off your wheels," says Lee LaMunyon, a 48-year-old Kansas rider. "You have to be prepared to be jostled around a bit."
#4. Final Preparation
Don't cram. A big part of racing is showing up rested and ready after a taper. That begins about a week before race day, when you start to reduce your training. You want to keep working out, including some short hard efforts, but significantly cut back on your total mileage. At this point, you're as ready as you'll ever be since it takes about eight weeks for training to really affect the body. Any extra long or extra hard efforts will just wear you out.
Prime the power. The day before a race, many riders like to do a short ride, up to an hour, with three to four openers—short bursts of speed of 30 to 45 seconds—to get them feeling loose and ready and to channel the adrenaline they'll feel at the start.
Check your equipment. Clean and lube your bike. Check the tires, chain, and derailleurs to ensure everything is race ready. Pack your race bag at least a day before. Wadsworth's list includes helmet, clothes, shoes, extra tubes, mini-pump, multitool, tire boot, tube patches, lots of water and food, CamelBak, chain lube, sunglasses, sunscreen, and skin lube. Check all the race details so you know where to go and when to show up.
Show up. On race day, get to the race early enough to take care of registration details, go to the bathroom, and still have plenty of time to warm up for at least 20 minutes stress-free. For criterium or cyclocross races, scout the course in advance so you're not surprised by any of the turns or obstacles.
Ride tall. Before the start, remind yourself that this is about finishing and doing the best you can do; it's not about anyone else. If you find yourself alone and struggling, know that even the best riders get dropped. No matter how you finish, you'll be able to call yourself a racer. And we'd wager you'll sign up for another race shortly afterward.