36 Romantic Hours Off-Road in Baja
The ultimate rules-free weekend date
Heading out the door? Read this article on the new Outside+ app available now on iOS devices for members! Download the app.
A few months ago, I got an email: "Hey Wes, interested in taking this thing for a spin?" One look at the attached pictures of a built-for-off-roading pickup carrying a luxury camper shell in its bed, and the answer was obvious: "Only if I can take it to Mexico and put my dog in it." Over Easter weekend, I did just that.
But not before inviting my friend Andy. The only other time I've used an RV, he and I rented one in San Francisco to go race electric motorcycles. My time with that RV ended when a local sheriff put me in handcuffs inside the paddock at the racetrack. His ended shortly after calling in an emergency SOS to a guy we'd just met to bring him a change of clothes after trying, and failing, to empty the sewage tank without spilling it all over himself.
While the two of us definitely aren't pros with RVs, we are pretty good with vehicles. On a normal day here in Los Angeles, I drive a lifted Land Rover. Andy's usual transportation back in Michigan is a school bus; he runs the Detroit Bus Company. So taking someone else's six-figure truck off-road in Mexico wasn't altogether the worst idea we've ever had.
Much better, for instance, than the time Andy decided to fight an escaped tiger with a weed whacker.
The truck in question was the new Nissan Titan XD Pro-4X. Powered by a 5.0-liter Cummins turbo diesel, it can tow up to 12,640 pounds and carry nearly 3,000 pounds in the bed. That's good, because the camper installed in this one weighs 2,000 pounds before you fill it with drinking water, poop, and cases of beer.
This truck was built by suspension specialist Hellwig to show off its new Big Wig air suspension system that's self-leveling and ups the capacity of the rear suspension to 2,800 pounds per side, boosting payload while making driving with a huge amount of weight in the bed easier, safer, and smoother.
Hellwig also bolted on a set of its new sway bars, which help keep the truck level in corners even with thousands of pounds in the bed. The company also lifted the truck three inches, fitted it with big all-terrain tires, and wrapped it with steel bumpers and rock rails to protect it off-road. This thing is as capable as it gets if you're also trying to live in it.
Andy and I threw in a bunch of food and booze, plus Wiley, and set off for Baja. This is what we learned on the way and how it applies to any vehicle you'd want to live out of.
Wait, where's the romantic part? Well, in addition to our decade-long bromance, Andy I both have new girlfriends, so we invited them too.
Where Should You Go?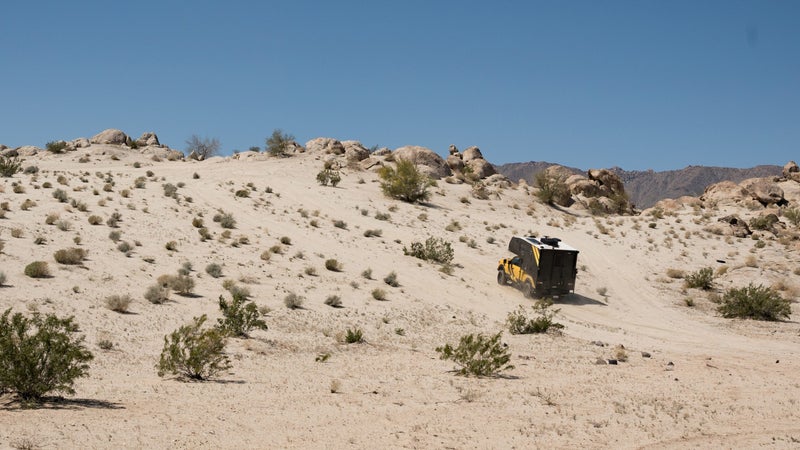 Baja has three main attractions: beaches, hot springs, and off-roading. A weekend's not much time on an 800-mile long peninsula, but plan your trip right, and you'll be able to spend time enjoying all three.
Thirty-five miles down a rough dirt road and just 35 miles from the Mexicali border, Guadalupe Canyon Hot Springs is an easy a place to start a Baja adventure. There, 14 private campsite are all equipped with their own hot tubs, made from the canyon's boulders and fed by a natural hot-spring source. You need to book ahead of time, and you can pick which spring is appropriate for your group size and how much privacy you want. We stayed at El Sol, which has a nice little palapa for shade and views of the surrounding canyon and its palm tree forest.
The springs aren't just easy to get to, they're also an easy destination for a first trip to Baja. They're operated by a ridiculously friendly family, there's a gate that gets locked at night, and some limited supplies like ice are available on site, should you forget something essential. Here, you'll be safe, comfortable, and very perceptibly in Mexico.
But you'll also have other people around. Want to have the definitive whole-beach-to-yourself Baja experience? You'll need to head to the west coast. While the Sea of Cortez side of the peninsula is warmer and has calmer seas, all the beaches within a day's drive are developed with homes, resorts, and organized campgrounds. In contrast, the Pacific beaches are pretty much all undeveloped once you get south of Ensenada. And they require a good 4×4 to reach.
Camping on Baja's Beaches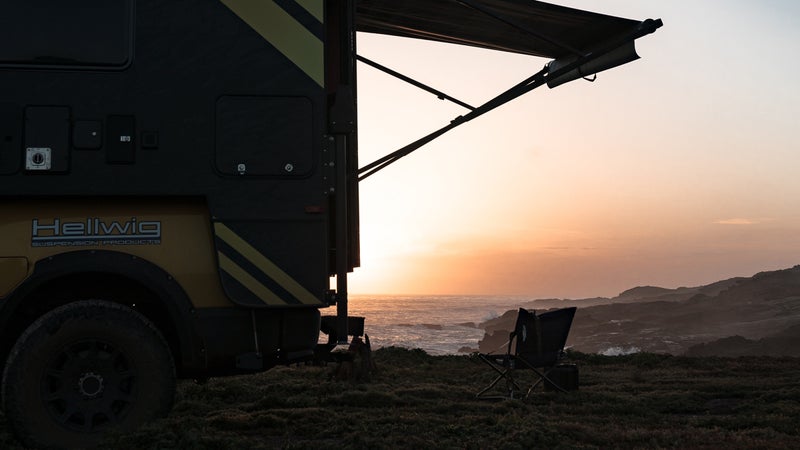 Open up Google Maps and spend some time toggling between map and satellite views. Once you've identified a possible beach you want to camp on or near, look for tracks leading to it. If you can get to it, you can camp on it. And you'll probably have it to yourself. That's the whole point of coming down here.
Most of the dirt tracks are relatively simple—nothing that would trouble a stock four-wheel-drive pickup or SUV, or even a decent all-wheel drive crossover like a Subaru. Having said that, even an easy track will be occasionally interrupted by a very difficult obstacle like a steep climb, fallen boulder, or washed-out gulley. The more capable a vehicle you take, the bigger margin of safety you'll be giving yourself and the more you'll be able to explore. Also, getting off the track and onto a beach often involves a very steep descent on a loose surface—which you'll need to scale back up on the way out—and obviously you'll also need to tackle the beach's loose sand. I wouldn't try that in anything but a truly capable 4WD vehicle with at least a locking differential on the rear axle and a good set of all-terrain tires. Make sure you also pack at least a shovel, but preferably a set of MaxTrax as well in case you get stuck in the sand. And remember to park above the high tide line.
Eating Local
The best thing about Mexico is the food. The worst thing about Mexico is sometimes the food can be bad.
For our trips down to Baja, I like to bring most of my groceries along from home and add stuff I catch. On this trip, that was fresh mussels plucked off the ocean rocks, stewed in tequila and lime juice, and served on the beach for Sunday brunch. Last time, it was fresh yellowtail turned into beer-battered tacos. Research seasons and areas ahead of time, and go prepared.
You can also buy fresh fish and shellfish from roadside vendors. Be as careful about smell, texture, and color as you would at home and you should be fine.
Want to try the tacos? You should! The general rule for roadside taco stands is to stop at ones with the longest lines. The length of a stand's line is the local equivalent of a Yelp review.
Bringing the Romance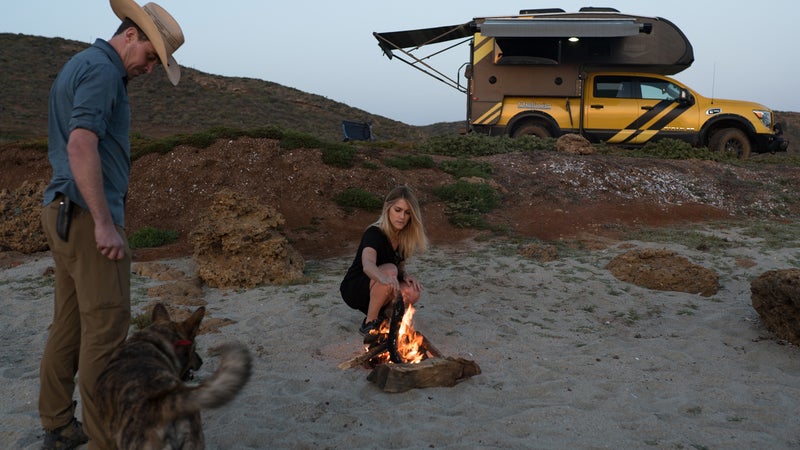 There's a lot to like about visiting Baja, but it also requires the right mindset. Down here, you'll often be a long way from help, so plan to be as self-sufficient as possible. Look at the inevitable roadside tire repairs as a bonding experience with your partner.
At night, the stars are incredible. South of Ensenada, there are no cities or even towns to speak of for hundreds of miles. But being way out on your own can also be intimidating, particularly in a foreign country.
The views from the roads (there are two) are incredible, but there are also few services, and guardrails are sometimes nonexistent, even next to thousand-foot drops. Other traffic and the animals that wander across the road can be unpredictable.
The vast empty spaces are most of Baja's appeal but also its biggest challenge. Destinations are a long way apart, and travel here often takes a lot longer than you'd expect.
For those reasons, Baja welcomes those who are prepared and willing to take chances. Visit with the right mindset and the tools, plus the knowledge to use them, you'll have a great time. Without them, you'll be miserable. Is your partner actually adventurous? It'd be a good idea to figure that out beforehand, but you'll definitely find out if you go to Baja together.
Trending on Outside Online