Inside Yosemite's Traffic Meltdown
The Park Service says they're doing their best but no one wins when America's most iconic valley becomes an endless, exhaust-choked loop of creeping traffic. Can anything be done to prevent bumper-to-bumper traffic from becoming the new normal in Yosemite Valley?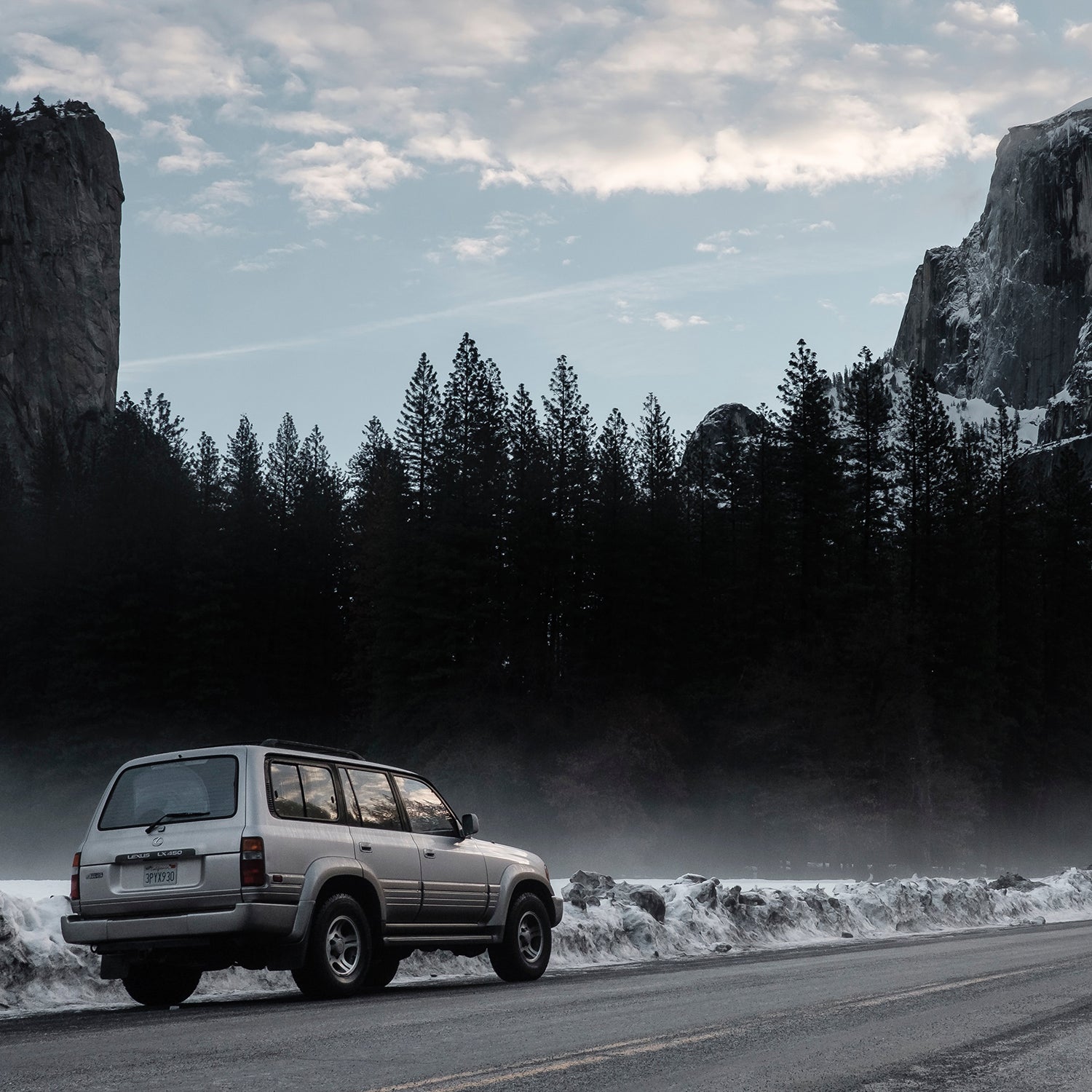 Emmanuel Maceda/Unsplash(Photo)
Heading out the door? Read this article on the new Outside+ app available now on iOS devices for members! Download the app.
Erick Anno and his wife Melody Mischke, both now 41 and living in Evergreen, Colorado, met while teaching field science in Yosemite National Park 13 years ago. In late June of this summer, they road-tripped back to the park, hoping to introduce their 7-year-old son, Corbin, to the "magical place" they remembered.
"We knew it'd be crowded since it was the weekend before July 4," says Anno, a geography teacher, "but we thought we'd know when and where to go to avoid the chaos." 
Anno was wrong. It took the family three hours to travel the sixteen miles east from the town of El Portal to the heart of Yosemite Valley. Then the parking fiasco began. "People were just stopping at the entrance of parking lots and waiting," says Mischke. "They'd ask anyone who walked by if they were leaving within the next hour so they could get the spot." 
"We wanted the highlights for Corbin," says Anno. "We wanted the magic. But by the time we found parking all we could think about was leaving before the tide turned for the exit. We just wanted to get the hell out of there."
Yosemite Valley is the world's most spectacular cul-de-sac. Three two-lane roads funnel into the west end of the 3,000-foot-deep granite gully scoured by Ice Age glaciers. Visitation has been steadily increasing for decades, averaging three percent annual growth in recent years. But from 2015 to 2016, likely due to the Park Service's centennial marketing campaign, Yosemite visitation jumped 20 percent, from four million visitors to over five million. This year will likely surpass that. 
"There's definitely a tipping point when things fall apart," says Jamie Richards, public affairs officer for Yosemite National Park. "Once we figure out more about the system mechanics, then we can start looking at the suite of solutions." 
They better hurry up. With the park service broadcasting two- to three-hour traffic delays to enter Yosemite on digital roadside signs, on its website and, increasingly, via social media, it's easy to arrive at a troubling conclusion: the iconic park, like many of its counterparts, is woefully unprepared to manage its crowds. Despite a 1978 Congressional act requiring parks to set visitor carrying capacities, only seven of the 108 parks and recreation areas enforce limits. Yosemite is not among them. 
"We wanted the magic. But by the time we found parking all we could think about was leaving before the tide turned for the exit. We just wanted to get the hell out of there."
The solution, some argue, are day-use reservations that would be applied for in advance and capped at a certain number. (The backcountry and overnight permits would be managed separately.) "It's not rocket science," says Brenda Ostrum, a Mariposa resident and former Project Manager for Yosemite NPS from 1998 to 2003. Ostrum's work in destination tourism and transportation has included planning for Super Bowls. "This is recreational-use math and transport. We know how to determine maximum vehicle levels. But the park service keeps kicking the problem down the road." 
The idea isn't a new one, but it is gaining support from an increasingly vocal chorus of advocates. "We used to just shut the park down in 1994 when we determined that visitor experience was being harmed," says Jim Tucker, a fifth-generation local and another advocate for a day-use reservation system. Tucker grew up in Yosemite Valley. His dad was a park ranger and Tucker followed suit, retiring in 2006 as deputy chief ranger. Now his son is a ranger, too. "The rangers were elated to finally get to limit visitation. The Superintendent at the time, Mark Finley, told us to shut the gates if things got too crowded. When I saw parking lots fill up and long lines on the roads, I'd order the gates to close. Can you imagine what it was like to tell people you can't get in? But it made a huge difference for the visitor experience in the park."
To many, a national park should never close its gates, making day-use reservations a social and political mine field. While there are already permits in place for backcountry camping or hiking, it's tough to tell someone she can't even enter her taxpayer-funded public park on a perfect Saturday in July. Plus, by preventing tourists from entering the park, you also reduce the amount of money pouring into the communities surrounding it. 
Republican Representative Tom McClintock has been fighting for decades to keep the Yosemite gates open and keep tourism dollars funneling into the park's gateway towns. His solution: Better infrastructure, not visitor caps. "Day-use reservations are a partial solution," McClintock said to me in a phone interview. "But we need more parking. I've noticed a bias in the park system toward restricting access to people. The park's mission is to welcome people. These are not the king's lands set aside for the enjoyment of the politically connected, privileged few." 
Ostrum and Tucker, like most current park employees I spoke with, want to welcome all visitors to Yosemite. They're just not sure it's possible any more. The debate, like so many these days, comes down to one of balance: the park service's responsibility is not just to serve visitors. It's also to protect these natural resources. "It's like living with an addict that you know is destroying themselves," says Ostrum. "I want to do anything I can to help, but at some point a person, in this case the park, has to help itself."
Change isn't going to happen quickly. For the foreseeable future, day-use reservations—let alone shutting the gates on the most crowded days—remain highly unlikely. Right now, the park is taking a wait-and-see approach, crossing its fingers that re-routing and parking improvements will ease the congestion. McClintock trusts the tourism marketplace: when it gets too crowded, fewer people will choose to come. 
Mischke and her family fall into that latter group. They will return to Yosemite, but not in the summer. "The traffic diminishes Yosemite's majesty," Mischke says. "It felt more like Disneyland than a national park. We know we'll come back, but I'm sad for the people who've traveled for their one chance to see it and they get this."
Lead Photo: Emmanuel Maceda/Unsplash
Trending on Outside Online