Sponsor Content: KEEN
48 Hours in Jackson Hole
From hikes near town to the best place to grab a drink with a view, photographer and adventurer Elise Sterck shares her favorite things to do around her hometown
In 2013, Elise Sterck set sail on a 1930s-era schooner with plans to travel the world. A few months into her trip, she was near Antigua when the mast broke off, and Elise was literally forced to abandon ship. Alas, she returned home and decided to chase another childhood dream: become a helicopter pilot. "I grew up watching Teton Gravity Research movies and I wanted to be the girl who delivered athletes to the tallest peaks," says Elise, now 26. Needing to pay for rent and pilot school tuition, Elise picked up a camera as a way to make money.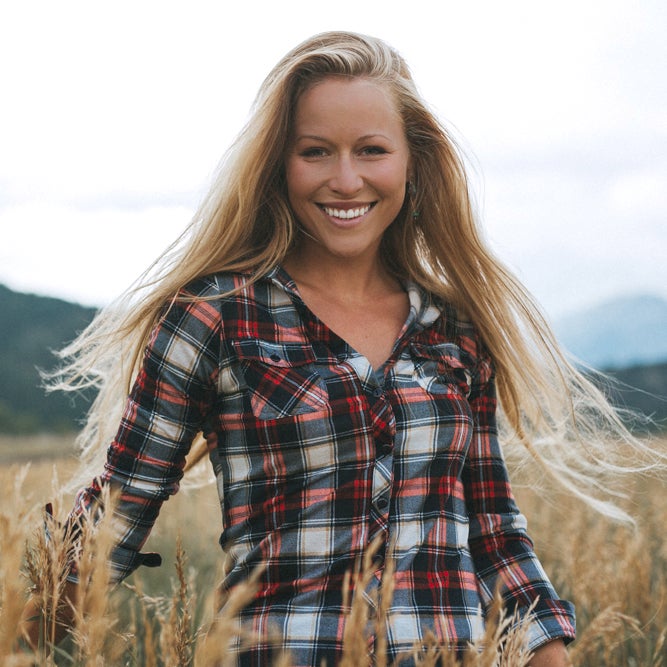 Elise's camera and modeling experiences have since taken her to beautiful places across the globe, such as Iceland, Chile, the bottom of the Grand Canyon, and all over the mountain town of Jackson, Wyoming, where she lives today. "I grew up in Wyoming and it feels like home," says Elise. "I love that it's the least populated state—if you know where to go, you can usually find solitude in incredible places." If you are in Jackson, here's what Elise recommends for eating, relaxing, and playing outside.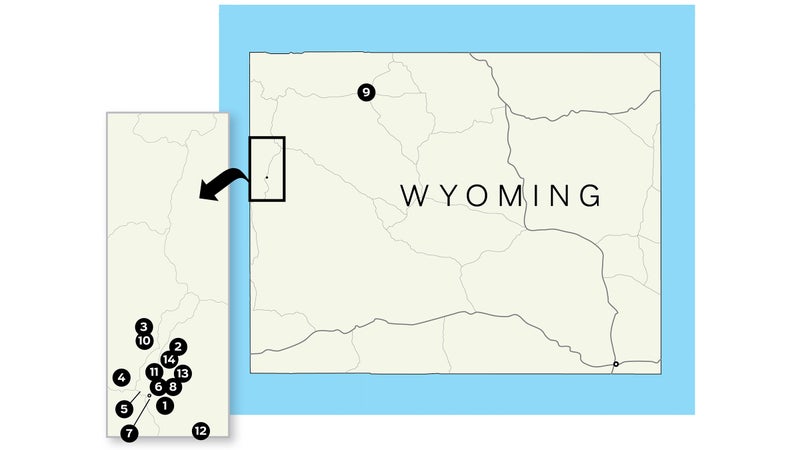 ---
Hikes and Skiing 
During the warmer months, Elise suggests heading to Snow King Mountain Resort (1) for a hike or run. "It's by far the best place in town to take your workout from the gym to the outdoors," she says. "It's also the only mountain literally located in the town of Jackson—it's visible from everywhere in town." With options for all levels, Elise says you can choose from a network of trails that can take anywhere from 30 minutes to a few hours, and the views toward the top make any uphill climb worth it. "I love looking down from the summit at Jackson Valley, at the elk feeding grounds below, and the Grand Tetons in the distance."
For another warm-weather adventure, Elise recommends taking a trip to one of the several national park lakes in the area, some of which are located right under the Grand Tetons and are only 30 to 45 minutes outside of town. "Dornan's (2) is one of my favorite places," says Elise. "You can rent a canoe and paddle while looking up at the Grand Tetons. If you hit it right, you can see all the changing leaves reflected on the water."
When winter sets in, options in Jackson Hole are endless. Visitors can choose between a day of snowboarding and skiing at either Snow King or Jackson Hole Mountain Resort (3). Elise prefers Jackson Hole Mountain Resort because all of the backcountry access, but says both offer world-class terrain and incredible views.
Experienced backcountry skiers and riders flock to Mt. Glory (4), a popular backcountry skiing area located about 25 minutes outside of town. "You can drive to the top of Teton Pass, park in the lot at Mt. Glory, boot pack or skin 45 minutes up to the top, and ski fresh powder the whole way down," says Elise. Locals often do multiple laps and hitch back up to the top of the pass. Another option is to ski all the way into the town of Wilson, at the bottom of the pass, and grab a beer and street tacos at the Stagecoach Bar (5), and then catch a ride back to your car. "Most people in town are skiers and love doing that same run, so you'll usually get picked up within two or three cars."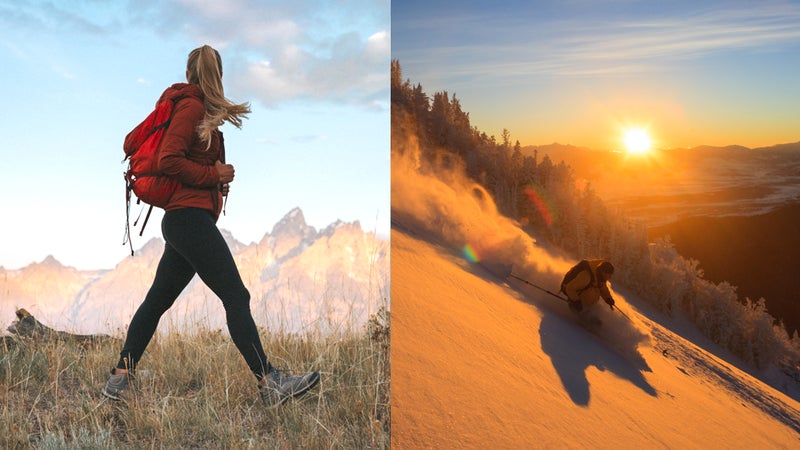 ---
Eats
Elise likes to start her day at Persephone Bakery (6) in town. Specializing in artisanal breads and pastries and utilizing old-world fermentation techniques, the bakery seems more likely to be found in San Francisco or France than Jackson. It offers delicious croissants, coffees, and egg sandwiches; Elise's favorite comes with with bacon, egg soufflé, and goat cheese. On the way to your adventure, Elise says you can grab the cheapest lunch in town at Lucky's Market (7). "Its sandwiches are $5 and they really pack in the ingredients." 
If you're back in town by lunch, Liberty Burger (8) is another must-stop spot for visitors. She says the burgers are not only hearty, but you can substitute bison for almost any one on the menu. At night, head to The Local (9), a modern steakhouse with plenty of options. "They have a great bar with an awesome happy hour," says Elise. "I love getting the duck salad served over a bed of greens on the main dinner menu, and highly recommend the oysters."
After skiing all day at the resort, the Mangy Moose Restaurant and Saloon (10) is a great choice for après hour. "They do typical bar food that is pretty spot on, but the best part is it's nice and chill because everyone is still in ski gear."
For a fancier option, whether it's for breakfast or cocktails, The Granary (11) offers some of the best views of the Tetons just outside of town. "In the summertime, the outdoor patio is epic, and even in the winter, I love the cozy, rustic feel and the floor-to-celling windows," says Elise.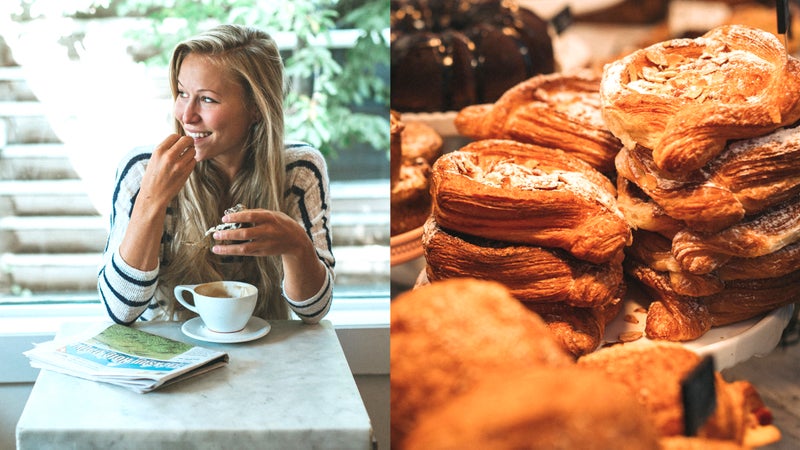 ---
Hot Springs 
Granite Hot Springs (12), located south of Jackson and tucked under the Gros Ventre Mountains, 7,000 feet above sea level, are a can't-miss. During winter, access is limited to rentals and tours via snowmobile, dog sled, or cross country skis, but easy to organize from town. For summer months, follow US-191 12 miles south from Hoback Junction until you reach the 11-mile Granite Hot Springs gravel and dirt road.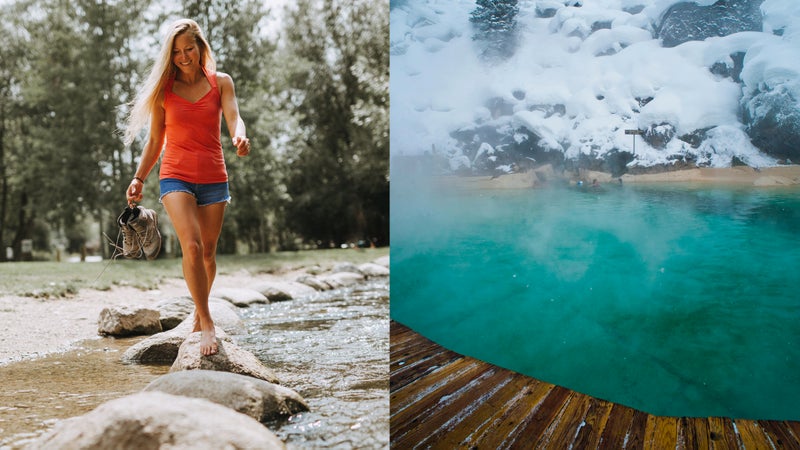 ---
Shopping and Sights
Elise isn't big on the fancy boutiques downtown. But she loves a good gear shop, like Teton Mountaineering (13). "They have lots of technical gear for mountaineering, climbing and tons of approach boots."
For sightseeing, the National Elk Refuge (14) is her favorite, and hard to miss off Highway 191 into Jackson. Since 1912, public lands were set aside for feeding and protecting wild elk, just south of Yellowstone National Park. The giant animals are easily viewable from the highway going in and out of town. Elise says wintertime is usually when you'll see the biggest population of elk. "Sometimes you'll see thousands of elk feeding on native vegetation as well as alfalfa pellets provided by the park staff."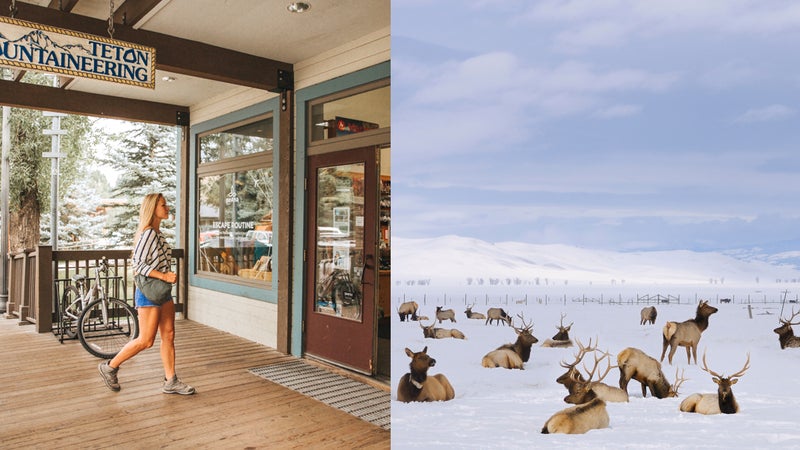 ---
KEEN's TrailFit is a movement. It's about staying fit and finding your fit. It's about getting out, pushing yourself, and reaching new heights. It's about earning a better view, whether it be of the world or of yourself. TrailFit's best match yet? The new Terradora: a boot designed for those days you can't pick between walking in the city or hitting the trail. Cue the mid-city workout, the post-work hike, or a weekend of playing tourist on your home turf.