2019 Bucket List
The Case for Camping Alone (Sometimes)
There's possibly nothing more therapeutic than going into the woods solo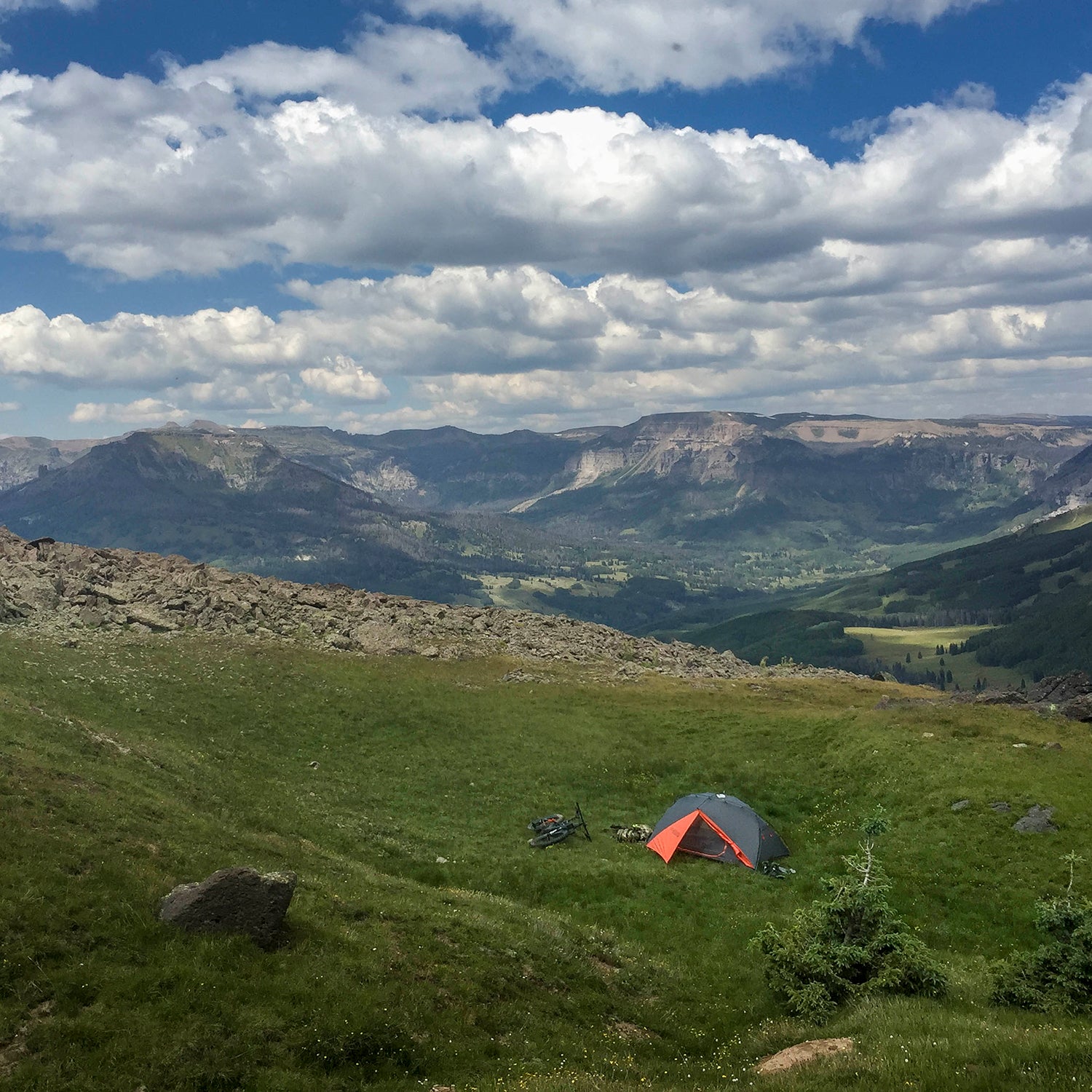 JJAG Media(Photo)
Heading out the door? Read this article on the new Outside+ app available now on iOS devices for members! Download the app.
For the last week, I camped alone in the high mountains of Colorado. It might sound weird or misanthropic to go camping solo, but I'd prescribe it every time over antidepressants or a shrink.
My wife, Jen, had to return to Santa Fe for physical therapy following a second surgery on her infernal broken arm. I probably should have gone with her for moral support—and to do things like slice bread, put the toilet paper rolls in the dispensers, and button her shirts, all of which are about as fun without your dominant hand as writing a journal entry. But in truth, her injury has made the last two months for us a study in co-dependency, to the point that I wasn't sure if Jen was more tired of her broken arm or of me. I took it as a sign that we needed a break when she said she'd happily eat tortillas, leave the TP on the floor, and go topless around the house in my absence if need be.
I had an over-the-counter elk tag in Colorado, which for weeks I'd assumed I would not be able to get away and use, so I loaded my gear into Artemis the Airstream and set off north, guilt gnawing at me all the way. Are you a bad husband if you abandon your injured wife, even as she's sighing with relief as you roll away?
A smug-looking horse and its trailer had appropriated our favorite spot on Cumbres Pass when I arrived, so I had to find a new place to park. On a previous visit, Jen and I glanced a couple other possible sites up a ropey dirt road, which looked good but also tight for turning a 23-foot trailer. Artemis and I charged straight up that abraded path, a move that I knew Jen never would have agreed to make without first taking the bike up to scout. She is the voice of caution—or reason, depending on perspective—and we usually come out better for it. But after months of surgical planning and maneuvering, I was exultant to be in the driver's seat. Jen and I probably make the best decisions when we make them together, our personalities and impulses a solid counterbalance, but one of the great freedoms of going alone is the autonomy to act as you wish.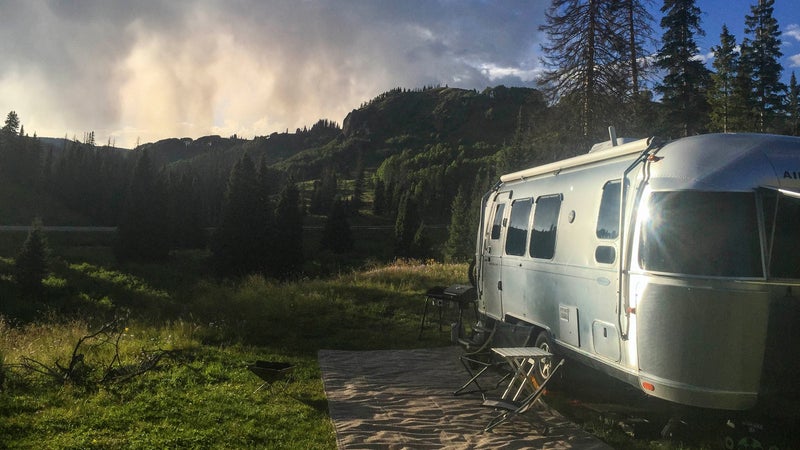 Camping a week by myself was, as always, an act of returning to the bachelor state. I am a fastidious person, perhaps to a fault, so rather than head out in search of elk that first night, I set up and double-checked my setup, downloaded emails and dealt with work, re-sighted my bow, and basked in the quiet of a long sunset and no commitments. This is one important difference of camping solo: there is no distraction, for better or worse, from where your mind moves. Want to sit and glass through the binoculars at those distant elk until it's too dark to see? That's precisely what you do. Want to skip dinner in favor of a bourbon? That's your prerogative.
But on a hunt, you still must wake at 4 a.m.
And so it went: rise in the dark, chase the faint bugling through the surge and fall of dusky mountains, get on elk and pass or fail because they're not right or you aren't, sleep in the middle of the day, which is a great luxury that we humans seldom afford, return to camp well after dark. Then repeat, day after blessed, restful day.
Artemis makes a perfect hunting lodge for one. While she has plenty of space for two, it can get tight when you add in unwieldy packs, bows, and muddy boots. The slop and wet is also easier to manage alone, and since I was in mountain Colorado during the monsoon, I spent several afternoons huddling from the storms over a good book and a coffee. This was a Zen mountain retreat, silent and simple.
While Colorado's mountains are stunning, thanks to the influx of immigrants come for the industry and the marijuana, as well as the ease of getting over the counter hunting tags, it does not offer the lonely isolation I'm spoiled by in New Mexico. One morning, after leaving Artemis by headlamp two full hours before sunrise for a promising spot six miles back, I found another hunter sitting in the exact rocky crook from which I'd intended to glass and call.
Creeping through dew-damp forests, listening for the whisper of a bugle for guidance, lying prone in a sun-swamped meadow of high-alpine wildflowers and feeling the mountain wind on your face—alone it feels more visceral as you sink completely into the experience.
That afternoon, I loaded provisions for three nights on my back, locked up Artemis, and grunted a dozen miles into the wilderness. I wouldn't see another human till I returned to the trailer. I set up my tent on a grassy, hoof-etched bench at 11,500 feet that made a bed more soft and silent than any high-end mattress. That night, I slept better than I had in months, waking only once to the eerie shrieks of a pack of nearby coyotes. I clambered out of the tent to hear better and, cuddled in my sleeping bag for warmth, eventually faded back to sleep in the wide open under the wan light of the sickle moon.
Jen and I have hunted elk and deer together for years. We have slaved over hauls and been fortunate enough to fill our freezer each season. Yet alone, it's a different experience. You move more like wildlife, where the wind and hoof tracks and energy take you, not where you collectively decide to do go. Creeping through dew-damp forests, listening for the whisper of a bugle for guidance, lying prone in a sun-swamped meadow of high-alpine wildflowers and feeling the mountain wind on your face—I've done all that with Jen in the past, but alone it feels more visceral as you sink completely into the experience without constantly checking in. 
If you don't hunt, you may not appreciate the nuance of chasing through dark timber and learning the land on your own. But you might fathom what it means to come home and be so exhausted from tramping up and down precipitous hills littered with deadfall that you appreciate a partner to make coffee and a bacon scramble burrito—or have a partner whose tired appreciation for you making that breakfast outweighs your fatigue. While I savored the solitude of my wilderness respite, I also lamented not having company to share the moments. That's the other nice thing about time alone: it fortifies you for the work ahead and makes you appreciate everything your partner adds to your daily experience. 
At the end of the week, when I returned from the deep woods to the Airstream, the road was snot slick with mud from the rains, and I only barely extracted Artemis, fishtailing nauseatingly down the eroded track. Jen never would have gotten into such a predicament. The pavement and the promise of returning to my regular schedule brought an exhalation of relief. Being alone and fully responsible for every detail is rewarding and important, but it is also demanding. As the first globes of rain detonated on the windshield, I drove away from the graphite storm clouds that rolled down the pass and toward my waiting life.
Lead Photo: JJAG Media
Trending on Outside Online