The Food Diaries of a PCT Thru-Hiker
What you eat while on the trail can make or break your ability to make it to the finish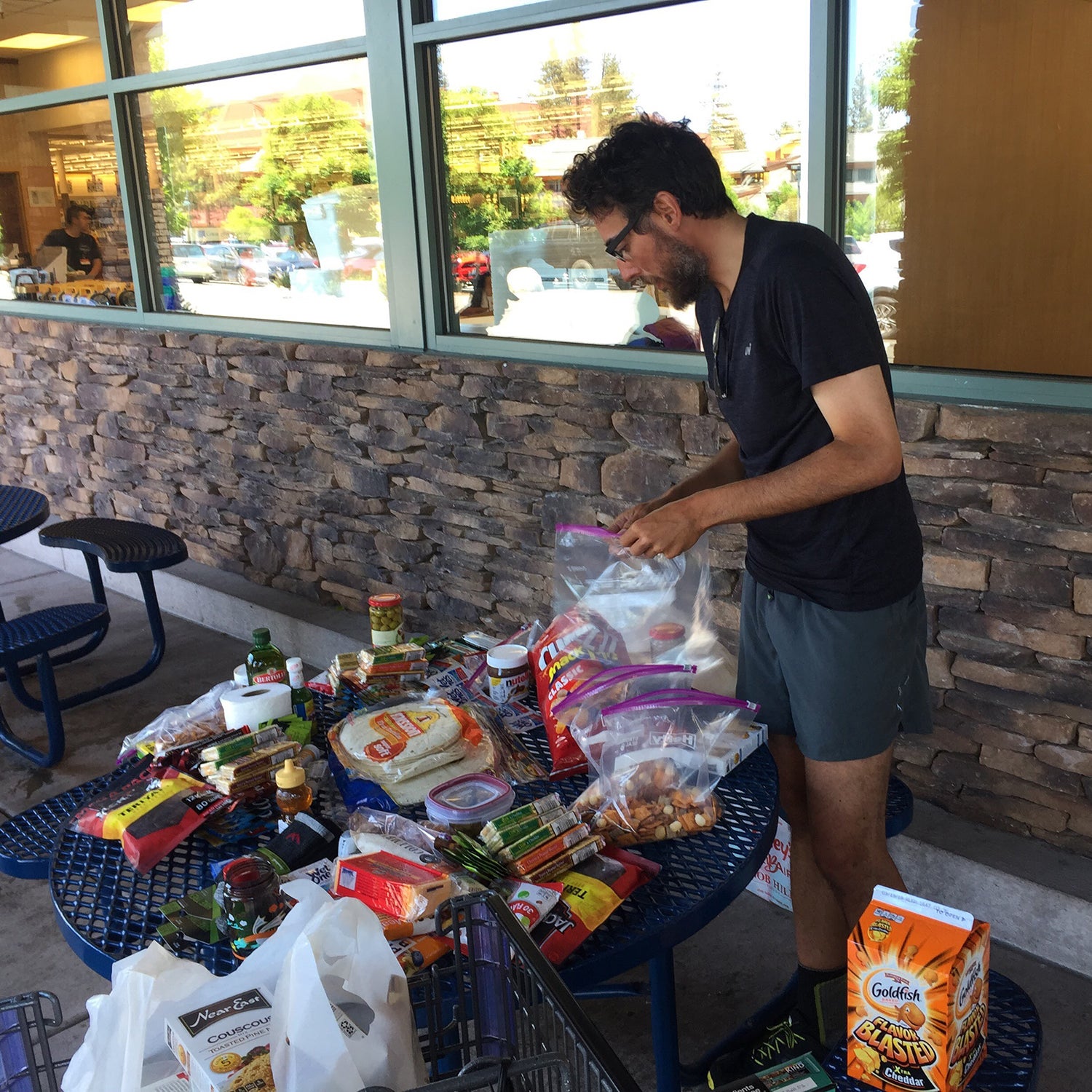 Heading out the door? Read this article on the new Outside+ app available now on iOS devices for members! Download the app.
Every day of the past five months, as I've made my way through 2,000 miles of the Pacific Crest Trail, I have been in a constant state of hunger.
Besides the number of miles I'll cover in a given day and where I'll sleep at night, I put the most thought toward what I'll eat during the journey from Mexico to Canada. I constantly wonder if I'm getting the right nutrient balance and a sufficient number of calories, as any shortcomings in these areas could mean less energy, dramatic weight loss, or illness.
But finding the right mix of food to fuel hiking 30-mile days while still fitting it into a backpack is beyond difficult. Only now, with less than 600 miles remaining, have I figured out a good system. Although it might be almost too late for me to benefit fully from this knowledge, I'm here to pass along my lessons.
For me, the biggest challenge was finding the right ratio of calories to weight. It's tough, because you move through areas with varying terrain and degrees of difficulty, and your gear and calorie expenditure differ pretty greatly from section to section. The average male needs 3,500 to 4,000 calories per day depending on the ruggedness of the path that day, while a woman needs to eat 3,000 to 3,500 given the same considerations. To cope, I tried everything from overloading my pack with more than a week's worth of backpacker-friendly food to relying on luxurious items like cheese and salmon packets for just a five-day supply (which worked much better for me).
Here's what I learned.
Morning
Many thru-hikers swear by oatmeal, but I have found a simpler way to eat in the morning. As I break camp at 5:30 a.m., I chug water and eat a dense protein bar. I switch between Pro Bars and RX Bars. While pricey, they're packed with fruit and nuts, have plenty of flavors to choose from to avoid flavor fatigue, and keep me full until the first water and snack break a couple hours later.
Why It Works: When Matt starts with a Pro Bar or RX Bar in the morning, he's striking the right balance of carbs, fat, and protein to provide sustenance until his next snack break, says Brenda Braaten, a retired registered dietitian and thru-hiker.
Somehow, I weened myself off coffee and don't need a caffeine hit in the morning. But Mio iced coffee squeeze is a good substitute when I decide I really need a fix.
As I travel before lunch, I use every stream or spring to fill up on water and eat more food. Between breakfast and lunch, I stick to three items: a Clif Builder's Protein bar, a Kind bar, and beef jerky. Once the jerky runs out, which tends to happen in the first two days of my preferred five days' worth of supplies, I lean on extra nuts packed for backup. I used to eat Welch's Fruit Snacks, which are delicious, but I switched those out for a clementine at lunch. While it weighs more, there are few better pick-me-ups on the trail than fresh fruit.
Why It Works: Of all his snacks, Braaten likes Kind bars the best because they're good sources of quickly digested glucose that your body burns as fuel. "Keep the sugar coming in a pretty steady stream all day long so you don't deplete glycogen stores," she says.
---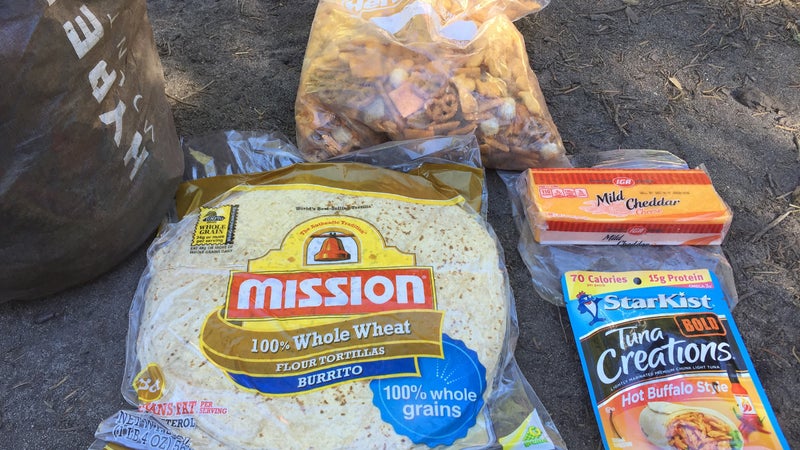 Noon
A staple of the hiker lunch is a flavored StarKist tuna packet on a Mission tortilla. Filling and protein-heavy, it's also unbelievably easy to assemble. When we stay over in a town, I'll pack out a block of cheddar cheese from the general store to add to the tuna. Cheese, while warm toward the end of the week, won't spoil. In the bigger towns with better supermarkets, I'll swap the tuna packets for an avocado or summer sausage. For more flavor and calories, I drizzle olive oil and hot sauce on the wrap.
After the tuna, there's always a dessert wrap lathered up with Nutella or peanut butter and occasionally some dried banana chips. I'd caution against dehydrated peanut butter—it just doesn't taste good.
To really make lunch filling, I typically supplement the wraps with a Snickers bar, a few handfuls of Goldfish or Cheez-Its, that clementine I mentioned, and a liter of water with four squirts of Mio electrolyte supplements.
Why It Works: These wraps provide fat, protein, and carbohydrates in one sitting, making them a great choice for trail lunches, says Braaten. The tortilla is especially key because it's made of carbs that quickly convert to sugar to help fuel muscles. Since the body doesn't have to reach deep into its glycogen stores for energy, the protein and fat aren't used until later, providing greater sustenance and aiding muscle building, she says.
After a substantial lunch and with fewer miles to hike for the rest of the day, I only need two snacks to hold me over through the afternoon. I stick to another Kind bar and either a Nature Valley Sweet and Salty nut bar, a Bobo bar, or a pack of Keebler cheese crackers.
Why It Works: Planning for multiple snacks post-lunch is a good idea. "Small, frequent meals are much more efficiently digested than only two meals a day," says Braaten.
---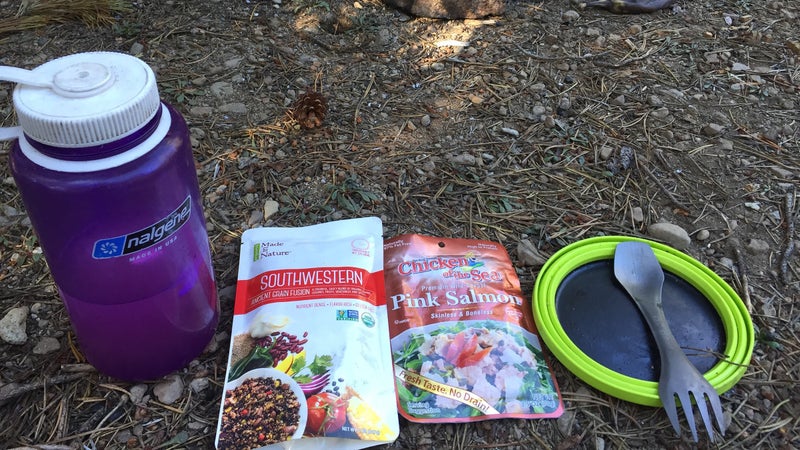 Night
A Mountain House dinner is your tastiest bet, but it's cost-prohibitive. A dinner pouch can run you upwards of $9. And though many hikers advocate for Knorr-brand sides and instant mashed potatoes, I quickly got sick of them.
Eventually, though, I found two meals that serve me well. The first, Near East couscous, is easy to make and filling and comes in many flavors, like broccoli and cheese, Mediterranean curry, and mushroom and herb.
The second came as a result of my rapid weight loss in the Sierra mountains: precooked quinoa, mushroom, and rice pouches sold in Safeway. Then I add a salmon packet for more protein. For flavor, I throw sun-dried tomatoes, olive oil, hot sauce, and taco seasoning into the pouch.
Why It Works: Timing of the meal is crucial. Hikers should eat dinner within 20 minutes of completing the day's hiking to replenish their glycogen supply, says Braaten. While precooked meals make preparing dinner easier and quicker, be mindful that they're generally higher in carbohydrates than protein. Braaten suggests supplementing these meals with a high-quality source of protein, like the salmon packet Matt uses.
I usually top the night off with a handful of peanut M&M's, a half-liter of water with a Nuun hydration tablet, and a cup of green tea.
Why It Works: Staying hydrated on the trail is vital. While the amount of water a hiker should drink varies from person to person, Braaten says hikers can use how many bathroom breaks they take as a guide to whether they're drinking enough water. Ideally, hikers should go to the bathroom immediately after waking up and take at least five breaks throughout the day. If they choose to have coffee or tea, both of which both contain caffeine and have a small dehydrating effect, hikers need to add an additional cup of water to their hydration plan to make up for water loss.
—Additional reporting by Colette Harris.
Lead Photo: Courtesy Matt Vasilogambros