This 9-Year-Old Completed Thru-Hiking's Triple Crown
Christian Thomas, a.k.a. Buddy Backpacker, finished the Continental Divide Trail on September 18, becoming the youngest person to complete all three of the nation's longest hiking trails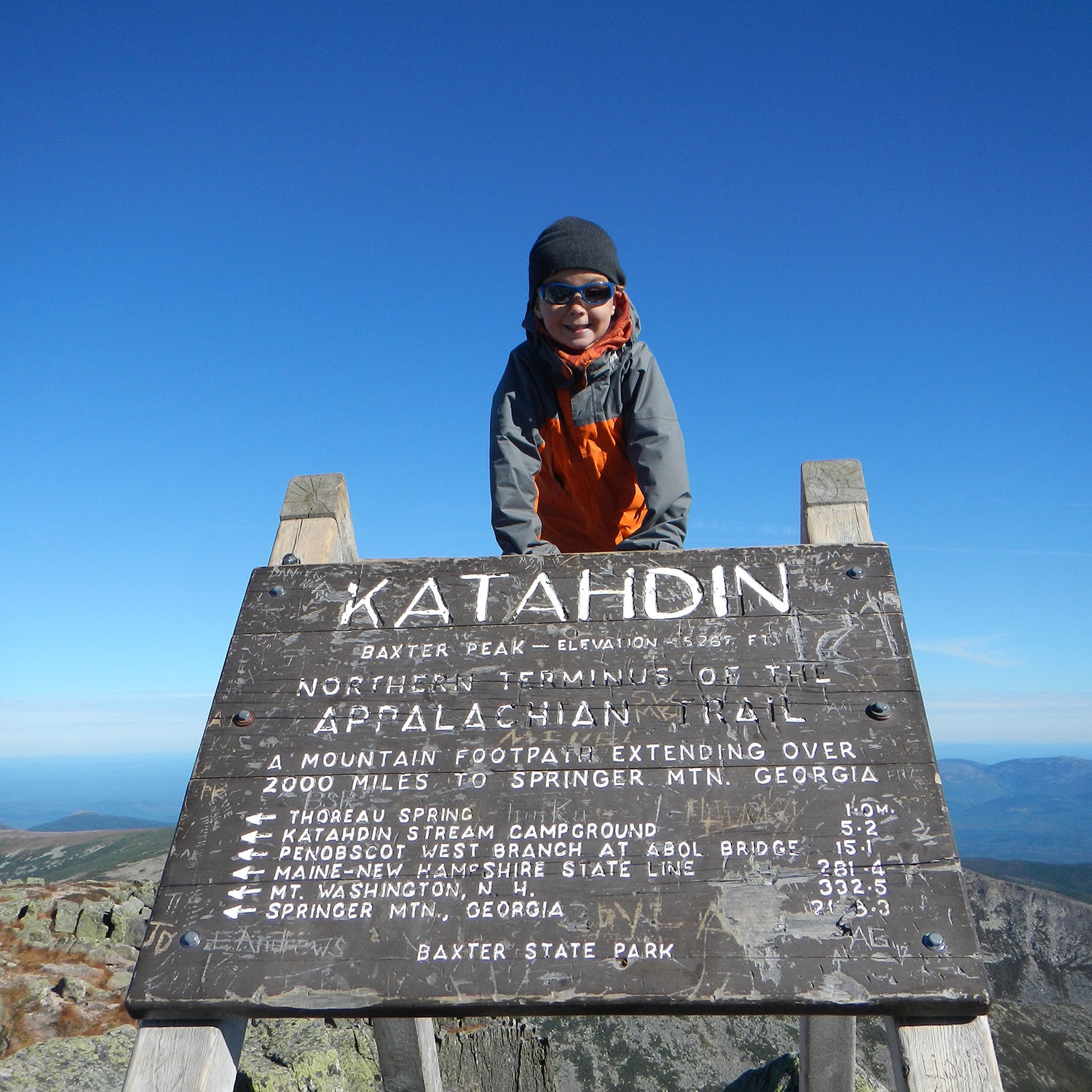 Courtesy of Dion Pagonis(Photo)
Heading out the door? Read this article on the new Outside+ app available now on iOS devices for members! Download the app.
On September 18, nine-year-old Christian Thomas stood in front of Old Faithful in Yellowstone National Park with his parents, Andrea Rego and Dion Pagonis. The family from Crested Butte, Colorado, had just finished a 1,200-mile section hike of the Continental Divide Trail, the last leg on their journey to say they officially walked its length. Having finished both the Appalachian Trail and the Pacific Crest Trail in 2014, this was the third long-distance footpath they'd hiked in nearly five years.
With that final step toward the geyser, Thomas became the youngest person in history to complete all three trails, called the "triple crown" of hiking. Doing so requires trekking nearly 8,000 miles and climbing more than 1,000,000 feet in elevation. Fewer than 350 people have reported their triple crown to the American Long Distance Hiking Association–West, an organization that tracks such feats, though ALDHA-West president Whitney LaRuffa says unreported triple crowns could double that figure.
Thomas, who goes by his trail name Buddy Backpacker, says his first thought after finishing the CDT was pride. "I felt really proud of what I did and also what my family did. Then, the first thing I wanted to do was eat at a Chinese buffet in town."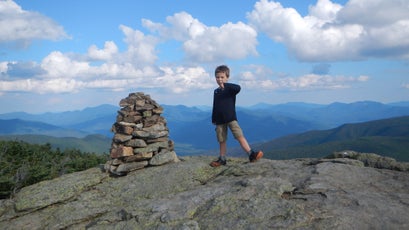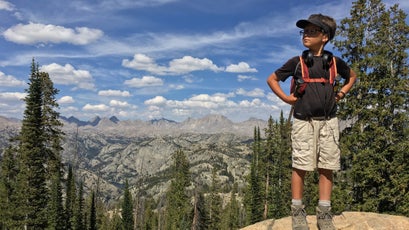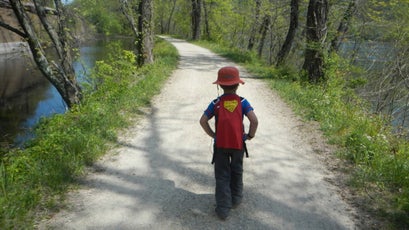 On September 30, ALDHA-West recognized Thomas as a triple-crowner at the Gathering, a yearly ceremony where those who have completed all three trails are given awards. (The organization doesn't recognize speed or age records.) "This is a huge feat for anybody, but the fact the he did it between the ages of five and nine is pretty remarkable," says LaRuffa. "I met him on the CDT in 2016, and he's such a happy kid and likes being out on the trail. I had no doubts that he could achieve it."
Thomas was five when he and Pagonis started hiking the 2,189-mile Appalachian Trail. They planned a short section hike going north, starting at Harpers Ferry, West Virginia, in April 2013. "We thought we'd go hike for a few weeks," Pagonis says. "He did so well, we just kept going."
So Pagonis began giving Thomas homeschool lessons on the trail. Since neither of them carried a pack, Rego provided support at road crossings in the family's Jeep. Nine months later, Thomas became the youngest person to hike the trail, having been homeschooled as he hiked. He claimed that same record on the 2,660-mile Pacific Crest Trail, starting in April 2014 and finishing in November. "Since hiking is something we brought him up doing, I don't think he knew any different," Pagonis says. "I don't think he knew how big of a deal it was."
The natural progression was to then take on the CDT, which snakes through the Rocky Mountains for 3,100 miles from Mexico to Canada. In 2016, they made it roughly 1,900 miles before ditching the attempt. "We got off trail at Old Faithful last year because it was already September 11," Rego says. "We still had 1,200 miles to go, and there was snow in the forecast for every day in the coming week. We knew we wouldn't make it to Glacier National Park before a huge snowstorm hit, and it would be too difficult to finish." The family tackled the remaining miles from April 2016 to September this year.
Thomas says one of his favorite parts about hiking is cranking up "Thunder" by Imagine Dragons and pretending the song is a soundtrack to a movie he's starring in.
Now that Thomas is back at home in Crested Butte, Colorado, he's doing what you'd expect from a fourth-grader—playing video games and hanging with friends. "I am happy to be home and back in school," he says. "Every day is different when I'm home and in school."
In 2012, the family moved from Long Island, New York, to Boulder, Colorado, and eventually to Crested Butte. The goal was a lifestyle change, one that included a focus on health and being outdoors. With the Rocky Mountains so close by, the family began taking regular day hikes. That progressed to overnights, and then longer backpacking excursions. Even as a toddler, Thomas proved to be a natural. "He's never known anything other than hiking," Pagonis says. "He did so well with hiking and really took to it. He loved meeting different people we saw on the trails."
On the AT, Thomas typically hiked 12 to 16 miles a day without a pack. But on the CDT, he routinely cranked out 20 miles and carried a homemade cuben-fiber backpack containing his quilt and some gear—it normally weighed around five pounds. "He loves doing big miles and guessing how many we have left in a day," Rego says. "He never pushes himself beyond his limits. When adults get tired and hungry, they make bad decisions and can get hurt on the trail. When he's tired, we recognize that."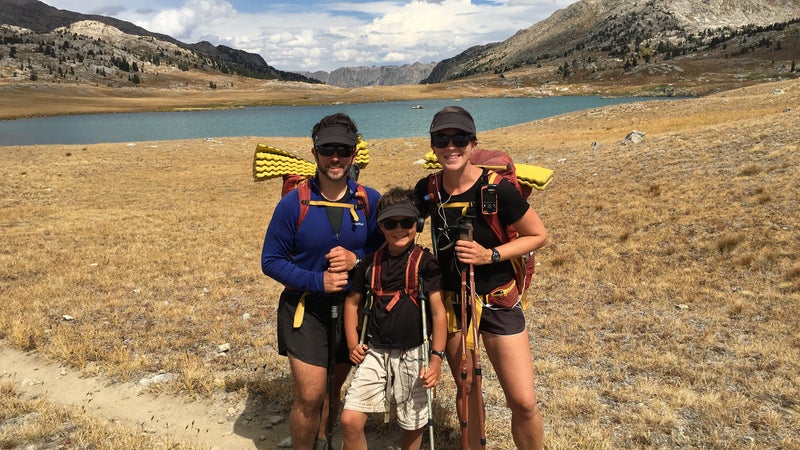 Thomas says one of his favorite parts about hiking is cranking up "Thunder" by Imagine Dragons and pretending the song is a soundtrack to a movie he's starring in. "He always has his headphones in, and he's usually listening to music," Rego says. "He'll be dancing down the trail on the side of a mountain, just bopping along, skipping and dancing."
Rego and Pagonis say they're finished long-distance hiking for now, but they don't plan to remove themselves from the culture. They recently purchased land near Hachita, New Mexico, close to the southern terminus of the CDT, with plans to open a hiker hostel. As for Thomas, he plans to give his legs a break for a few years. "I might do one of the trails again one day," he says, "but not anytime soon. My feet are happy to be done hiking."
Lead Photo: Courtesy of Dion Pagonis
Trending on Outside Online