DOI Backtracks on Addressing Inequality in Our Parks
Zinke's strategic plan for the next four years shows no intention of addressing diversity, equity, and inclusion in our public lands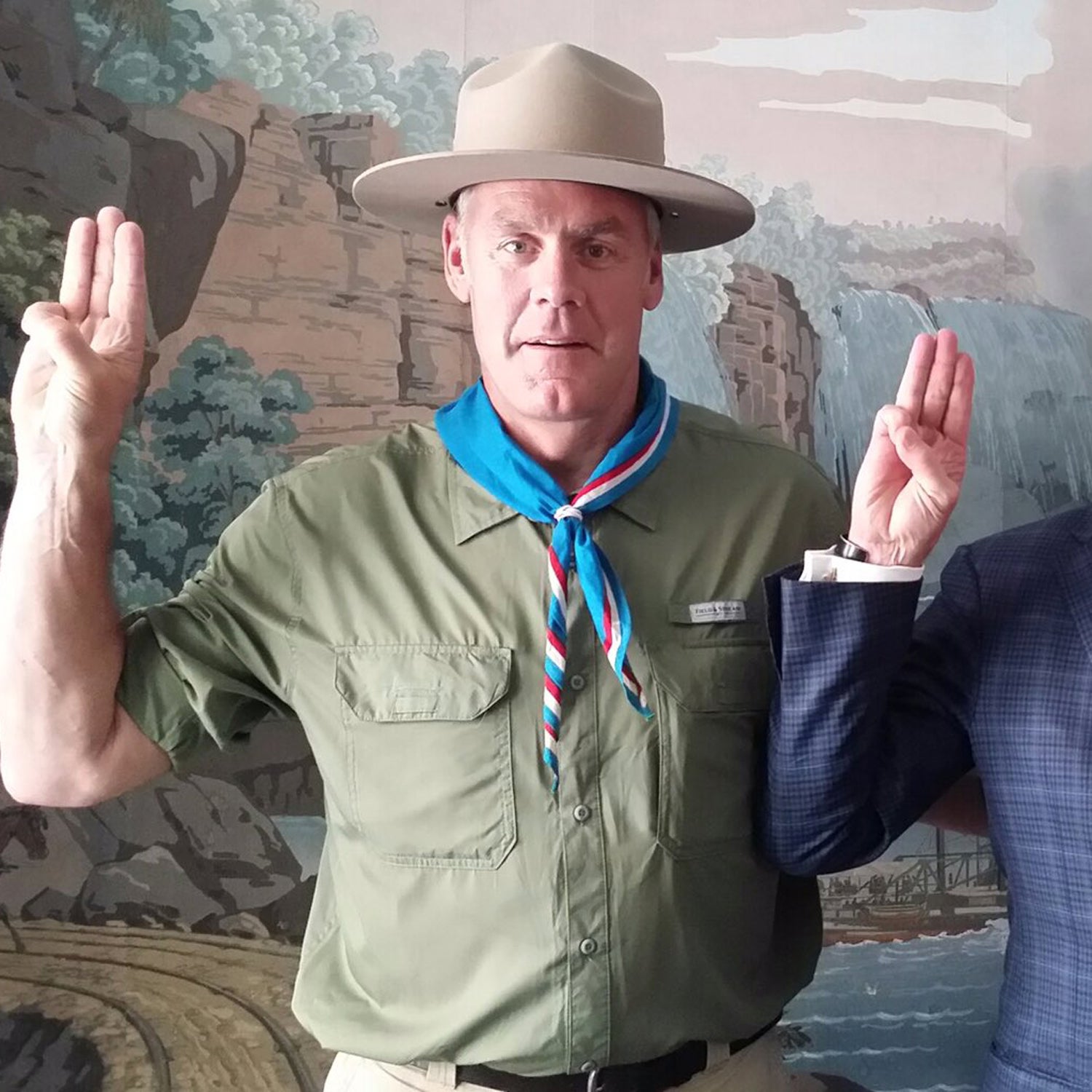 Courtesy @RepRyanZinke/Twitter(Photo)
Heading out the door? Read this article on the new Outside+ app available now on iOS devices for members! Download the app.
What's most striking about the leaked 2018–2022 strategic plan for the U.S. Department of the Interior isn't what this 50-page document has to say—it's what it leaves out. While much of the conservation community decried the proposed increase in admission price at the busiest national parks, few took notice that the new administration has deleted the entire diversity, equity, and inclusion mandate from its plan.
A clear priority of the Obama administration was to grow a constituency of citizens who would come to love the natural environment and fight to protect it. One of the main goals of the Obama-era DOI, as laid out in its 2014–2018 plan, was to grow a "highly skilled and engaged workforce that reflects the diversity of the Nation. Differences in background, thought, education, and experience contribute to the varied perspectives in the workplace and create a synergy for higher performance and success in the achievement of DOI's mission goals."
Inspired by the Next 100 Coalition, a network of mostly minority environmental activists, Obama also signed a presidential memorandum with a similar goal just before he left office. This document, which is still technically in effect, compelled DOI agencies to take specific steps promoting diversity and inclusion, both internally and on our public lands. That included a push for more equitable hiring and career development, better engagement with a broad swath of communities, and more inclusive cultural interpretations in the National Park Service and other protected places.
Such language is absent from the new strategic plan. Instead, the plan's expressed purpose is to "generate revenues and grow the U.S. economy" by easing policies that "burden" the oil and mining industries with environmental regulations. And the plan's only mention of improving access is recreationist focused: "Expand hunting, fishing, and other recreation on DOI lands and waters."
Much has been reported on the disproportionate rates of participation among ethnic minorities in outdoor recreation and environmental conservation. Though the DOI does state its intention to give "greater priority to recruiting and retaining sportsmen and women conservationists, with an emphasis on engaging youth, veterans, minorities, and underserved communities," this single reference—with no mention of workforce development—is scant assurance to most activists.
"There was clear direction in [Obama's] memorandum that seems to be completely ignored [in the new plan]," says Jes Ward, executive director of Citywild, a youth engagement organization based in Denver. "If this guidance is not put in place before the plan is finalized, it seems the process will need to begin from scratch."
Some programs like the Every Kid in a Park campaign, which offers free national park admission to fourth-graders and their families, will continue for the time being. But many activists believe that without a specific mandate from the DOI, land management agencies will simply go back to business as usual, having few incentives to ensure that public land is accessible to everyone. "Arguably the department doesn't plan to do anything to right the ship and cure the disparity that's long been documented," says Audrey Peterman, president and co-founder of Earthwise Productions, an environmental consulting and publishing firm focused on connecting the public lands system and the American people.
Adding insult is Zinke's proposal to raise entrance fees, some more than 300 percent, at 17 of the most post popular national parks—despite a projected 12 percent reduction in funding for the NPS. As financial disparities of household incomes in the United States still fall along racial lines, people of color will be disproportionately affected by this increase. "If this week's NPS announcement about proposed fee increases is any indication of the new administration's philosophy on public lands access and equity, then I'm very concerned about an emerging pay-to-play management approach that will make it very difficult for some socioeconomic segments of our society to enjoy their public lands," says Estee Rivera Murdock, executive director of the Rocky Mountain Conservancy.
Rather than making it more difficult and less likely for underrepresented citizens to enjoy their public land, the DOI should do more to engage these populations. Any strategic plan that prioritizes energy extraction on public land over the best interests of the American people is unsustainable and can only lead to greater disparities.
"This administration is going above and beyond to let private companies extract from our public lands yet are asking struggling Americans to pay double or triple to use them," says Jocelyn Torres, Nevada program director for the Conservation Lands Foundation. "These concerning proposals are not going to be limited to this strategic plan or proposed fee increases; they will continue to surface as long as Secretary Zinke continues ignoring the importance of equity. We must remain vigilant."
Lead Photo: Courtesy @RepRyanZinke/Twitter
Trending on Outside Online