The Best All-Mountain Bikes
As frame and component weights continue to fall and suspensions improve, bikes are getting slacker and more capable. But who really needs such big, beefy bikes?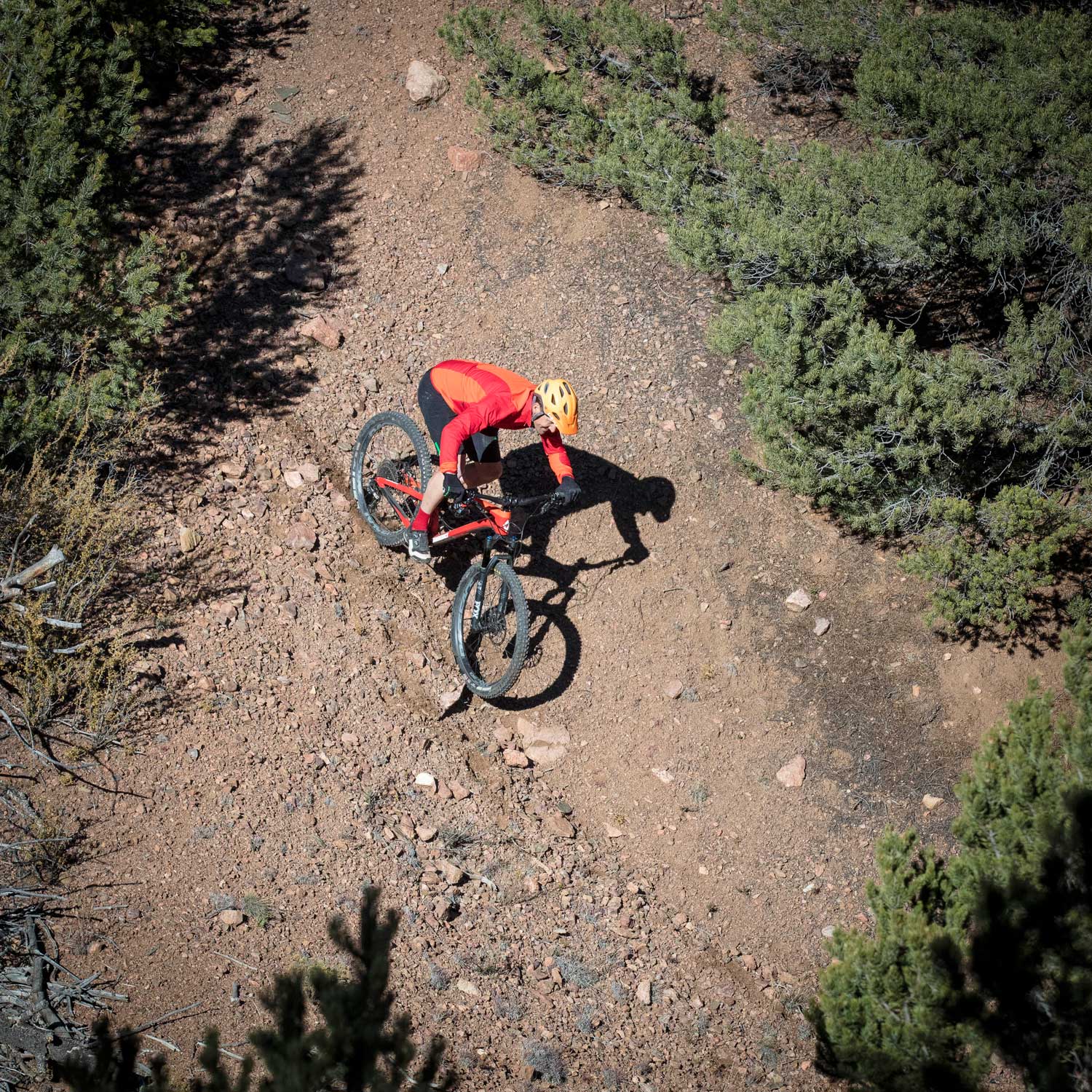 Heading out the door? Read this article on the new Outside+ app available now on iOS devices for members! Download the app.
Late this summer, Diamondback-sponsored rider and longtime friend Eric Porter swung through Santa Fe to show off the company's latest mountain bike, the Release Carbon. He challenged me to find a ride burly enough for the new all-mountain machine. I obliged with a point-to-point that would take us to the 12,000-foot summit of Ski Santa Fe and then plunge 6,000 feet back to the valley floor by way of our most rugged descent, a rock-choked cleft called Rio en Medio that ends in a stairstep waterfall drop. Porter assured me that the Release would gobble the ride whole.
The Release Carbon typifies a wave of all-mountain bikes coming to market for the 2018 season. These bikes speak to the overriding trend of longer, lower, and slacker that's sweeping across the entire mountain bike industry.
Up until a few years ago, mountain bikes were short in the top tube and made up for it with longer seatstays, head angles steeper than a ski run, and a flagpole of a stem. All that weight out front habituated everyone to thinking twitchy equaled fast. In the past few years, pretty much every brand has, to one degree or another, embraced the new formula—longer top tube, shorter chainstays, embarrassingly short stem—which makes for more stable downhill manners and high-speed stability. It's difficult to find a bike on the market that isn't headed this direction. The new geometries are making bikes like the Release, built largely around 27.5-inch hoops, closer to enduro machines for brapping ugly downhills than typical trail bikes of just a few years ago. If your local trails tend to be smooth and flowing (think: Steamboat Springs or Bend), you might be better served by a shorter-travel trail bike than any of these all-mountain machines. But for places like Moab or Sedona, or if you favor chunk and tech, these bikes will make you more capable than ever.
I like the new geometries (to a point), but truth be told, 27.5-inch wheels are not my typical poison. I've been testing bikes through the progression from 26 to 29 to 27.5, then fat and plus, and though I am happy to ride any of them and can find benefits and fun across the board, for the combination of steep and loose terrain common in the desert Southwest, I always come back to 29-inch wheels. Fit and riding style obviously play into that, and I'd never try and tell anyone that one wheel size is inarguably superior to another. But given my preferences, it's been much to my chagrin that the first three test bikes of the season, including the Release, all turned out to be mountain 27.5ers.
On the bright side, I've been forced to spend a few months learning to appreciate these new rides. I was nervous the day Diamondback brought down the Release, because taking on such a demanding descent on a brand-new bike—and one so different from my preferred setup—seemed like a recipe for crashing and burning, or, at the very least, a tentative ride. But Porter was right: The Release was at ease on everything from loose, steep chunder to big, blocky drops. It even did fine on the 2,000-foot ascent, though it'll never be a bike to set climbing speed records. Basically, the Release made me look more carefully at the range of all-mountain bikes coming to market. And as the mountain bike landscape shifts, if you're riding a steep, old-school bike, you should probably take a look, too.
Mondraker Foxy
$4,400 to $10,600 ($9,100 as Tested)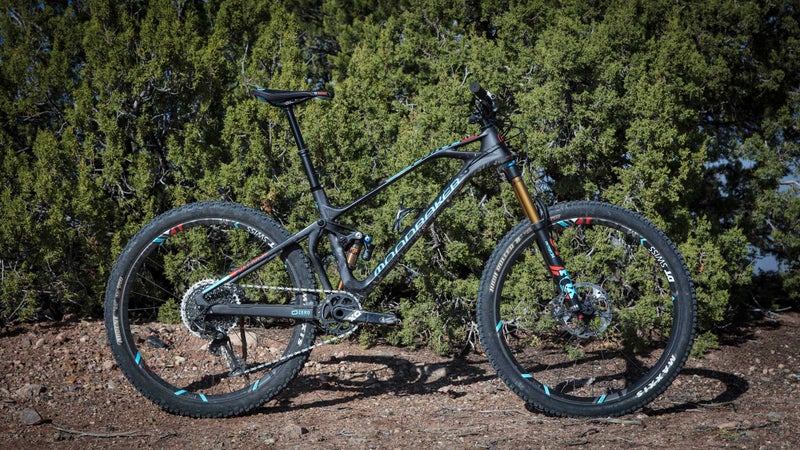 If most companies are following the trend of long, low, and slack, Mondraker (along with Kona) is setting and pushing the boundaries. With roots in the gravity market, this 16-year-old Spanish brand, coming to the United States for the first time in 2018, is building long, stable bikes that make even the domestic crop of modern bikes look short and steep. Case in point: the Foxy, which has a top tube more than an inch longer than the other bikes here and the shortest stem of all (35mm). That's paired to 150mm of travel, which comes by way of a Fox 34 Factory fork and a Fox Float DPX2 Factory piggyback shock in the rear. Chainstays are short (425mm), head angle is slack (66 degrees), and bars are wide (780mm), and thanks to a tight layup on the carbon and premium parts pick, it is pleasantly light (27.3 pounds) for a bike with so much travel.
Those numbers make the Foxy sound (and somewhat look) like a chopper, but it is the most balanced ride here. The steep seat-tube angle made for steady climbing, aided by the SRAM XO1 Eagle drivetrain: Even with a 34-tooth chainring, there was plenty of gear courtesy of that pie-plate 50-tooth granny out back. Descents are where the bike comes alive, though, with that piggyback shock chewing through the rockiest terrain I could throw at it. Like the Release, it swallowed up the huge bedded rocks and big drops of the Rio en Medio descent and felt quick and playful all the while. I did yearn a little for a stiffer, 36mm fork once or twice, but the lighter front end is partly what makes the Foxy so chipper (and Mondraker has the longer-travel, stouter Dune for those who want more). If I had one complaint, it was with the 2.3-inch front tire (Maxxis High Roller), which felt diminutive and slippy for a bike that's otherwise dialed and frisky. (Mondraker says the bike will come with a 2.4-inch High Roller, which wasn't available when they shipped us the tester.)
Bottom Line: The Foxy pretty much defines the aggressive trail category. Even if you can't afford this top-shelf RR SL build, the lower-tier XR, RR, and R builds offer the same frame with equally smart and dialed specs for less.
Cannondale Trigger
$4,000 (Tested) to $7,750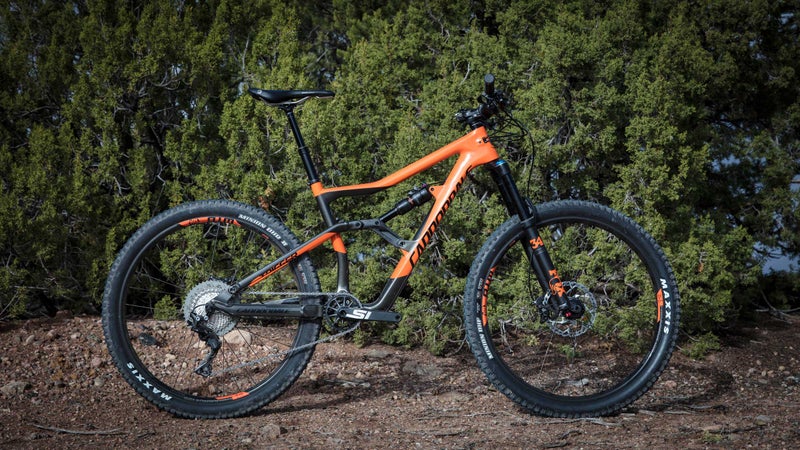 A complete revision of the company's long-running trail bike, the new Trigger is barely recognizable as a Cannondale on its face given the revised shock configuration and lack of Lefty fork. By the numbers, it fits neatly into this group, with 145mm out back, a 150mm fork, a 66-degree head angle, and shortest-in-the-bunch chainstays (420mm). In terms of ride quality, however, it feels like the least modern bike here, with the shortest top tube and longest stem (granted, it's hardly long at 45mm) combining to create a trail feel that's slower handling, steadier, and less perky.
That's not altogether a bad thing. Climbing, it was maybe the surest of the bunch, especially with the proprietary Gemini shock in "Hustle" mode (that's Cannondale's terminology), which reduces the can volume so rear travel is limited to 115mm and you feel as if you're sitting a bit higher on the bike. With a flip of the bar-mount lever, the shock returns to "Flow" mode for full travel. It's a neat switch given that the shock remains fully active even in the shorter setting, which preserves traction and feel. I found myself running in "Hustle" on climbs and most terrain that wasn't a flat-out descent.
The new suspension design is smooth, but in this Trigger 3 setup, which lacks the second reservoir on the Fox Float shock, it got a bit overwhelmed on long, aggressive descents. The alloy rear triangle also makes the bike a bit heavier than the others, at 30.1 pounds. And as with the Foxy, I sometimes found myself wanting a stiffer fork than the Fox 34 and meatier tires than the 2.3-inch Maxxis DHF/DHR combo. In short, on a scale between trail and enduro, the Trigger leans more toward easygoing than aggressive.
Bottom Line: A good all-around trail bike, but not as big and slack riding as some of the other options. At $4,000, the Trigger 3 I've been testing is a good value, but I'd argue to go for the upgrades on the Trigger 2, including the piggyback shock and 10-50 cassette, which bumps the price to a much steeper $6,000.
Santa Cruz Hightower LT
$3,950 to $9,300 (Tested)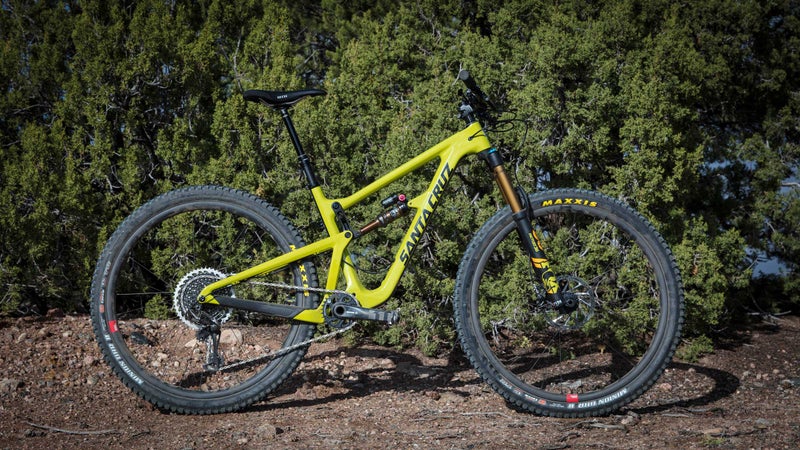 With 29-inch wheels, this bike doesn't fit perfectly alongside the other three here—the Bronson would be a more apt comparison. But the Hightower LT is new and has similar equipment (Fox 36 Factory fork and Float Factory DPX piggyback shock) and similar numbers (150mm of travel front and rear and a 66.4-degree head angle), so I thought it would be interesting to compare how the big wheels ride and feel relative to 27.5. The short answer: big indeed.
Whereas the other bikes here feel like all mountain trail machines—that is, bikes in the middle ground—the Hightower LT rides like an enduro racer. It's basically a hopped-up, bigger travel version of 2016's Hightower, which I absolutely loved, and the big wheels and big suspension combine to steamroll pretty much anything you put in its way. The Fox 36 fork is buttery smooth and completely unflinching in even the most brutal rock fields and chunder, and the piggyback shock had the suspension keeping up on descents that went on a half-hour or longer. The suspension is significantly more progressive than the others here, too, so the bike just ramped up and up the harder I pushed it and never felt soft or bottomed out even when it was maxed. It was also my first time riding the new Santa Cruz Reserve 30 Carbon wheels (laced around an excellent Industry 9 hub), and they proved plenty stiff and light without being vicious or jangling.
As I already said, I am a 29er guy through and through, so it's no surprise I liked this bike. Having said that, it felt, at times, a bit too big for everyday use. Whereas the 27.5 bikes felt largely snappy and playful, the Hightower is aggressive and thuggish. Don't get me wrong: It's incredibly capable, both up and down—I climbed the toughest obstacles aboard this bike and felt 100 percent stable and confident on big, ugly descents. It was also flat-out faster on timed downhill segments. But from time to time, I felt like I was getting muscled around by the bike and not the other way around.
Bottom Line: Like the Specialized Enduro 29 or Evil's The Wreckoning, the Hightower LT proves, again, that a deft combination of big wheels and long travel can make for a seriously unstoppable ride. But you have to like that monster-truck feel.
Diamondback Release Carbon
$3,000 to $4,400 (Tested)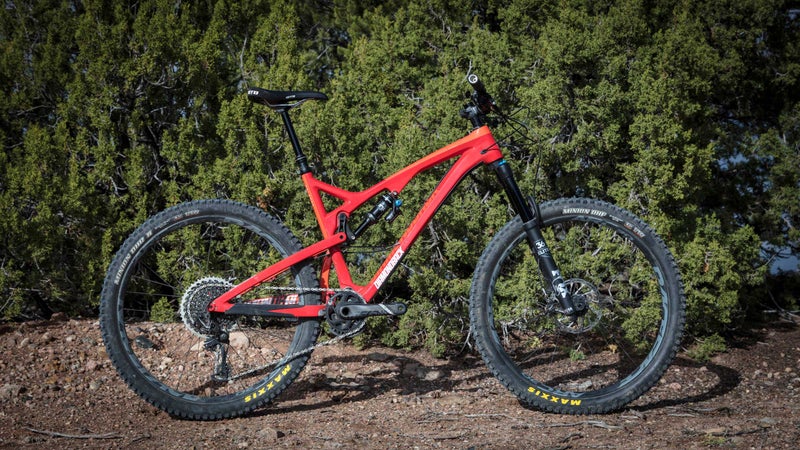 Two seasons ago, Diamondback unveiled the Release, a fully capable all-mountain 27.5er that caught our eye for its high-value proposition but, as an alloy-only build, didn't quite keep up with the high-end superbikes. This year brings two full-carbon versions of that bike, as well as a new direct-to-consumer sales model, which means this bike is not only lighter and more capable than ever, but it also remains one of the best deals going.
On paper, the Release is closest to the Mondraker Foxy, with a 66-degree head angle, 425mm chainstays, a 40mm stem, and 780mm bars. It has only 130mm of rear travel but gets it via the smooth and resilient Fox Elite Float DPX2 piggyback shock and sticks with the longer, stiffer 150mm Fox 36 fork. At first I thought the mismatched travel might feel strange, but Diamondback has nailed the geometry and feel. Relative to the other bikes here, which I felt like I was sitting on top of, the Release made me feel almost inside the frame, and thus incredibly stable and one with the bike. The specs here are smart, too, including a 12-speed SRAM XO1 drivetrain, so you get that huge gear range, and the beefiest tires in the bunch, with a 2.5-inch Maxxis DHF up front and a 2.4-inch DHR rear.
I didn't expect to like this bike as much as I do, and yet I basically can find nothing wrong with it. I've plowed it through ugly scree fields and over the biggest and chunkiest terrain I'm capable of riding, and while the rear end isn't bottomless, the bike has handled it all. The combination of slacked-out fork, long front center, stubby stem, and tight rear end makes the Release feel lively and playful, yet it's still outrageously stable on steeps and at high speed. If I had any complaint, it would be with the bike's weight (30 pounds) and the fact that the front end tends to lift a little when climbing steep or serious tech. Sure, the Foxy was a little better balanced and more fun to climb on—it is almost three pounds lighter, after all—but the bigger fork and tires on the Release had me feeling more confident on descents.
Bottom Line: The consummate all-mountain machine, the Release 5C Carbon is Diamondback's finest mountain bike venture to date and puts it right alongside the most-refined brands and bikes on the market. And it does all of that at approximately half the cost of the competition.
Lead Photo: Jen Judge