A Guide to the Ultimate Backcountry Thanksgiving
It's easier than you think to make a campfire feast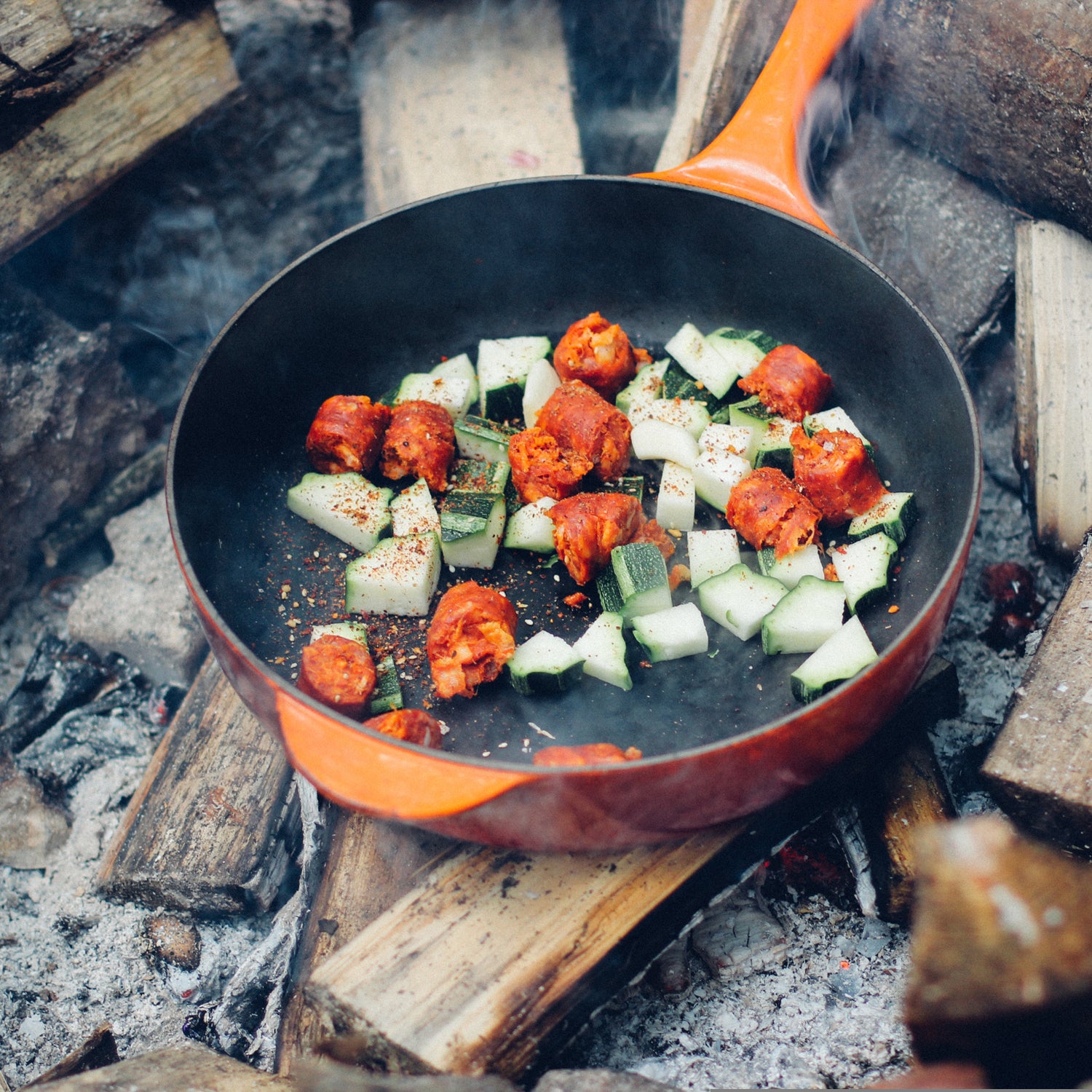 Heading out the door? Read this article on the new Outside+ app available now on iOS devices for members! Download the app.
Emily Nielson, co-founder of Dirty Gourmet, an outdoor cooking blog and catering company, is cooking her Thanksgiving dinner over a campfire this year. She and her friends will gather at Joshua Tree National Park and spend the day scaling Mastodon Peak and hiking to Lost Horse Mine before overloading plates with campfire-cooked stuffing, mashed potatoes, and possibly even pie. "The trick is to keep things simple so you don't spend all day cooking over the campfire," Nielson says. For her, that means ditching the temptation to start from scratch and instead elevating each dish's dehydrated counterpart.
So with that in mind, we asked Nielson and Linda Ly, whose book The New Camp Cookbook ($17, Voyageur Press) is all about how to eat like a king with nothing but a campfire, to share their favorite tips for whipping up a fireside feast complete with gravy, sides, and dessert. We promise it's easier than listening to your uncle's political rants for five hours straight.
The Bird
If you are heading into the backcountry, your only real option for turkey is dehydrated poultry, so skip ahead to the sides to make things festive. Car campers have a lot more options, including skipping the gobbler entirely. "Chicken is just much more forgiving," says Ly. Better yet, her favorite campfire recipe doesn't take any special gear to pull off.
Step 1: Light your cooking fire and let it burn until you have a good amount of hot coals.
Step 2: Rub the chicken with salt and pepper.
Step 3: Place the chicken in a Dutch oven, then pour some sort of whole-fat dairy into the pot, mostly covering the bird, if possible. Ly says you'd have to work to make a chicken dry when it's poached in dairy.
Step 4: Add a bunch ("like, a lot") of peeled and smashed garlic cloves, your choice of herbs, and a few pieces of orange or lemon zest.
Step 5: Tuck the Dutch oven into the coals and cook until the center of the bird is 160 degrees Fahrenheit, usually 45 minutes to an hour.
The Stuffing
It may be super-salty and full of ingredients you can't pronounce, but dehydrated stuffing is a still a delight. Ly gussies up the boxed stuff by adding dried cranberries, crushed dried sage, and extra butter. "Always real butter," she says, even in the backcountry. She suggests using single-serving packets from restaurants, but if you don't want to use up all that packaging, you can freeze a stick—it should stay solid for a day or two depending on the weather.
The Potatoes
Nielson packs a fresh shallot, which she chops and adds to instant mashed potatoes along with some powdered sour cream. Top it off with butter and shelf-stable milk, plus plenty of salt and pepper.
The Gravy
Give powdered gravy an umami boost by adding rehydrated dried mushroom. Ly recommends soaking the mushrooms in hot water for a few minutes, and then using the leftover liquid for your gravy packet. Finely chop the mushrooms and stir them into the finished gravy for a sauce that has substance and depth.
Sweet Potatoes
You could pilfer some of your s'more marshmallows to whip up a trail-ready classic, but Ly prefers her sweet potatoes on the savory side. Her favorite technique is to stuff the spuds with dried cranberries and a little butter. Press the potato back together, wrap it in foil, and let it roast on hot coals while you work on the rest of your feast. Finish them with a sweet drizzle from a single-serving maple syrup pack, like those offered by Vermont-based UnTapped.
Dessert
No feast would be complete without something sweet to finish it off. If you're backpacking, Nielson recommends using hot water (and possibly a shot of booze) to make a compote from dried fruit like plums, figs, cranberries, and apricots. Cook until the dried fruit is soft, and top it with a touch of your morning granola. Car campers should go big with a cobbler or crumble. Ly's super-simple crumble recipe requires just three ingredients and four steps.
Step 1: Dump the contents (liquid included) of two cans of any type of canned fruit into the bottom of a Dutch oven.
Step 2: Evenly sprinkle an entire package of yellow cake mix over the top of the fruit.
Step 3: Cut half a stick of butter into small pats and distribute evenly on top of the cake mix.
Step 4: Put the lid on the Dutch oven and nestle it into the hot coals. Bake until bubbly.
Lead Photo: Dan Edwards/Unsplash