2017 Was the Year of Women's Climbing
So why were most of their major accomplishments also accompanied by a swarm of questions about the routes' legitimacy?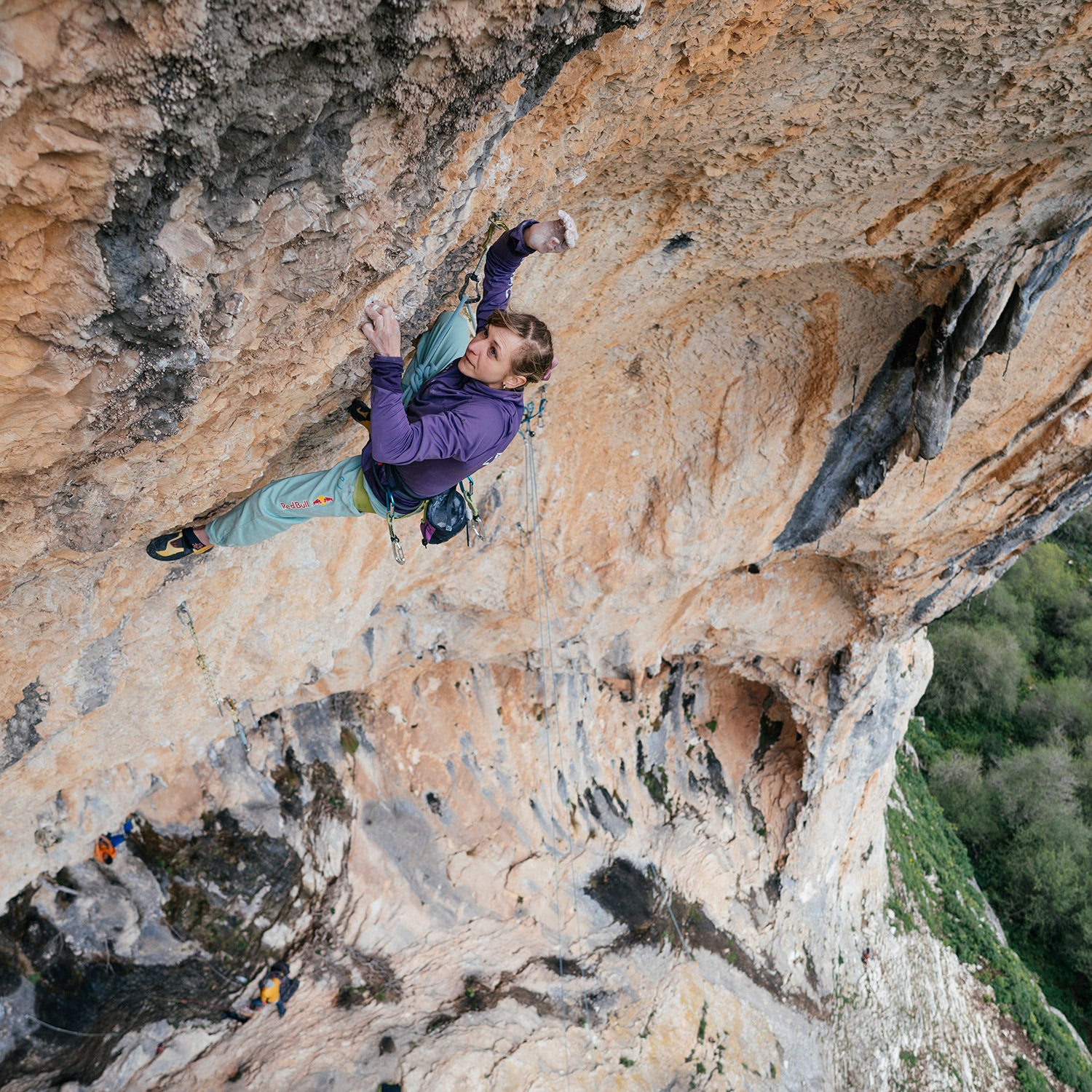 Elias Holzknecht/Red Bull Conten(Photo)
Heading out the door? Read this article on the new Outside+ app available now on iOS devices for members! Download the app.
In September, while traveling back from the World Cup in Italy, a young Belgian climber named Anak Verhoeven stopped at Pierrot Beach, in France, and made the first ascent of a very difficult route. Snaking up a partially overhanging wall of limestone, the route traces its way along rough, wheat-hued rock face interspersed with dark gray vertical bands of mineral calcite. For a climber, it requires raw strength and highly technical footwork. Verhoeven had tried the route before, but fog and cold blasts of wind from the north had made it unclimbable. This year, the weather cooperated. After sending the route, Verhoeven gave it a 9a+ grade—a 5.15a in the American system.
If the route is confirmed, 21-year-old Verhoeven will be the first woman to have completed such a demanding first ascent. (Every climbing route that has been sent by someone receives a grade, which is then confirmed or modified by the next person who climbs it.)
Grades like 5.15a describe climbs that are exceedingly difficult. The first widely recognized 5.15 climb, called Realization/Biographie, was done in 2001 by Chris Sharma and has been repeated by only a handful of elite climbers. When Verhoeven sent the route at Pierrot Beach, no one else had ever climbed it before, and only one woman had climbed a 5.15 at all—Margo Hayes.
Almost immediately after Verhoeven sent it, a debate broke out whether the route was difficult enough to qualify for the grade. Some people retaliated against the skepticism, saying the only reason people were raising questions about the route's grading was because Verhoeven is a woman. "When a woman climbs a first ascent, it's always difficult for people to accept what she thinks about it," Verhoeven told me. "I wanted to accept the challenge and go for it. I knew I had done something special."
Verhoeven's story should sound familiar to anyone with a passing interest in climbing news. This has been a monster year for firsts by women climbers: In February, Margo Hayes became the first woman to do any route graded a consensus 5.15a, on La Rambla in Spain, and she followed it up in September with a send of Sharma's Realization/Biographie. Last month, Austria's Angela Eiter climbed the 5.15b La Planta de Shiva route in Spain, becoming the third person—female or male—ever to send it. While Alex Honnold's free solo of El Capitan has dazzled climbing spectators and Adam Ondra's send of the first 5.15d set a new benchmark, the top women athletes in climbing have also been breaking records and generally thumbing their noses at perceptions of gender limits.
"It's been an awesome year. I think that the whole breaking the 5.15 barrier was a giant thing," says Chris Noble, author of Women Who Dare: North America's Most Inspiring Women Climbers. The preponderance of climbing gyms and groundbreaking achievements making women climbers into role models over the past few decades has propelled a new generation into the sport. And as the new generation comes into maturity, they're likely to push the bar of what's possible even higher. Hayes' mentor and climber Robyn Erbesfield-Raboutou told me that the women of this generation are motivating each other and "believing in themselves through the success of the other women who are out there pushing the limits."
Steph Davis attributed the change to more female role models. "The generations before had very few," she wrote in an email, "and as a result, it was harder to push forward—we all stand on the shoulders of those who come before."
But most of this year's accomplishments by a woman have also been accompanied by a swarm of questions about grading and legitimacy.
That second-guessing has a historical precedent. Climbing traces its roots to the alpinist tradition, which in its early days favored aristocratic gentlemen. When they weren't literally encumbered by skirts, women were dismissed simply for being women. In a 1934 article for National Geographic detailing her ascent of the Aiguille du Grépon in the Mont Blan Massif, pioneering alpinist Miriam O'Brien noted that a French alpinist had bewailed her success. The Grépon climb, he said, had as good as disappeared, since no self-respecting man would attempt the ascent after it had been done by a woman.
Then came Lynn Hill's historic free ascent of the Nose route in 1993, for which she climbed the looming bow of El Capitan in a harness but didn't use ropes to help her up the 2,900-foot ascent. Though it didn't make big news at the time, Hill's feat proved to be a paradigm changer. Hill—who had already cemented her name in the sport by being the first woman to free-climb a 5.12d route (1979), the first woman to redpoint (free-climb after practicing beforehand) a 5.14 (1991), and the first woman to on-sight a 5.13b route (1992)—reached the top of the Nose in 1993 after four days of climbing. Afterward, she appeared in a cheeky ad campaign for climbing shoes next to a bold proclamation of her route: "It goes, boys!"
Yet even that triumph didn't remain untarnished. For years, doubters have dismissed Hill's feat by saying that it was only thanks to her small fingers that she was able to traverse the most difficult pitches. "There are certain people who want to be locked into the old paradigm because it suits their comfort somehow, that they are stronger just because they're a man," Hill told me.
Before Margo Hayes became the first woman to climb a 5.15a, another prodigious climber, Ashima Shiraishi, sent a route that she thought was graded 5.15a because of a recently broken hold. That route was subsequently kept at 5.14d or given a slash grade—although some climbers added another pitch that they claim makes the route a solid 5.15a. In the 1980s and 1990s, champion rock climber Bobbi Bensman saw two routes she sent get downgraded—a boulder problem called Better Eat Your Wheaties that was down-rated to V8 and a 5.14a route in Rifle called Slice of Life that was down-rated to 5.13d. Bensman sees the downgrades as blatant sexism. "I mean, women have been battling this shit for years," she told me.
Since climbing grades are subjective, there has been a lot of discussion about how valuable they are. Some people say they belie the philosophy of climbing altogether or that they're a petty obsession of neophytes. Grades can be useful for defining the outer limits of current human capacity, but then again, every climb reflects an intimate synergy between human and rock: The idiosyncrasies of each route will interact differently with the strengths and weaknesses of every climber. Hill told me that her small size did help on some parts of the Nose, but she said that on other parts, it was a challenge. "It's true that men have an advantage in some ways, but women have advantages in other ways," she said. "So, as long as we all use our tools and whatever we're given, then who cares?"
Whether or not men will take them seriously, the young, visionary climbers of this generation are poised to keep breaking barriers. Verhoeven, the Belgian climber, is imminently humble about her 5.15a grade and told me that she is eager to hear the opinions of other climbers. But she is also no baseless aggrandizer. Last year, before inclement weather drove her from the route at Pierrot Beach, Verhoeven visited another wall in southeastern France, called Ma Belle Ma Muse. It's a short, intense route requiring crimps on narrow handholds. After six days at the wall, she sent the route. Local climbers had suggested a 9a (5.14d) grade for it, but Verhoeven thought that was too high. She gave it an 8c+ (5.14c).
This year, after Verhoeven climbed her first ascent, she named the route Sweet Neuf, because it was a linkup between a route called Home Sweet Home and another called Sang Neuf. It's an apt name. Sang Neuf, in French, means new blood.
Lead Photo: Elias Holzknecht/Red Bull Conten
Trending on Outside Online