The Daytona 500 of Ice Fishing
At the planet's biggest ice-fishing tournament, held every January in Brainerd, Minnesota, 10,000 contestants battle 20-below temperatures for a $150,000 purse. Ian Frazier slips and slides among wily fish, cheese curds, and some of the greatest nearly frozen anglers he's ever seen.
Heading out the door? Read this article on the new Outside+ app available now on iOS devices for members! Download the app.
The world's largest ice-fishing contest does not mess around. It's in the middle of Minnesota, in Crow Wing County, near Brainerd, the county seat, on two square miles of ice about two feet thick, on a lake called Gull Lake. When the event happens, usually on the weekend before the Super Bowl, some locals who live along Highway 371 near the venue do not leave their houses, because of the crowds. To direct the thousands of arriving vehicles, road crews put out lines of plastic road barrels and orange signs that say EVENT CONGESTION and DWI ENFORCEMENT ZONE. About 10,000 ice fishers show up. They wear heavy, dark snow gear and knitted face masks and fur hats with earflaps, and many pull big plastic tub-sleds full of tackle and supplies. A hundred and fifty prizes are given out, and the biggest fish wins a brand-new Ford or GMC truck.

Download the Audm app for your iPhone to listen to more longform titles.
In January, I flew to Minneapolis two days before the event and drove the 150 miles north from there. White tents like the kind used for outdoor weddings rose on the ice about half a mile from shore. I parked my rental and slipped and slid out toward the tents in my running shoes. The Brainerd Jaycees produce the contest. They got the idea for it in 1990, as a way of making money for charity and livening up the off-season in this tourism-dominated part of the state. Volunteers handle the logistics and labor, the selected charities get all the money, and the influx of visitors helps local businesses. For 27 winters the Ice Fishing Extravaganza, as it's called, has not missed a year.
The Jaycees are an international organization of men and women between the ages of 18 and 40 who want to build leadership skills and help the community. A Jaycee named Mike Kuck, while setting up a sound system that was playing "Dare," by Gorillaz, deafeningly, saw me sliding by and shouted, "You gotta get some ice cleats!" Then the music suddenly stopped, and in a more normal voice he told me where I could buy them. He and some other Jaycees had arranged the tents and a few trailers at a kind of mini village, and we stood in its main intersection, its Times Square. The sun was setting, and white, blue-shadowed ice stretched into the distance all around.
---
Thomas, the photographer for this story, and his assistant, Christian, had already arrived. Young fellows in their thirties (or almost—Christian was 29), both of them residents of Brooklyn, they had rented a Nissan Rogue SUV to carry their extremely bulky and heavy and abundant photo gear. Unlike me, they did not waste time walking to the tents but drove straight out onto the ice, found a supervisor, and inquired if they could go farther out and do donuts. The guy said, "Sure." When they asked him where the best place for that might be, he looked at them and said, "Uh, anywhere." So they drove a mile or so farther and started spinning the SUV all over, doing 180's and 360's and 720's and so on, until they hit an ice rut and knocked a rear tire off its rim. Finding themselves with a flat in the middle of a lake in a rented Nissan full of their photo equipment, they unloaded, hauled out the spare, changed the tire, drove off the ice, went to Brainerd, got the flat fixed, and had dinner.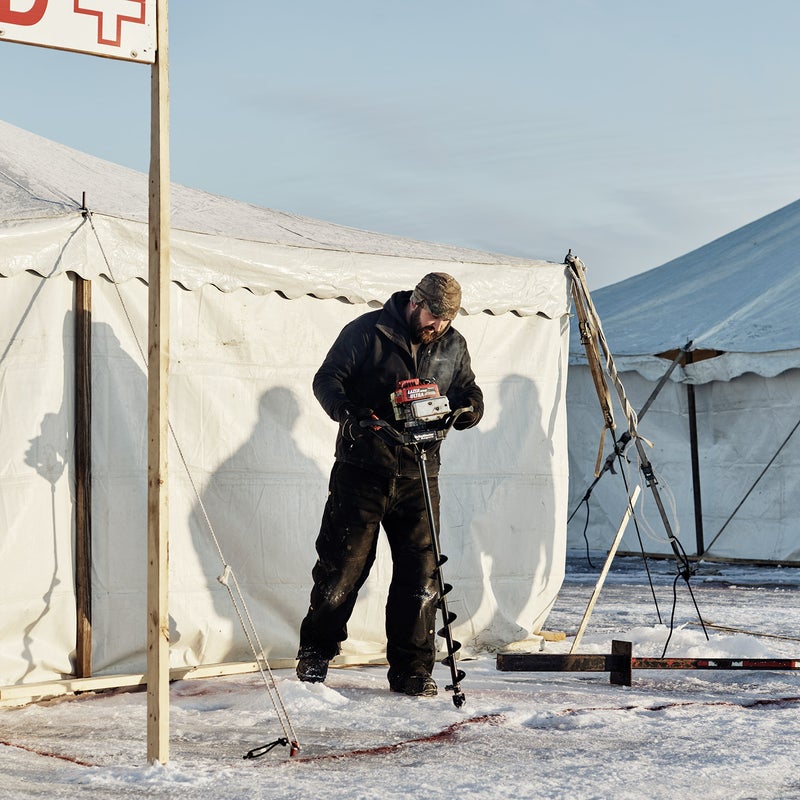 I joined them for breakfast the next morning at the Grand View Lodge, where we were staying. It's a pleasant place, and bedbug-free, unlike the Washington, D.C., motel where I had spent three nights earlier that winter while attending the presidential inauguration and the Women's March. I showed them the large, itchy bedbug bites I had acquired on my right shin as souvenirs of the new administration. Bedbug stories were exchanged. Then:
"Back when there was DDT, you never saw a bedbug," Christian said.
"DDT was killing the bald eagles. They banned it, and now we have bald eagles again," Thomas said.
"And now the bedbugs are back," Christian said.
"So what do you want: bald eagles and bedbugs, or no bedbugs and no bald eagles?"
"I don't know. I think I'd rather have no bedbugs."
"Yeah. I hate bedbugs. And bald eagles have hair like Trump."
"Yeah. Bald eagles do look like Trump. Fuck bald eagles."
---
The Mills Fleet Farm store in Brainerd was almost out of ice cleats, so I had to buy the most expensive brand, the only kind left, and I never regretted it. These cleats are made by Yaktrax, and they pull on over the bottom of your shoes, where their triangle-shaped steel teeth bite into the ice. After breakfast, I sat at a picnic table by the lodge and put on the cleats and then strolled out onto the ice. It was like a dream. I didn't slip or slide even a little. The freedom reminded me of when I first learned to ride a bicycle. With my cleats I walked on the sheerest, slipperiest ice as if on my own front lawn. I rambled all over the lake for miles.
Big pickups were driving everywhere. Even far out on the lake you had to be aware that you could get run over from any direction, like in a mall parking lot. Ice bumps crunched under the tires, providing aural warning. When I traversed a less frequented area, I could hear how the ice itself sounded. It creaked and groaned, and twice it made a muffled boom that started the ice fragments rustling and tinkling with a sound that shot to the horizon like the trail of a rocket sled.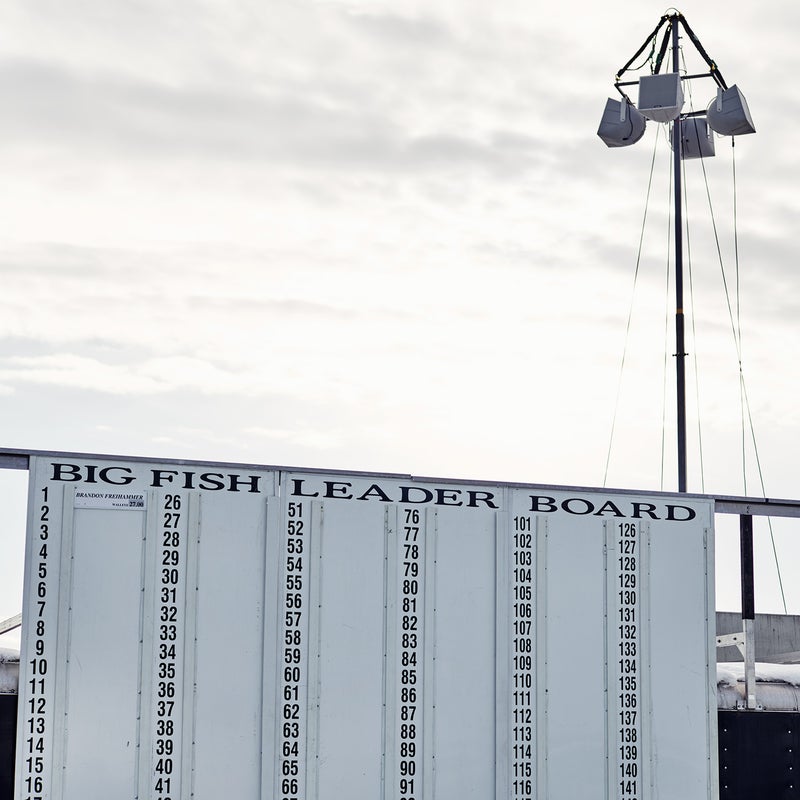 In the contest zone, among the tents of the Extravaganza's village, a hundred or so volunteers were preparing to drill 20,000 ice-fishing holes. StrikeMaster, a maker of gas-powered ice augers, had provided 60 machines. Folks with snowmobiles and ATVs were standing around, waiting until they would be needed to cruise the ice and refuel the drilling teams. Some snowmobile conversation:
"I was goin' along on my snowmobile on Tomahawk Trail by Lake Vermilion, doin' about 70, at seven o'clock in the morning, and I look up and here's a DNR guy with a radar gun—up in a tree! He's wearin' an orange jumpsuit, waves me over, yells down, 'Do you know how fast you were goin'?' "
"Up in a tree? Get that man a hobby."
"Minnesota's one of the only states that's got a speed limit for snowmobiles."
"And what do you need a speed limit for, anyway? In mine I can do 120 flat out with no problem at all."
"Did the guy give you a ticket?"
"No, just a warning. Seventy isn't all that fast anyway."
"Seventy is nothin'. "
---
The augers started, one after another, adding to the other engine noises and exhaust fumes that already hung in the air. Two-person teams of drillers hefted the augers and headed out, following a pattern of markings that the snowmobiles and ATVs had laid down. Each pair of drillers, with their auger between them, looked like a dancing couple on a windup clock; facing each other, they held the auger and bowed together as it drilled down through the ice. Then together they stood up, and water whooshed up with the auger when they pulled it out.
The view through the hole in the ice quivered with life. Small perch came and went—an orange pectoral fin, a gold and black eye, a camo green side. Then one flared at the bait, took it, and was hauled skyward, flapping.
Some contestants appeared later in the day to scout around and pick their holes. Tom Krueger, a retired hospital maintenance worker from Ingleside, Illinois, sat in his pickup just outside the contest area and surveyed the scene. "I'll be fishin' by myself tomorrow," he told me. "I'm really more of a bass fisherman than a walleye or pike fisherman, which are the two types of fish that usually win here. I've done some pre-fishin' already, caught a couple walleye on a glow jig. I do this 'cause I've loved to fish since I was old enough to hold a cane pole. Now I've got a bad heart, and my doctor wants me to quit smoking. Heck, I'd rather be on the ice any day than inside lookin' at walls."
Mysee Yang, an administrator in the offices of Hennepin County in Minneapolis, wore narrow hexagonal sunglasses as she minded her rod at a nearby hole and watched her battery-powered fish finder. She was smiling and saying hello to passersby. "Yes, I am pretty experienced at this," she said when I stopped to kibitz. "We ice-fish down by the Cities. Last year was our first year to come to this contest, and we didn't catch anything, but it was great just to be here. We've been looking forward all year to coming back." Her husband sat on an overturned bucket, intent, at a hole 12 feet away.
A man was lying on his stomach on the ice. I came closer and saw that he had his face directly over a hole and was shading his eyes as he peered down. As I crouched opposite him, he offered me a glimpse. The view through the hole quivered with life. In the optically perfect water, the pebbles on the bottom, eight feet below, lay like colored beads. Small perch came and went through the field of view, with only parts of them visible sometimes—an orange pectoral fin, a gold and black eye, a camo green side. Then one flared at the bait, took it, and was hauled skyward, flapping.
"We've caught a bunch here already," said the angler, a young man named Derrick Blair, as he sat up. "So this is where we'll fish tomorrow." He told me he was from Swea City, Iowa, and worked as a heavy-equipment operator. He said he had heard about the contest for years because his dad fished it, but this was the second year he'd participated himself. Then he told me a story about a hog truck that had rolled in a ditch near his house the week before and how he had pulled it out with a wrecker.
---
At three o'clock on Saturday morning, nine hours before the contest was to start, I began to wonder about where you could buy bait. A savvy contestant might want to purchase his or hers extra early, before whoever was selling it got hit with a rush of 10,000 anglers and ran out. So I went to investigate. In fact, there was somebody selling bait at three in the morning, at a store called S & W Bait and Tackle, on Highway 371 about four miles south of the lake. Alone in the late-night lull, Guy Stillings, the brother of the owner, was sitting behind the counter and watching The Bourne Ultimatum. When I walked in, the movie had just reached the part where the evil CIA guy is telling Matt Damon how he has been tricked and used. Stillings wore a sweatshirt that said YET DESPITE THE LOOK ON MY FACE YOU'RE STILL TALKING, and he had an expression to match.
"In about half an hour the people will start coming," he said. "Then it will get crazy. We're open all night only two nights a year—tonight, before the contest, and in May, on the night before opening day of summer fishing season. Sherree, my sister, owns this place. My dad started it as a bait and liquor store. Now it's just tackle and bait. I come up from Anoka to help her. She makes enough on this contest to last her through the rest of the winter, when she might get only a customer or two a day."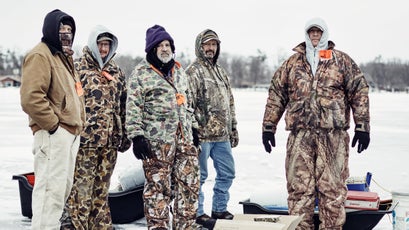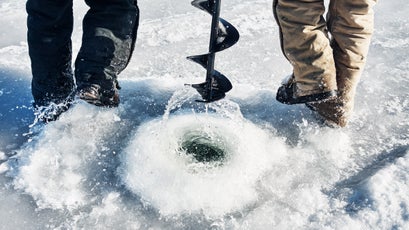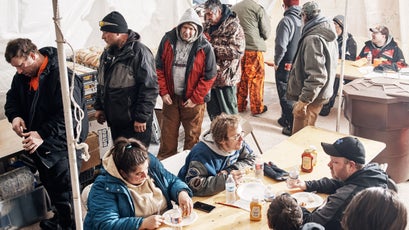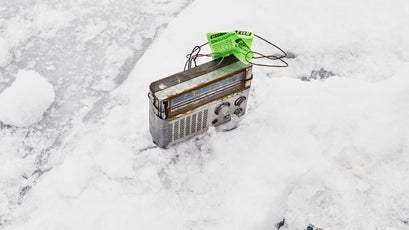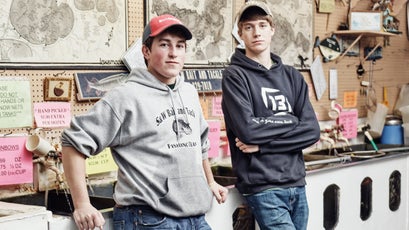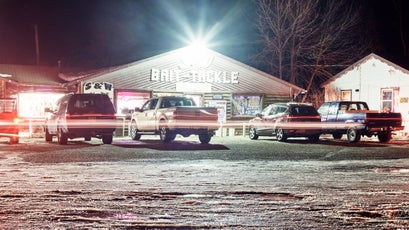 I wandered the store, and he turned his attention back to Matt Damon. Mentally I rated this as an A-number-one tackle store. It had fishing stuff I didn't even know existed, and a wall shingled with trophy-fish photos dating back to the first Bush administration, and burbling tanks full of bait that swam like soup noodles and often jumped above the surface with a wild hope. On a multilevel metal cart by the door, clear plastic bags full of water and minnows had been piled up, waiting for customers. Under the store's bright lights, the two-inch-long crappies, rainbows, and shiners filled the room with their nervous alertness.
Stillings asked me if I was going to fish in the contest, and I said I planned to just watch. Stepping outside for a cigarette—"I'll do this one last time while I have a chance"—he went on, "I won't fish tomorrow, either. I don't touch the contest. And in May, I skip opening week entirely. I don't like all the crowds and rigmarole. When I fish, I go to the other side of Gull Lake, where not so many people go, and I catch my dinner, and I fillet it and cook it and eat it in peace and quiet."
A car went by on the highway, followed in a minute or two by another. Then an extended-cab pickup truck turned into the parking lot with a crunching of ice, raked us with its headlights, approached, and pulled to a stop. Two guys hopped out, their faces set and purposeful, and strode into the store. Stillings put out his cigarette and went in to help them.
---
The rules say that no contestant may enter the contest zone before 8 a.m., and no fishing is allowed until the starter cannon goes off, at noon. Also: no contestant vehicles in the zone, no ice-fishing houses, no tents, no canvas or other coverings ("All contestants must remain completely visible while fishing"), no glass bottles, only two holes per angler, admission tickets displayed at all times, entry into the contest area through inspection checkpoints only, no bait longer than four inches, and "All fish entered into the contest must be brought to the weigh station immediately and must be alive." The contest is catch-and-release and lasts three hours. A cannon at three o'clock announces its end.
Eight a.m. disclosed a dull winter morning, with low-lying, darkish clouds and the temperature holding at 21 degrees. American flags now adorned the site, including a festive avenue of them that led across the ice beyond the main checkpoint. The flags were standing out almost straight in a stiff breeze from the northwest. Long lines of anglers formed, began to pass the entry checkpoints, and dispersed to their chosen holes. Most early arrivals headed for the northwest quadrant of the two-mile square, where drop-offs in the lake bottom were said to hold a lot of fish. When the anglers found the holes they wanted, they put personal items near them to mark them as taken: mittens, bags of charcoal, rod cases, camp chairs, backpacks, Coors Light 30-packs, thermoses, and a clear plastic clamshell of little chocolate-covered doughnuts.
A local radio station was playing fishing-related music so loud that you sometimes couldn't understand human speech. I had never before heard the classic "Jiggin'." (I'm gonna jig me up a walleye right now!)
I had walked out to the site from the lodge, wearing a lighter version of my cold-weather gear so as to be more mobile. On my way, as I reached a patch of slick, unrutted ice, Thomas and Christian pulled up behind me in their SUV and did a perfect 180 that swung them around in front of me. Smiling, they rolled down their windows. They had been all over the ice for most of the night, taking pictures, and showed me a few on their phones.
Thomas eyeballed the surroundings and gestured to a line of ice huts outside the contest zone. We saw a Trump flag and a Confederate flag near it.
I pointed out that those were the only examples of those kinds of flags among the many dozens of banners now fluttering on the ice (HOOSIER ANGLERS ROCK! and GRAND CASINO MILLE LACS and, strangely, BUD LIGHT WELCOMES HUNTERS). I told them not to fret: a majority of Minnesotans were Democrats anyway. The guys spun their wheels and drove off, skeptical but cheerful.
A continuous shuttle of school buses brought people from the parking area at Brainerd International Raceway, a few miles away. On a road leading along the lake the buses unloaded, and then throngs of small silhouettes made their way across the ice, increasing hour after hour until they had filled the contest zone. Everybody said what good weather it was. No one ventured the opinion that 21 degrees with a strong and unimpeded breeze blowing across a sweep of ice is still pretty cold; the stoicism of ice fishermen and women goes without saying. For a while there was a lot of chopping as contestants applied crowbars and ice chisels to the holes, which had frozen over during the night. Then, for a couple of hours, 10,000 people waited with their backs to the wind.
At four minutes to noon, a Brainerd choral group, prerecorded, sang "The Star-Spangled Banner" over the loudspeaker. The flag on a tall flagpole in the middle of the ice village drew the attention of the whole crowd, which turned toward it as one; many attendees put their hands over their hearts and took off their hats, leaving their heads uncovered to the wind. A guy near me was wearing a buffalo-horn fur hat, which he held over his heart. Then the cannon boomed, the fishing lines went down, and everybody bent to their holes. Not long after that, people started running to the weigh station; as has happened before, the biggest fish was caught early, in the first half-hour.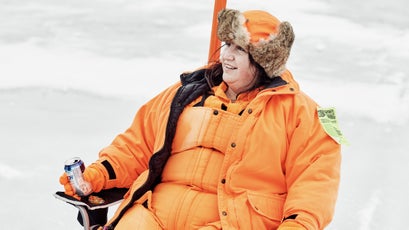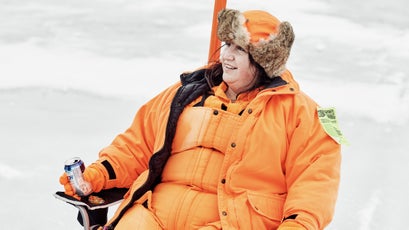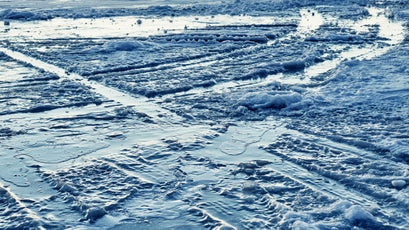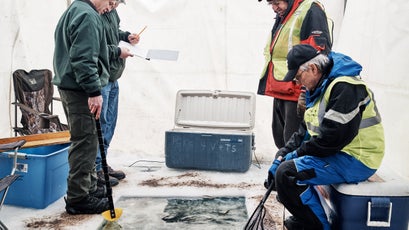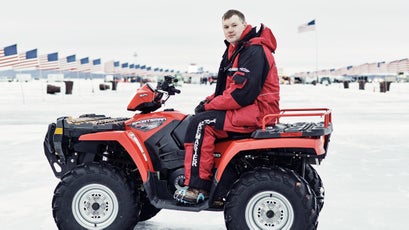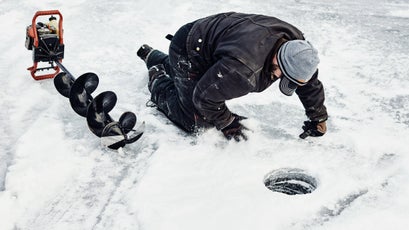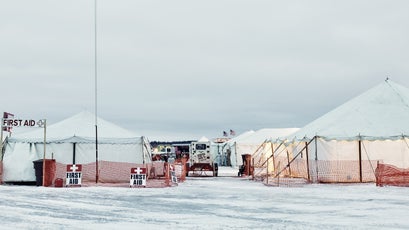 A local radio station was playing fishing-related music so loud that you sometimes couldn't understand human speech. I had never before heard the classic "Jiggin'." (I'm gonna jig me up a walleye right now!) In the ice village, crowds were standing around the food stands (fried cheese curds, Polish sausages) and talking to the army recruiter and watching people bring fish to be weighed. A petite woman walked by with a big bucket that had a huge forked tail sticking out of it, and everybody oohed and aahed. At the ice village's Times Square, a lit-up digital leaderboard like the ones at golf tournaments showed the rankings. Soon a contestant named Les Laidlaw had taken over first place with a northern pike weighing 5.54 pounds. Laidlaw brought his fish in at 12:21. A hook had somehow gone into his finger, but he got the fish weighed before visiting the first-aid station.
The weigh-in tent showed the Brainerd Jaycees at their super-efficient peak. Contestants with fish in water-filled buckets or plastic bags lined up, checked in, gave relevant data to volunteers filling out forms at the information table, and then brought their fish to the weighing table. At a row of scales, low-impact soft-plastic nets held the fish for a half-minute of careful weighing and recording. Then the fish went into a kind of basin cut into the ice, where employees of the Minnesota Department of Natural Resources observed them as they revived. After a while the survivors swam through holes in the bottom of the basin, thus completing their speedy circuit from watery obscurity to local fame and back again. Laidlaw's pike, having won the contest—no other fish as big would be caught that day—was back in the lake by 12:30.
More than a third of the fish did not make it. For some, being hauled up from depths of 50 and 60 feet stressed their systems and caused internal injuries, such as having their swim bladders pushed up through their mouths. Of the 826 fish caught, 375 died and were set aside in coolers. Later, most of these fish would be cleaned and frozen and donated to Pike for Vets, a Minnesota organization that provides free fish dinners to veterans.
---
On the ice, a giddy communal mood prevailed against the overcast sky and persistent icy wind. Many people took breaks from fishing and strolled around. Strangers stopped and talked as if they'd known each other forever. A guy told me how he had injured his rotator cuff lifting a road-killed deer into his truck while neighborhood dogs threatened to take it from him. A young blond woman in a pink snowsuit noticed me and said, "Are you just wanderin' around?" She was Michelle Cheney, a career army officer and transportation specialist, 28 years old, who had served in Iraq during the 2011 drawdown. "This is such a friendly contest," she said. "Last year, I caught a walleye that weighed point-three pounds—more of a minnow, really—and people were cheering me as I ran to the weigh station. They'd probably cheer if you put a beer can in a sack of water and started running."
A jumpsuited guy detained me to tell me about a nine-pound catfish he had just caught. The absence of that species in Gull Lake undermined his credibility somewhat, as did the frozen beer suds in his mustache. A retired paper-mill worker, Dana Deans, explained to me why so many local paper mills had gone out of business: "Foreign competition," he said. "Most of our paper in America now comes from overseas. Italy, China, Argentina—they all make paper cheaper than we do. About the only paper made in America anymore is bathroom tissue. That's because tissue is too bulky to ship economically." When the mill in Brainerd went out of business, hundreds of employees lost their jobs—more reason for morale-improving, community-building events like this.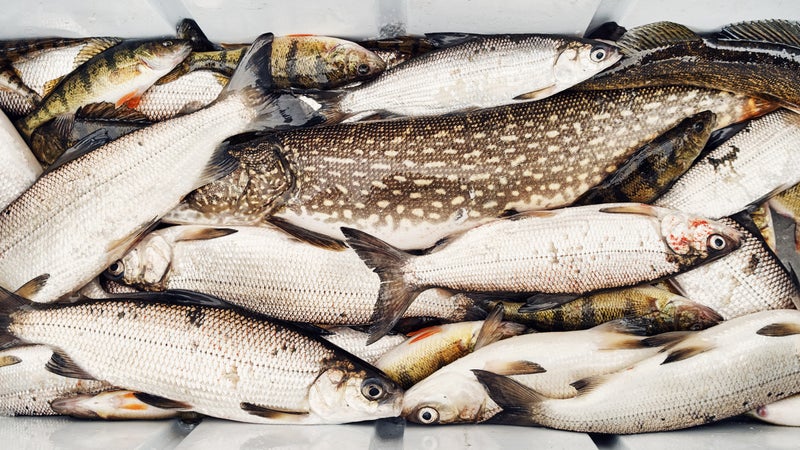 A lady with short gray hair and a pointy face was smoking and holding forth to several listeners on camp chairs: "So he says to me, 'Trump is the 45th president, and this Super Bowl will be the 51st Super Bowl. So does that mean we had a Super Bowl before we had a president?' I looked at him and said, 'Now, Jaden, come on—think about what you just said.' "
From a distance, I saw Thomas and Christian in the bucket of a lifter arm that had elevated them above the crowd. Soon after, they were next to me on the ice, agitated about a news story on their phones. "Did you see this about Trump's travel ban? Google has called all its foreign-national employees back to the States!" Thomas said, scrolling to the headline on his screen. The next I looked, he and Christian were flying overhead and taking pictures from a helicopter.
Toward midafternoon, I was hanging out with a group of electricians from the greater Twin Cities who had chosen holes in the northwesternmost corner of the contest area. They had figured they would do better at a corner, with no competing anglers on two sides. Back in 2010, one of their number, Dan Rudolph, had caught a fish that took 20th place in the contest. Because 2010 was the contest's 20th year, he won a special prize—a Suzuki KingQuad ATV, plus $3,000 for using a sponsor's lure. Since then the friends had come back every year and never finished in the top 40.
"You can't sit in your house all winter long," one fisherman said. "You have to go out, be a part of the season, see other people, do stuff. It's a huge amount of fun to come out here. You have adventures with your friends. For a day you're living in the world."
Passing a bottle of bourbon, they reminisced about past contests: the year when it was 20 below, and the year a windstorm came from the north and blew everybody off the lake and onto the shore, and the year it was 39 degrees and raining and people were fishing in T-shirts and guys were running and diving into the slush and sliding. They asked how I happened to be doing this article—"What was it, did you draw short straw?" I told them I liked to write about the middle of America and hated that sometimes it was referred to as flyover country. They said that term didn't bother them at all, and in fact they hoped people on the coasts would continue to ignore them and stay away.
On this corner of the contest zone, with no human windbreaks between us and the wind, it really was cold. All of us were red-faced, runny-nosed, more or less shivering, and shifting from foot to foot as the ice radiated its chill up our legs. No one was catching fish, nor was such an outcome likely, here at contest's end. Finally, I turned to one of the guys, Dave Youngblom, an elevator mechanic who wore a jacket with OTIS on it, and asked, "Why do you do this?"
"You can't sit in your house all winter long," he said. "You have to go out, be a part of the season, see other people, do stuff. How much TV can you watch? It's a huge amount of fun to come out here. You have adventures with your friends. For a day you're living in the world."
---
The cannon sounded and the anglers started putting away their gear. In the distance, along the highway, the shuttle buses assembled. In the ice village's Times Square, so many people were standing around the leaderboard for the final results that at first I couldn't get close. The board listed all 150 winners, with the names appearing 20 at a time. At certain moments, when the next 20 names went up, scattered cheers arose. Meanwhile the crowds began to depart, as if leaving a state fair at the end of day. Their trek across the ice had the quality of a Grandma Moses painting, the figures distinct against the landscape. Below the buses they merged into small, dark lines moving up the incline of the shore.
Thomas and Christian had to leave to photograph demonstrations in Washington, D.C., and would hardly have time to stop at their apartments on the way. At daylight the next morning I saw no tents, no trailers, no portable johns—no sign of the ice village or the contest at all. I walked out to where I thought the site had been, but at first I could not even find it. Finally, I got my bearings from the one remnant I came across. The ice basin where the fish had returned to the lake had frozen over, but a wooden pallet had been put over it, probably so the remaining hole wouldn't trip someone or break any axles. In all that empty ice, the pallet was like a tiny bandage on the spot where the laparoscopic surgery had gone in.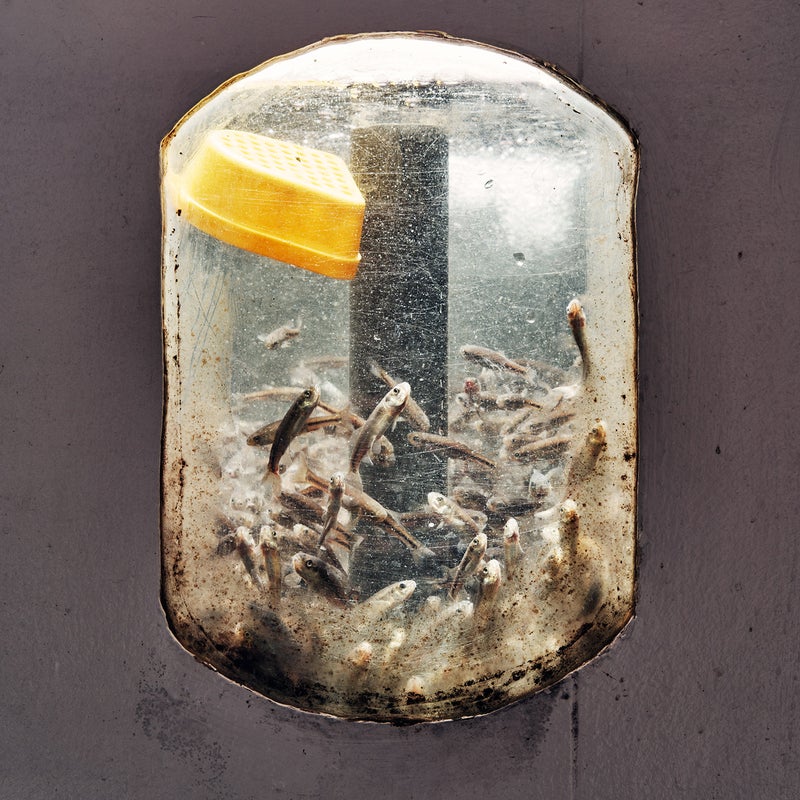 A line of boys with litter grabbers, ice chisels, and black plastic garbage sacks were moving slowly and picking up small scraps. The boys with the chisels were even chipping out the cigarette butts that had frozen to the ice. About the only refuse they didn't take was chewed-up sunflower-seed husks and fragments of unused bait. A grown-up accompanying them identified the group as Boy Scout Troop 43, from Brainerd, and said he was Jim Petersen, the assistant scoutmaster. They had been doing this post-contest cleanup every year for four years. Boys were yelling, "Hey, here's some cheese curds! Who'd throw out perfectly good cheese curds?" and "Hey, here's a pickle!" and "Hey, here's three buns and half a bratwurst!" Behind them the ice was picked almost clean.
Orienting myself by the pallet, I envisioned the rest of the ice village and approximated the location of Times Square. Nobody was there now except for two fishermen who said they had chosen that spot because they knew nobody had fished there yesterday. I figured that was good thinking. They had drilled their own holes; no luck so far.
I walked farther out on the ice and looked back. The Boy Scouts and the fishermen dwindled into a smallness almost too small to see. Today the sky was blue, with clouds at high altitudes. In the absence of people and their works, the lake became itself again. The ice shimmered and the sun reflected off it, and the majesty of the place reappeared.
Contributing editor Ian Frazier wrote about cane toads in April.