Gear Guy
The Best Weather-Resistant Commuter Packs
Snow, sleet, or full-on torrential downpour, these packs keep your cargo safe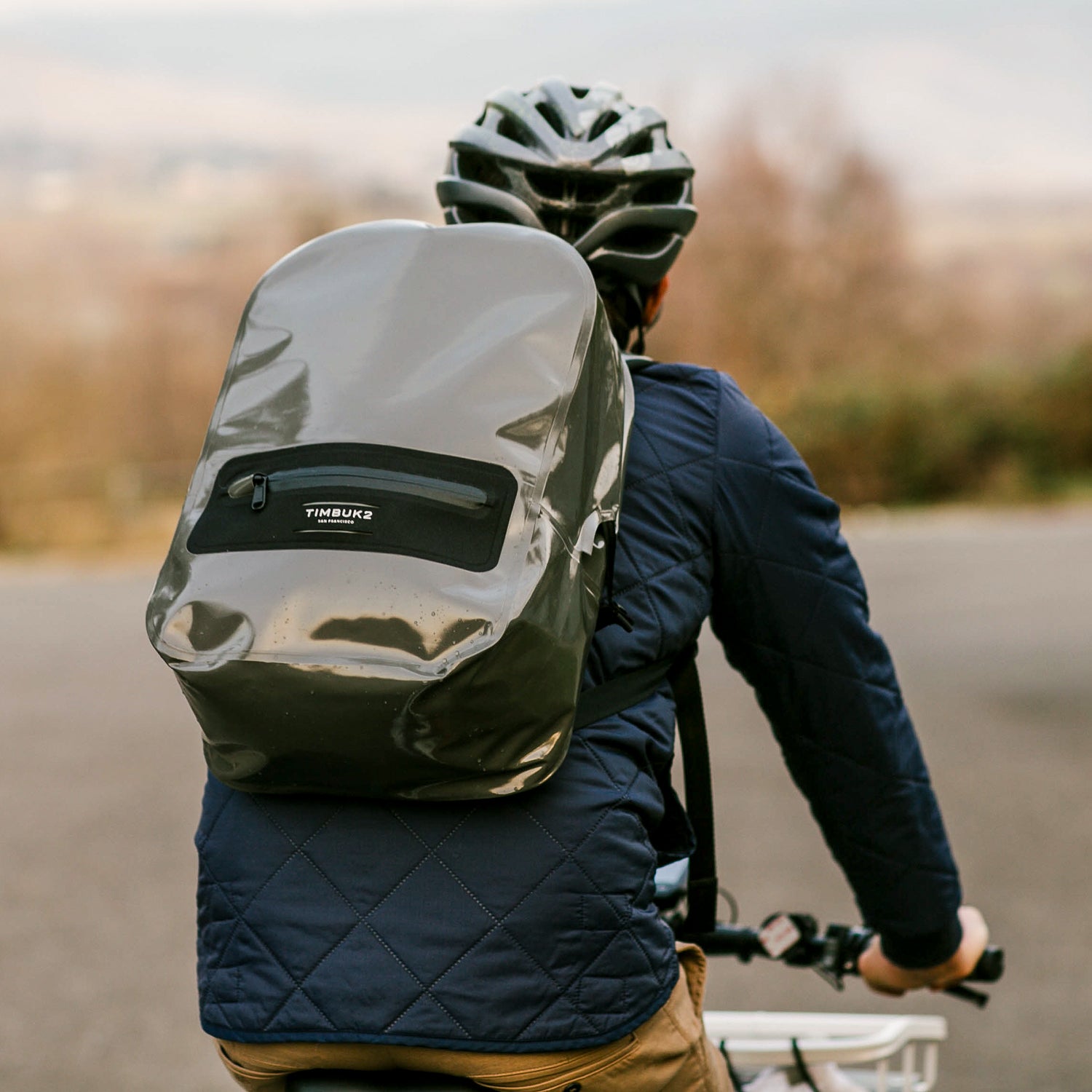 Sarah Jackson(Photo)
Heading out the door? Read this article on the new Outside+ app available now on iOS devices for members! Download the app.
Whether or not you live in the rain-drenched Pacific Northwest like me, having a commuting backpack that staves off moisture is essential. There are many things other than rain that can assault your precious cargo—drizzle, slush, errant puddle splashes, and cans of Diet Coke heaved by road-raging drivers. And I'm especially cautious when it comes to my laptops, having lost two to submersion and spilled drinks over the years.
It's not all about protection, though. I value packs that boast comfort and versatility. With that in mind, I set out to find the one that best struck that balance with waterproofing, subjecting these four to no small amount of torture. I came away with the commuting pack that'll accompany me to and from the office for a good long time.
---
The Test
I tested water-resistance in a few ways, from a light spritz to full-on dunking. First I placed the packs under an Orbit Cobra Personal Mister for five minutes, timing with my phone. Then I took out a garden, setting the packs upright on a chair (outside, of course) and blasting them from five feet away for a minute. Finally I held each pack under water in my hot tub for 30 seconds. Not all of them were built to handle submersion, and the manufacturers don't claim that the packs will withstand a test like this, but I wanted to play out a worst-case scenario and gauge if they could have crossover potential for travel.
To measure the amount of leakage, I rolled a bath towel up like a burrito and stuffed it in the main compartment of each pack. I then placed a single sheet of 8.5-inch by 11-inch paper in the back or laptop sleeve (if the pack had a dedicated laptop compartment). I checked both, plus the front compartment of the packs, after each test to see if they'd collected any water.
For the user-friendliness portion of the test, I carried the packs as I rode my bike along my 1.3-mile commute. Short, yes, but a nice opportunity to test their usability. I loaded each with my usual work accessories: a 15-inch MacBook Pro, a 40-ounce Hydro Flask (for water), an 18-ounce Yeti Rambler (for coffee), and an extra layer—in this case Stio's Pinion Down Sweater. I took notes along the way about how the pack rode, user-friendly details, and capacity.
---
The Results
#1: North St. Bags Davis Daypack ($115)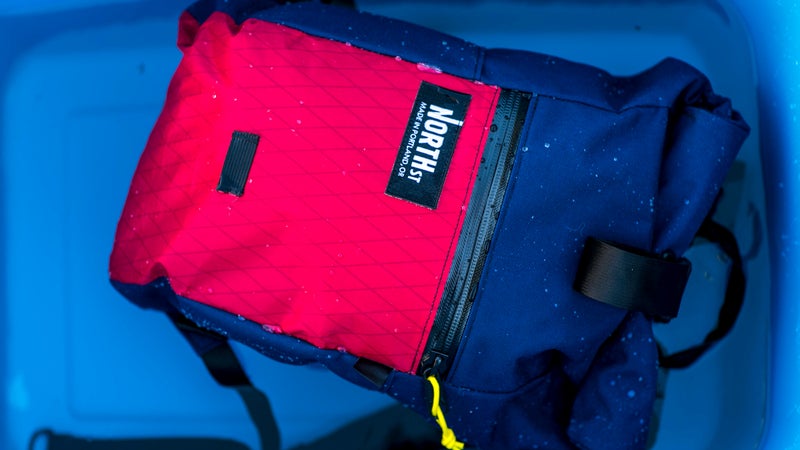 Mist: Water beaded off the Davis's 1,000-denier Cordura exterior in the mist test, leaving everything completely dry.
Garden Hose: This wasn't a problem for the main pouch, which stayed resolutely dry thanks to a sail-cloth liner, but the front pocket got wet enough that it would've totaled an iPhone.
Dunk: This came out the wettest in the dunk test. Three-quarters of the towel soaked through, and the paper was left in pieces.
Usability: I'll admit that this might not factor into performance, but the Davis was by far the best-looking pack I tested. At 20 liters it sat nice and high on my back while riding, and it tipped the scales at 1.4 pounds—the lightest of the bunch. It lacked padding but remained comfortable due to its low profile. The Davis has oversized plastic pulls at the ends of the straps that were awesome for adjusting fit on the fly. But my relatively light load maxed out the capacity, and you definitely wouldn't want to cram a whole change of work clothes in there.
---
#2: Stio CFS Backpack ($195)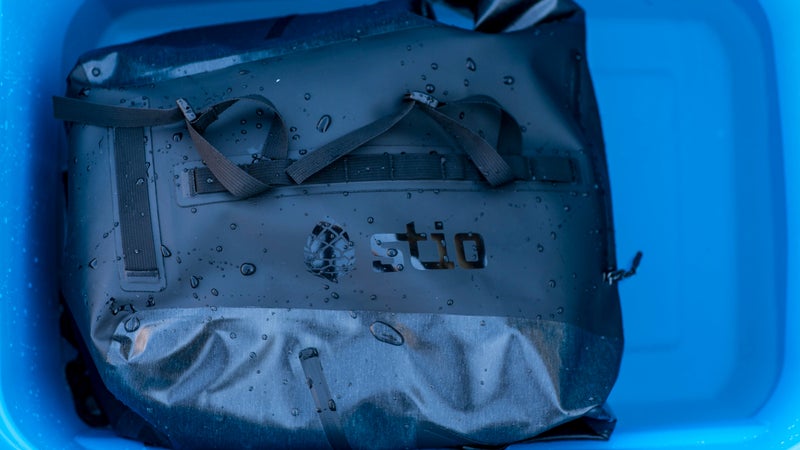 Mist: The CFS remained impressively bone-dry in both the main pouch and front pocket, due to 600-denier polyester that looks like the material used to make rubber rafts.
Garden Hose: The main pouch was completely dry after a good spray down, with about a dozen little droplets of water in the front compartment. The CFS's front pouch was the second wettest after this portion of the test.
Dunk: Though some water did seep into the main compartment, this was the driest out of all the packs. The towel was decently wet, so I wouldn't use the CFS to carry electronics if you're expecting a deluge.
Usability: The zipper plus magnet-aided roll top made for an absolutely bomber closure. Stio eschewed plastic buckles for much more heavy-duty metal hooks. On the bike, the 35-liter CFS rode large on my back. It felt a little cumbersome, and I would have sweat through an entire shirt in hot weather. The payoff, of course, is that there is a ton of room, though it lacked niceties like back padding and a laptop sleeve.
---
#3: Timbuk2 Ltd. Void $229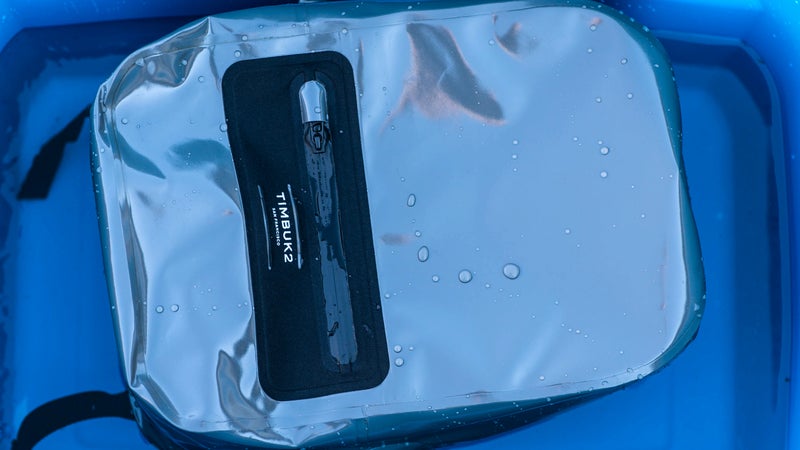 Mist: There was zero moisture in both the front pouch and main compartment.
Garden Hose: Still both compartments stayed completely dry.
Dunk: The Void ended up being the second wettest (after the North St.) post-dunk, because of an inch-long hole that opened up along the top zipper. About 60 percent of the towel soaked through, and the paper was ruined. I'm not sure how this delamination occurred, but it didn't take much for a pack that costs $200-plus.
Usability: This pack made me feel like Robo Cop (in a good way) with its incredible fit and smart tech details. It rode the most comfortably of all the packs. My computer was pinned down in the snug, padded laptop sleeve, and nothing was sloshing around as I rode. The roll enclosure that folds over the zipper was simple and required no fussing.
---
Mist: Main compartment and front pouch? Both dry.
Garden Hose: Both stayed moisture-free here as well. I credit the fact that even though the zipper on the front pouch isn't fully waterproof, it runs vertically rather than horizontally, giving falling rain a smaller target to dribble in.
Dunk: Half the towel was soaked, and the paper was wet through and through.
Usability: Surprisingly the minimal padding didn't rob the Cyclone II of any comfort, and the tight laptop pouch kept my computer from sliding back and forth. This pack is a happy medium between a drybag and a commuter backpack. It still rode pretty high and comfy despite having the largest capacity.
---
The Verdict
From now on, I'm using the North St. Bags Davis as my commuting pack. It looks the best, rode extremely comfortably, was by far the least expensive in the test, and delivered everything I needed in a no-nonsense, heavy-duty Cordura-enforced pack. Kudos to North St. for nailing that tricky balance of capability with urban good looks.
Lead Photo: Sarah Jackson