Turn Your Pasta Into Performance Food
Six athletes on how they elevate this dish from plain noodles to delicious, healthy bowls of endurance fuel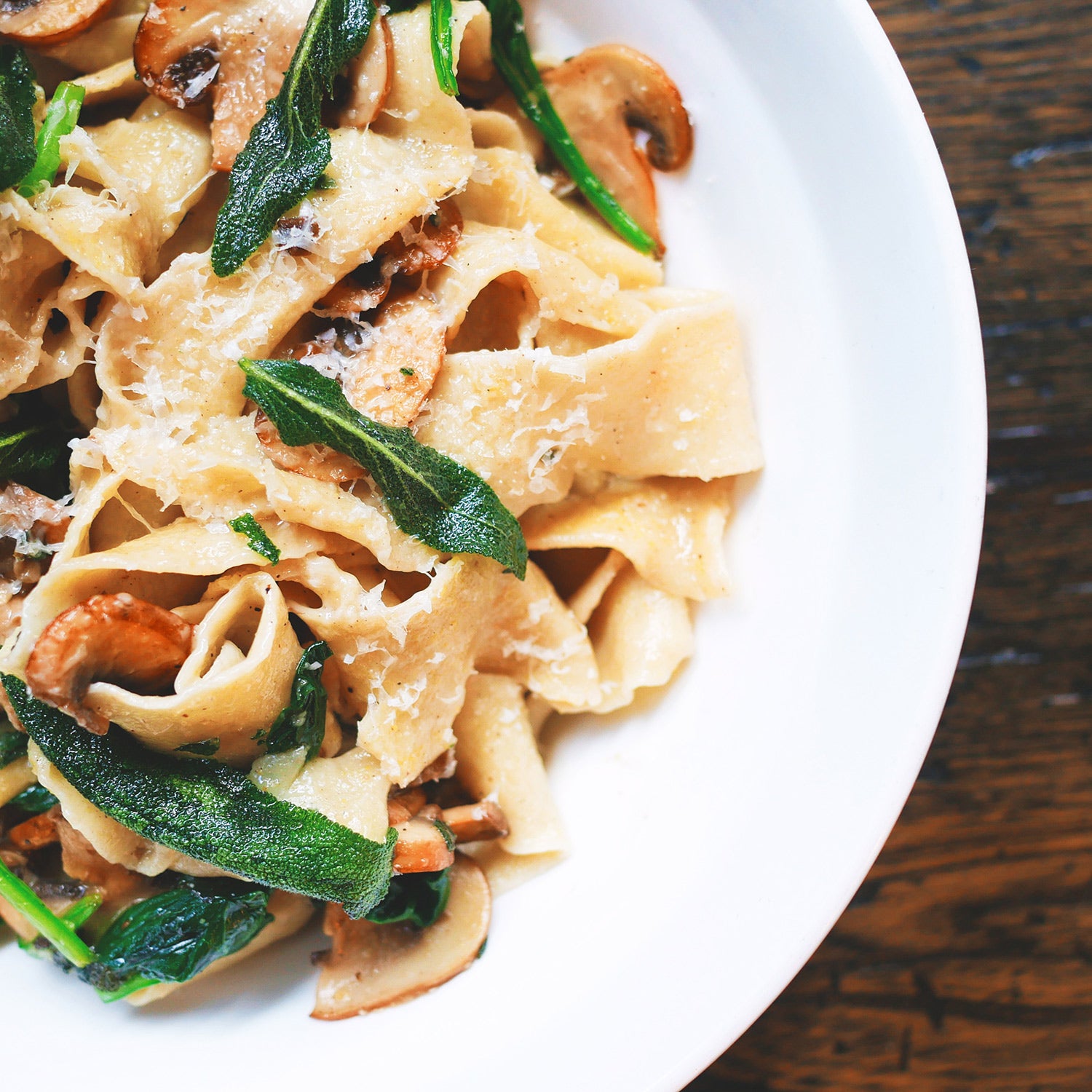 Eaters Collective/Unsplash(Photo)
Heading out the door? Read this article on the new Outside+ app available now on iOS devices for members! Download the app.
The pasta-based carbo load has a confusing reputation. First, an imperative pre-race ritual, then a gut-bombing enemy of PRs, it's now back in the mainstream as a beloved part of the endurance athlete's diet—so long as it's done right.
We're not talking about a heaping plate of mom's famous lasagna or your grandma's chicken parm, which could still lead to some serious GI distress the next day, thanks to high calorie and fat counts. But if you use pasta as a vessel for other nutrient-rich foods, it can serve as a "source of slow-digesting, complex carbohydrates that's high in fiber, B vitamins, and protein, depending on what kind of noodle you use," says Maria Dalzot, a registered dietitian, USATF National Trail champion, and member of the La Sportiva Mountain Running team. Even old-school white noodles have a place at the table: the simple sugars offer a quick dose of easy-to-digest energy, making them the perfect choice for a pre-workout meal. 
To prove the power of pasta, we asked six athletes to share their go-to dish for powering their toughest workouts and races.
---
Ryan Atkins
So Fresh and So Clean Linguine
Why it works: "I like that the sauce is mostly vegetables," says Atkins. "It's delicious, and the large amount of carbs is great for fueling long, hard runs." Plus, because those carbs are delivered with minimal fat and protein, they take less time to digest. That makes the pasta dish a perfect pre-run meal, Dalzot says. As an added bonus, the herbs provide a hearty dash of polyphenols, protective plant compounds with anti-inflammatory effects.
Ingredients
1/2 package linguine (whole wheat or white)
1 white onion
1 red pepper
Avocado oil to taste
1 large tomato, chopped
1/2 teaspoon oregano
1/2 teaspoon basil
1/2 teaspoon thyme
1/2 teaspoon rosemary
1/2 teaspoon fresh ground pepper
2 cups chicken broth
1/2 cup sun-dried tomatoes
3 tablespoons goat cheese
Directions
Chop up the onion and red pepper. In a pan, fry both in avocado oil for about ten minutes, or until the onion is translucent. Stir in the tomato, oregano, basil, thyme, rosemary, and pepper. Fry for four more minutes. Pour contents from pan into a large blender. Add the chicken broth, sun-dried tomatoes, and goat cheese. Blend until smooth. Cook pasta according to the instructions on the box. While the pasta is cooking, reheat the sauce in a frying pan. Strain the cooked pasta and serve in bowls topped with the sauce. Makes enough sauce for three but can be stretched to serve four. 
---
Suzi Swinehart
Savory Keto Noodles with Bacon
Why it works: "I've been following a ketogenic diet for the past 15 months," says Swinehart. "Yet sometimes I just miss things like noodles, so I'll modify some of my favorite dishes." To get her pasta fix while adhering to her low-carb, high-fat diet, Swinehart subs out whole-grain and refined pasta for traditional Japanese shirataki noodles, a thin translucent noodle made from the konjac yam. If you're not keto, try this recipe with whatever noodles you prefer.  
Ingredients
6 bacon slices
3/4 cup onion, diced
1 cup chopped mushrooms
Garlic salt to taste
2 cups heavy whipping cream
2 tablespoons chicken broth
1 1/2 cups Parmesan cheese
Chicken (optional)
Steamed broccoli (optional)
Better than Noodles Organic Konjac Noodles
Parsley or cilantro for garnish
Directions
Heat the bacon on the stove until it's cooked to your liking. Set aside. Use the bacon grease to sauté the onion, mushroom, and garlic salt. Remove from heat and set aside with the bacon. Combine and cook the whipping cream, chicken broth, Parmesan cheese, and additional garlic salt in a saucepan, stirring constantly for a few minutes. Once the cheese is melted, add to the bacon and vegetables. If you want, add cooked chicken, too. Drain water from noodles package and rinse under cold water. Add the noodles to the sauce mixture and heat to your desired temperature and pasta texture. Plate on top of steamed broccoli, if desired. Top with parsley or cilantro. Makes three servings.
---
Alia Gray
Gnocchi with Beef Chuck Roast
Why it works: Alia Gray's go-to pasta dish is actually potato-based gnocchi. "Potatoes are a carbohydrate, so this dish would provide ample energy for a runner," Dalzot says. The beef, meanwhile, offers extra protein, iron, and zinc. "Zinc is important in the development of white blood cells, which help to maintain the integrity of your immune system and defend your body from infection," Dalzot says.
Ingredients
Gnocchi, premade or homemade (Gray recommends Smitten Kitchen's step-by-step recipe, found here)
3 pounds boneless beef chuck roast
8-ounce can or box of diced tomatoes
1 clove garlic
Salt and pepper to taste
Several splashes of red wine
Directions
Preheat the oven to 300 degrees. Tie the meat with some cotton butcher's twine (you can ask the butcher for some if you don't already have it) to help it hold its shape. Place in a Dutch oven. Pour the tomatoes and juice over the meat and sprinkle in garlic cloves (you can leave the paper casing on). Season with salt and pepper and add some generous splashes of red wine. Bake until very tender, usually between three and four hours. The meat should shred easily when you cut it. Place some cooked gnocchi in a bowl and spoon meat and red sauce over it. Add a couple of garlic cloves as well. Serves six hungry people.
---
Stefanie Bishop
Lentil Penne with Butternut Squash and Heirloom Tomatoes
Why it works: Stefanie Bishop's favorite dish is a meat-free option that's still hearty and high in protein, thanks to lentil pasta. "Lentils are a one-two carbohydrate-protein punch," Dalzot says. Lentil noodles can have two to three times more protein than white noodles and twice as much fiber. As such, they're wonderfully filling, satisfying and a great staple in a vegetarian athlete's diet. However, beware that if you don't typically eat high-fiber foods right before a run, you could be headed right back to the nearest Porta-Potty. "I usually make the whole amount, share it with somebody, and have an additional serving for leftovers the following day," Bishop says.
Ingredients
1 small (1 to 1 1/2 pound) butternut squash, peeled and cut into half-inch pieces
3 tablespoons extra virgin olive oil, plus extra for drizzling
8 ounces red lentil penne
2 to 3 cloves garlic, minced
1 pound baby heirloom tomatoes, halved
8 to 10 sprigs fresh thyme, stemmed
1/4 cup fresh basil leaves, thinly sliced
Directions
Preheat oven to 400 degrees. In a bowl, toss butternut squash with one tablespoon of the olive oil and a pinch of salt and pepper. Transfer to a baking sheet and bake for 20 to 25 minutes until lightly caramelized, stirring halfway. While the squash is baking, cook the penne according to box directions, or until al dente (about 5 minutes). While the penne is cooking, heat two tablespoons of olive oil in a large pan. Lightly sauté the garlic over low to medium heat, making sure it doesn't brown. Add the tomatoes, thyme, and salt and pepper to taste. Cook for two to three minutes, leaving the tomatoes firm. Toss the penne and squash into a pan with the tomato sauce until mixed. Serve sprinkled with the basil and an extra drizzle of olive oil. Serves three to four.
---
Scott and Christin Panchik
Chicken Parmesan with Meat Sauce
Why it works: "This is one of our favorite meals to make after a long, high-volume training day," says Christin Panchik. Dalzot agrees: this chicken parm recipe is ideal for a post-workout meal, thanks to the large amounts of calories, carbs, protein, and fat. "The protein and fat take longer to digest, so you don't want the digestive system diverting blood from your working muscles during your workout," she says.
Ingredients
8 ounces hot Italian sausage links
8 medium tomatoes, peeled and cored
1 medium onion
2 teaspoons oregano
1 teaspoon salt
6 ounces tomato paste
1 clove garlic (whole)
1 pound ground beef
1/2 cup of fine bread crumbs
1/2 pound fresh mushrooms sliced
2 chicken breasts
2 eggs, beaten
Flour
Italian bread crumbs
Coconut oil (about 4 tablespoons)
Shredded cheese of your choice
Roasted red pepper fettuccine
Directions
Cut sausage into one-inch pieces and brown slowly in a small skillet. While that's cooking, place tomatoes, onion, oregano, and one teaspoon salt in food processor just long enough to chop onions. Pour into a large saucepan and add tomato paste and garlic. Bring to a boil then reduce heat to a simmer. Drain sausage on paper towels and add to the simmering sauce. Combine the ground beef and fine bread crumbs and add to the simmering sauce, adding salt and pepper to taste. Cover saucepan and continue cooking for about two hours on low heat. About 15 minutes before the sauce is finished cooking, add the mushrooms and remove garlic clove. Preheat the oven to 270 degrees. Pound chicken breasts slightly to flatten. Dredge in egg, then lightly cover in flour and Italian bread crumbs. Melt the coconut oil in a large hot skillet. Pan sear each side of the chicken until golden brown, then place on a baking sheet or shallow pan and top with sauce and shredded cheese. Bake in preheated oven about 20 to 25 minutes, depending on the thickness of the chicken. While the chicken is baking, boil water and cook pasta. Serves two.
Lead Photo: Eaters Collective/Unsplash
Trending on Outside Online