In Stride
Women and Men Should Race the Same Distance
Why? Because there's no good reason for them not to.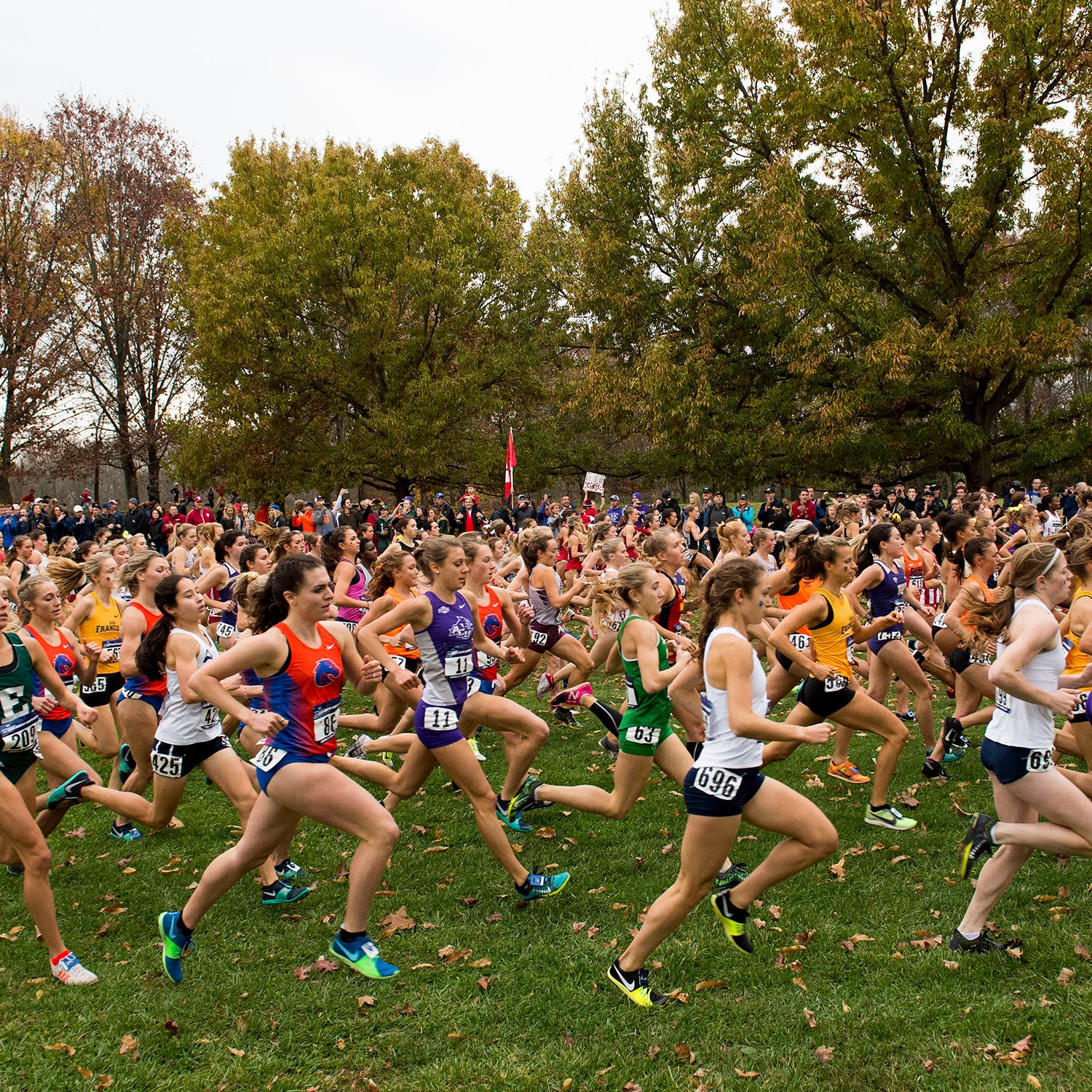 Daniel Petty/The Denver Post via(Photo)
Heading out the door? Read this article on the new Outside+ app available now on iOS devices for members! Download the app.
In December, a London-based hobby runner named Maud Hodson started an online petition to "equalize cross-country races for men and women in England." The initiative, and the accompanying #runequal hashtag, has since gained significant traction and over 2,000 signatures. It's not hard to see why. At a time when debates about gender equality have a tendency to turn social media into an opinion sphere Gomorrah, Hodson's idea is refreshingly uncontroversial. To paraphrase: At present, in many major cross-country meets in England, the men's races are longer than the women's races. Since men and women already contest the same distances on the road and on the track, this discrepancy feels antiquated and patronizing. Hence, cross-country courses for men and women should be the same length.
That's more or less it.
Unfortunately, the imbalance in the distance of cross-country courses persists on our side of the pond. At the NCAA Cross-Country Championships, for instance, the men's race is 10K, while the women run only 6K (before the year 2000, it was 5K). The same is true for the USATF National Club Cross-Country Championships, the biggest cross-country race of the year at the club level. 
As Hodson has herself pointed out, it's been 50 years since Kathrine Switzer proved that she could run an entire marathon without falling into a coma. In 2018, women should no longer be relegated to racing a shorter course in major cross-country competitions.
For many, this probably feels like an open-and-shut case. Hodson's proposal, however, received Twitter pushback from an unexpected place. For Paula Radcliffe, the British marathon world record holder and multiple cross-country world champion, the #runequal campaign sounded like much ado about nothing:
"Equality actually means Equal Rights and Respect for every person on this earth. It does not mean we must make everything we do exactly the same as men in the name of equality. Many things we already do better. Leave them be. #concentrateontherealissues #XCworksbest8k," Radcliffe tweeted on Tuesday.
For the uninitiated: 8K has long been the standard distance for the women's course at the IAAF Cross-Country World Championships, while the men run 12K. As of last year, however, both sexes now run a 10K course in the "senior"—i.e. age 20 and over—race, though the "junior" women will still ran a 6K course, as opposed to the junior men's 8K.
This post prompted a (miraculously civil) Twitter discussion that included top American runners Kara Goucher and Lauren Fleshman, among others.
Before anyone tries to throw Radcliffe under the double-decker bus for being a stodgy traditionalist, her point is worth considering. After all, there's no intrinsic reason why a 12K is somehow more prestigious than an 8K, or even that a 12K necessarily constitutes the more challenging race. (I wrote an article about the idea that "longer does not mean harder," which was received with near-unanimous contempt.) Perhaps the #runequal movement should be careful what it wishes for. Lauren Fleshman, who was a multiple NCAA cross-country All-American at Stanford in the early aughts, echoed this point in a tweet of her own:
In an age where women have smashed the glass ceiling in professional cage fighting and hot dog-eating competitions, it's easy to see where Fleshman is coming from. But the current cross-country debate, as Hodson has stressed on Twitter and elsewhere, isn't about women running longer distances, so much as women running the same distances as the men when the competitive context is the same. The main counterargument to making this change appears to be the eternally suspect refrain of "it's tradition," which, more often than not, is a hollow defense of the indefensible. For seventy years, it was tradition for the Boston Marathon to be men-only. Until it wasn't.
There can certainly be debates about what constitutes the ideal distance for a cross-country race. Factors will include terrain, or, more broadly, how the sport of cross-country fits into the larger framework of races that a particular governing body puts on—be it the NCAA, the IAAF, or USATF. Always mandating that women run a shorter course, however, is a needless undervaluing of their athletic potential. (The fact that it really is needless is significant. I can already see the mental midgets cuing up the feeble counterpoint: "Then why even have separate races for men and women?")
"I think when the women are always running less, it sends a message that we aren't quite strong enough to do what the men are doing," Kara Goucher told me in a recent phone call.
"We have females that excel in every single endurance sport: ultra running, triathlon, marathons. So why are we still holding back on this one thing?
Good question. Your move, NCAA.
Lead Photo: Daniel Petty/The Denver Post via
Trending on Outside Online