Olympian Ted Ligety Never Hits Snooze
The decorated skier talks productivity and good habits as he prepares to defend his gold medal in Pyeongchang and enters his 12th year running his eyewear company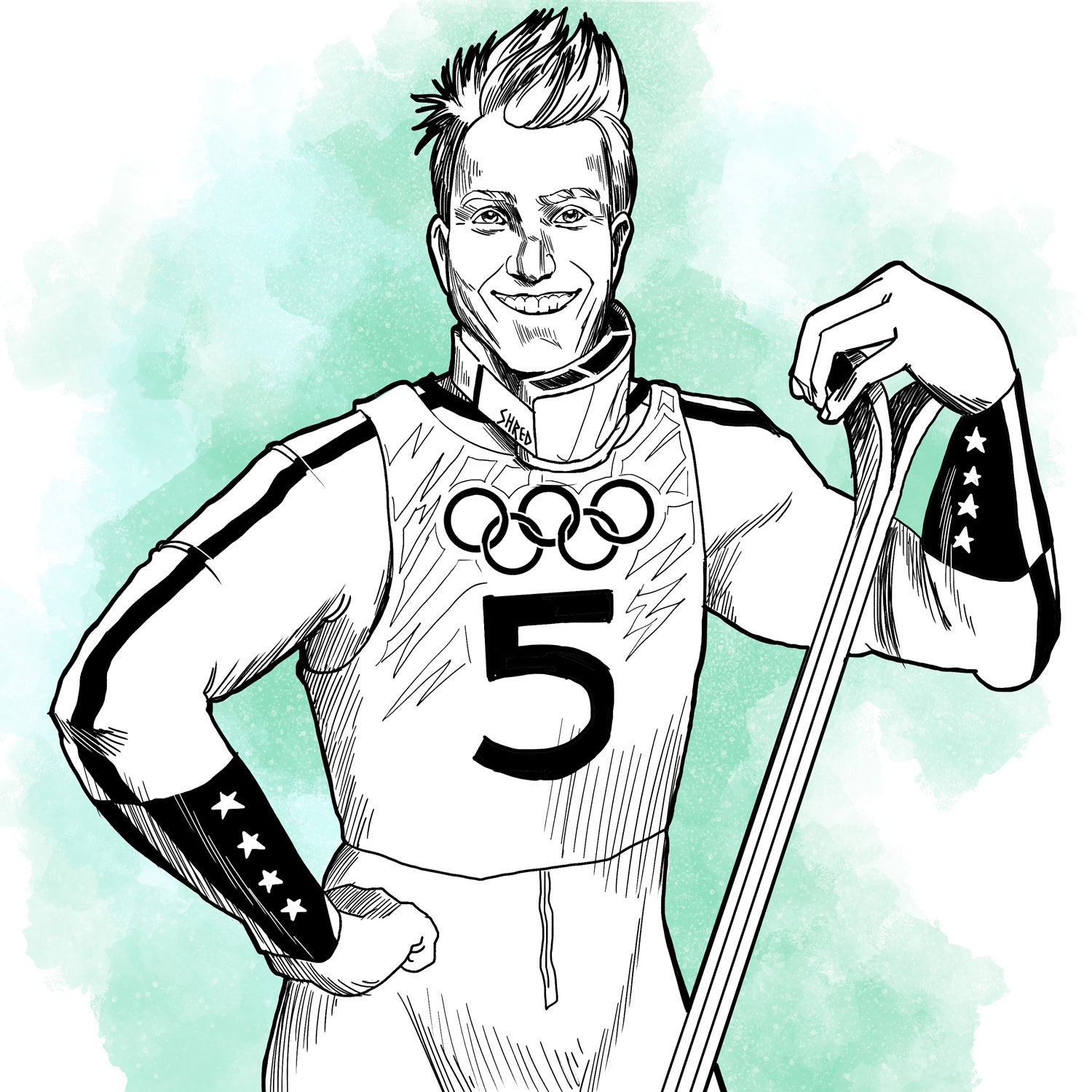 E(Photo)
Heading out the door? Read this article on the new Outside+ app available now on iOS devices for members! Download the app.
Name: Ted Ligety
Job: Two-time Olympic gold medalist in ski racing, co-founder of Shred Optics
Home Base: Park City, Utah
Age: 33
Education: Graduated from Utah's Winter Sports School for high school, then went straight onto the U.S. Ski Team
After winning a gold medal in the combined at the 2006 Winter Olympics, American ski racer Ted Ligety had an idea. He wanted to create a pair of goggles that were neon, attention grabbing, and unlike anything on the market. So he presented the idea to his friend Carlo Salmini, an Italian engineer and fellow skier. Just a few months earlier, the duo had teamed up to launch Slytech, a company that makes protective gear like shin guards and back protectors for skiers, snowboarders, and mountain bikers.
In the fall of 2006, Ligety and Salmini launched Shred Optics. Today, the company sells goggles, sunglasses, and helmets in more than 40 countries and has headquarters in both Park City, Utah, and Venice, Italy.
Ligety, meanwhile, hasn't let running a business slow down his ski-racing career. He nabbed his second Olympic gold, in giant slalom this time, at the 2014 Games in Sochi. And despite spending the past two years dealing with a slew of injuries, Ligety is back and ready to defend his title in Pyeongchang, South Korea, for the Olympic Games this February. We spoke to Ligety about his tips on juggling business, ski racing, and time with his now-crawling seven-month-old son, Jax.
On Deciding to Start His Own Company: "I've always been independent. I've always had an entrepreneurial mind, and from a young age, I knew I would have my own company in the ski industry someday. Shred came from wanting to create something unique and different and wanting to use my mind in a different way than just going skiing. Now I get to create products that actually help me go faster."
On Naming His Company: "I've had the nickname Shred since I was a young skier on the Park City ski team. All my coaches called me Ted Shred. I was always the kid who'd fearlessly bomb down mogul fields and go big off jumps. When we were looking for a name for the company, I thought shred was relatable. Plus, it's what I wanted to go out and do."
On Starting Small: "The first couple years, I had the U.S. distribution for Shred out of my house—in a crawlspace in the attic. I had a couple friends who'd come ship stuff for me when I was traveling. I had buddies who were racing in college all over the U.S., and they were our first sales reps. When the shipment would arrive at the airport, I'd borrow a friend's truck to transport everything from the airport to my house. Now we have a proper logistics center and things run much smoother."
On His Daily Routine: "In the spring and summer, I'm involved more in the day-to-day operations. I make trips to China to our manufacturing facilities. I'm more hands-on. But once the ski season starts, I may check in for an hour during the day, but other times I skip a couple days. When I'm training, I have a pretty consistent routine: I'm generally on the lift at 8 a.m. or earlier, and then training for a few hours. After lunch, I take some time off and do emails or hang with my wife and son. Then I have dryland and therapy in the afternoon."
On His (Admittedly Limited) Free Time: "When I have free time, I'm reading a book or watching a TV show and hanging out with my wife and baby. Playing other sports is a fun way for me to relieve stress. I mountain bike a lot, or I play pickup basketball."
On the One Habit That's Greatly Improved His Life: "I never hit the snooze button. I jump right out of bed the second my alarm goes off. It just makes the day flow better."
On the One Habit He'd Like to Break: "I can be a procrastinator. I work better in a rush. Having that deadline works for me, but sometimes it'd be easier if I worked ahead of time."
On the Item He Always Packs: "I travel with my own pillow. I sleep in different beds every few nights when I'm on the road, so it's nice to have one consistent thing. It's just a nice pillow from my bed at home, and I somehow manage to squeeze it into my duffel bag."
On His Goals for the 2018 Winter Olympics: "My plan is to race the combined, super-G, and giant slalom. My main focus is the GS and to defend the title, but I feel like I have a good chance if things go right in combined and super-G, too. Because I've been injured the two last years, there's less pressure, externally anyway. Internally, I still have expectations to ski fast. I'm my biggest critic."
On Becoming a Father: "Having a kid is the biggest life change you can have. It's been so fun watching him grow. It's hard, but it's the most rewarding thing I've ever done. It takes time management. It makes you more focused. You don't want to waste time being unproductive on the hill or in the gym, because that time with him is so valuable."
On Retiring from Ski Racing: "I'm skiing for the next few years. I don't know exactly what the number is. As long as I have the speed to win races, I want to keep racing. But I am far closer to the end of my ski career than I am to the beginning of it."
Lead Photo: E