Our Worldschooling Adventure
While other kids were stuck taking standardized tests, I decided to take my daughter, Devon, to Africa to learn about conservation in the global classroom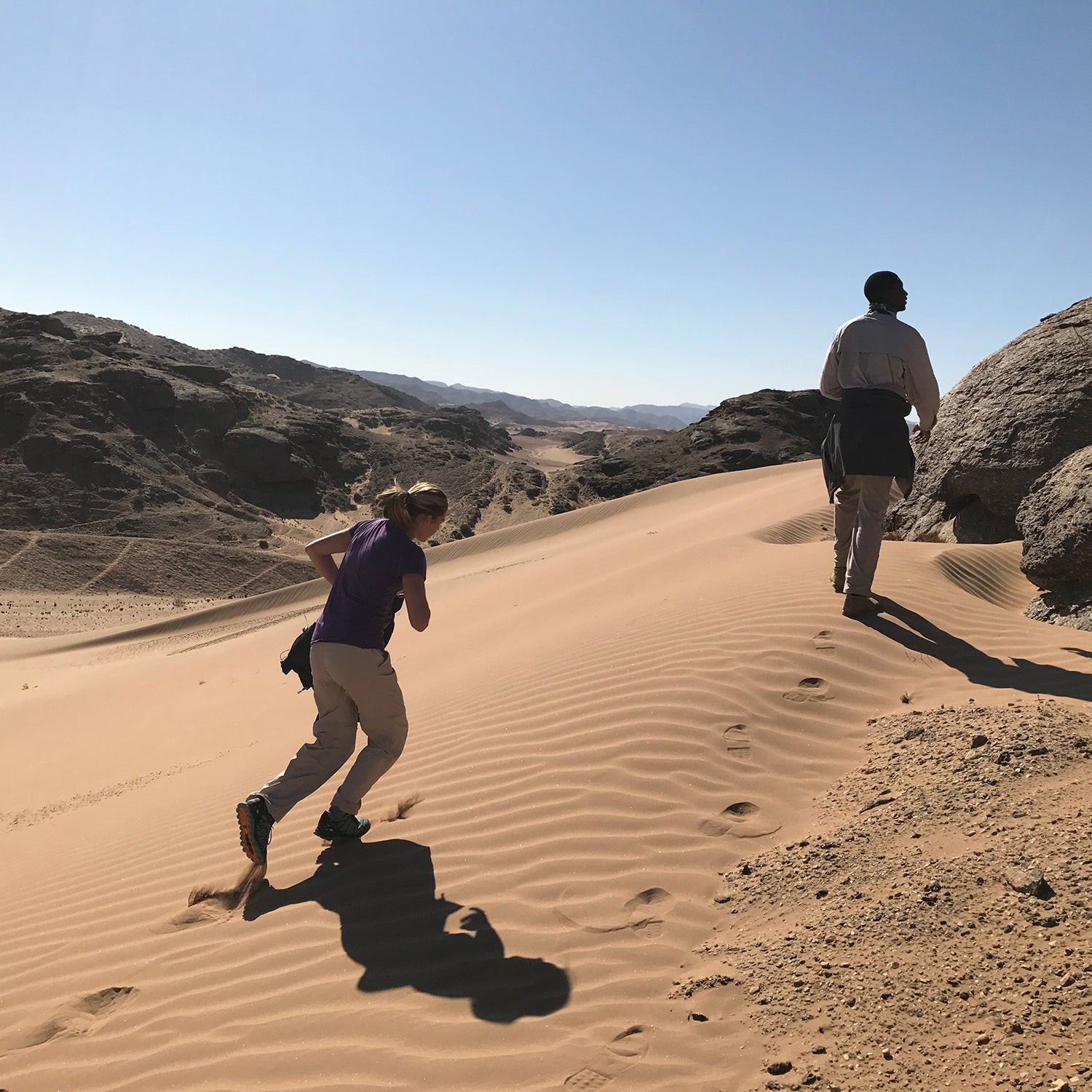 Shannon Galpin(Photo)
Heading out the door? Read this article on the new Outside+ app available now on iOS devices for members! Download the app.
As I stood with my arm around my 12-year-old daughter, Devon, in the middle of the Namib Desert, the silence was broken by the snort of a black rhino directly in front of us. I squeezed her a little closer and grinned with equal amounts joy and fear. We were standing just meters away from two black rhinos, a mother and son, with three rangers from Save the Rhino Trust. The rangers were monitoring these animals, part of the last free-roaming herd of black rhinos left in the world, to protect them from poachers. The month ahead proved to be a crash course in science and conservation—and more hands-on education than Devon would get in a classroom back home.
Four days later, Devon was interviewing world-renowned—and famously reclusive—conservationist Philip Stander in his remote cabin on the Skeleton Coast. Stander lives for weeks at a time in his tricked-out research truck, studying desert-adapted lions. Devon nervously asked him her first questions, but soon Stander was showing her samples of lion hair that he collects for DNA testing, and she forgot she was a 12-year-old interviewing a famous scientist. Devon was having a conversation about her favorite thing in the entire world, big cats, with someone who loved them as much as she did.
Over the next week, we hiked the nearby desert cliffs, tracking brown hyenas near their dens with our guide, Elias. We learned how the desert-adapted elephants, giraffes, zebras, oryx, springbok, and black-backed jackal are able to survive with little to no water. We found tracks during the day, learned words in the local Damara "click" language, and studied the constellations after dinner at night.
School was in session.
---
We left Colorado on a bluebird day in late May, the time of year when the snow is finally melting and my single-speed bike is usually living full-time in the back of my Element. Instead, Devon and I had spent the past two weeks packing to leave the country for 14 months, bringing only two bags and a slowly evolving sense of where we were going. It had been a long time since I'd felt that kind of freedom. I spent my twenties living entirely overseas, but I moved back to the United States when I was 29 and have called Breckenridge home ever since. I didn't think this kind of spontaneous freedom to roam would be in the cards until Devon was done with high school.
Instead, we are spending her seventh-grade year on the move, calling multiple countries home. It's a chance to expose Devon to global perspectives, to spark a curiosity for learning before it gets too firmly squashed out by standardized tests. I wanted Devon to see and touch history, not just read about it, to walk along geographic lines instead of just view them on maps, to convert currency as a math problem, and perhaps then to understand that what she learns in books has a place in the real world.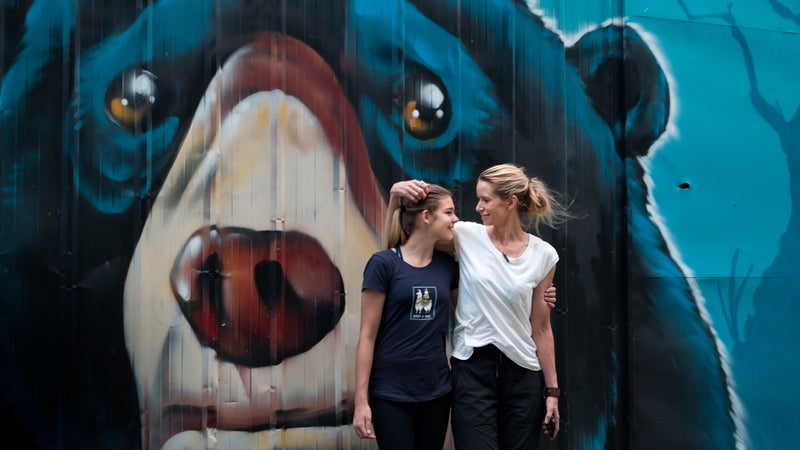 Fortunately, our circumstances made pulling up stakes fairly easy. Devon's father and I co-parent her in Breckenridge, but he is British and was ready to travel again as well. We decided to extend our parenting blocks from weekly intervals to monthly, meeting in a series of drop-off and pick-up points around the world. I'd spent the past decade working as a women's rights activist in Afghanistan with my nonprofit, Mountain2Mountain, but was ready to pivot my focus in a new direction.
Luckily for us, the actual logistics of pulling Devon out of school were relatively simple in Colorado due to the state's open views on homeschooling. Her teachers and the middle school staff supported Devon 100 percent, sharing her excitement about this opportunity and assuring her that she can seamlessly transition back into eighth grade when we return. Her school counselor shared with us what her classes are studying so we could integrate similar lessons.
The idea grew out of a project that Devon and I were brainstorming about wildlife conservation and endangered species. Devon has been passionate about endangered species since she was four. When I "adopted" a snow leopard in her name for her birthday from the Snow Leopard Trust, the nonprofit sent her a stuffed snow leopard, which she named Himalaya. Himmy has been at her side ever since. A passion for all big cats quickly followed—tigers, lions, cheetahs, black panthers.
I believe that experiential learning—through doing and seeing—is how we learn best. That isn't going to happen inside the average classroom.
Devon also inherited my activist gene, starting small fundraisers at school and in her community to raise money for organizations she cares about. She saw the work I did and wanted to do more. "I know that you fight for women, Mommy, but when I am your age, you will have solved that problem," she said to me when she was six or seven. "So I want to save the animals."
Now that she was older, Devon still wanted to save the animals, but she knew it wasn't about individual species—it was about habitat, about involving communities, about the story of conservation. She wanted to be involved, and she felt kids had a role to play. I agreed. Storytelling was the focus of my work in Afghanistan—how to share the voices of women who weren't being heard. This was exactly the same: How do you give voice to the elephants and the snow leopards and the habitat they are losing? The first step is always: You have to listen and learn. So that's where we started.
One snowy Sunday morning in January, we started hatching a plan in our local coffee shop. How could we reimagine wildlife conservation through the eyes of the next generation? How could we speak in Devon's language to her peers? We doodled on napkins, and over the course of several coffees and hot chocolates, she drew up a rough outline and a logo design partially based on my arm tattoo, a compass. We came up with the name Endangered Activism, playing on our focus on endangered species, but also on how activism and the power of voice as tools are themselves endangered.
Once the decision to homeschool was made, I realized that we could apply real-life field research, science, geography, art, and writing as we traveled the world. We'd produce a series of short films, a global street art project, and a feature documentary following our year abroad. Devon came up with an idea for a graphic novel series about the Rosette, a teenage superhero with the power to shape-shift into animals, while we were in Namibia. The Rosette works alongside her snow leopard sidekick, Himalaya, to fight wildlife crime and protect endangered species.
I knew about the idea of "worldschooling" long before I knew that was a thing. Before Devon was born, our neighbors had raised their two boys on a sailboat for four years. Another family in Breckenridge homeschooled their two daughters abroad during middle school. Their eldest went on to become a National Merit Scholarship semifinalist, so it's fair to say their academics didn't suffer. My best friend's high school daughter goes to a school that incorporates traveling abroad into the curriculum. These children are all highly academic, critical thinkers, globally aware, and self-reliant in ways I don't see in other kids their age.
More and more parents are looking at ways to broaden the worldview of their children, especially at a time when American students are locked into a cycle of standardized testing. Having lived in many countries myself, I believe that experiential learning—through doing and seeing—is how we learn best. That isn't going to happen inside the average classroom.
"Nobody listens to kids," Devon explained to me. "But kids have solutions. Kids want to help change the world."
---
We landed in Windhoek, Namibia, in late afternoon, when the setting sun bathes everything it touches in a breathtaking golden light. Devon was staring lifelessly out the window, barely awake, but when she saw a group of baboons on the side of the road, she turned to me suddenly. "Baboons!"
I smiled over at her. "Now does it feel like you're in Africa?"
Jet-lagged and weary, she nodded happily. "Do you think there are leopards out there?" she said hopefully.
"Always with the big cats," I teased.
"Always!" she giggled.
Our taxi driver laughed and looked back at Devon in the rear-view mirror. "Sometimes they are out there, but they are very hard to see!" He winked at her.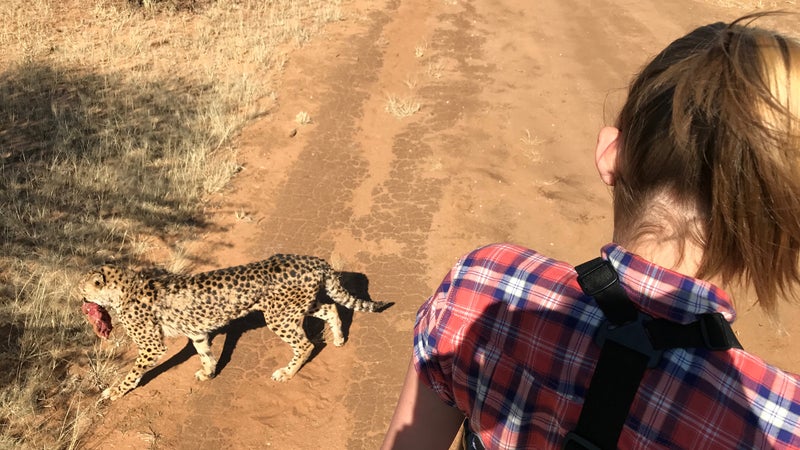 We chose Namibia as our first stop because conservation is literally written into the country's constitution. The protection of land and wildlife is so important to this country that it is included at every level of governance and within its educational system. Community-based conservation programs empower the people to recognize wildlife and habitat as resources worth protecting. As many Namibians told us, the system doesn't always work perfectly, but local conservancies have restored populations of lions, cheetahs, and black rhino while creating income for communities that live alongside the animals. It's more than just national parks; it's about how humans and wildlife coexist. Herders and big cats. Farmers and elephants. It's about finding solutions that work for the people who live here every day with the animals so they value wildlife as much as the tourists who come to view it from a safari jeep and then go home.
As we headed toward the town of Otjiwarongo, Devon was filled with anticipation for what promised to be the highlight of our trip: a visit with Laurie Marker, founder and director of the Cheetah Conservation Fund. Much like Dian Fossey and Jane Goodall, "Dr. Laurie" has broken barriers with her scientific research on cheetahs, specifically their genetic diversity. This was Devon's holy grail: big cats.
The Cheetah Conservation Fund is a state-of-the-art field research station with a fully equipped genetics lab. It is also an interactive conservation and educational center open to the public, with a guesthouse and a model farm with goat pens, herders, and a guard dog–breeding program. CCF invites local farmers to work with its herders to learn solutions that don't involve killing wildlife.
"Mom, look at their names," Devon nudges me in the ribs when we arrive. Several cheetahs are prowling about in a large viewing area behind a wire fence: rescued cats that, due to behavioral or medical problems, cannot be released and so are given sanctuary. On the fence were wood plaques with the names Hermione, Harry, and Ron—the Harry Potter Group. Visitors can watch their morning exercise runs and participate in educational talks during feeding times.
Wildlife's worst enemy is humans. Animals just need space. Climate change is changing the game with every species in every country. Time is running out.
Devon is in awe, as am I. Cheetahs are elegant creatures—it's no wonder they are sadly still poached for the high-end, illegal pet trade. I can always tell when Devon is overwhelmed with excitement, because she gets quiet. She is very quiet right now.
Soon Devon is immersed and sometimes overloaded with activities: interviewing the vet and conservation teams, throwing donkey meat from the back of a truck for the older cheetahs, feeding new litters of guard dog puppies, visiting local schools, and walking with the goat herders from the model farm. After one particularly rough morning of multiple interviews, all in front of an audience, Devon is stressed, hungry, and needs a break. She comes over to me and starts crying and hugs me. So I just say, "Okay, guys we're done." Time for lunch, ice cream, whatever. She's 12. This is supposed to be fun. One interview too many.
The last interview is with Dr. Laurie. As the organization's founder, she's a strong, no-bullshit woman, and Devon is feeling fragile. But Marker had told us one night how she used to have a goat farm when she was young. Knowing that, and given that we couldn't film with the cats without becoming cheetah snacks, I suggested we have the interview in the goat pen. Devon was thrilled. Our cameraman, Tony Di Zinno, less so.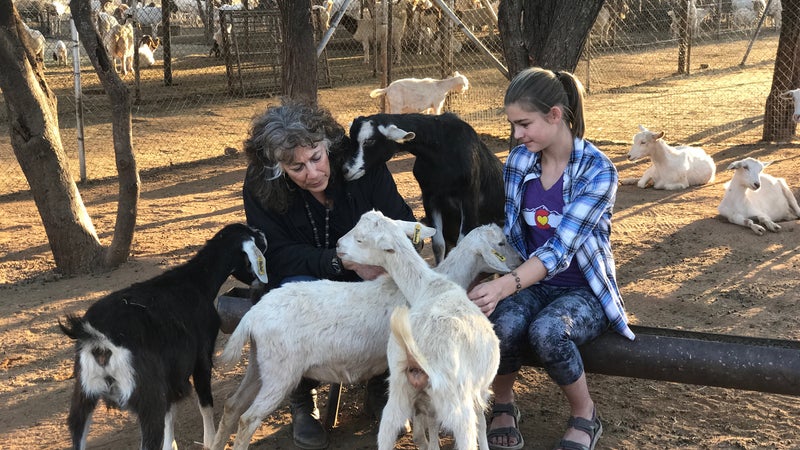 The minute Marker walked into the pen, she started smiling. She and Devon sat down on a feeding trough, and as Devon asked the first question, a goat presented its butt straight at the camera lens and started pooping.
"We have goat poop!" shouted Tony.
Marker and Devon keeled over laughing as the goats proceeded to pee, poop, chew, bleat, and try to knock over the tripod every second of the interview. We sacrificed two shirts, a mic, and a backpack strap, but we also found some beautiful moments of authentic connection in the hilarity.
"The cheetah is the rarest of all big African cats," Marker told Devon, "and if they are going to survive, it's up to us as people. We're supposed to be the stewards of the earth for the younger generation, and I think you can hold us, as adults, accountable for what you're being left. You're being left a lot of hard work."
---
As we continue forward—into Borneo, Argentina, Vietnam, Greenland—and as we watch the news back home during our travels, a common theme emerges among everyone we speak with: Wildlife's worst enemy is humans. Animals just need space. Climate change is changing the game with every species in every country. Time is running out. Education is the solution. Change is possible, and it is happening in real time every day with individuals, young and old, urban and rural.
Devon is exhilarated by what she's seen and aware of what a privilege it is to see it. She's also petrified that her friends in middle school are going to forget her. Mostly, she's a budding teenager emerging into a curious, globally conscious citizen. She knows that, for now, her role is to listen and to learn. Not to be the problem solver—that's for the people on the ground living and working in these spaces. She is becoming the storyteller.
Lead Photo: Shannon Galpin
Trending on Outside Online