Book Your Winter Riding Trip to Tucson Now
Five reasons our bike editor loves the Arizona city, from its rocky trails to its warm weather to its great beer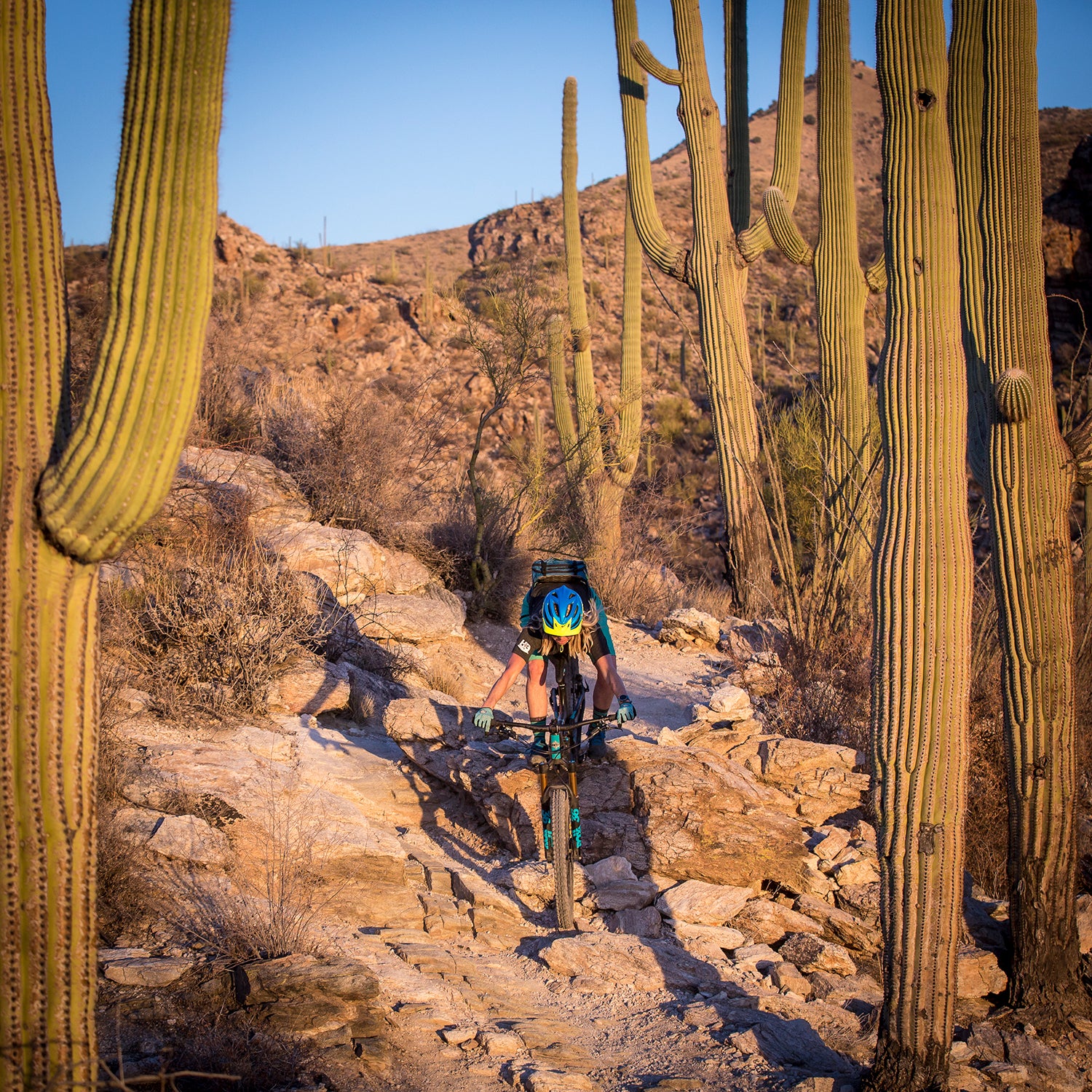 Heading out the door? Read this article on the new Outside+ app available now on iOS devices for members! Download the app.
I try to spend a bit of time in Tucson, Arizona, annually, but last year, due to extenuating circumstances, we couldn't make it down there. For 2018, we moved the Outside Bike Test back to the Old Pueblo, and, upon arrival in early January, I felt a warm, Hallmark glow for this town. As bike editor for Outside, I have ridden the world over, and if there is a better place for cyclists to winter, I do not know it. The temperate, dry weather makes it blessedly comfortable to ride here, there's tons of terrain for pedaling, the town is blossoming with breweries and hip restaurants, and there's a killer cycling culture.
Want a winter training camp or just a quick getaway from the cold? You will do no better than this poky, endearing town in southern Arizona.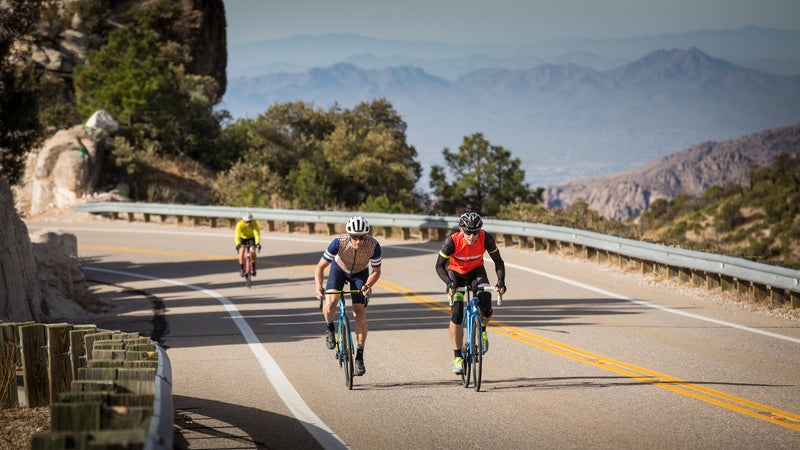 #1. It's Warm
You know what feels amazeballs? In the middle of winter, ditching your puffer from your cold, dark home and exposing your lily-white skin to the desert sun. Over the course of a month in Tucson, we had exactly two days of light rain—otherwise, the sun was out and daytime temps hung in the mid-70s. As with the rest of the Southwest, this winter is particularly warm and dry, to the point that I was worrying over hydration and whether testers would be able to keep up the pace in the heat. But even on "cold" years, which we've had one or two of in the decade we've been testing in Tucson, you're talking about a day or two where you might need arm and knee warmers. The only problem with getting so comfortable? It feels that much colder when you have to return home, which is why, every year, at least one or two in our group talks about investing in a Tucson property.
#2. There's So Much Riding!
I've spent a lot of years biking in Tucson, and I've still yet to see all the city's rides and trails. Thanks to Mt. Lemmon (see #3), the place has a reputation as a haven for roadies, and the mountain isn't even half of the story. There's excellent riding in both branches of Saguaro National Park, which bookend the city, and the 10-mile, closed-circuit rollercoaster loop in the eastern section of the park might be the finest road lap anywhere. The gravel and dirt roads outside the city provide endless options if you're willing to explore, and the city also hosts one of the largest and fastest group rides, the Shootout, throughout the winter. And while Tucson doesn't have a reputation for mountain biking like, say, Sedona or Moab, I think that's partly because the riding here is so spread out and varied that it's simply difficult to tie it all up in a neat little package. From the fast and flat flow trails at the in-town Fantasy Island to the chunky, bedded-rock loops of Robles and Starr Pass in Tucson Mountain Park to the granite playground north and west of Catalina State Park, the terrain is so diverse and interesting that every day can bring not just new trails, but totally different styles of riding.
#3. Altitude Training
Pro Tour teams such as Sky, Astana, and Trek love to tout their altitude camps in the Canary Islands as the key to winning seasons, but we Americans can skip the long flights and head for Mt. Lemmon, which climbs from the 2,389-foot Tucson city limit to over 9,000 feet at the summit. The pavement is glassy, and it's one of the most approachable long climbs you can do, with moderate grades of 5 and 6 percent the majority of the way. (It's perfect for intervals, if you're into that sort of thing.) Outside of say, Hawaii, I don't think there's many other places in the country where you can get so much climbing in the middle of the winter. And for those who need extra motivation (or structure), the Cycling House runs training camps here in the cool months.
#4. The Arizona Trail
I'll admit that I'm biased from years of riding and racing on it, but the AZT, an 800-mile purpose-built trail that traverses the state from Mexico to Utah, has to be one of the coolest resources for cyclists anywhere in the country. And Tucson is the jumping-off point for some of the finest stretches of the trail. During testing this year, we pedaled a 35-mile stretch south of town between Kentucky Camp and Colossal Cave, and everyone was blown away by the range of riding, from perfect ribbons of single track through broad, grassy meadows to brutal, rocky rollers that seemed so remote and never-ending that it felt like we were days away from civilization. On the north side of town, the passage between Oracle and Freeman Tank is rugged country where water is scarce and Gila monsters and rattlesnakes are common, while the stretch thereafter, called The Boulders, is so fast and swoopy that you can't help but whoop and laugh out loud. The AZT is great for single-day out-and-backs, and there's also excellent potential for multiday bikepacking trips, especially now that Homegrown is offering bespoke shuttle options.
#5. Epic Rides
While Moab has rightly won great acclaim for the Whole Enchilada, an epic, 27-mile descent, Tucson's Lemmon Drop is longer (31 miles), loses almost 50 percent more elevation (12,462 feet of descending on the day), and is continuously more technical. This big-mountain descent, which starts at the radio towers atop Mt. Lemmon Ski Valley and wends its way down the peak's southern flanks back to town, is a burly day out and takes in some of the trickiest and wildest trails here, including the exposed Incinerator Ridge and the rocky canyon drop down La Milagrosa. It shouldn't be underestimated, though the fact that it intersects the General Hitchcock Highway at multiple spots means there's always a bailout. Two other trails, Cañada del Oro (CDO) and Red Ridge, plunge off the north side of Lemmon, as well, meaning that Tucson has three marquee backcountry descents for mountain bikers. And while you used to either have to earn those turns with a backbreaking hill climb or spend an inordinate amount of time coordinating drop-offs and pickups, now that Homegrown is offering shuttles, it's a breeze to undertake one of these epics.
Lead Photo: JJAG Media