Indefinitely Wild
Jaguar Makes the Best-Looking Crossover
This new Jaguar E-Pace is also the roomiest small crossover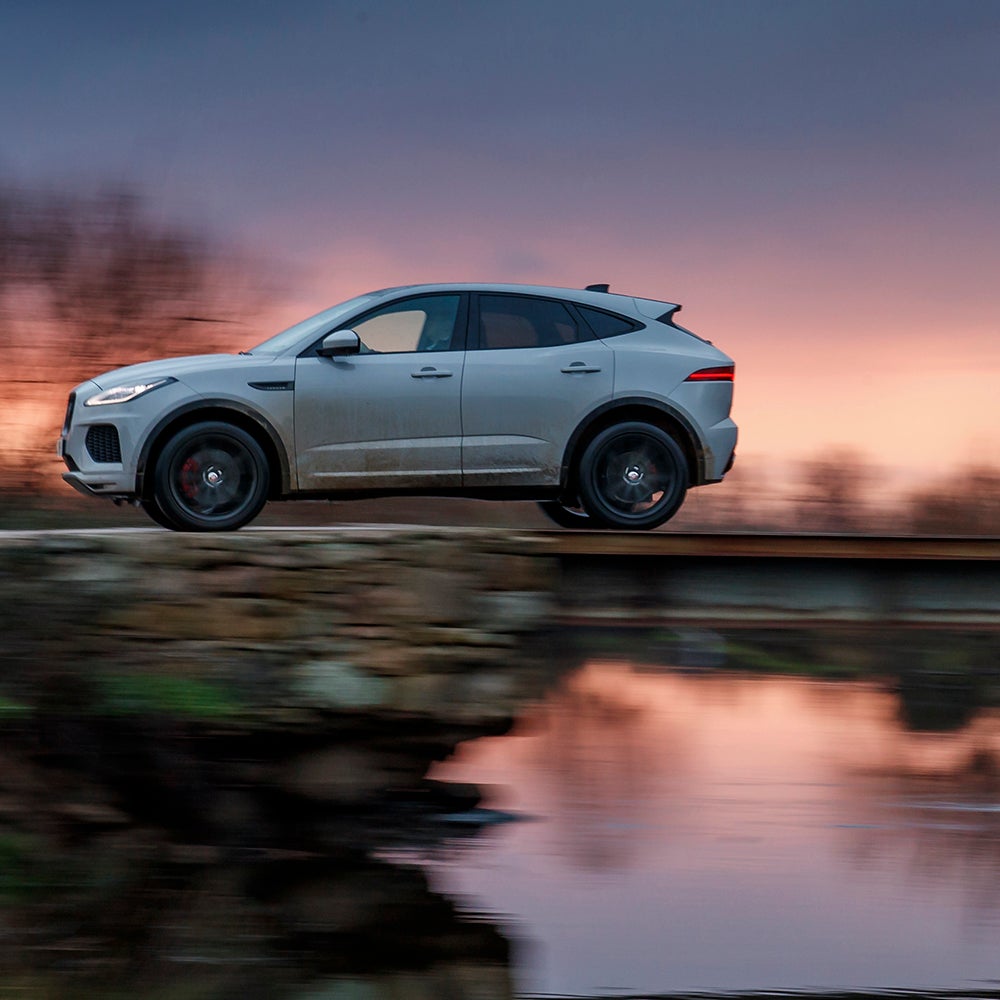 JLR Global PR(Photo)
Heading out the door? Read this article on the new Outside+ app available now on iOS devices for members! Download the app.
What at first seems like an odd combination—all-wheel drive, compact dimensions, tall suspension, and a big price tag—is also proving to be a winning formula for new car sales. Compact luxury crossovers are dominating the industry right now, and this newest model might be the best one yet. The 2018 Jaguar E-Pace is, at the very least, the best-looking crossover.
What Is It?
Unlike SUVs, which ride on separate bodies and frames and are fitted with four-wheel drive, crossovers use unibody construction and are equipped with AWD. By eschewing dedicated off-road features, crossovers are free to be more economical, spacious, and better to drive on the road, including through challenging winter weather, where AWD serves as a better aid to most drivers. And because a crossover is a car, not a truck, the best ones are coming from companies that traditionally specialized in making good cars. Companies like Jaguar.
Based on the same chassis as the Range Rover Evoque (Jaguar and Land Rover are both owned by Tata Motors) the E-Pace is wider than competitors like the Audi Q3 and BMW X2, while maintaining a similarly short wheelbase. That gives it a spacious cabin that still retains city-friendly external dimensions.
And while rivals from Germany, Japan, and the United States have struggled to find an aesthetically pleasing design language for their compact cars on stilts, Jaguar has just nailed the looks of this new E-Pace. It's going to sell for its design as much as it will any of its other features.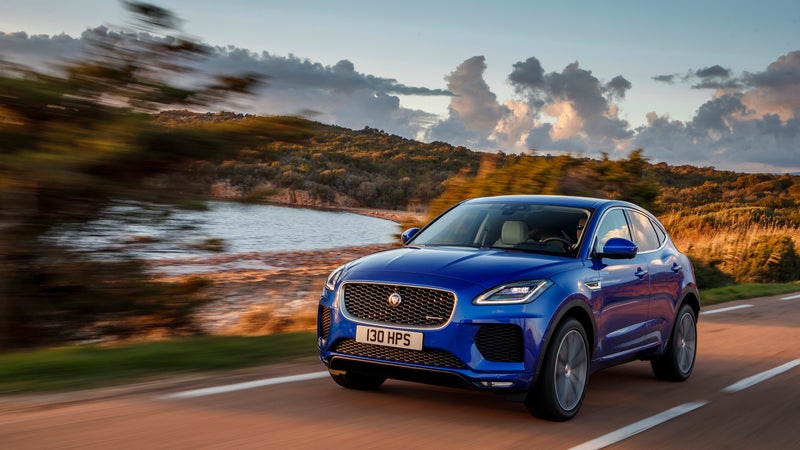 Who Is It For?
Do you live someplace where parking is difficult, but you need more interior space than a typical compact car? Like to sit up high so you can see over other traffic? Want a capable AWD system to make winter driving a little safer? Want all that, but don't want to drive a boring appliance? The E-Pace does all that and starts at just under $40,000.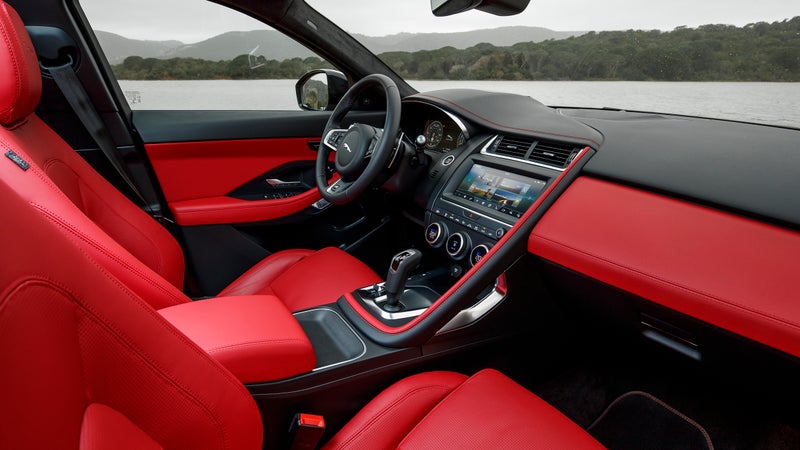 Design
The E-Pace begins with the same lines and similar design features as the larger, midsize F-Pace and delivers them in a tauter, more athletic package. Where other crossovers are all aggressive but confused, the E-Pace is rounded, friendly, and cohesive. You don't get the feeling its designers tried but failed to adapt a sports-car design language to SUV dimensions; rather, they set out to design a unique, appealing vehicle.
Inside, the simple, stylish interior isn't overcomplicated and doesn't feel cheap. But it's not quite as striking as the vehicle's exterior. Like most Jaguar–Land Rover vehicles, the centerpiece is a widescreen infotainment system that doesn't work as well as it looks. Spec'ing the bright-red leather helps jazz things up in here.
With the E-Pace, Jaguar has completed its transformation from a company that makes cars for stodgy old rich people into one that makes stylish, appealing cars for younger drivers. Less country club, more loft-style condos.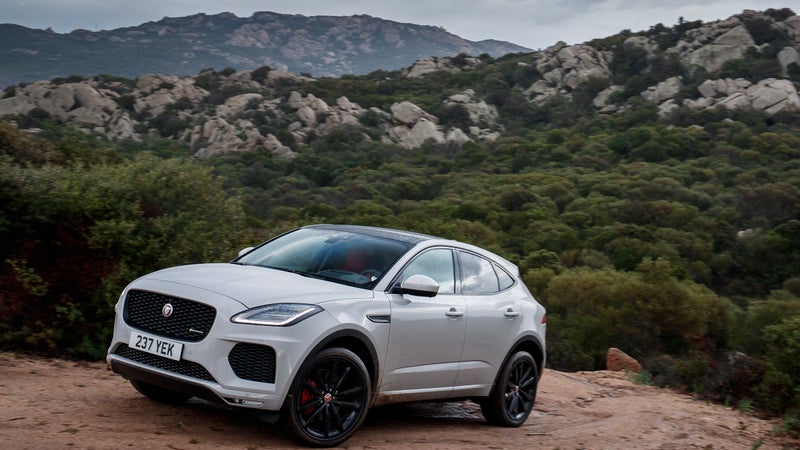 Driving It
The E-Pace shows its Land Rover origins through handling that's softer and less sporty than has become the segment norm. It makes up for that with a more comfortable ride and more off-road and bad-weather capability than other crossovers typically manifest.
The new turbocharged 2.0-liter, four-cylinder engine family—JLR dubs it Ingenium—is an in-house design that's available here in 246 and 296 horsepower flavors. I drove the faster version and was pleasantly surprised by both the responsive nature—it totally lacks turbo lag—and its outright performance. Its 5.9-second 0–60 mph time is just as fast as a BMW M3 was just a few years ago.
One of the vehicle's more interesting features is its torque vectoring system. You may be familiar with that term from some other brands like Subaru, which erroneously use it to describe a stability control system that tweaks the inside brake calipers while cornering, initiating faster turn-in. Here, the E-Pace can actually direct torque to the outside wheels, achieving a similar but more powerful benefit. Combined with a competent stability control system, torque vectoring also helps the E-Pace find traction off-road or in bad weather, where it should boast significantly more capability than any other crossover this side of the Range Rover Velar we recently reviewed.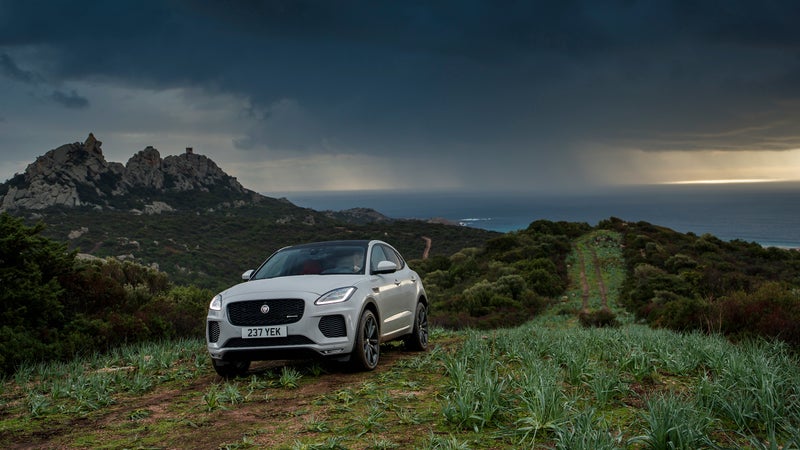 Likes
Sexiest crossover money can buy.
High-end badge and quality for under $40,000.
Class-leading AWD system.
Comfortable ride.
Dislikes
Some interior parts are overly reliant on cheap black plastic.
Not as sporty as some competitors, with noticeable body roll and understeer.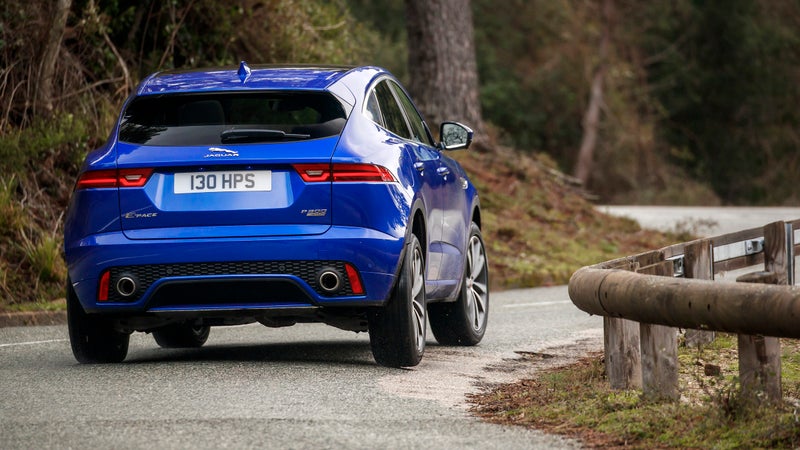 Should You Buy It?
If you're shopping for a crossover SUV and prioritize looks, capability on dirt roads and in winter weather, and comfort over a sporty drive, then the E-Pace is an excellent option. And it's sexy, just like a Jaguar should be.
Lead Photo: JLR Global PR