7 Beginner-Friendly Ultramarathons
Your first ultra will be hard, but these races will make it just a bit easier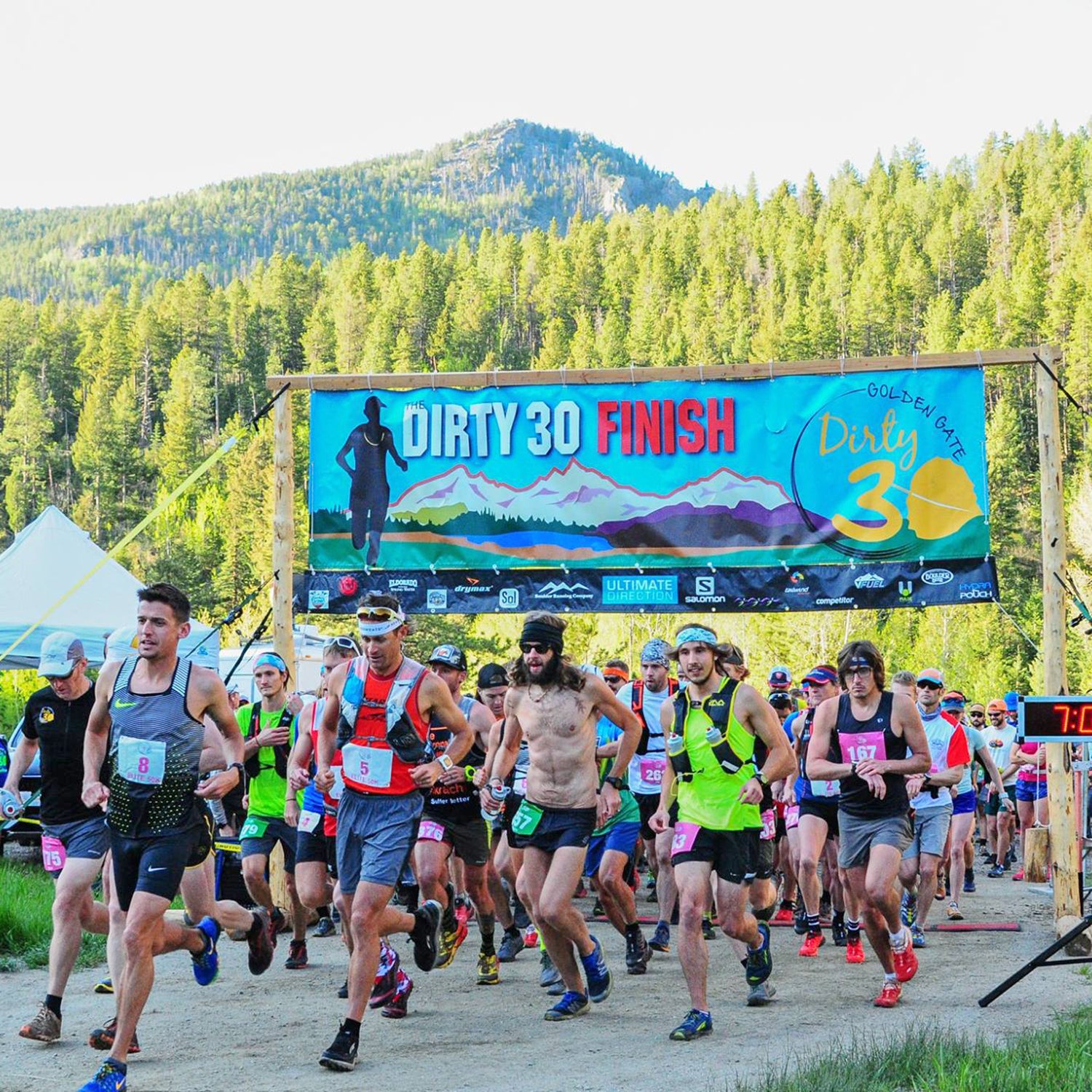 Dirty 30 Running/Facebook(Photo)
Heading out the door? Read this article on the new Outside+ app available now on iOS devices for members! Download the app.
There are no two ways about it: Your first ultramarathon is going to be tough. Really tough. Even on flat courses with soft trails, the body and mind take a beating while running 50 kilometers or more. But that doesn't mean your first ultra-distance race has to be a total sufferfest. We asked experienced ultrarunners to share their favorite beginner-friendly races—the ones that will prevent you from never wanting to toe the start line again.
The Marin Ultra Challenge
Ricky Gates, Professional Athlete, Transcontinental Finisher
For your first ultra, a laid-back vibe will go a long way toward keeping nerves at bay, says Gates. Though ultrarunners tend to be a pretty chill bunch, large races can be overwhelming and intimidating, especially for a new runner with lots of questions. A smaller race allows for more one-on-one attention from race directors and volunteers. Bonus: They're usually a bargain compared to their big-name counterparts.
"I love hype—just not for my first ultra," Gates says. "The Marin Ultra Challenge (March) in Sausalito, California, offers a 50-mile distance on many of the same trails as the North Face 50, but with a slightly cheaper entry fee and not all of the hype."
Black Mountain Monster
Doug Hay, Blogger, Rock Creek Runner
Not sure just how far you can go? Try a timed ultra like North Carolina's Black Mountain Monster 6-, 12-, or 24-Hour Race (May), where runners cover as much or as little ground as they want to attempt on a looped course. An upside to looped courses is that they allow support crews to set up camp with a stockpile of everything the runner wants—and then some.
"Timed ultramarathons are an easy, unintimidating way for new ultrarunners to attempt a new distance," Hay says. "Because you can push only as far as you want to, and because the courses are typically controlled loops, it's easy to lock in your stride and hit your desired distance. The Black Mountain Monster is a great option, with a scenic 5K loop and vibrant tent village at the start of each lap."
Umstead 100-Mile Endurance Run
Molly Sheridan, First Female Finisher, La Ultra
In your first ultramarathon, you're probably going to make mistakes—bad fueling strategy, waiting too long to address a blister, ignoring red flags. That's where having experienced volunteers on the course can save you from yourself, Sheridan says.
"My entire family has run the Umstead 100-Mile Endurance Run (April) in Raleigh, North Carolina, and everyone votes it the best," Sheridan says. "It has the most experienced aid stations, with volunteers who have been with the race for over 20 years. The volunteers have such great energy and give amazing support to the runners."
Golden Gate Dirty 30 50K
Michael Sandrock, Author, 'Running with the Legends'
"Sure, there are flat-and-fast courses out there, but ultrarunning is all about the experience, not the result," Sandrock says. "Black Hawk, Colorado's Golden Gate Dirty 30 50K (June) has all the ingredients of a special experience, with beautiful trails and amazing views."
The race is a cornerstone of Colorado's ultra calendar, which means plenty of company on the trail: "A newcomer will find plenty of friends to run, jog, walk with during the race and get a chance to be around some of Colorado's top ultrarunners, who will be racing or volunteering. It is a race that welcomes newcomers into the mysterious world of ultrarunning."
Rocky Raccoon 100-Mile Trail Run
Jason Bahamundi, Blogger, Cook Train Eat Race
Some folks want to dip their toe into the ultrarunning waters with a shorter distance, like a 50K, but Bahamundi says there's nothing wrong with going all in with a 100-mile race, as long as you choose the race wisely. His pick? The Rocky Raccoon 100-Mile Trail Run in Huntsville, Texas (February).
"The entire course is runnable. The total elevation change is about 6,800 feet, which, when spread over 100 miles, is not that bad," Bahamundi says. "This allows you to focus on your pacing. This is a 100-miler that is going to challenge you just enough but will also have you crossing the finish line thinking, 'When can I do it again?'"
Way Too Cool 50K
Mario Fraioli, Founder of the Morning Shakeout
For those looking for a gradual transition to ultrarunning, a race with the bells and whistles of a major marathon will have just enough familiarity while still presenting a new challenge. Fraioli's pick, Northern California's Way Too Cool 50K (March), replicates the big competitive field and spirited spectators of road racing on singletrack and switchbacks.
"It's one of the most popular 50Ks in the country, and with good reason. It's big in terms of participation numbers, but it's also well-organized and has a very welcoming vibe," Fraioli says. "The course is just challenging enough in terms of the terrain and overall difficulty, but showcases some incredible, enjoyable trails."
Your Hometown Event
Adrian Belitu, Founder of ilovetorun.org
"To me, all ultrarunning events are beginner-friendly, because almost every participant is there to finish, not to win. In ultras, more than in any other sporting events, a finish is a win," Belitu says. That said, some finishes come more easily than others. For beginners, Belitu says the best race is the one closest to home. In addition to being able to train on the course—"You get to learn the course for the nighttime," Belitu says—a hometown ultra allows you to sleep in your own bed the night before the race, as well as quickly return to the comforts of home afterward. "Trust me," Belitu says, "The last thing you want to do after your first hundred-mile race is travel."
Lead Photo: Dirty 30 Running/Facebook
Trending on Outside Online