Gear Guy
Testing the Best Whiskey Tumblers for Boozing Outdoors
I learned that the little things make the biggest difference, but ultimately, it mostly comes down to style and personal preference. And we're totally OK with that.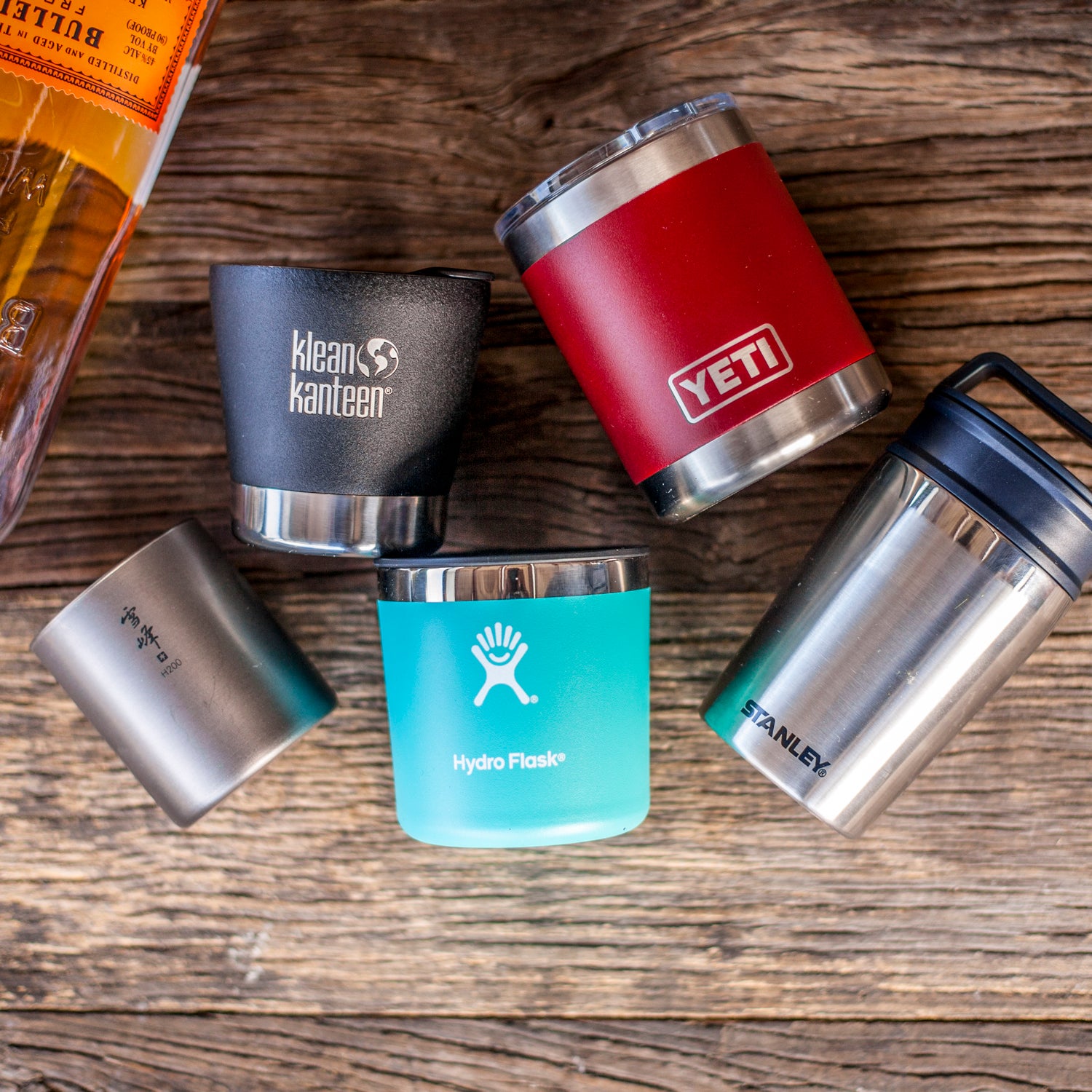 Sarah Jackson(Photo)
Heading out the door? Read this article on the new Outside+ app available now on iOS devices for members! Download the app.
Yes, a fancy tumbler specifically purposed for booze in your camp kitchen kit seems superfluous. I get it. I've consumed the vast majority of whiskey on river and camping trips, or post-ski tailgating, directly from the bottle, flask, or Gatorade bottle. But some of my all-time favorite drinks have been enjoyed outside, so why not couple the experience with a proper vessel? And what better excuse for me to imbibe than to perform a test to determine the best one? In the name of journalism, of course.
I conscripted my buddy Matt Thomas for this test because he has strong opinions about whiskey and how it should be enjoyed. He was also a world-class kayaker who has sipped whiskey in some of the most remote places in the lower 48, and he has plans to one day open a distillery.
Things to Consider
Lids Are Your Friends
I originally thought lids would be bad for whiskey drinking, because I feared the plastic would effect the taste. Not so. Thomas informed me that a lid will act as a smell blocker. "For getting the most flavor out of your whiskey, you want a glass that your nose doesn't go into while you drink," he says. "The powerful alcohol vapors will mute the taste." (This is why fancy snifters are skinny at the neck.) While all the glasses we tested were wide enough that my beak entered them when I drank, the lids acted as blockers.
Size = Portion Control
One spring, after a nasty breakup, I drank whiskey out of a 12-ounce handled aluminum bowl that my friends dubbed "Joe's whiskey skillet." And I always felt awful from overindulging. It's too easy to go overboard with a big pour in a big aluminum vessel. "You don't need a lot of volume," Thomas says. After all, good whiskey is meant to be savored.
Where It'll Rest
Don't forget that you're camping. Between sips, you'll likely be setting your glass on uneven surfaces, like the roof of your car or the rocky ground. "Look for something that's small and easy to hold onto or has a wide base that you could set on the ground and not worry about it tipping over in the dirt," Thomas says.
Insulation Only Matters for Cocktails
While most cocktails are better cold, which makes ice retention important, you actually want your ice to melt when you're drinking straight whiskey. "Water acts as a solvent and releases the free radicals," Thomas says. This cuts the harsher chemical tastes so the true flavor can come through.
The Test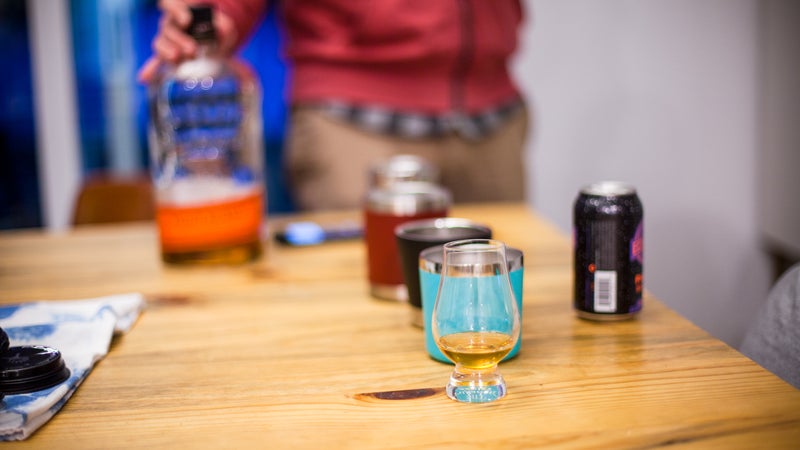 We poured half-ounces of Bulleit Bourbon into each of the five glasses below, as well as an extremely fancy crystal snifter (the control). We chose them because all these brands have the growler, coffee cup, and pint glass categories nailed, so I wanted to see how they handled liquor.
None of the tumblers, all built from food-grade stainless steel or titanium, affected the flavor of the whiskey, so we ended up picking our favorite based on how it felt to hold, how the tumbler poured with the lid on and off, and how it would work in the wilderness.
The Results: The Best Bourbon Glasses
Winner: Klean Kanteen 8-Ounce Insulated Tumbler ($18)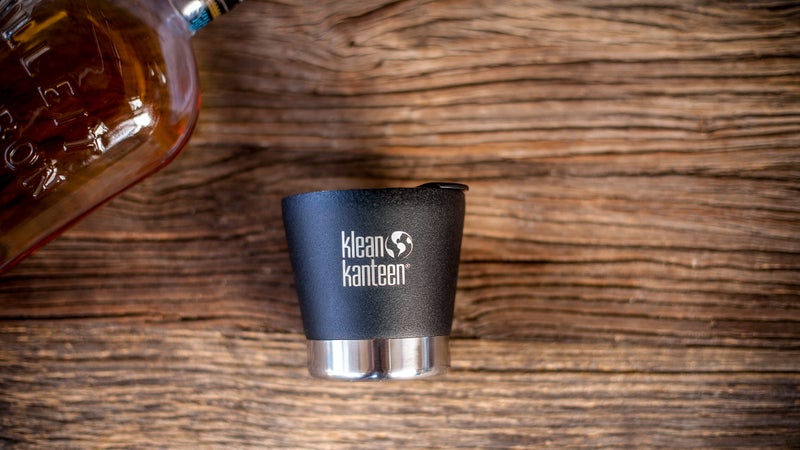 Best For: Doing It All
The Kean Kanteen is a jack-of-all-trades. This tumbler was a close second to the Snow Peak (see below) when it came to drinking comfort, but it's half the price and has considerably more insulation, making it better for pulling double duty. "If you are looking for a straight whiskey or cocktail glass, you'd be hard pressed to beat this one," Thomas says. The lip was the second thinnest and felt really nice while sipping, but when the solid lid was on, its opening was just the right size to dish out perfect sips. Both Thomas and I thought we wouldn't like the tapered exterior, but combined with the roughness and extra grip from the powder coating, it was the easiest to hold onto. We dinged the Klean Kanteen for its small base that wasn't great on uneven surfaces, but it still took home the win because of how enjoyable it was to drink from.
#2. Snow Peak Titanium Stacking Mug ($35)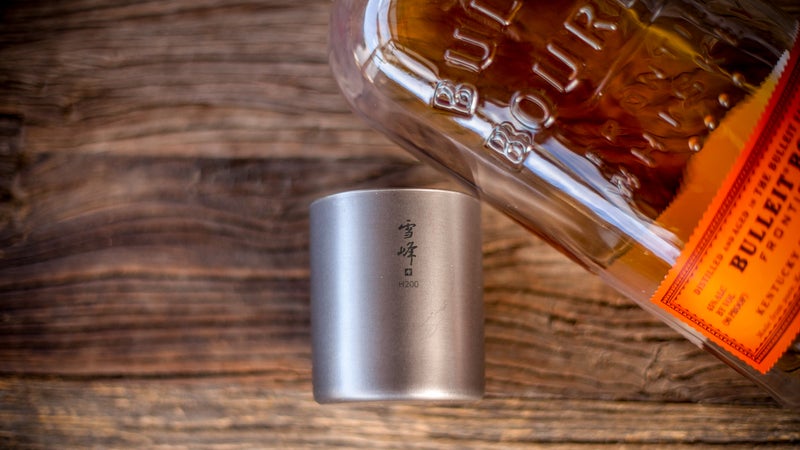 Best For: Whiskey Purists
At 2.2 ounces, this was by far the lightest vessel in the test. It also had the thinnest lip, which Thomas and I both thought made for the easiest sipping. "It has a nice feel," Thomas says. While the light weight makes the Snow Peak a prime candidate to get kicked across a campsite if you don't keep an eye on it, that same weight also makes it more packable and the only tumbler we would even consider taking backpacking. "I could take a sip and then just stick this in my shirt pocket," Thomas says. Like pretty much everything Snow Peak, it's also gorgeous. "I like the simplicity of it," Thomas says. "It is an easy one-hander, in case you want to smoke a cigar."
#3. Stanley 8-Ounce Adventure Vacuum Mug ($15)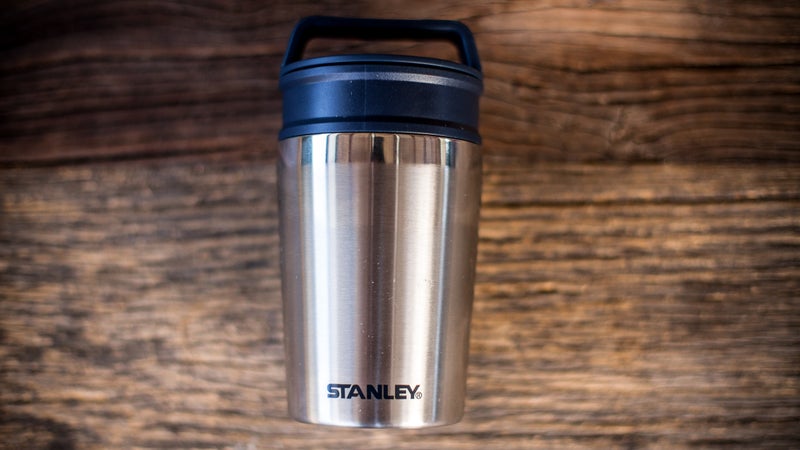 Best For: Spiking Your Coffee with Whiskey (or Vice Versa)
On top of turning this little eight-ouncer into a veritable thermos, the two-part lid also protects your other gear. "If you have dregs in there, you can seal it up and throw it in your bag and not worry about it leaking," Thomas says. The lip is threaded to accommodate the lid, which made it our least favorite with the lid off. Also, with the lid on, the hole was set too deeply into the tumbler, so you had to tip the cup back pretty far to get the liquid out. This sets you up for spilling on yourself—especially if you're on your second helping. Thomas says it best: "It comes at you weird."
#4. Yeti Rambler 10-Ounce Lowball ($20)
Best For: Rowdy Campers
At 9.5 ounces, the Rambler was the heaviest we tested, with a solid heft and a wide base, which has the bonus of keeping the Rambler upright if you set it down at the campsite. "I could just leave it and not worry about it falling over," Thomas says. The beefy lid was not the best—it got in the way, squishing our noses—but the wide opening would make it perfect for cocktails. And it's insulated—Yeti's legendary thermoregulating power would be amazing for a gin and tonic.
#5. Hydro Flask 10-Ounce Rocks ($30)
Best For: Getting the 'Gram
The Rocks was my favorite aesthetically. It has a superclean look, and it's hard to beat Hydro Flask for fun color options. Alas, with the lid on, the lip was too thick for both Thomas' and my taste. And with it on, the lid sat at an awkward angle for pouring whiskey because the opening was too close. I'll admit, I came into this test expecting the Rocks to be my favorite, but it ended up ranking last.
Lead Photo: Sarah Jackson
Trending on Outside Online