Airstream in for Service? Go Backpacking
When your home-on-wheels is in the shop for multiple days, take the opportunity to explore someplace new on foot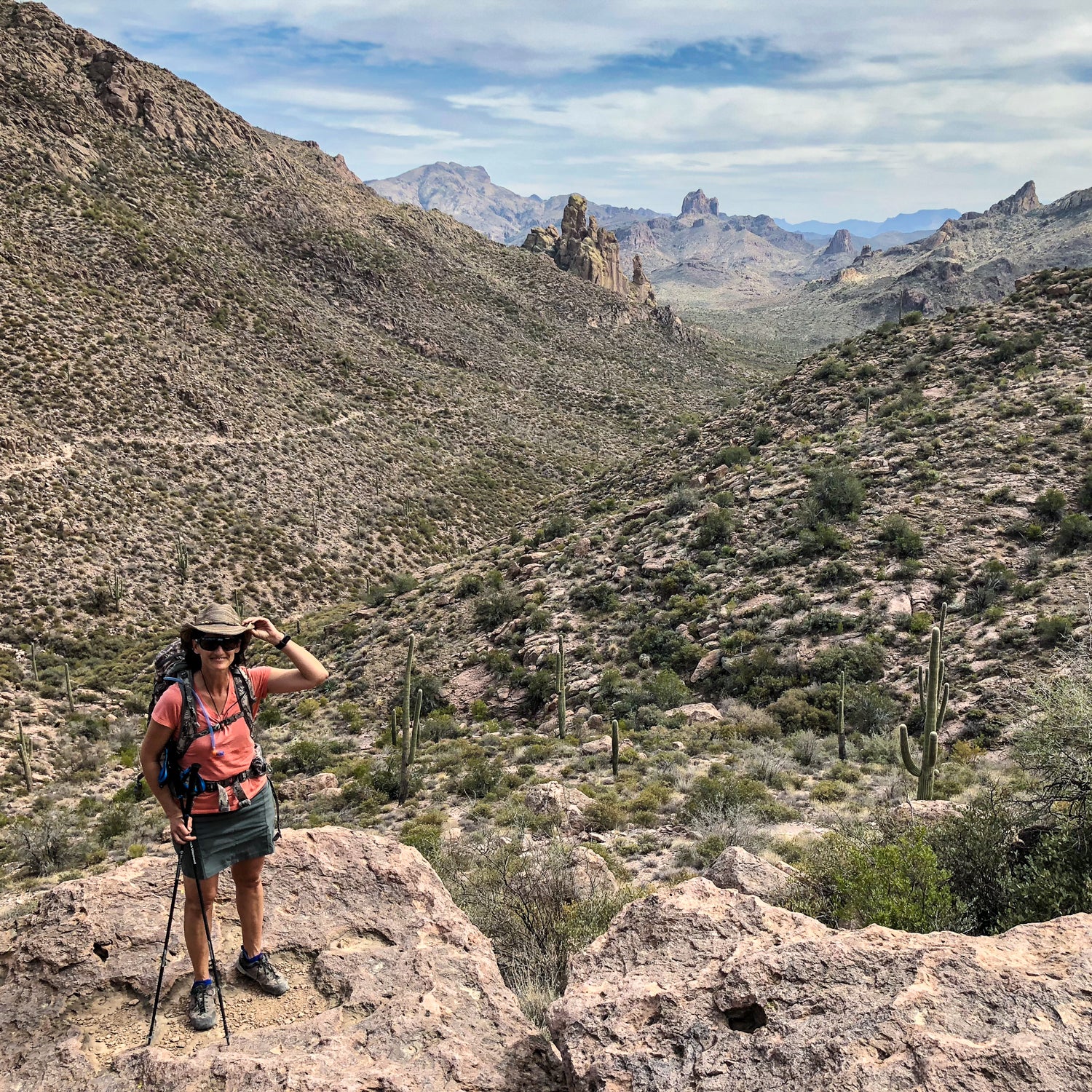 JJAG Media(Photo)
Heading out the door? Read this article on the new Outside+ app available now on iOS devices for members! Download the app.
My wife, Jen, and I do as much of our own Airstream maintenance as we can. But a winter of driving washboard roads led to service items above our handyman pay grade: rattling rocker panel, broken door lock, frozen toilet flap. So when we scored an appointment at the newly opened Airstream of Scottsdale, Arizona, albeit two months out, we resigned ourselves to a week of "tenting." (Aside: If you need service on a trailer or RV, plan ahead. With the explosion of retired baby boomers on the road, it can take months to get an appointment, and many places are so busy they won't even return your calls.)
We've been without Artemis once or twice since we've owned her, so we knew what we'd be missing. First, there's the irony of trading a new mattress I'd slept on maybe a week for the trusty Therm-A-Rest NeoAir. Plus, simple tasks like cooking dinner and washing dishes are double the effort without a kitchen, as is trying to keep up with work when you have to set up your laptop in the shadeless desert heat. So, in advance of the drop-off, we made a plan to shut down for a few days and see something we otherwise might not.
The Superstition Wilderness, a range of wild and scraggly purple mountains that rise from the desert haze southeast of Phoenix, is a place that's been calling us for years, partly because the dark emptiness is confounding next to the sprawling glitz of Arizona's capital. In Exploring the Superstitions: Trails and Tales of the Southwest's Mystery, a new release that I stumbled across, author John Annerino built up expectations with lore of gold treasure dating to the mid-19th century and all the fortune-seekers, adventurers, plane crashes, and deaths that followed it. Compared with the 295 deaths on Everest to date, Annerino writes, the Superstitions have claimed the lives of 654 or more people. They are a brutal and stunning collection of sharp volcanic peaks and even sharper vegetation, including ocotillo, two-story bouquets of thorns known as "the devil's walking stick," and poison-spine-tipped century plants cursed as Spanish Daggers. Edward Abbey called the Superstitions "a dry corner of the continent," and said that range attracted "gun happy cranks, touchy old prospectors, truculent treasure hunters from far-away cities…coming here to live out their childhood fantasies of the Wild West."
In our absence from Artemis, Jen and I decided to join the line.
We loaded up our backpacking gear and hiked from the Peralta Trailhead, at the end of Gold Canyon, which sounds alluring but is actually just a bedroom community catering to RVers. Based on the parking lot overflowing with hikers on a Wednesday morning, Abbey would have to add health-nut retirees to the list of Superstitions seekers. Despite the crowds, however, the moment we headed east, away from the hallmark Peralta Trail, we felt as alone in this wilderness as we might have a century ago. We made a 20-mile loop through rugged country covered in stones so hot from the sun you couldn't pick them up and scrappy creosote bushes that tugged as we passed. Eventually, we came across a clear spring tucked into a deep canyon where we could replenish and soak our weary feet. Jen even spied a little skunk, the only sign of life we encountered in these bleak hills.
Over the course of the next three days, we took our time wandering this backcountry, poking up tight canyons, clambering through thorny thickets of palo verde, brittlebush, and globe mallow, with buds just barely aflame for spring, and scrabbling to the top of volcanic stacks. On our final night, we slept beneath Weaver's Needle, a fang of stone that's said to be the landmark on several centuries-old maps as the spot where gold still waits. Of course, we found none, but the quiet escape in this fortress of solitude and rock was plenty of treasure, even if the pale light of Phoenix to the west all but drowned out the night sky.
The time away dulled our misgivings of not having Artemis for a little while. We love the transient life, no doubt, but having a home base, even a rolling one, is vital to keeping us rooted and productive. But this escape worked so well that we've resolved to make it a tradition. From now on, well ahead of our annual service, we're going to look at the map for somewhere not on our agenda, and then seek out a nearby dealership that can do the work.
At the same time—while I wouldn't trade those days in the Superstitions for anything—after a week on my back in the dirt, I was ready for that new bed and a good night's sleep.
Lead Photo: JJAG Media
Trending on Outside Online