Indefinitely Wild
The New Subaru Forester Gets Better in Almost Every Way
But better isn't always faster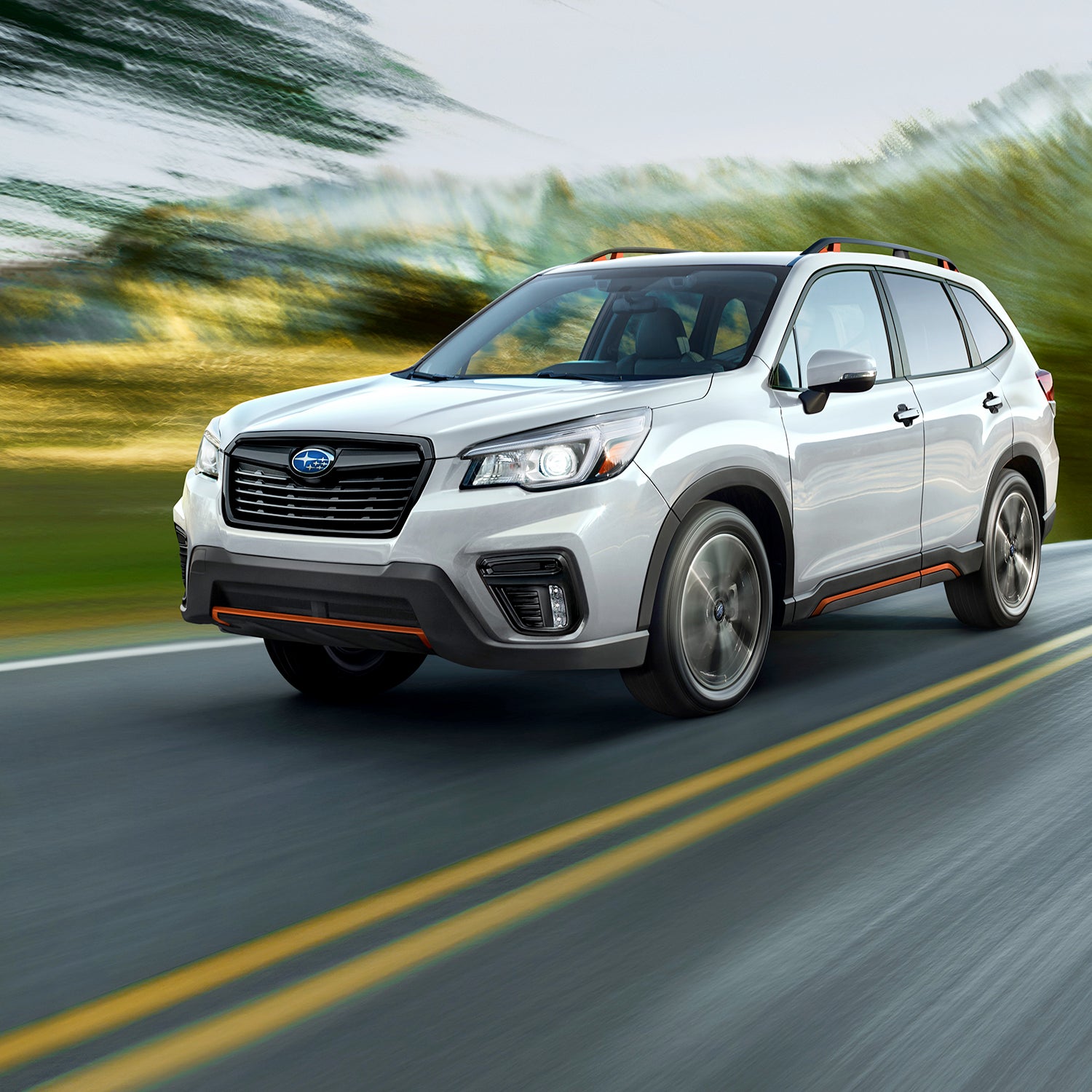 Heading out the door? Read this article on the new Outside+ app available now on iOS devices for members! Download the app.
Subaru just took the wraps off the all-new 2019 Forester at the New York Auto Show. For the most part, it's bigger, safer, and better in (almost) every way.
Squint just right, and you might be able to tell this new fifth-generation Forester from the fourth-gen it replaces. Subaru has opted for evolution rather than revolution throughout this vehicle. The biggest change most people will notice is the additional 1.4 inches of leg room in the back seat, turning what was once a cramped perch into one that's now more spacious than the Outback's (or that of many luxury cars). The wheelbase has also been stretched by 1.2 inches, which helps facilitate the more spacious interior.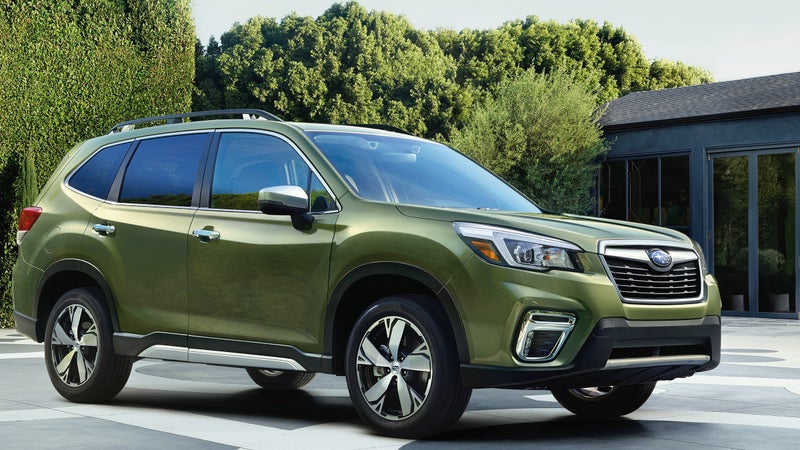 This new Forester will also be stiffer than the outgoing model, resulting in decreased noise, improved ride quality, and sharper handling. That's because it's built on a stretched version of the same modular Subaru Global Platform that also underpins the new Crosstrek and Ascent.
It has the same impressive 8.7 inches of ground clearance as other Subarus, the same All-Wheel Drive system, and the same Continuously Variable Transmission. The only engine option will be an updated, direct-injection version of the 2.5-liter flat-four that gains 12 horsepower and two pound-feet for a total of 182 horsepower and 176 pound-feet of torque—a modest, but welcome boost.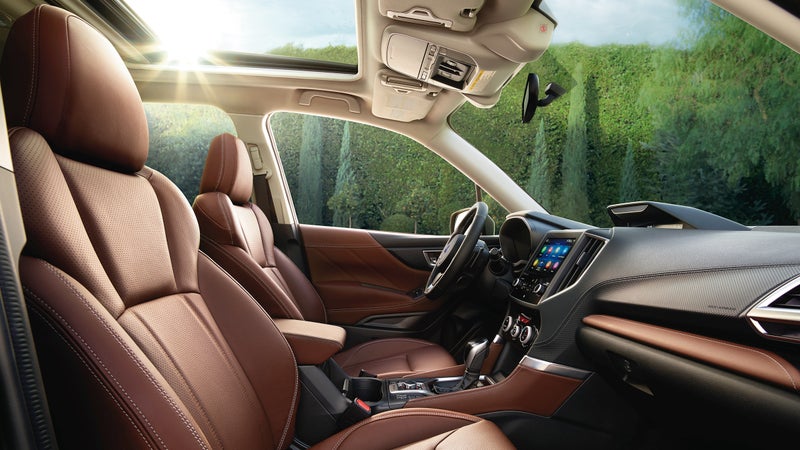 Buyers are likely to notice the increase in standard equipment levels. All trim levels of the Forester now have LED headlights, semi-autonomous safety features, and programmable driving modes that alter throttle response and transmission settings to maximize either fuel efficiency or a responsive driving experience. Higher trim levels benefit from roof rails, a moon roof that extends over the rear seats, leather seats, and unique interior and exterior trim pieces. Headlining the options list is a new—and novel—technology Subaru has dubbed DriverFocus, which can identify the faces of different drivers, and remember their preferences for seat and mirror positions, and climate control settings. DriverFocus also works to monitor whether or not the driver is paying attention to the road, and will alert them if their attention wavers. That feature will likely prove popular with parents of teenagers, as it could work to help prevent texting while driving.
Subaru likes to call the Forester an SUV, but with the same platform and transmission as the Crosstrek hatch, and a similar motor and transmission to the Outback, as well as prices for the three that overlap depending on spec levels, it can be hard to tell where each falls within the brand's lineup. The compact Crosstrek, mid-size Forester, and larger Outback (as well as the new eight-seat Ascent), are all unibody, AWD crossovers, rather than body-on-frame, Four-Wheel Drive SUVs. Pick the on that suits your budget, and is sized appropriately for the number of dogs, or human offspring you wish to carry, the range offers effectively identical experiences beyond those two factors.
(Read more about how AWD and 4WD differ.)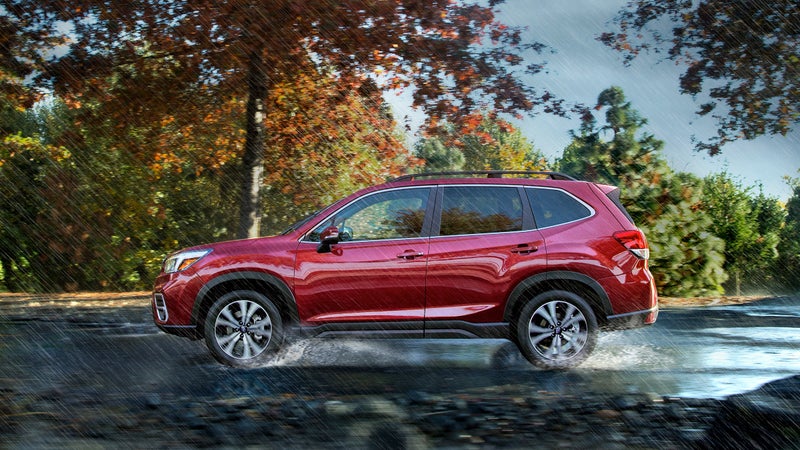 And that leads us to our biggest criticism of the new Forester in particular, and Subaru's newly expanded range of crossovers in general—they lack enthusiast-oriented options. The fourth-gen Forester was available in an XT trim level that offered a powerful, turbocharged motor, tight suspension, and a manual transmission. It was still practical, but also super fun to drive. This new Forester has no such option. And that's a shame. The same company that makes the bonkers WRX STI, and the sweet-handling BRZ, has now built a wall between driving experience and utility.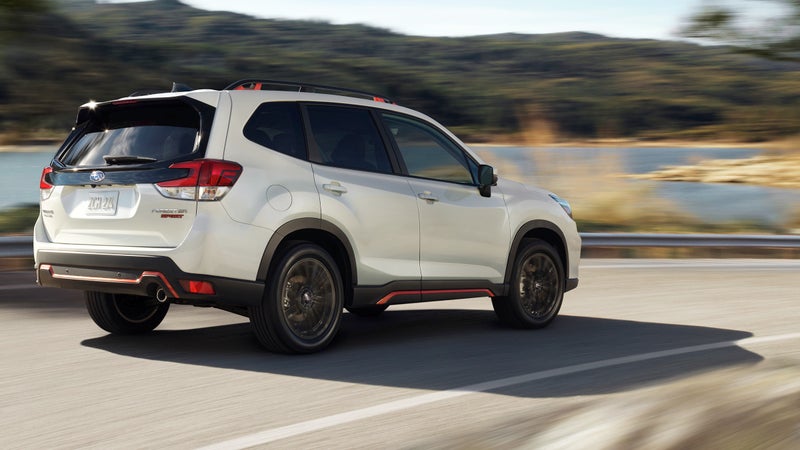 That's not to say that the Forester won't remain a wonderfully practical option for many drivers. Where other brands focus on headline horsepower figures and aggressive styling, Subaru does an outstanding job with practical, but less sexy features. The unfashionably tall glasshouse on the new Forester should result in excellent outwards vision for the driver and all their passengers. The flat-four engine helps there too, reducing the height of the hood for better forwards visibility, while lowering the center of gravity to improve handling. They've even managed to make the CVT work pretty well in their latest cars. And, of course, you can't buy a safer car.
There are a lot of great reasons to buy a Subaru. I just wish that being fun to drive was still one of them.
Trending on Outside Online