Why It's Worth Spending Big Bucks on a Bike
Based on firsthand experience, the performance payoffs make the investment worthwhile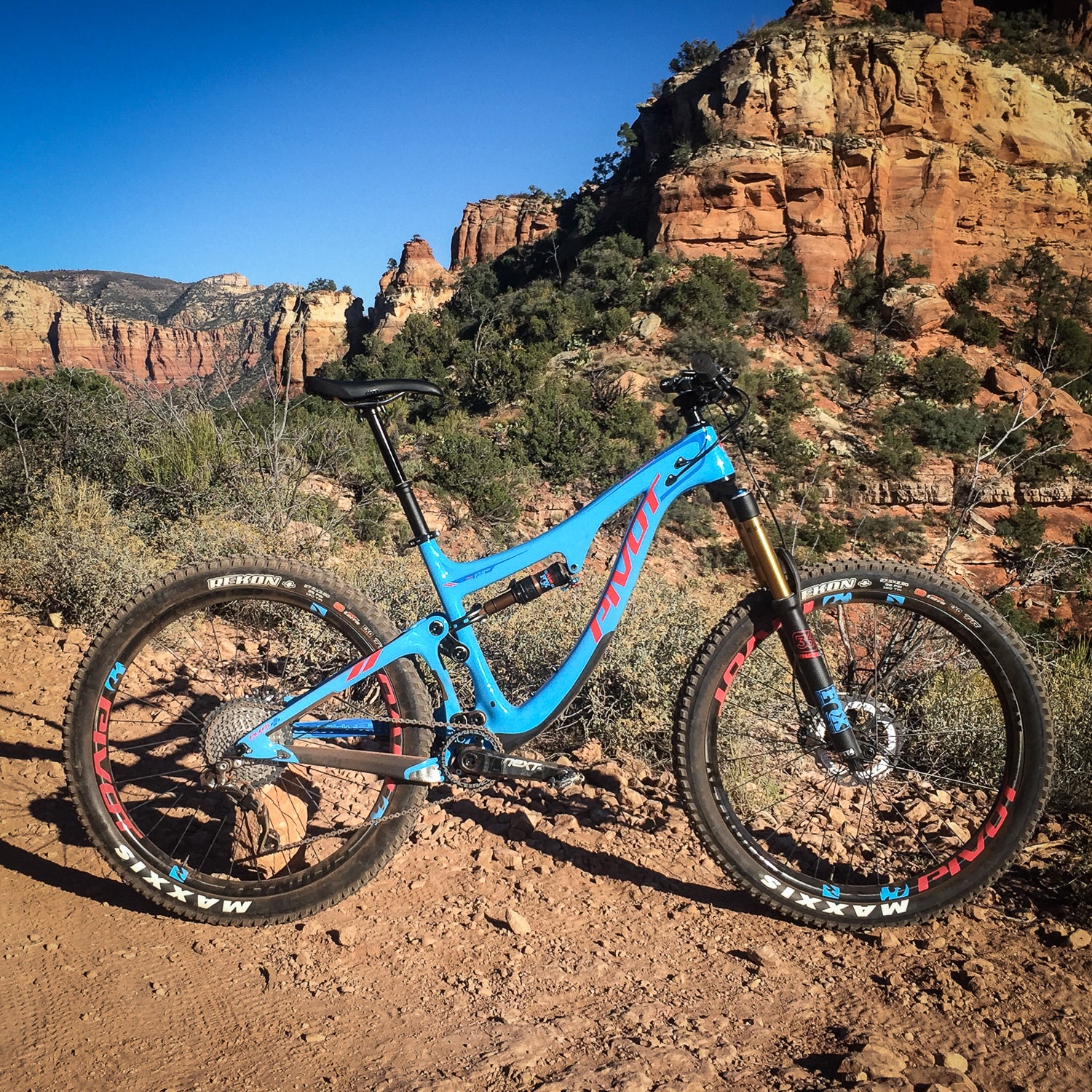 JJAG Media(Photo)
Heading out the door? Read this article on the new Outside+ app available now on iOS devices for members! Download the app.
It has become common—fashionable even—to complain about the price of bikes. There's some good reason for that. Pretty much every manufacturer on the market offers rides that approach or exceed $10,000, which is more than the minimum mortgage down payment on a quarter-million-dollar home. "You can buy a motorcycle for less, a used car even," disgruntled buyers complain. All of that is perfectly true. But rising prices also reflect added technology and improvements, which translates into bikes that are more comfortable, refined, and easier to ride.
This came into sharp focus for me at the Sedona Mountain Bike Festival, which I attended for a story about how cyclists can use such an event to demo and find the right ride. For that piece, my parents-in-law—lifetime cyclists who were in the market for new bikes—demoed half a dozen new models, which they compared against their 10- and 14-year-old machines.
Don, my father-in-law, has been riding a 2008 Ibis Mojo SL since he bought it new. At 21.8 pounds, this bike was state of the art back then, with 140 millimeters of front and rear travel; a complete 3x Shimano XTR group set, including 26-inch wheels (remember those?) sporting then-chunky 2.2-inch tires; a fixed seatpost (yep, droppers weren't a thing yet); and a 120-millimeter flagpole stem. And with a 69-degree head angle and tight 429-millimeter chainstays—still fairly modern numbers—the Mojo was ahead of its time. Retail was a cool $6,400, which bought you one of the lightest, supplest, and most capable bikes then on the market and was precisely why we named it Gear of the Year for 2008.
In Sedona, Don tested, among other models, a Pivot Switchblade. The Pivot has a 67-degree head angle with 428-millimeter chainstays, which might not seem like a huge difference, but the top tube is almost two inches longer and the stem stubbier (50 millimeters) to result a position that's farther back, making descending more comfortable and steering less twitchy. Components-wise, the Pivot is beefier all around: 29-inch wheels, 2.5-inch front tires, 2.4-inch rear tires, 135 millimeters of travel in the rear and 150 millimeters up front, and 36-millimeter fork stanchions. Plus, the Fox Transfer dropper post allows the saddle to be lowered by six full inches. There are other, less noticeable differences, including wider hub spacings on the Pivot, wider bars, bigger tube shapes, brawny linkages for stiffness, and internal cable routings.
Don went into the demo skeptical that he needed a new bike. But within just a few test laps on newer models, it was clear just how much of a difference the modern technology made. Aboard his Mojo SL, Don was nervous and halting and repeatedly dismounted at steep sections and rocky obstacles. And no wonder: The high seatpost and long stem had him far forward with lots of weight on his hands and front wheel, which feels like a setup for going over the bars. In rock gardens and rough terrain, the 26-inch wheels caught up and slowed down to the point where he would occasionally come to a full stop. Aboard the Switchblade, Don cruised through steeps and obstacles that had previously stymied him. He rolled through jangly sections, keeping his momentum. And while he completed the lap 50 percent faster than he had on the Mojo SL, Don said he felt more confident, more comfortable, and far more at ease aboard the Switchblade.
I chalk up the improvements to two primary differences. First, geometry and positioning: The Switchblade is lower and slacker for descending stability, and the dropper post allows you to get back, unweight your hands, and approach technical sections without fear of Supermanning. Second, the bike carries momentum and smooths out the trail courtesy of those 29-inch wheels. Obviously there are lots of other nuanced improvements: The wide bars make for easier, calmer steering; the fatter tires add grip and confidence; and the stout fork improves stability.
When asked about the experience, Chris Cocalis, owner of Pivot, said he wasn't surprised at all. "The larger wheel sizes, big improvements in suspension performance, more stable and confidence-inspiring handling, plus the invention of the dropper post, has made bikes more fun and, in many cases, more capable than downhill bikes a decade ago."
Watching Don's progression from old bike to new reminded me of the revelation I had years ago when I upgraded from long, skinny skis to short, fat, shaped ones. The improvements in modern bikes are that dramatic. Indeed, despite his initial skepticism, Don wound up having so much more fun on the modern model that he purchased a Switchblade within a week of the event.
Now let's talk about prices. Whereas Don's top-of-the-line Mojo SL went for $6,400 new, the most premium build on the Switchblade is $9,400. That 47 percent increase in just ten years is well more than the 15 percent inflation rate, which seems to underscore everyone's complaints over exorbitant costs. But there are two major differences in the new premium Switchblade: First, it has Reynolds carbon wheels, which are light, stiff, and add a ton of cost because of the labor involved in laying them up. Second, that price tag buys a dropper post and XTR Di2 electronic shifting, which is way more technology than was available in 2008. Do these advances improve ride quality? Absolutely. Are they necessary? No.
What's more, if you compare apples to apples, prices actually haven't risen. A Switchblade with alloy wheels and mechanical XTR, which is on a par with the old Ibis, costs $6,400—exactly the same as the Mojo SL. The Switchblade thus equipped, like the one Don tested, is a far better bike. (And if you calculate that cost over ten years, which is how long Don rode his Ibis, you're looking at about $1.80 per day. People happily spend double and triple that on their daily coffee.) You can even get an XT-level Switchblade for $5,100, and I'd argue it's still a far more advanced bike than any ten-year-old model out there.
Following that logic, and the idea that development and features trickle down, even less expensive bikes these days—and there are great models to be had for $2,500 and $3,000—are a lot more bike than you would have gotten for the same cost (or even more) a decade ago. As for the $10,000 models, consider them in the context of cars: Sure, you can go buy a brand-new, fully loaded Subaru Outback for north of $50,000, but you can also get a base model for about half that, and it'll still be a great car. Expensive bikes are about niceties and extras—maybe you value those, maybe you don't—but you still get the base frame and component technology advancements no matter what level you purchase. Cocalis underscores the point: "In 2008, our cutting-edge aluminum bikes cost about 25 percent more than our aluminum models today. And today's aluminum bikes are better in every way."
As for Don, ever since he got his new Switchblade, he's called me regularly from his home in Moab to exclaim over how much it has improved his riding. "Stuff that I had to walk before is now a piece of cake," he told me on one recent call. For Don, at least, the returns of an enjoyable ride, now and for years to come, make the costs of the new technology well worth the money.
Lead Photo: JJAG Media
Trending on Outside Online