How to Pack for a Hike
Rule number one? Resist the urge to overcomplicate things.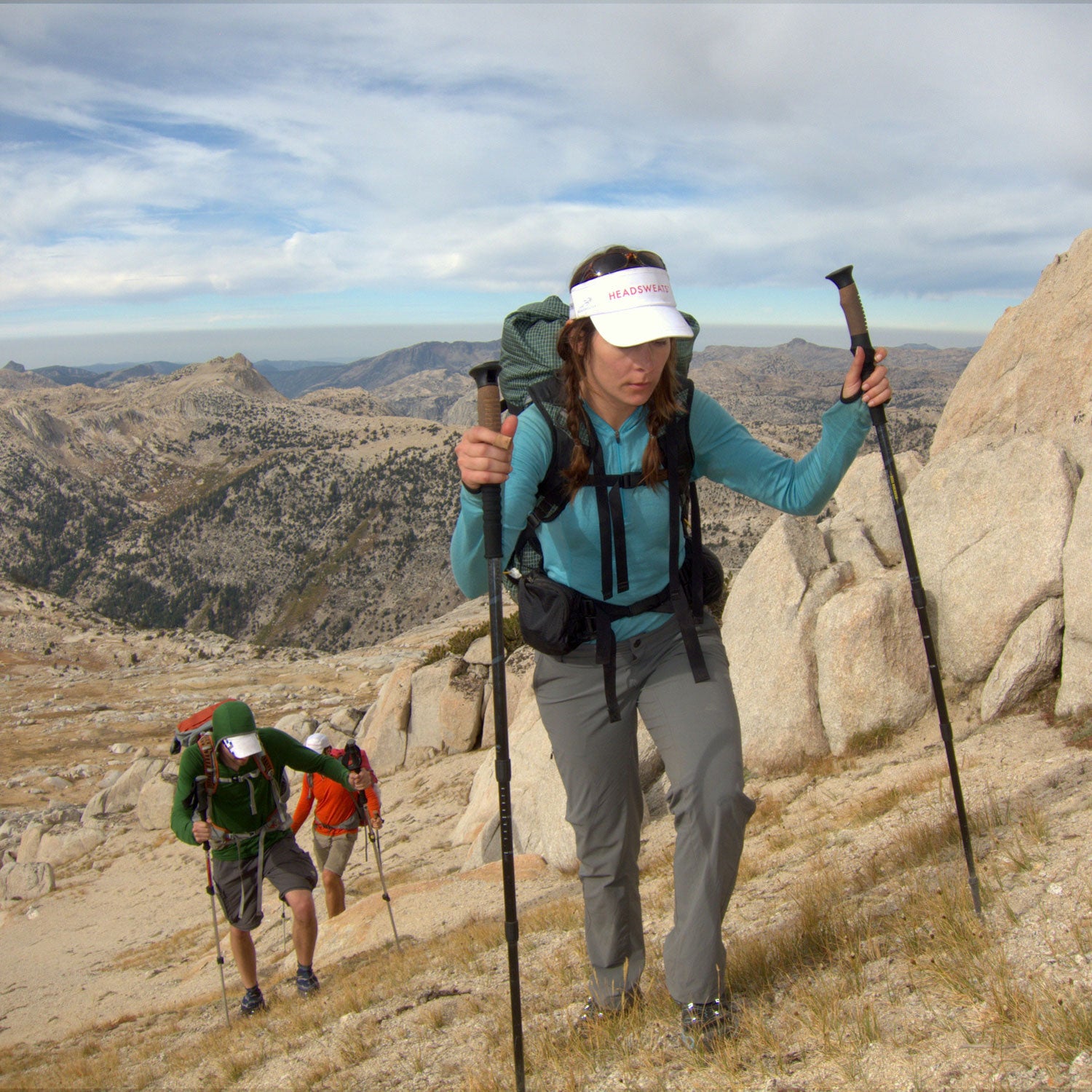 Andrew Skurka(Photo)
Heading out the door? Read this article on the new Outside+ app available now on iOS devices for members! Download the app.
More than anything else, I see backpackers get really hung up on clothing. They struggle to assemble a system that is optimized for the conditions they may encounter, devoid of redundancies, and costs no more than it should. Inevitably, they end up returning from a trip with multiple unworn garments, or even worse, realizing during the trip that they forgot the one piece that would've protected them against scorching sun, incessant mosquitoes, or whatever the trail dished up.
Three years ago, I published a ten-post series on what I call Core 13 clothing, a deliberate collection of garments that can be mixed and matched to create appropriate layering systems for all three-season trips, whether that be the Smokies in April, Wind River Range in August, or Grand Canyon in October. To illustrate how the Core 13 system works, watch this video, which is specific to the Mountain West:
To keep this article relevant to readers everywhere, I'll broadly discuss the 13 essentials, then recommend my favorite products.
#1 & #2. Short- and Long-Sleeve Hiking Shirts
Your hiking shirt should be made from lightweight knit polyester or merino wool, with zero or minimal spandex (it slows drying time, adds weight, and increases clinginess). For mild and warm conditions, your shirt should have a relaxed fit to maximize airflow; for cooler seasons, a more formfitting silhouette is acceptable.
The short-sleeve shirt is for forested environments on balmy days (think: the Blue Ridge Mountains in June). The long-sleeve shirt is appropriate for cooler temperatures and sun-blessed locations (Colorado in October). I prefer a collar on both the short-sleeve (for looks) and long-sleeve (for sun protection and warmth), although a short-sleeve crew is fine.
Sierra Designs SS Pack Polo ($70)
Patagonia Capilene Lightweight Zip-Neck ($59)
#3. Bug Shirt
Untreated loose-knit fabrics provide no defense from mosquitoes, blackflies, and ticks. There are several solutions for seasons and locations with these insects:
1. Good: Apply a DIY permethrin treatment to your favorite long-sleeve hiking shirt.
2. Better: Send that shirt to Insect Shield, which will apply a longer-lasting permethrin treatment for $10.
3. Best: Purchase a long-sleeve shirt like the ExOfficio Halo ($94), which has two layers of defense: a permethrin treatment, plus tightly woven nylon that bugs can't bite through. But avoid these shirts for anything short of peak bug season—they are hot and stuffy.
The military has been treating clothing with permethrin since 1990, and the EPA approved the treatment about 25 years ago. I still don't understand why it has not been more widely adopted, especially given the seriousness of Lyme disease.
#4. Running Shorts
As a lifelong runner, I find that conventional hiking shorts are extraordinarily uncomfortable. Running shorts are vastly superior: They dry faster and are lighter, more airy, and less restrictive.
Running shorts are my go-to lower-body attire for all occasions except when I need protection from scorching sun, scratchy brush, chilly temperatures, and moderate to intense bugs.
I found my favorite running shorts for hiking at Marshall's for $15. They have a seven-inch inseam and a boxer-brief liner. These are also good:
Patagonia Strider Pro Shorts ($55)
#5 & #6. Underwear and Trekking Pants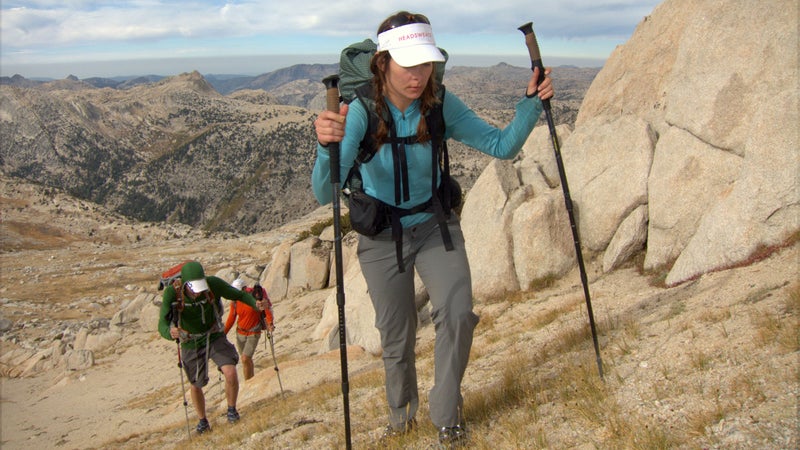 When running shorts leave me too exposed, I have two options. One is to wear nylon trekking pants over my running shorts. The other is to wear nylon trekking pants and underwear full-time.
I generally go with full-time pants/underwear in southern Utah (for brush), on alpine routes in the High Sierra in June and July (for sun), and the northern Appalachians in October (for cool temps).
For most conditions, your best choice is a pair of thin, lightweight trekking pants, ideally with some mesh panels to foster airflow. Underwear is a bit more personal. I prefer boxer briefs with moderate support, made from lightweight polyester with some stretch.
Railriders Eco-Mesh Pant ($86)
Jockey Sport Cooling Mesh Performance Boxer Brief ($18)
#7. Fleece Pullover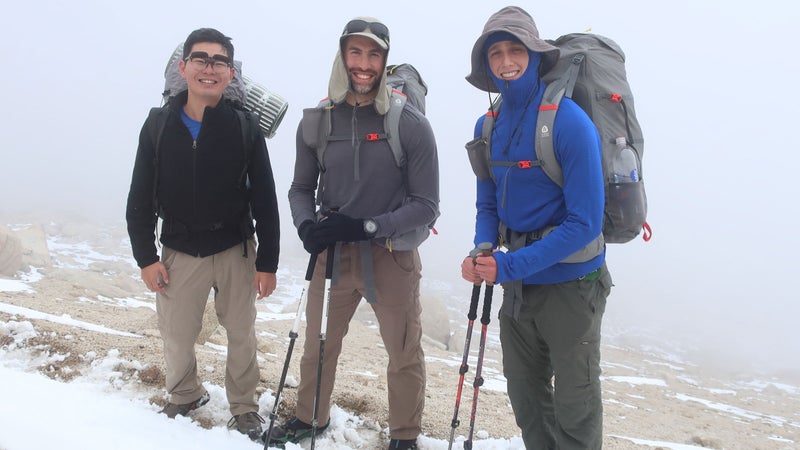 A simple, inexpensive 100- to 200-weight fleece pullover serves two purposes: as a second layer in cool temperatures when a hiking shirt alone is not enough, and as a midlayer worn between a hiking shirt and hard shell, for cold and wet conditions.
If you won't encounter brisk daytime temperatures (the likes of which are regularly seen on windy ridges at 12,000 feet) or cold rain, leave the fleece behind.
A fleece top is not to be confused with an insulated jacket (item #10). The latter provides warmth for minimal weight. But the fleece is a more comfortable active layer, and its performance is more resistant to moisture.
Columbia Klamath Range II Half-Zip Fleece ($35)
#8 & #9. Insulated Jacket and Pants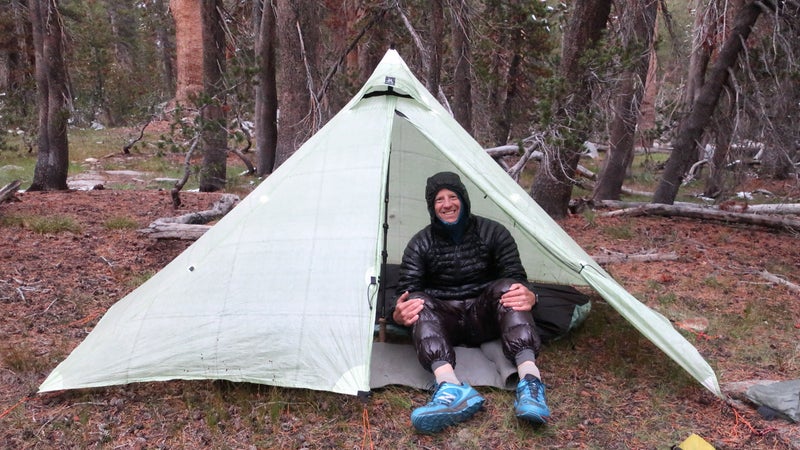 Pack at least an insulated jacket to retain body heat during midday rest breaks in cool temperatures and while lounging in camp. I find insulated pants to be critical as well in the fall, when nights start getting long and cold.
Insulated clothing will have down or synthetic fill. Unless you have a strict budget, I recommend down: It's lighter weight for its warmth, more compressible, and much longer-lasting. My chief complaint about synthetic fills is their longevity—they are notably flatter and less warm after a season of hard use, making them a poor long-term investment.
Don't buy the BS that synthetics are "warm when wet." Nothing is warm when wet, unless you pee on yourself. Follow this advice to protect your down insulation from moisture.
Western Mountaineering Hooded Flash Jacket ($375)
Montbell Superior Down Pants ($169)
#10 & #11. Rain Jacket and Pants
Let's get something straight: In prolonged wet conditions, you should expect to get wet no matter what you're wearing. Prepare accordingly, like by packing items #7, #12, and #13.
Rain jackets and pants are typically made of "waterproof-breathable" fabrics that I would describe more realistically as highly water-resistant and somewhat breathable. They're not a panacea: Eventually they will be penetrated by precipitation or overwhelmed by perspiration.
Depending on your location, unconventional rain gear may be more functional than a jacket and pants. The Packa poncho jacket and a My Trail Company Chrome Umbrella are especially well-suited for rainy, humid, and low-wind locations like the Eastern woodlands and Pacific Northwest.
Outdoor Research Helium II Jacket ($159)
The North Face Venture 2 Half-Zip Pants ($80)
#12 & #13. Sleeping Top and Bottoms
If there is a reasonable probability that you will pull into camp uncomfortably wet, bring dedicated sleeping clothes for improved nighttime comfort. If it's still raining in the morning, change back into your damp hiking clothes—sleeping clothes are for sleeping only.
Performance thresholds for these items are low. I would recommend polyester or merino wool and fuller coverage for colder nighttime temps. But otherwise they can fit poorly, be last decade's colors, and have holes in them.
It's unlikely that you need to buy sleeping clothes.
What's Missing?
The Core 13 system is designed to simplify your clothing decisions. But it doesn't encompass other necessary clothing items, such as headwear, hand coverings, and socks. It also doesn't address niche applications where an item not included in the Core 13 could actually work better; for example, wind pants may substitute for rain pants if the forecast is dry, and thermal leggings may sub for nylon trekking pants if you don't need any abrasion resistance.
Lead Photo: Andrew Skurka