Katadyn Launches Gravity BeFree Water Filter
Our favorite ultralight filter gets a welcome upgrade
Courtesy Katadyn(Photo)
Heading out the door? Read this article on the new Outside+ app available now on iOS devices for members! Download the app.
When Katadyn launched its BeFree filter system in 2016, it set a new standard for fast, lightweight, on-the-go water filtration. The half-liter, liter, and three-liter soft flasks quickly became favorites with thru-hikers and backpackers for their supreme packability and ease of use.
The BeFree models look like typical soft-flask water bottles, crafted out of tough, flexible plastic with quick-sip tops. But unlike typical soft flasks, BeFree caps double as filters, which means you can drink dirty (turned clean) water straight from the flask without having to stop and pump into a separate, clean bottle. When the filter flask is empty, the whole thing folds flat, taking up minimal room in a pack. The only downside: The BeFree filters don't lend themselves to quickly filtering large quantities of water at once.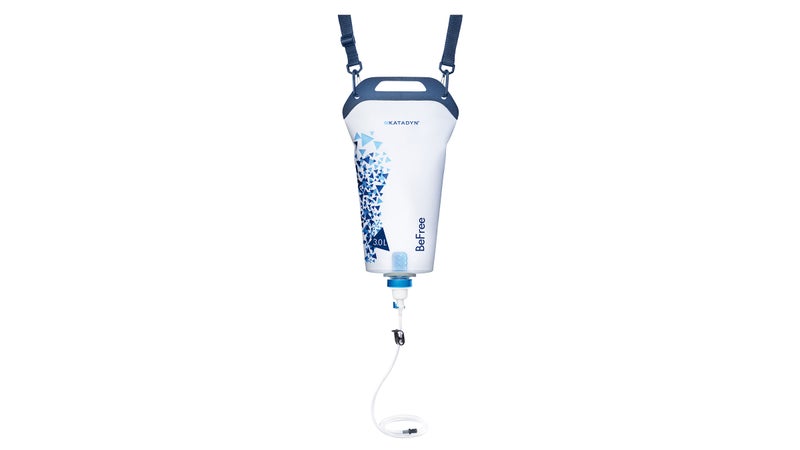 But last Friday, Katadyn announced it's adding a gravity filter to the BeFree line, which solves that very problem. The Gravity BeFree 3.0L ($70) features the same three-liter water bladder as the BeFree 3.0L, with a hollow-fiber filter cap that screws onto the mouth of the bladder. The difference: The new three-liter gravity filter has a plastic hose attachment that plugs into the cap. Fill the bladder with water by holding the small, circular mouth in the water source, then screw on the filter cap and hang the whole thing upside down from a tree or rock using the included nylon strap. Once the system is in place, plug the hose attachment into the filter cap and watch clean water start to flow out. A simple plastic piece fits over the hose and works as a stopper—pinch it to pause the flow, and flick it open to start filtering again.
Like the other products in the BeFree line, the gravity filter has a 0.1-micron hollow-fiber filter that sifts out 99.9 percent of bacteria and protozoa, including salmonella and giardia, at a rate of two liters per minute—a quarter-liter per minute faster than the Platypus GravityWorks filter system. The whole system weighs seven ounces.
While trail and ultrarunners on single-day, fast-and-light missions will still prefer the smaller half-liter and liter direct-sip BeFree filters, the new BeFree Gravity 3L presents a happy medium for backpackers and even day hikers who want to filter large quantities of water at a time without adding weight—or wait.
Lead Photo: Courtesy Katadyn
Trending on Outside Online