Gear Guy
What to Splurge on (and Avoid) When Buying Gear
A budget-friendly list of the gear you should—and definitely shouldn't—save money on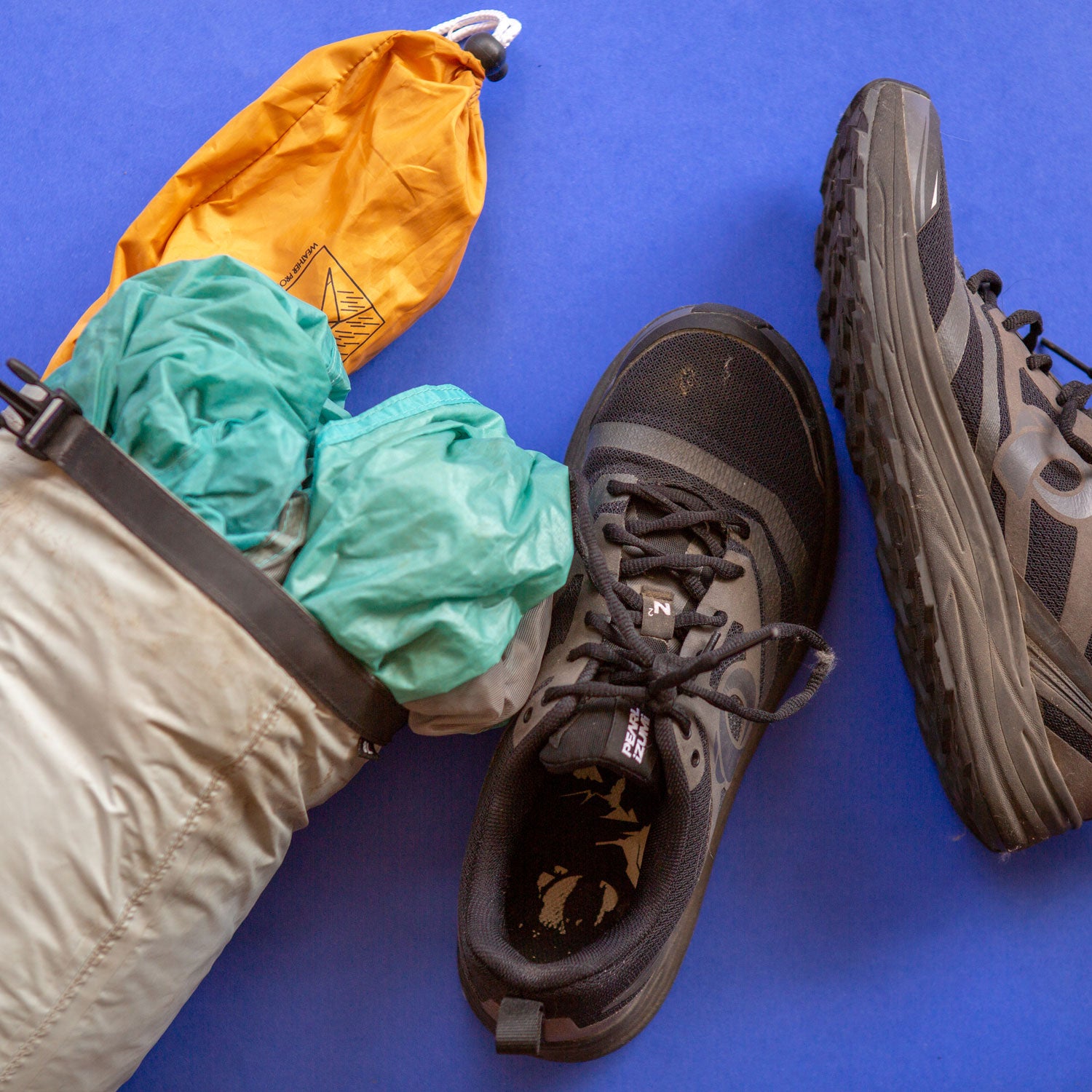 Sarah Jackson(Photo)
Heading out the door? Read this article on the new Outside+ app available now on iOS devices for members! Download the app.
No, you don't need the most blinged-out, expensive gear to enjoy time outdoors. But if you buy poorly built garbage, it could fail on you mid-trip, mid-run, mid-whatever, which at best is extremely annoying and, at worst, life-threatening. Over the years, I've gleaned tips from designers, outdoor instructors, and my own experience about when to cut costs on gear—and when to invest.
Jacket
Buy This: Breathable Fabric
It doesn't have to be outrageously breathable (which comes with a hefty price tag), but check reviews and do some research to see if the materials your jacket is built from can vent a little. A jacket that holds your sweat like a plastic bag will make you sweaty and damp if you're moving faster than a crawl. Also, make sure it has solid zippers (YKK all the way). When zippers fail, you're left with essentially an open-front poncho. A good option is Marmot's 2.5-layer Precip ($100), which is lighter than a traditional three-layer jacket and just as good for anything except heavy, sustained rain.
Not That: Overbuilt Waterproofing
While a three-layer waterproof jacket, which costs about $300, is amazing if you're canoeing in the Boundary Waters for a month and are counting on weeks of rain, it's overkill for your summer trip to Yosemite. Waterproof zippers are an expensive feature and have a tendency to fail quicker than their simpler counterparts. Fancy hoods with brims are nice but will cost you—save some money by wearing a hat under a simple hood for additional sun and rain protection.
Packs
Buy This: Good Padding
Beware straight polyethylene: It's the same foam used to pack furniture and what some manufacturers stuff into their low-end bags. It packs out extremely quickly and will reduce your pack's straps to flat fabric that digs into your shoulders in no time. Look for more durable EVA or Crosslink polyethylene foams, like in the Mystery Ranch Ridge Ruck 25 ($155).
Not That: Extraneous Zippers and Pockets
Eschewing fancy tech details for a simple, straightforward design is a great way for companies to save money and make the price more reasonable. Bonus: Gear with fewer fancy details means fewer things that could break in the field. But also don't feel like you have to go super lightweight—depending on the material, the lightest of packs can break the bank. A better gauge is if there's just one compartment, which can eliminate the unnecessary details while still reducing weight.
Tents
Buy This: Ample Mesh and Windows
A tent with terrible venting will get so damp inside that it can render your sleeping bag and gear soggy. If you're worried about rain getting in, handy use of a tarp can stave off most precipitation without inhibiting airflow. The Sierra Designs Summer Moon 2 ($190) fits the bill.
Not That: Nylon Tents
Nylon has a better strength-to-weight ratio than polyester, but with that drop in weight comes a hike in price. Opt instead for a polyester model, which has better UV resistance, and the added weight won't be much of a burden for the car camping set.
Hiking Boots
Buy This: A Last That Fits Your Foot
It sounds like common sense, but it can be easy to think a boot fits you perfectly until it's too late. Give yourself a week or more and a few dozen miles on a shoe or boot before a big trip and to hedge your bets against foot pain. At the very least, walk around in them before buying. If the boot fits your foot but needs more cushioning, splurge on inserts. A good option for wide-footed folks is Keen's Targhee Vent ($140). If you have smaller feet, the Salomon X-Mission 3 ($115) is technically a trail running shoe and has a narrower last and will do just fine for everything but the gnarliest backpacking trips.
Not That: Waterproof Uppers
There are times when heavy waterproof boots are ideal, but that's likely only in wet, cold climates that most of us aren't hiking in. There's a reason lightweight, breathable Altras, not heavy shitkickers, are the most common shoe on the Pacific Crest Trail. That combo makes for a more comfortable hike even when putting in thousands of miles.
Sleeping Bags
Buy This: Synthetic Fill
Unless you're backpacking, bikepacking, or some other type of 'packing where you don't ferry your gear to the campsite via car, you don't need a super-lightweight down sleeping bag. Don't get me wrong—down's warmth-to-weight ratio is unmatched, but if weight and packable space aren't issues, there's no reason to not go with a warm and water-resistant synthetic bag. The North Face Cat's Meow ($169) is, well, the cat's meow.
Not That: Super-High Fill Power
While down is extremely nice, and high-fill down is even nicer, it's a premium you just don't need unless weight and packability are major issues. A 650-fill 20-degree bag will be just as warm as an 800-fill 20-degree bag—but the 800-fill bag will be a few ounces lighter and cost you a serious chunk of change.
Lead Photo: Sarah Jackson
Trending on Outside Online