Gear Guy
Testing Men's Crossover Office-to-Outdoors Pants
They're mighty comfy and don't have that sloppy sweatpants look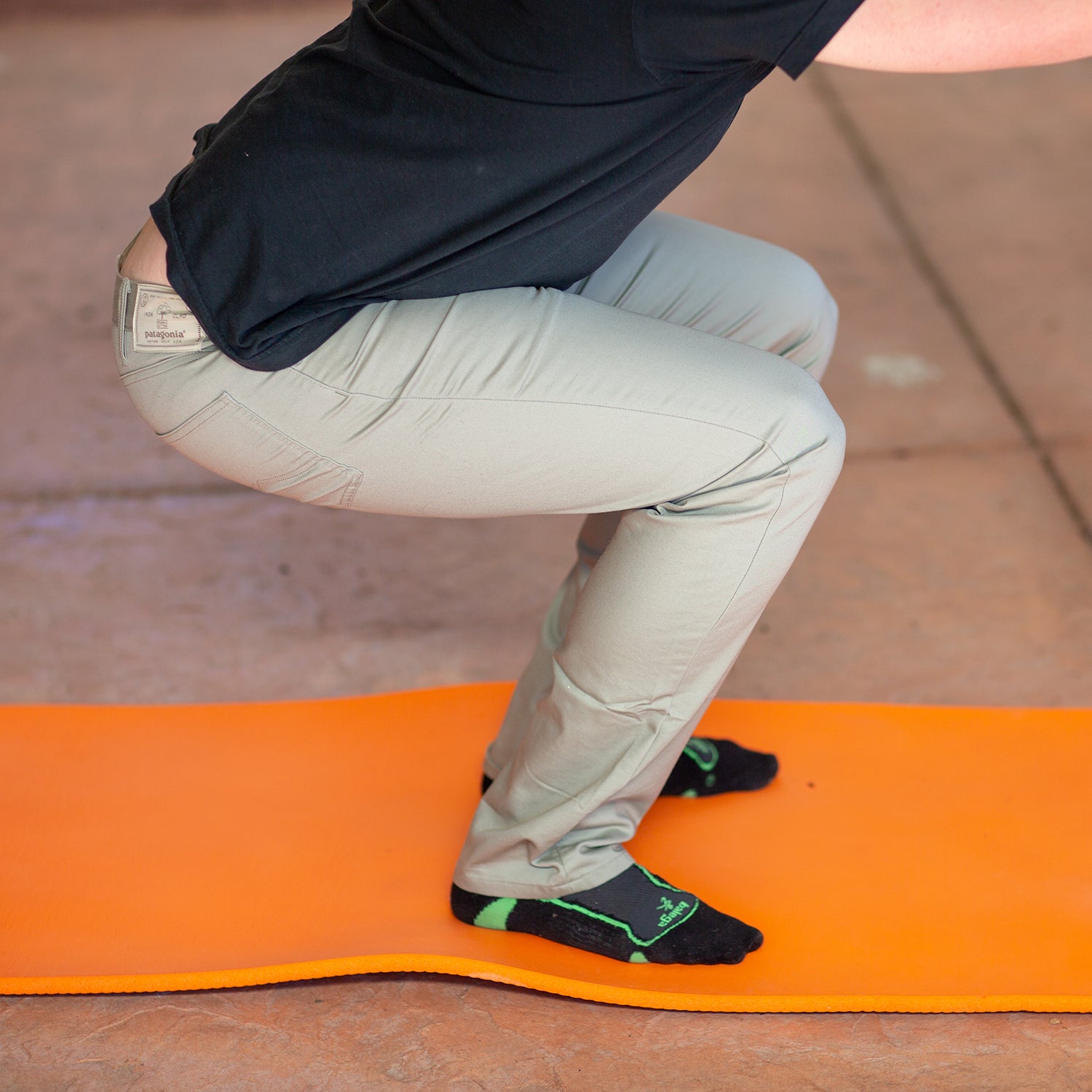 Sarah Jackson(Photo)
Heading out the door? Read this article on the new Outside+ app available now on iOS devices for members! Download the app.
Even though I could technically work from home and don't have to stick to a dress code, I still make it a point to look presentable when I head into the office I rent here in Ashland, Oregon. Getting up, putting on slacks and a collared shirt, combing my hair, brushing my teeth, and commuting to an office that isn't my kitchen makes me more productive and fosters a healthy separation from my work and home lives. While I sometimes miss conducting phone interviews in nothing but undies and a T-shirt, many outdoor companies are now making pants that are damn near as comfortable as rocking just boxers, thanks to a bit of stretch and breathability. What's better is that they can still pass as business casual and I don't have to change when heading out for a hike or workout. I tested out a few pairs to find which would give me style for the office with the freedom of the outdoors.
The Test
I wore each pair of pants for at least one full day in my office to gauge how appropriate they were in a work setting. I also asked my four office mates (two lawyers, their assistant, and an international tool salesperson) and my wife what they thought of each pair. To test mobility, I wore the pants on my daily half-mile walks and even set up a little circuit where I performed 25 mountain climbers, 15 burpees, and 20 squats.
The Results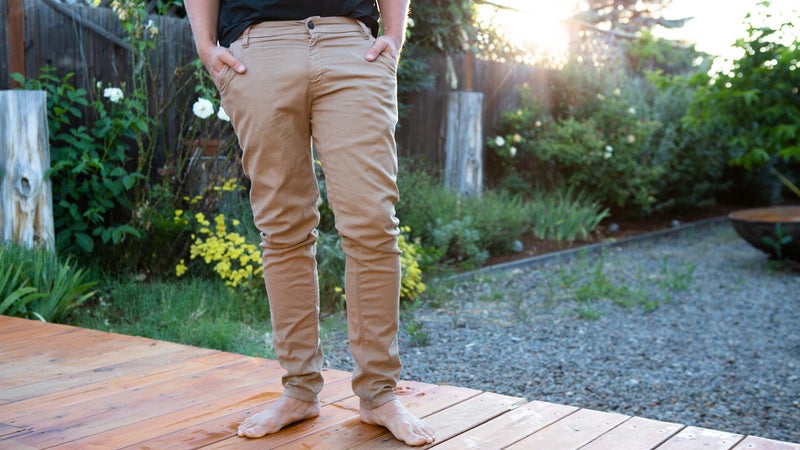 The Winner: Duer Live Free Slim Khaki Chinos ($128)
Looks: 5/5
Comfort: 5/5
Mobility: 4/5
These pants have become part of my office uniform. Legs that taper toward the ankle added a bit of fashion flare, and the muted chino exterior made the Live Free dressy enough to fly in any office where traditional khaki pants could. The cotton-Tencel blend left a soft feel on my legs, and when it came to stretch, these were a close second to the Rhone pants. I didn't feel constricted during mountain climbers and burpees, and the Duer had the widest crotch gusset of the bunch—starting just above the knee—making me feel like I was wearing athletic tights during the squats. And they were neck-and-neck with the Rhone pants for most comfortable to sit in a desk chair, which, sadly, is what I spent most of my time doing.
---
#2. Mission Workshop Division Chino ($225)
Looks: 5/5
Comfort: 3/5
Mobility: 4/5
"Whoa!" my wife exclaimed, "Those look tailored and very good on you." While that's a good self-esteem boost, the Division chinos got dinged for chafing in the thighs after only a quarter-mile of walking. I couldn't judge them too hard though, because the Tweave 518C fabric is absolutely bomber and weather-resistant. The lack of a gusseted crotch didn't do them any favors in the mobility test, but the Division pants proved stretchy enough despite being made from such a hearty material. Given that these pants will likely last a decade, the initial thigh chafing is worth it for such a burly investment.
---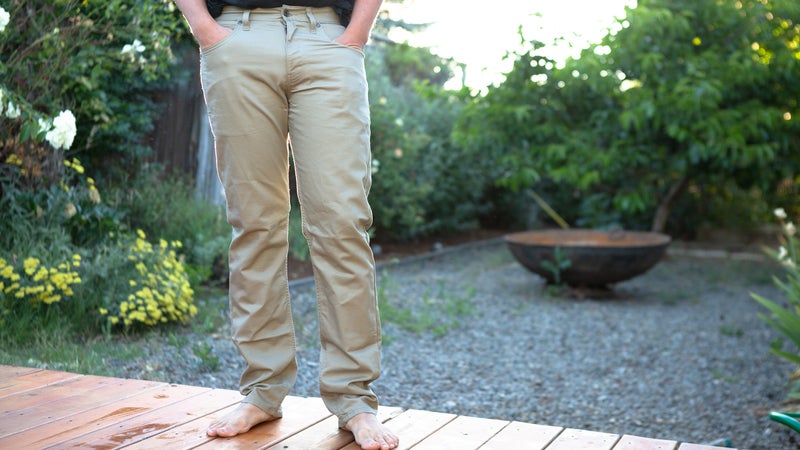 #3. Patagonia Performance Twill Jeans ($99)
Looks: 4/5
Comfort: 4/5
Mobility: 3/5
"Normcore in a good way," my wife said of these great all-around slacks. "They wouldn't get noticed in an office setting." The 67 percent organic cotton, 33 percent polyester exterior was solid on squats and burpees but pretty terrible for mountain climbers. Like the Live Free pants, you could wear these and look nice anywhere khakis are kosher, though these would be a better option if you're not feeling a really slim fit that tapers down to the ankles. I ran a half marathon in the higher-cotton version of these pants and was genuinely blown away at how comfortable they were. These twill pants just dress up more and have 2 percent more stretchy polyester in the material.
---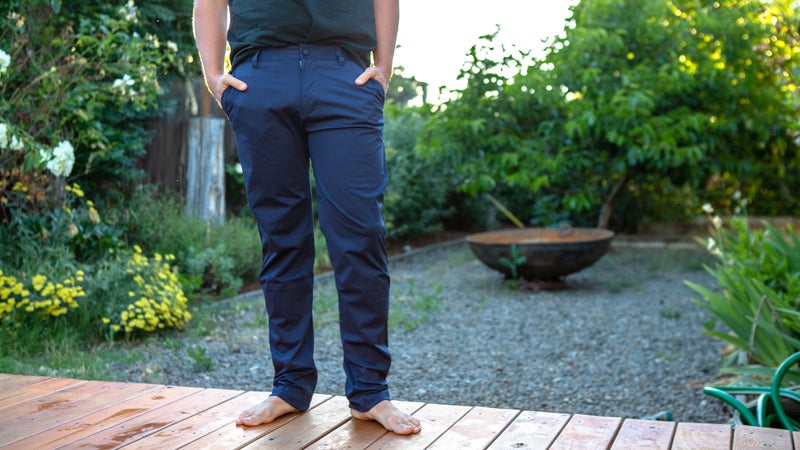 #4. Rhone Commuter ($128)
Looks: 3/5
Comfort: 5/5
Mobility: 5/5
While they didn't have as relaxed a fit as the Patagonia style above or the Commission pants below, the Commuter had a slightly more relaxed fit than the other pants on this list. "It looks like a really nice outdoor pant that you could totally wear to a wedding," my wife said. "Well, an Oregon wedding." A few folks said they looked like dad pants on me (which, as a proud new father, I stand by as a compliment). While the Commuter was the most casual-looking of the group, these pants were also by far the most comfortable of the bunch and breathed remarkably well even while I sat at my desk. I wouldn't hesitate to wear these to a CrossFit class; they barely inhibited me at all during the exercises. The Commuter didn't land higher on this list because of its almost athletic training pant vibe and because the fully polyester exterior had a weird sheen. These came off as slightly more like "office-leisure" (or off-leisure, if you will) pants than traditional slacks.
---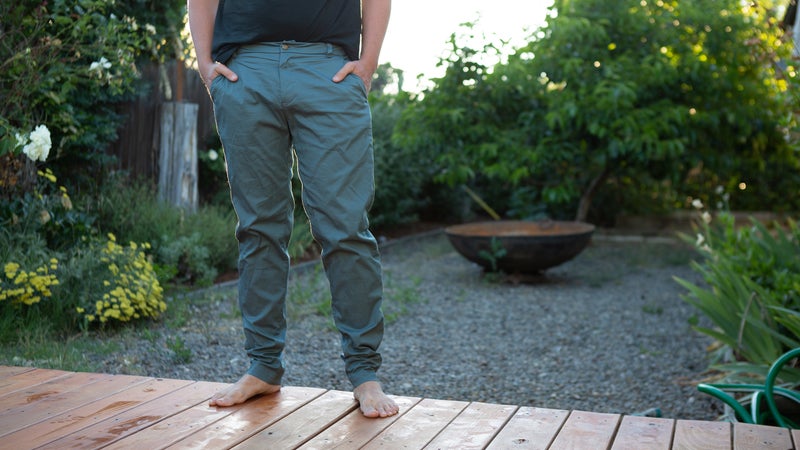 #5. Lululemon Commission Pant Slim Warpstream ($128)
Looks: 3/5
Comfort: 5/5
Mobility: 3.5/5
Don't let the low spot on the list fool you—I still loved these pants. They were a good mix of comfortable, usable, and complementary with the short-sleeve plaid shirts I usually wear to my office. But my wife said that while they'd fly in a more casual office, they could pass for straight-up hiking pants. Case in point: An office mate asked if I was testing ski pants based on just seeing the Commission's material. They tested well in comfort and mobility, though. Lululemon, being the fitness-minded brand it is, designed the gusseted crotch to feel like it was made with squats in mind, and the material tied the Duer and Rhone for most comfortable next-to-skin while I sat in my office.
---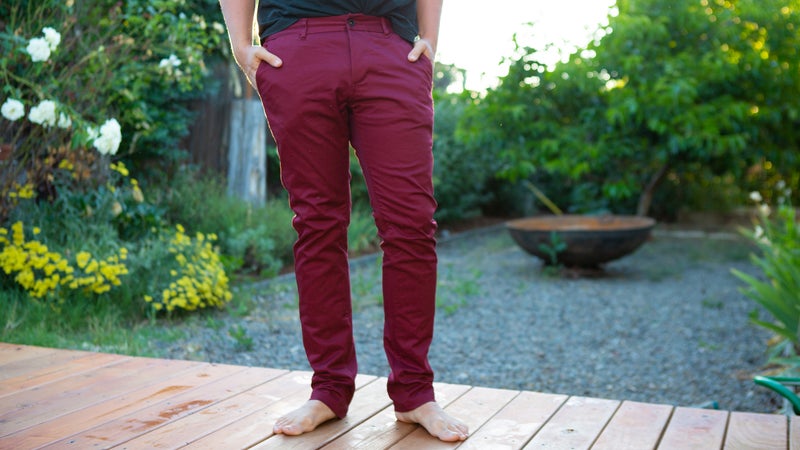 #6. Giro Mobility Trousers ($100)
Looks: 4/5
Comfort: 2.5/5
Mobility: 2/5
The mixture of tight fit (the tightest of the bunch), maroon color, and technical-looking fabric elicited some pretty brutal commentary from my officemates. "My wife really likes these!" I said in defense. "On herself?" another office mate replied. To be fair, there are more subtle colors in the line. The Mobility Trousers definitely lean more toward skinny jeans than slacks, but if you're looking to make a fashion statement (I am going to keep wearing them to my office, dammit!), these are your best option on this list. I actually really liked how they made me look like a hip young barista rather than the stressed-out writer dad that I am. I'd have placed them higher, but I had to dock the Mobility Trousers significant points for their lack of, well, mobility. I blame you, 97 percent cotton, 3 percent Lycra blend.
Lead Photo: Sarah Jackson
Trending on Outside Online