Ultrarunner Courtney Dauwalter Wins by Stressing Less
Dauwalter just won the prestigious Western States Endurance Run in a blazing fast time. We can all learn something from her training philosophy.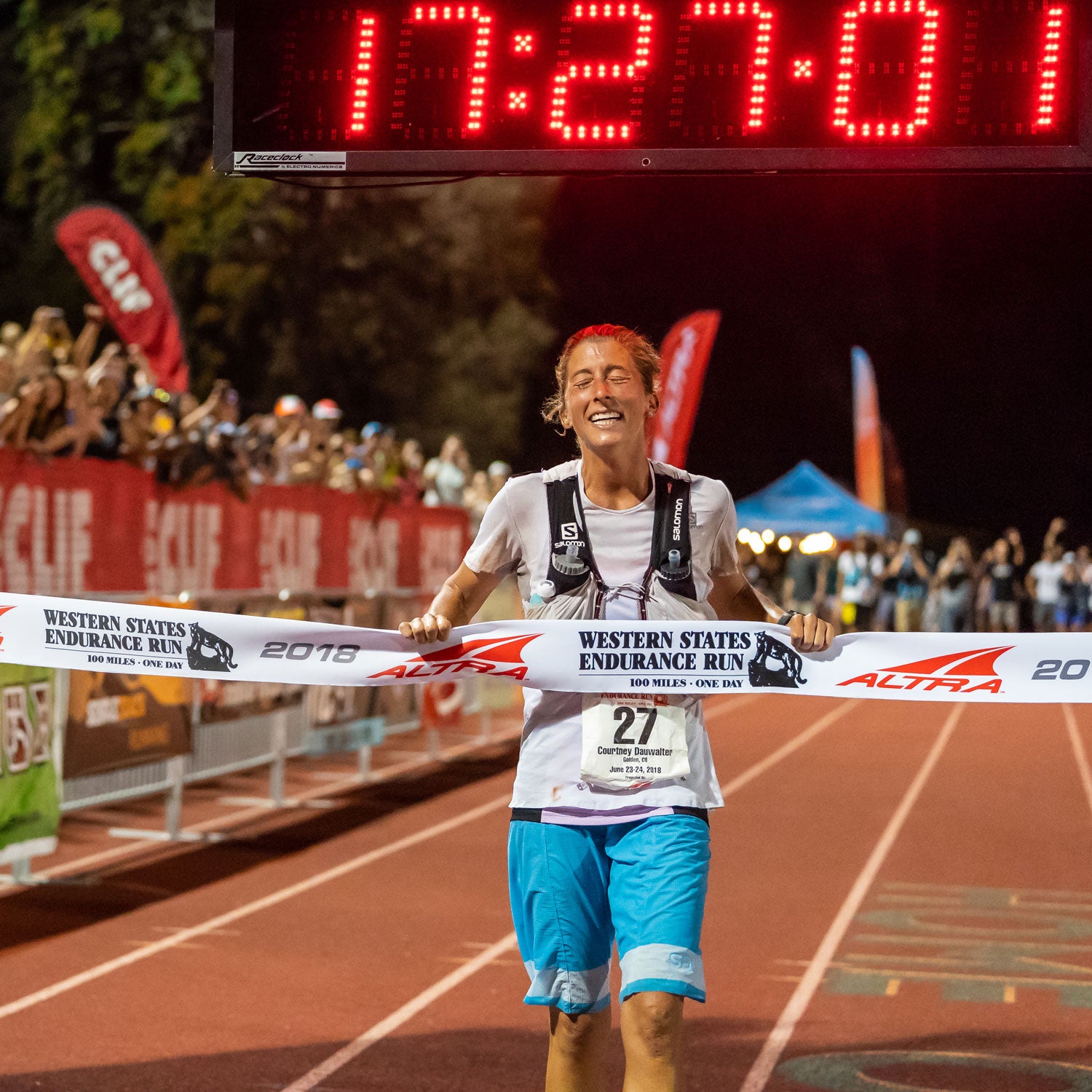 Howie Stern(Photo)
Heading out the door? Read this article on the new Outside+ app available now on iOS devices for members! Download the app.
Courtney Dauwalter refused to believe she was going to win the famous Western States 100 until she set foot on the Placer High School track in Auburn, California, where the race ends, just before 10:30 p.m. on June 23. She had been in first place for the last 45 miles, but a lot can happen in the second half of a 100-mile race.
When she crossed the finish line, in 17 hours, 27 minutes, and 2 seconds, she secured the second-fastest women's time in the race's 44-year history, gapping second-place finisher Kaytlyn Gerbin by more than an hour and finishing 6 minutes and 54 seconds behind the tenth place man.
Dauwalter's athletic résumé is nothing to scoff at: Western States was just the latest in a string of major trail ultra wins for the 33-year-old Colorado native, including back-to-back wins at the 2017 Run Rabbit Run 100 and Moab 240. (She won the Moab 240 outright, gapping the first-place male finisher by more than ten hours.) But it's Dauwalter's humble personality and relaxed approach to training and racing that have made her a fan favorite in the ultra community.
Even if you have no plans to attempt an ultra, all endurance athletes can learn from Dauwalter's philosophy on competition.
Don't Overthink It
Dauwalter has excelled at slower, more mountainous races like the Run Rabbit Run 100. A fast 100-miler like Western States, where the overall winner routinely finishes well below 16 hours (compared to Run Rabbit Run's 17 or 18 hours), was out of her wheelhouse. But Dauwalter didn't put much thought into devising a race-specific training plan. "I just kept doing what's already been working," she says.
When asked for details, Dauwalter admits she doesn't really have a set training schedule. "I just leave my door and see where my legs take me for the day," she says. "Some sections of trail I will do a bit faster—informal interval stuff. But there's not much structure to it." This way, she leaves herself the freedom to take a day off or cut a run short when her body needs it, or go longer when her body is feeling good, without feeling guilty for modifying the plan.
Dauwalter carried that same mentality over to race day. Many athletes spend the days before the gun studying their goal paces and going over strategy. Dauwalter passed that time playing cribbage with her crew. "I didn't want to go into the race mentally exhausted from worrying about splits or other runners," she says. As always, Dauwalter toed the line with no strategy at all. "I like to see how the day unfolds," she says, "and do what feels comfortable and natural."
Focus on Yourself, Not Other People
Leading up to the race, Dauwalter was getting advice from a lot of other runners who told her that sauna sessions and sweat-suit training were the best ways to prepare for the triple-digit temperatures she would likely encounter on race day. She tried a few sauna sessions but felt "drained and destroyed" afterward. After a few stints in the sauna, Dauwalter decided she had to find another way to prepare.
"I'm pretty good at listening to my body," she says. So Dauwalter logged some afternoon runs in the Colorado heat, but mostly she worked on her mental game. "I just focused on acknowledging that the day was going to be hot, and that was going to be OK," she says. "The heat wasn't going to destroy my day, because I wasn't going to let it."
Accept What You Can't Control
Dauwalter knew she would face a lot of unknown variables on race day, most notably a field of fast, experienced women she had never raced before, including former Western States champs Stephanie Howe Violett, Kaci Lickteig, and 22-year-old Aussie phenom Lucy Bartholomew. Dauwalter made a conscious decision not to worry about things that were out of her hands. "I had no control over how the day unfolded for anyone else but myself," she says. "I just had to be ready to react to it."
When she passed Bartholomew around 55 miles into the race and moved into first place, Dauwalter's nerves kicked in. Fear told her to react to the threat of the entire women's field now behind her and to start moving faster, but Dauwalter knew that would only lead to a blowup.
"If I got caught, that would be what it was," she says. "But I was going to make them work to catch me." To do that, she had to control the things she could: eating, pacing, staying calm. "I was taking time at aid stations, making sure to still get in calories, moving efficiently but also not blowing it by going too fast."
Just Keep Moving Forward
At her first 100-mile attempt, in 2012, Dauwalter DNFed at mile 60. She was in pain and didn't yet understand that lows pass if you wait. "Not finishing that race got me really fired up," she says. Dauwalter signed up for another 100-miler the following year and spent the next 12 months mentally preparing to not give up. She finished the Superior Fall Trail Race 100 in second place and walked away with newfound confidence that her legs knew how to keep running even when in immense pain.
Dauwalter carries that baseline trust in her body's capabilities and a fierce determination to the start line of every race. "Forward motion is the only way to get to the finish line," she says. "You can do it if you just decide that there are no excuses good enough to make you stop."
Lead Photo: Howie Stern
Trending on Outside Online