How to Raise a Kid and a Business
Brewer, entrepreneur, and ultrarunner Caitlin Landesberg on balancing being an entrepreneur with parenthood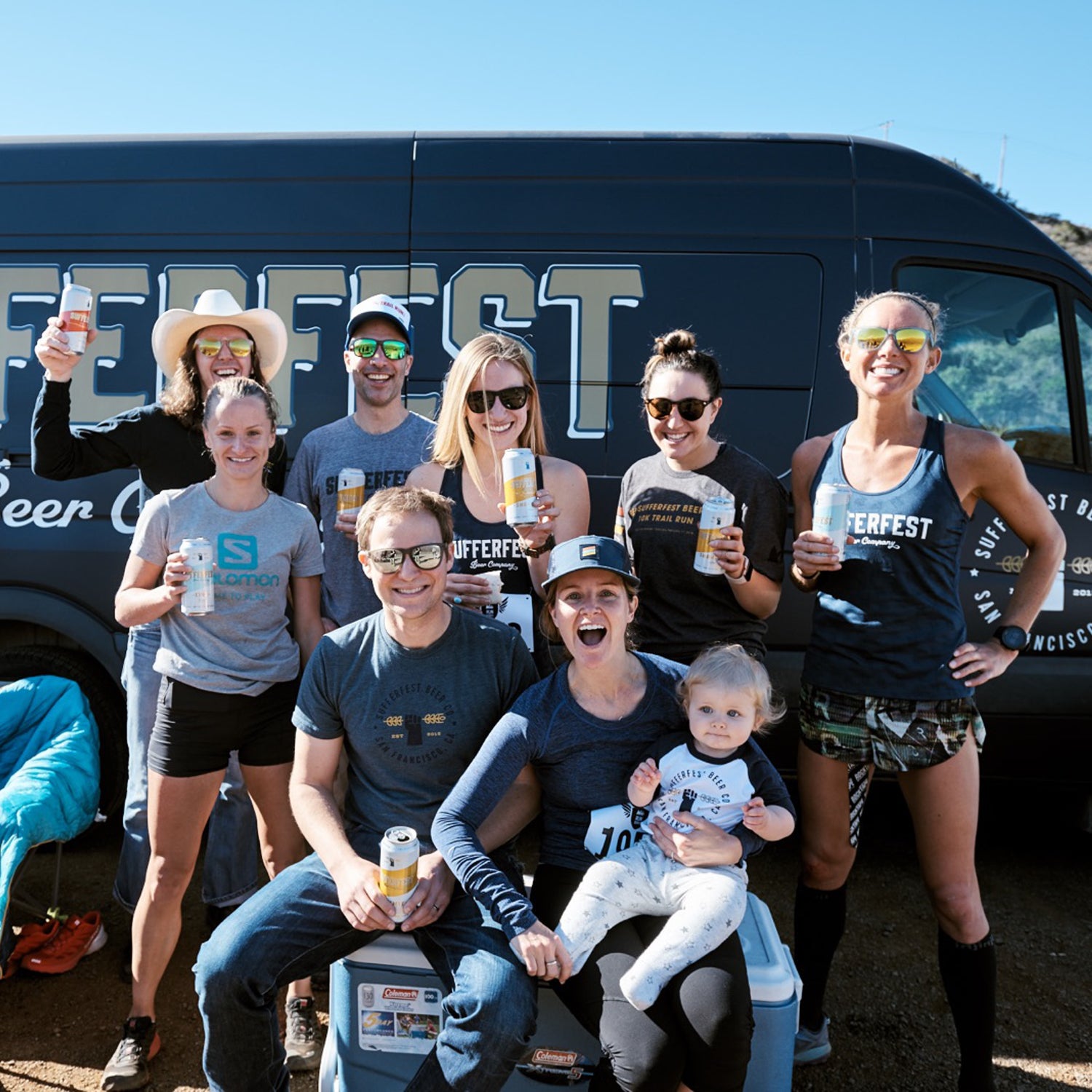 Heading out the door? Read this article on the new Outside+ app available now on iOS devices for members! Download the app.
When ultrarunner Caitlin Landesberg launched her gluten-reduced beer company aimed at athletes in 2016, she dubbed it Sufferfest, endurance-speak for "the most epic, worst, and hardest kind of effort ever." At first it was an inside joke, Landesberg's pet name for a project that had consumed six years of her life after she was diagnosed with the autoimmune disorder Hashimoto's disease, gave up gluten, and enrolled in beer-crafting classes to learn how to make a beer she could drink after hard workouts and races.
It was only after Landesberg got pregnant a few months later that she realized how fitting the moniker really was, and it stuck. "Growing a family and a business at the same time is hard as hell," Landesberg says. "It was definitely the most appropriate name for what I was doing." And life only got more hectic as her due date drew nearer. At first she hid her pregnancy from her colleagues and investors. "I was ashamed and felt embarrassed, wondering how am I going to run this company and provide confidence? How do I show them I'm committed and not soft? I didn't tell anyone until I really started showing. It was laughable, I'm sure."
Landesberg, so accustomed to focusing on her fitness, business, and routine, ran herself ragged. "If you want something done, ask a pregnant entrepreneur," she says. "I felt I had a biological-clock deadline ticking away and had to get the business to a certain place before this event happened." When she went into labor a month early, Landesberg tried to play that down, too. "I was fundraising and signing documents between contractions. It was such a critical time in the business, and I was just trying to keep it all together. I didn't think it was unusual. I just thought it was necessary. I was determined that motherhood was not going to stop me. I went back right away to show that I didn't need a maternity leave."
She hired a mother's helper, took meetings within a five-mile radius of her house in San Francisco, came home every three to four hours to nurse, and eventually introduced her daughter, Frances, to the bottle. It seemed like Landesberg was handling it all—until she realized she wasn't. "When the baby was 12 weeks old, I realized I hadn't breathed her in. I never let her get close enough to me. I just broke down, thinking I was missing out on the best of my life—all because I was trying to prove to everyone that I can run a business. What had I really done except scare the bejeezus out of my team that you can't take a leave even after you've had something come out of your body?"
Determined to make up for lost time and missed opportunities, Landesberg now brings her 17-month-old daughter with her wherever she goes. "She gets on my back when I pour beer. I put her in the jogging stroller. If it's close by, I will take her with me," she says. Seventy percent of Sufferfest's staff is female (there are 11 full-time employees and three part-time), so Landesberg wants to set an example for the women, too.
Two years after the company's launch, Sufferfest is thriving. It sells five gluten-reduced brews, including the newly released FKT Pale Ale—with 65 milligrams of salt, micronutrients from ingredients like black current, and four times more vitamin C per serving than an orange—throughout California and Colorado and online.
Next up for Landesberg: continuing to grow the company and having her second child—she's due this winter. "I've told everyone my news. I'm celebrating it! I'm taking a leave, and I've told my investors, 'You're not going to be able to reach me for six weeks.' If they have concerns about a mother-led business, they're not a fit for us. It's important to slow down and celebrate in life. That's what our whole mission is about, and that's what I'm doing now. It's the only way people get better—and last."