Why a Simplified Everyday Carry Actually Matters
Pare down what's in your pocket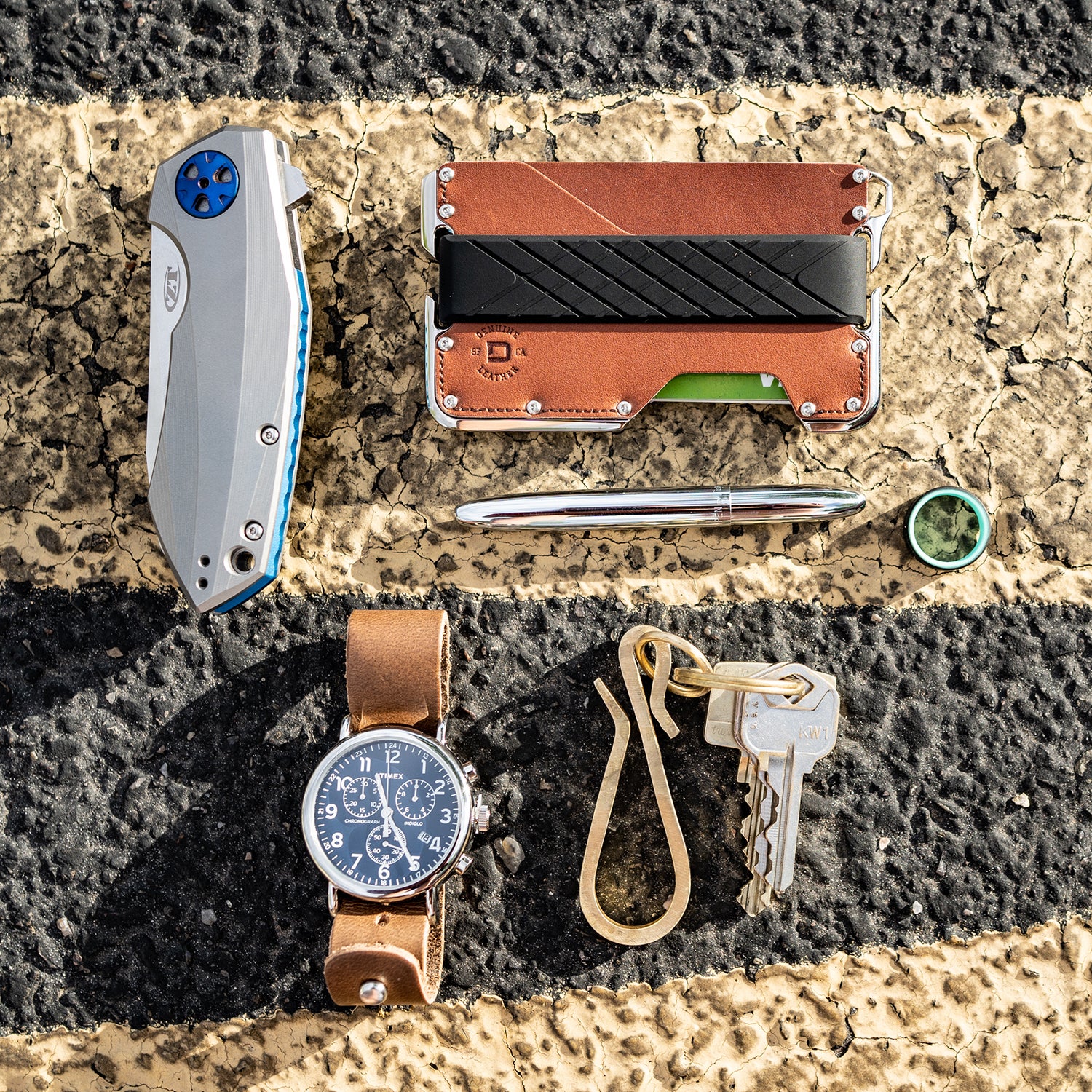 Jakob Schiller(Photo)
Heading out the door? Read this article on the new Outside+ app available now on iOS devices for members! Download the app.
Marie Kondo's anti-clutter ethos is well known and widely accepted: get rid of extraneous shit in your house and watch your life improve. I'd like to say the same goes for your everyday carry, or the list of gear you have on your person every single day. Cull your gear down and watch how easy it is to get out of the house but still be prepared. What you'll end up carrying depends on who you are, where you live, and what you do for a job, but to get started, here are few suggested essentials.
Taylor Stitch Raw Brass Keyhook ($32)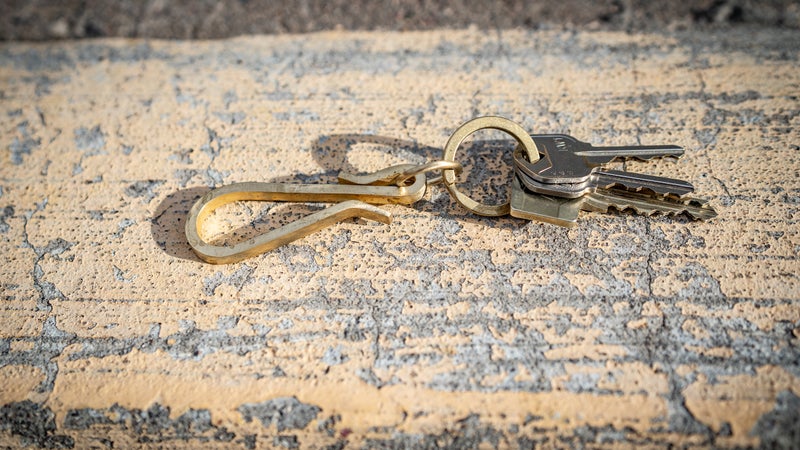 It's time to declutter your keys because I guarantee most of you have some on your ring that no longer work, or belong to some door you've long stopped using. Once you've pared down to four or five—because who really uses ten keys?—strap them on this key hook that comes with one simple ring to prevent useless-key collection. The whole setup, which looks great because of the simple design, will slip all the way into your pocket no problem. I personally like to strap mine to a belt loop and let the keys hang, freeing up pocket space.
---
Dango Products D02 Dapper Wallet ($130)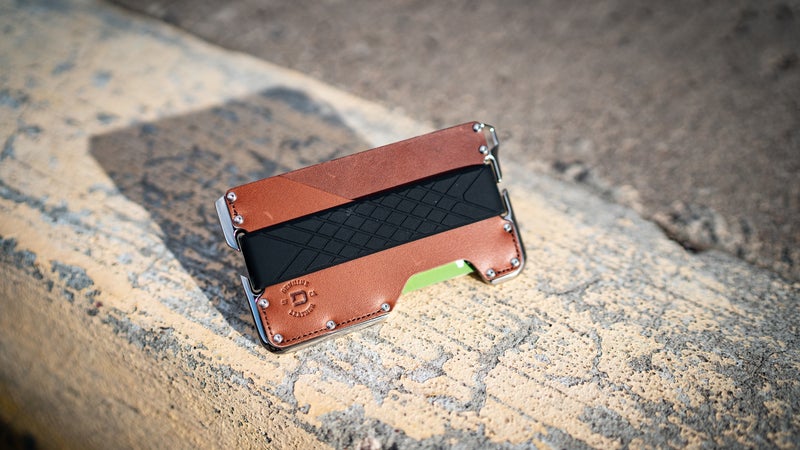 Most low-profile wallets are useless because they're too thin for real life and everything you need to carry. The DO2, on the other hand, strikes a nice balance. It will carry 12 cards and a wad of cash, but the aluminum chassis won't let it get too fat. I also dig the DO2 because it will likely be the last wallet I ever buy, thanks to the bombproof metal and leather build.
---
Fisher Space Pen Bullet Space Pen ($25)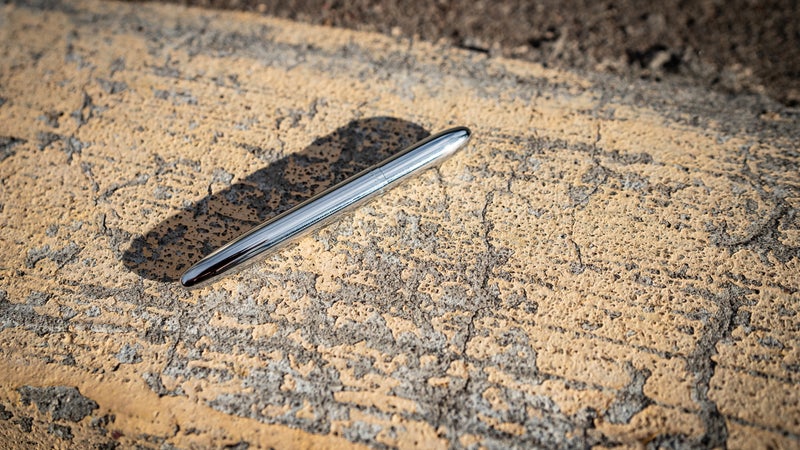 Taking notes on a phone sucks, which is why I stick with pen and paper. This setup is still best for to-do lists and random ideas. A regular pen works just fine, but regular pens are easy to lose. A $25 pen that was invented for astronauts and writes in zero gravity with pressurized ink, on the other hand, is something I'm more likely to take care of and bring home each night.
---
Timex Horween Leather Chronograph Watch ($120)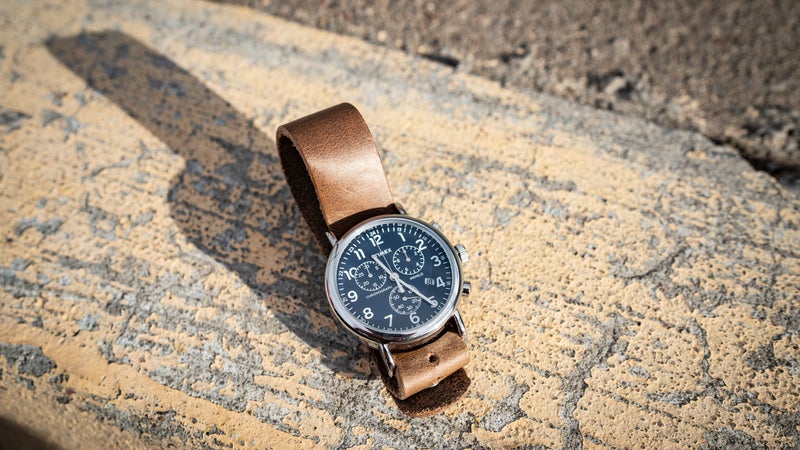 If you think a smartwatch is too much of a distraction but still need a timepiece on your wrist, look here. The Chronograph has a simple but classy old-school design (like something your grandpa used to wear), and the Horween Leather wristband adds an element of outdoor chic. The watch won't tell you who's calling or what weather is coming, but it will keep you on time.
---
Zero Tolerance 0456 Knife ($300)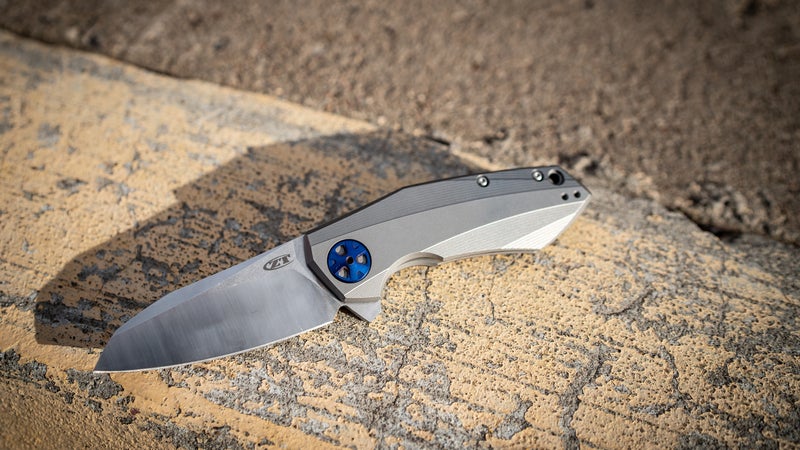 You don't need a $300 knife. A $25 version is just fine. However, if you take knives seriously, use them a lot during the day, and want one that will last, you can't do much better than the 0456. The 3.25-inch CPM 20CV steel blade opens almost instantaneously via a smooth ball-bearing hinge and trigger-finger flip mechanism. The blade itself takes and holds a sharp edge that will tear through anything from the salami you eat at lunch to the cardboard box that's carrying your newly ordered everyday gear. And damn if the fat handle doesn't feel good in your hand.
---
QALO Silicone Ring ($40)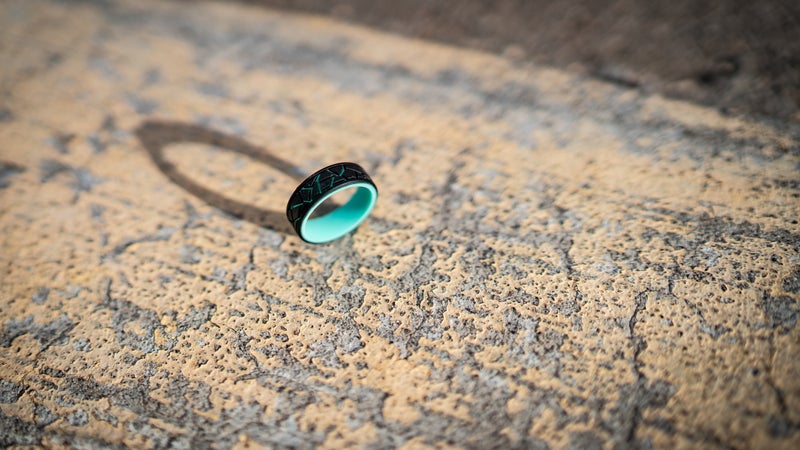 To be honest, I thought these were stupid the first time I saw them. Who wants to celebrate a marriage with a silicone ring? Then I read Joe Jackson's review of the rings, where he explains how they can prevent a gut-churning injury called "degloving," and I immediately saw the use. I also came around because QALO rings come in a variety of fun designs. I sometimes wear one in addition to my gold wedding ring just as an added accessory. And if I lose one, it's easy and cheap to replace. (My wife's QALO is pictured here.)
Lead Photo: Jakob Schiller