The AlpinerX Is a Sporty Smartwatch with Swiss Style
Alpina's new offering is a breakthrough for the industry—which is probably why it was launched on Kickstarter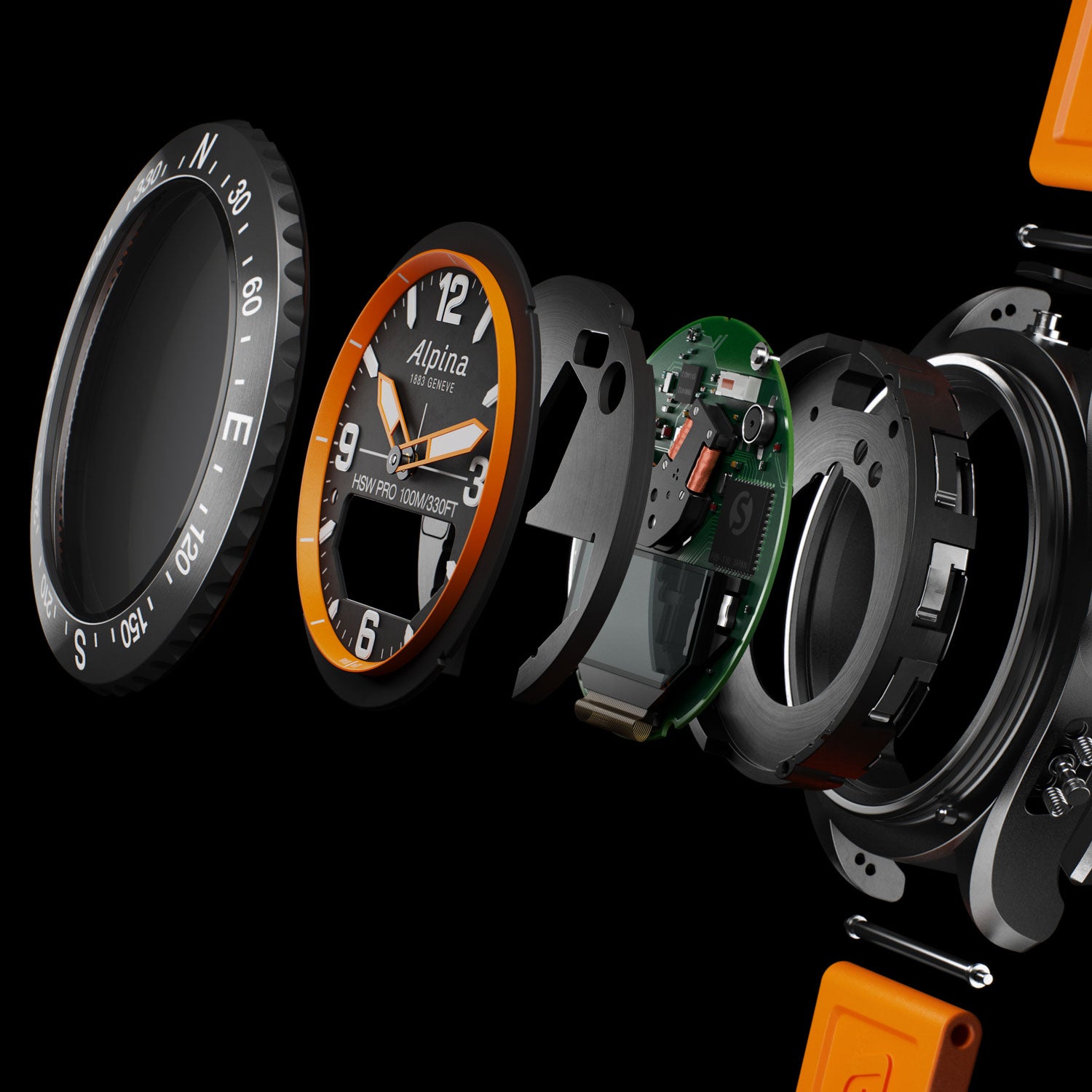 Courtesy Alpina(Photo)
Heading out the door? Read this article on the new Outside+ app available now on iOS devices for members! Download the app.
Baselworld is the mecca for watch nerds. The trade show, held annually in its namesake Swiss city for more than a century, features a giant Messe hall holding the shrines of horology—gleaming three-story booths from Rolex, Patek Philippe, Oris, and hundreds of other brands. This is Switzerland at its proudest and most traditional. Baselworld is where all the finest watches have been launched with great pomp and ceremony, from the first diving watch to the first watch to go to the moon.
But at this year's show, back in March, inside the second-floor booth belonging to Alpina, I beheld a prototype made not from precious metal or even steel, but—gasp!—fiberglass, with an analog dial and digital window. It was the AlpinerX, a high-tech smartwatch aimed squarely at the outdoor market, bristling with features like an altimeter, barometer, compass, GPS, even an ultraviolet-strength indicator. This spec sheet alone sets the AlpinerX apart from all its Swiss competitors, but perhaps most surprising is its sales model: Alpina launched the watch on Kickstarter.
The crowdfunding platform is of course best known as a testing ground for startups and small brands seeking seed money to develop products they couldn't otherwise fund. But bigger companies in many industries have been using Kickstarter to market new products and experiment with spinoff brands for the past couple years. (Clorox is one notable example.) Still, the site has largely retained its plucky, bootstraps feel. In the watch world, small brands have taken to Kickstarter to fund their napkin-sketch dreams of watches they usually sell for less than a grand, with production outsourced to Asia. But for a large Swiss brand like Alpina, which is owned by Citizen, the world's largest watch company by volume, launching an important new model on Kickstarter is a big deal.
Alpina has a bit of history as an innovator. Its founder, Gottlieb Hauser, who created the brand in Geneva in 1883, saw the value of true sports watches that are rugged and functional enough for the mountaineers putting up first ascents of peaks in the Alps and, later, for divers, sailors, and pilots. The company went belly up during a major downturn for the Swiss watch industry in the 1970s, when quartz watches from Asia took over the market, but was revived, ironically, by Citizen, one of the Japanese brands that had killed it off.
In early 2015, Alpina and its sister company, the dressier Frederique Constant, released its first connected watch, the blandly named Horological Smartwatch. Though it wasn't a revolutionary watch in the context of the flood of first-generation connected wrist wear, it put Alpina among the first Swiss brands to dip its toes into the deep end of technology. Alpina created these watches through an acquisition of California tech developer MMT, whose previous claim to fame was the Jawbone activity tracker. The Horological Smartwatch was a traditional-looking watch with an analog dial and sculpted steel case, but it collected activity data and transmitted alerts via a phone app. It wasn't long before other iconic Swiss labels, including TAG Heuer, Breitling, and Montblanc, followed with their own smartwatches, not wanting to get left behind like they were in the 1970s.
With the AlpinerX, Alpina makes a hard turn into new territory, the so-called ABC watch, a market dominated by the likes of Suunto, Garmin, and Casio. These aren't devices for desk jockeys counting their steps. They're intended for more serious adventurers doing things like climbing technical peaks. ABC watches certainly won't fit under or look appropriate with a starched shirtsleeve on Monday. Can the AlpinerX make inroads into Suunto's backyard? Can a relatively little-known Swiss maker of luxury watches draw outdoorsy types to an unproven wrist-top instrument? These questions are undoubtedly what drove Alpina to launch the AlpinerX on Kickstarter. The company's intent was to gauge interest in a product before going headlong into a lengthy and expensive development phase with ample risk. If the Kickstarter results are any indication, the AlpinerX is already a success. It was fully funded at $1.5 million (well beyond its $50,000 goal) by the time the campaign ended in April. Certain configurations of the AlpinerX started shipping to backers at the end of May.
The watch itself seems aimed at existing owners of traditional timepieces who want a sporty option with connectivity. These buyers are accustomed to the better finishing, more refined designs, and high-quality straps and buckles found on finer Swiss watches. The AlpinerX has all that and adds the notifications, GPS, activity tracking, and ABC functions that are de rigueur on other watches in this field. It will be a harder sell to existing owners of connected sports watches. Those consumers are used to a certain function set with a no-nonsense aesthetic found on the ubiquitous black-plastic watches found at every group bike ride and trailhead. Still, with a competitive price of around $900 and arguably more handsome design, Alpina thinks it can win over some gearheads, too.
Alpina is not the only brand seeking new territory. On the outdoor side of the market, Garmin and Suunto have attempted to go upscale in the past few years, with the Essential and Chronos, respectively. These watches push the $1,000 barrier, touting all the same functionality but using premium materials, like sapphire crystals, high-quality leather straps, metal bands, and titanium cases. It would seem a logical business case, when so many prospective buyers already own five-figure carbon road bikes and travel to exotic locations to bag peaks for bragging rights. With Alpina entering this space, and other luxury brands seeking new avenues into the burgeoning smartwatch market, it makes for interesting times indeed.
Lead Photo: Courtesy Alpina