5 Multi-Use Camp Utensils We Love
A backcountry meal is delicious only if you can eat it comfortably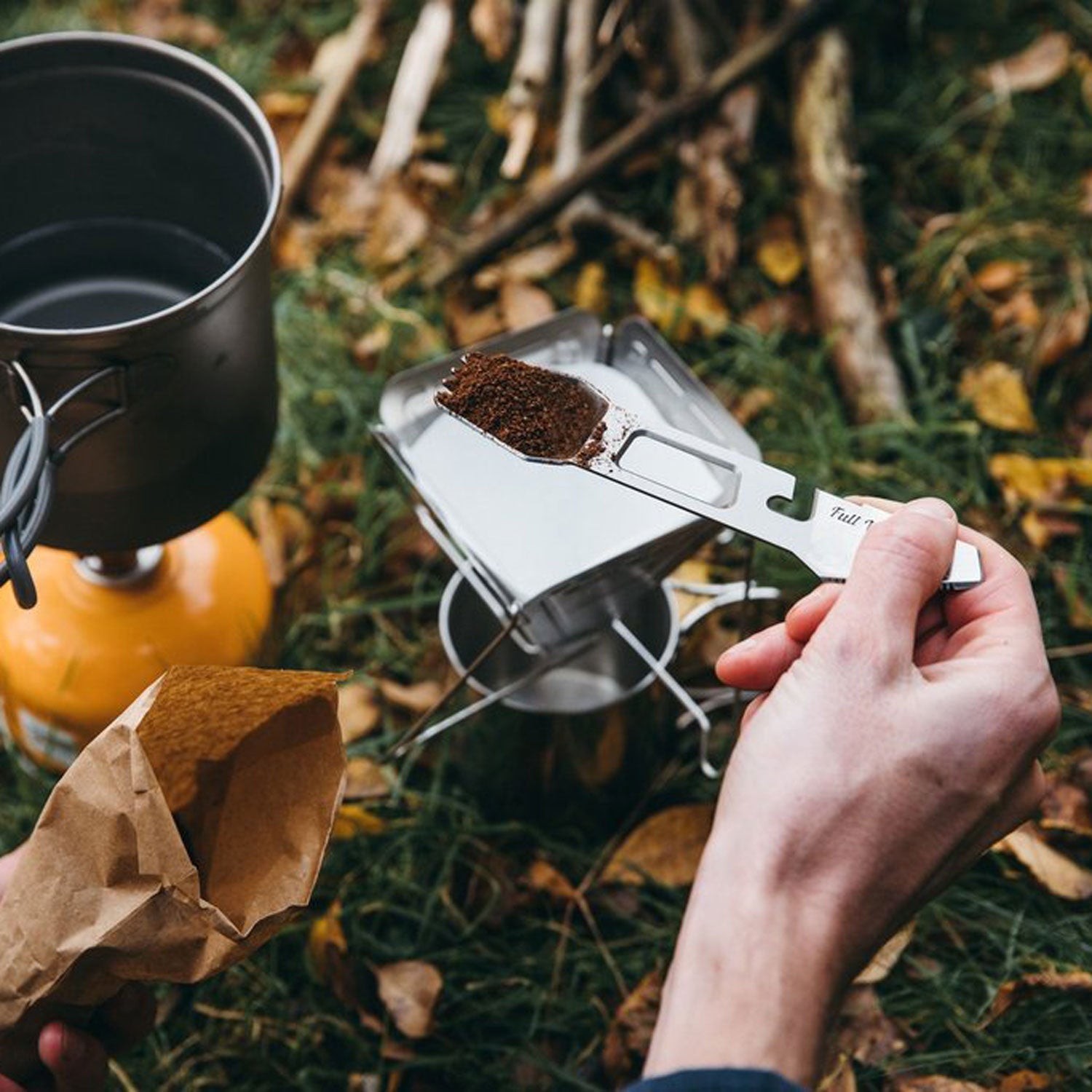 Tom Joy for Full Windsor(Photo)
Heading out the door? Read this article on the new Outside+ app available now on iOS devices for members! Download the app.
A fork or spoon might seem like a frivolous luxury when you're looking to save weight and space on a multi-day backpack, but when it comes time to eat after a long day on the trail and all you have are your ten digits, you realize just how necessary a proper fork can be. We scoured the internet to find five of the best eating utensils on the market, from a fancy table setting to a folding Foon. And they're all under $50.  
Snow Peak Titanium Full Cutlery Set ($35)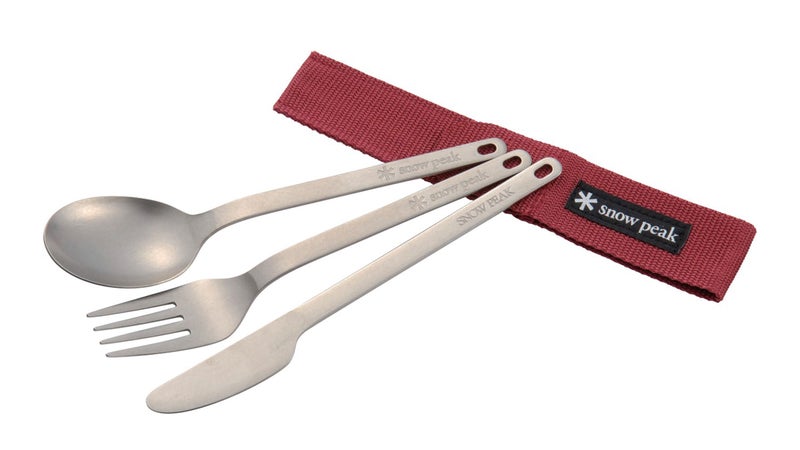 This knife/fork/spoon set is as civilized as you can possibly get in the backcountry. Its three separate full-length utensils (each is 6.5 inches long) add refinement to dinner around the campfire. And thanks to the titanium build, the utensils weigh next to nothing and can handle any abuse you throw at them.
---
Outdoor Edge Cutlery Chowpal ($28)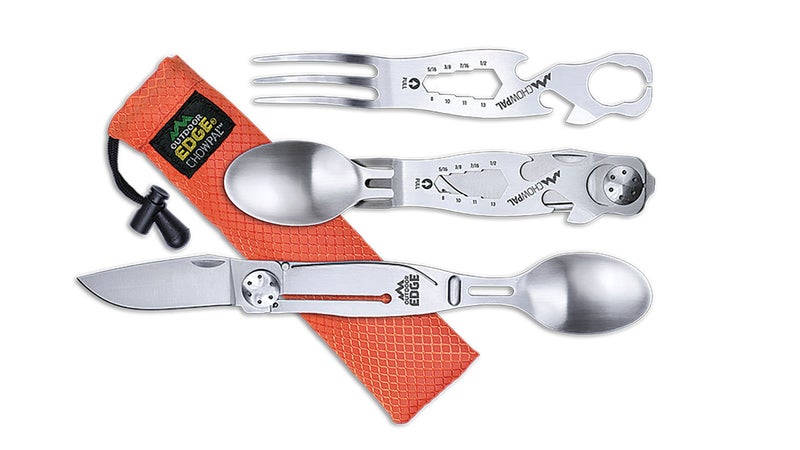 The problem with most multitools with built-in forks and spoons is that the eating utensils are small, awkward afterthoughts. But the Chowpal focuses on eating first, with extra tools built around three almost full-size utensils, which lock together for storage. So you get a legit stainless steel-knife, fork, and spoon, but also a bottle opener, graduated wrench, screwdriver, and can opener. And it all weighs just 2.4 ounces.
---
Sea to Summit Alphalight Spork ($9)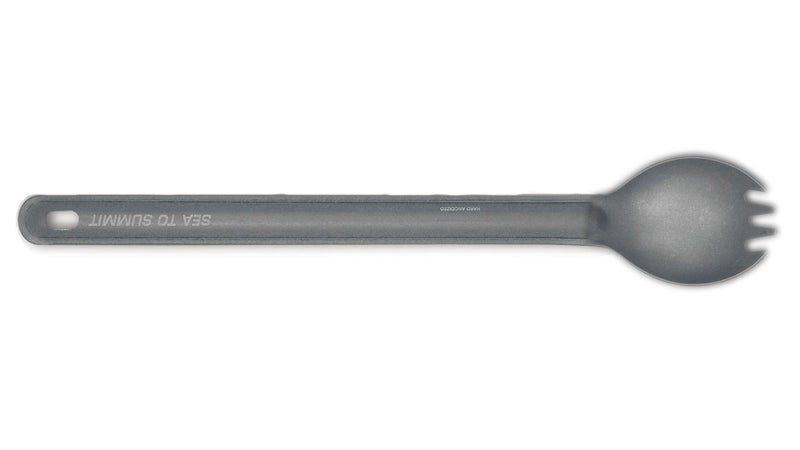 Backpacker food has come a long way in recent years, but those bags can still be difficult to eat from. You need an extra-long spork, like this 8.5-inch baby from Sea to Summit, which is made from super-light aircraft-grade aluminum. No more dirty knuckles.
---
Full Windsor Muncher ($50)
You would think there wouldn't be much opportunity to redesign the spork, but then you see the Muncher, a titanium spork/knife combo with a handful of other tools built in (bottle opener, cord cutter…) and you think, "Yeah, that's better." The extra tools are nice, but it's the beefy spork and knife that are the bread and butter of this 0.8-ounce tool, which earned a Gear of the Year award this year.
---
GSI Outdoors Folding Foon ($4)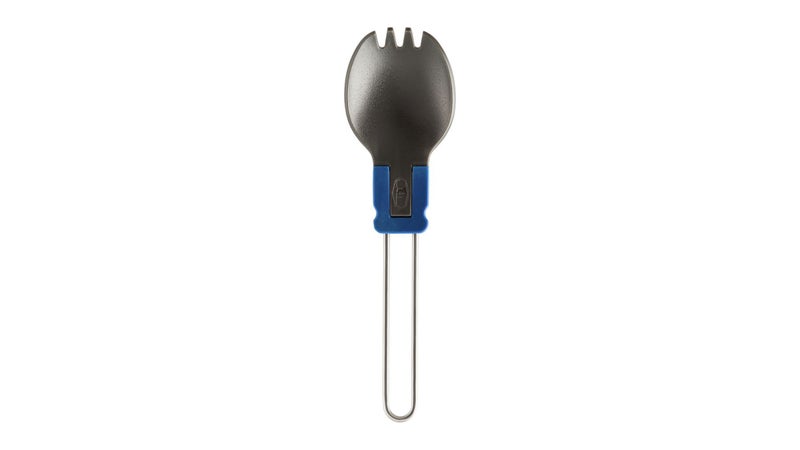 If you're really, really counting ounces and want to take the lightest kit possible without using your fingers to eat, there's the Folding Foon. The svelte, half-ounce spork folds flat for packing but locks open for a sturdy, six-inch-long eating tool.
Lead Photo: Tom Joy for Full Windsor