Pre-Workout Snacks We Depend On
The breakfasts and trail snacks that get Outside staffers through long days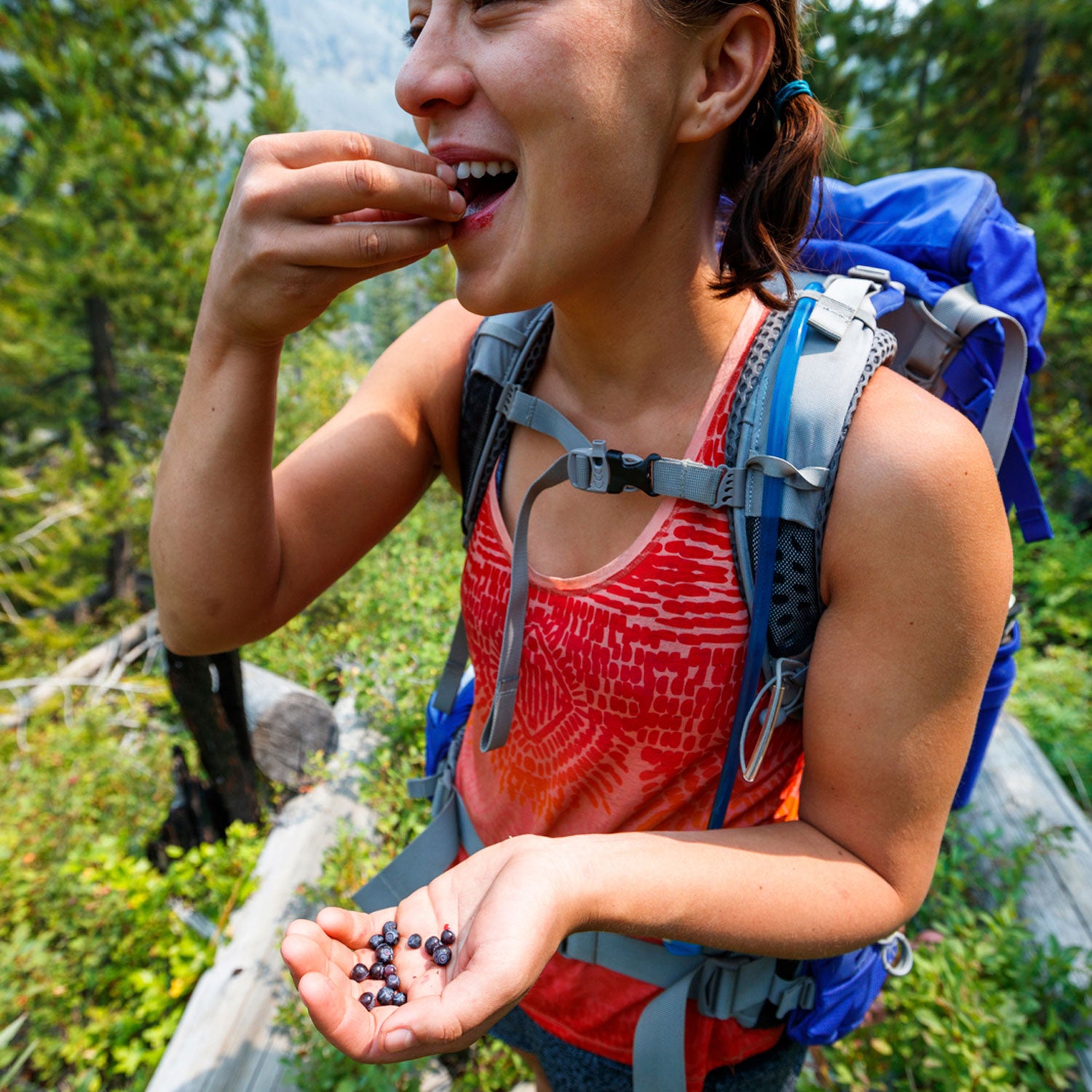 Ben Herndon/Tandem(Photo)
Heading out the door? Read this article on the new Outside+ app available now on iOS devices for members! Download the app.
Summer is winding down, which means we're racing to pack in every last adventure we can before the days get shorter and colder. Here's how the Outside staff fuels our biggest epics.
Big Breakfasts
The morning before a big day in the mountains, I'm all about a giant breakfast burrito with cheese and veggies. It keeps me full and energized without sitting heavy the way a pancake breakfast does, and it's easy to eat while driving to the trailhead. Oatmeal with peanut butter and maple syrup is another favorite.
—Ariella Gintzler, assistant editor
I always premake a handful of breakfast burritos: eggs, onions, spinach, potatoes, cheese, and a little bit of dill rolled in a tortilla. Then, before leaving base camp, I heat one up with a splash of olive oil on my camp stove, slather it in Tapatío sauce, and feast. There's nothing like a warm, hearty burrito with a spicy kick to fuel an alpine start.
—Abigail Wise, online managing editor
I usually don't eat much of a breakfast. I know, it's not good for you, whatever, but food just doesn't taste good before I've had several cups of coffee. But I make an exception on days when I know I'm going to be hitting the trail or crag hard. My current favorite go-to is a big hearty omelet packed full of tomatoes, avocado, and greens. It gives me just the right amount of energy to make it through to lunch without making me feel overstuffed and immobile.
—Emily Reed, assistant reviews editor
On days when I'm doing a big lunchtime run, I like to power up early with this simple high-protein smoothie:
2 cups unsweetened almond milk
2 tablespoons almond butter
1 scoop Vega Protein and Greens protein powder (Chocolate)
1 cup frozen blueberries
1/2 cup frozen strawberries
1 1/2 cups baby spinach
—Chris Keyes, editor
Hearty Trail Snacks
My favorite midday calorie bomb is a tortilla stuffed with peanut butter, dates, and a banana. It's a good blend of quick-burning simple carbs, with some fat and protein to keep me going into the final hours of whatever sufferfest I've gotten myself into.
— Abbie Barronian, assistant editor
A few years ago, a good friend introduced me to the magic of pocket bacon. It's usually five to ten slices of bacon, discreetly snatched up from that morning's breakfast buffet or from the sizzling pan while a significant other isn't looking, wrapped in a paper towel, aluminum foil, or plastic bag. It might not be the most nutritious, but I'd be lying if I didn't say that lukewarm bacon on top of a summit or two hours into a ride isn't the best thing I've ever eaten. (Bonus: It helps you make new friends.)
—Katie Cruickshank, digital marketing manager
Dock me originality points, but I love a good Lärabar in the middle of a long hike. The promise of a sweet treat keeps me motivated, and a simple ingredients list gives me peace of mind. The chocolate chip cookie dough flavor is my jam.
—Kelsey Lindsey, assistant editor
Long-Haul Lunches
My go-to meal and snacks for hikes above 10,000 feet are a turkey sandwich with avocado smashed onto the bread, Kettle potato chips (for the salt and carbs), a peach or apricot or cherries or whatever fruit is in season, and always, always dark chocolate–covered almonds. Probably not based on nutrition science, but it works every time!
—Mary Turner, deputy editor
Nutella, peanut butter, and banana sandwich. Sure, there's some nutritional value—like protein in the PB and electrolytes in the banana, plus calories calories calories—but its true purpose is to taste delicious and get me to eat. You can only consume so many gels and gummy blocks before you feel gross and lack motivation to ingest anything at all.
—Julia Walley, marketing art director
There's nothing like the combination of peanut butter and chocolate. (Fight me on that.) In the backcountry, that means my lunch is always a peanut butter, Nutella, and banana wrap. It's satisfying and assuages my sweet tooth (for the most part), and the fresh fruit seems like a luxury out in the woods. Plus, I don't worry about anything getting smashed or leaking in my bag. Happy to report I've tried this for lunch on long skins into backcountry huts and during miles of hiking with a pack and have yet to bonk.
—Madeline Kelty, deputy photography editor
Lead Photo: Ben Herndon/Tandem
Trending on Outside Online