Karel Sabbe Made Smashing the AT Speed Record Look Easy
Karel Sabbe set a new record of 41 days, 7 hours, and 39 minutes. And he did it without much money or fanfare, proving that you just gotta run like hell.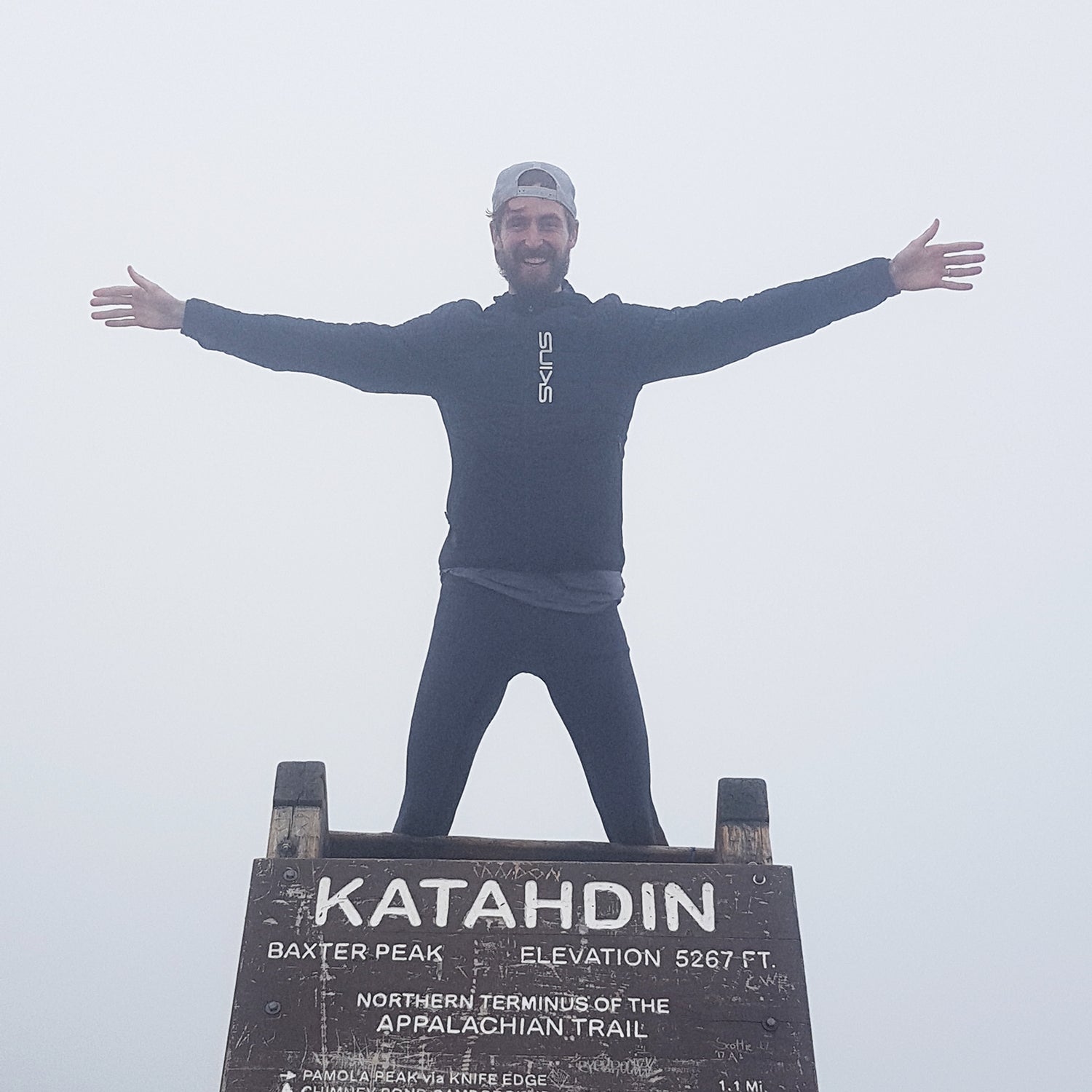 Joren Biebuyck(Photo)
Heading out the door? Read this article on the new Outside+ app available now on iOS devices for members! Download the app.
On Wednesday, Belgian ultrarunner Karel Sabbe wolfed down a plate of bacon and eggs, along with some toast and yogurt. A few hours later, he and his friend Joe Biebuyck stepped into the only pizza joint in Millinocket, Maine, a gritty mill town that's also home to Baxter State Park and Mount Katahdin, the northern terminus of the Appalachian Trail. Sabbe had spent the previous 41 days running the AT, with Biebuyck as his primary source of support. They were both famished. Places like Angelo's Pizza Grill see their fair share of big eaters, so nobody noticed when Sabbe and Biebuyck ordered the biggest pie on the menu. But the pair stopped traffic when they began eating.
That may sound like hyperbole. But it's not.
"We were literally inhaling the food," Sabbe says. "Everybody else stopped eating and watched. Finally, one of the workers there was like, 'Whoa, guys, take it easy.' And that's when it hit me: I don't have to go fast anymore."
Turns out, that's a hard transition to make. And probably for good reason.
On Tuesday, Sabbe did what many thought was impossible: He beat Joe "Stringbean" McConaughy's fastest known time for a supported northbound run on the Appalachian Trail. Sabbe finished in 41 days, 7 hours, and 39 minutes, smashing the old record by four days. Doing so makes Sabbe an instant legend in the ultra world. And it's also made more than a few insiders wonder what the future holds for other FKT attempts.
That's not hyperbole, either.
Earlier today, I asked previous FKT holders about Sabbe's accomplishment. I got answers like "holy cow" and "slack-jawed amazement" and "whoa!!!" They couldn't get over Sabbe's breakneck pace—he averaged 52.9 miles a day and completed the final 100 miles by running 40 hours straight. Equally impressive, they said, was his meteoric rise in the ultra world.
Five years ago, Sabbe pretty much didn't run at all. In high school and college​​, Sabbe had been a competitive soccer player, but as he finished up his schooling, he realized that, at his skill level, he was about to age out of the sport. "I was at a decision point," Sabbe says. "I could keep playing and get injured, or I could go for a change and really make something of it."
Sabbe toyed with the idea of training for an Ironman, but then he remembered an adventure race he had seen in New Zealand: the Coast-to-Coast, a two-day, 151-mile trek across the South Island by foot, bike, and kayak. Sabbe remembered liking the scenery of the place from a previous trip, so on a whim, he registered. Problem was, he'd never been in a kayak before. And while the race took place at the height of summer in the Southern Hemisphere, that meant training in the depths of winter in Sabbe's native Belgium. That, in turn, meant paddling up and down the same 550-yard stretch of canal while dodging ice. Sabbe nevertheless managed to finish the Coast-to-Coast in the top quarter of race participants. He managed the paddle just fine, but the running portion of the event really captivated him. In 2016, he completed Morocco's Marathon des Sables, a grueling 151-mile race through the desert, where temperatures regularly top 120 degrees. He thought about doing a thru-hike of the Pacific Crest Trail next but soon realized he'd never be able to take off six months of work as a dentist to do it.
Instead, in 2017, Sabbe decided to run it. Along the way, he set an FKT on the Pacific Crest Trail, beating McConaughy's overall record. (McConaughy still holds the record for self-supported hikes on both the AT and PCT.) Like his predecessor, Sabbe flew under the radar for pretty much all of his attempt, and few people outside the FKT world even noticed when Sabbe tore down the record. Nor did they notice when he announced his intention to break McConaughy's record on the Appalachian Trail earlier this year.
Sabbe's approach was a far cry from highly publicized attempts like those of Scott Jurek and Karl Meltzer, both of which included film crews, fans waiting at trailheads, and big-time corporate sponsorship. By comparison, Sabbe's budget was paltry—about $10,000, which included plane tickets, the support-van rental, and food for Sabbe and his crew—and most of his time on the trail was alone. Sabbe's style harkens back to the early days of FKT attempts. Andrew Thompson, for instance, set a supported Appalachian Trail FKT in 2005 with just his good friend and fellow ultrarunner Jonathan Basham for support. The latter drove a souped-up pickup truck and met Thompson at every road crossing he could access.
In 2008, Jennifer Pharr Davis set the women's record for the AT in a similar style. Although a series of friends came out to pace Pharr Davis here and there, only her husband, Brew, ran support for the full 57 days it took her to clinch the title. The two returned in 2011 and set the overall record in much the same fashion.
Pharr Davis' record stood until to 2015, when Jurek beat it by three hours. The next year, Meltzer shaved off an additional ten hours. Last year, when McConaughy managed to beat Meltzer by another ten hours with his self-supported attempt, both the hiking and ultra worlds were blown away. Here was an FKT, surely, that would withstand the test of time. That assumption was reinforced earlier this year, when ultrarunner Harvey Lewis failed to best McConaughy's time. As Lewis returned to his native Ohio, insiders continued to speculate that McConaughy's record was unbeatable.
That is, until Sabbe flew from his home in Waregem, Belgium, and landed in the United States last month.
From the start, Sabbe didn't waver. He kept a steady pace of about 50 miles a day, and as conditions on the trail became increasingly challenging, he shrugged them off. When Sabbe hit the peaks of the Smokies and the notorious rocks of Pennsylvania, he contented himself with the notion that he'd seen worse on the PCT. When unusually powerful thunderstorms rendered Vermont's section of the trail a giant mud hole, he told himself the gunk had been much deeper in New Zealand. "I kept thinking it was pretty fine," Sabbe says. "I had an antecedent for everything—at least until I got to the White Mountains. There's no comparison for that."
New Hampshire's Presidential Range slowed him down, but not by much. By Monday, when Sabbe began his last 100-mile leg, Biebuyck barely had time to catch up. The two summited Maine's Mount Katahdin that afternoon. By the time they managed to park the SUV and make their way up the summit, Sabbe's wife, Emma, and another friend were two hours behind.
"We were kind of all alone up there," Sabbe laughs. "Joe had to explain to the few other people up there why I was hugging the sign."
And that, says Jennifer Pharr Davis, is a big reason why this new record is so extraordinary.
"Joe and Karel have proven that you don't need a large sponsorship or stout ultrarunning résumé to claim the FKT on the Appalachian Trail. They raised the bar to a place deemed unthinkable. I doubt anybody will surpass either one of their records for years to come."
Thompson agrees.
"If you're going to beat Karel, it's not going to be by throwing money at an attempt," he says. "You're going to have to tighten up everything across the board just to eke out another half-mile a day—every day. That's going to be fucking hard to do."
As for Sabbe, he has his own miles to log in the coming days—mostly in that rented SUV, and probably on Maine's coast, and far away from any foot trail. "We had planned on doing the trail in 44 days, not 41," he says. "So now we have an unexpected holiday this week. We will relearn to go slow."
Lead Photo: Joren Biebuyck
Trending on Outside Online