Lyfx Is an Uber for Outdoor Guides
Lyfx wants to ­revolutionize the way we play by ­connecting local guides with ­traveling ­adventurers. But can it ­succeed where other apps have failed?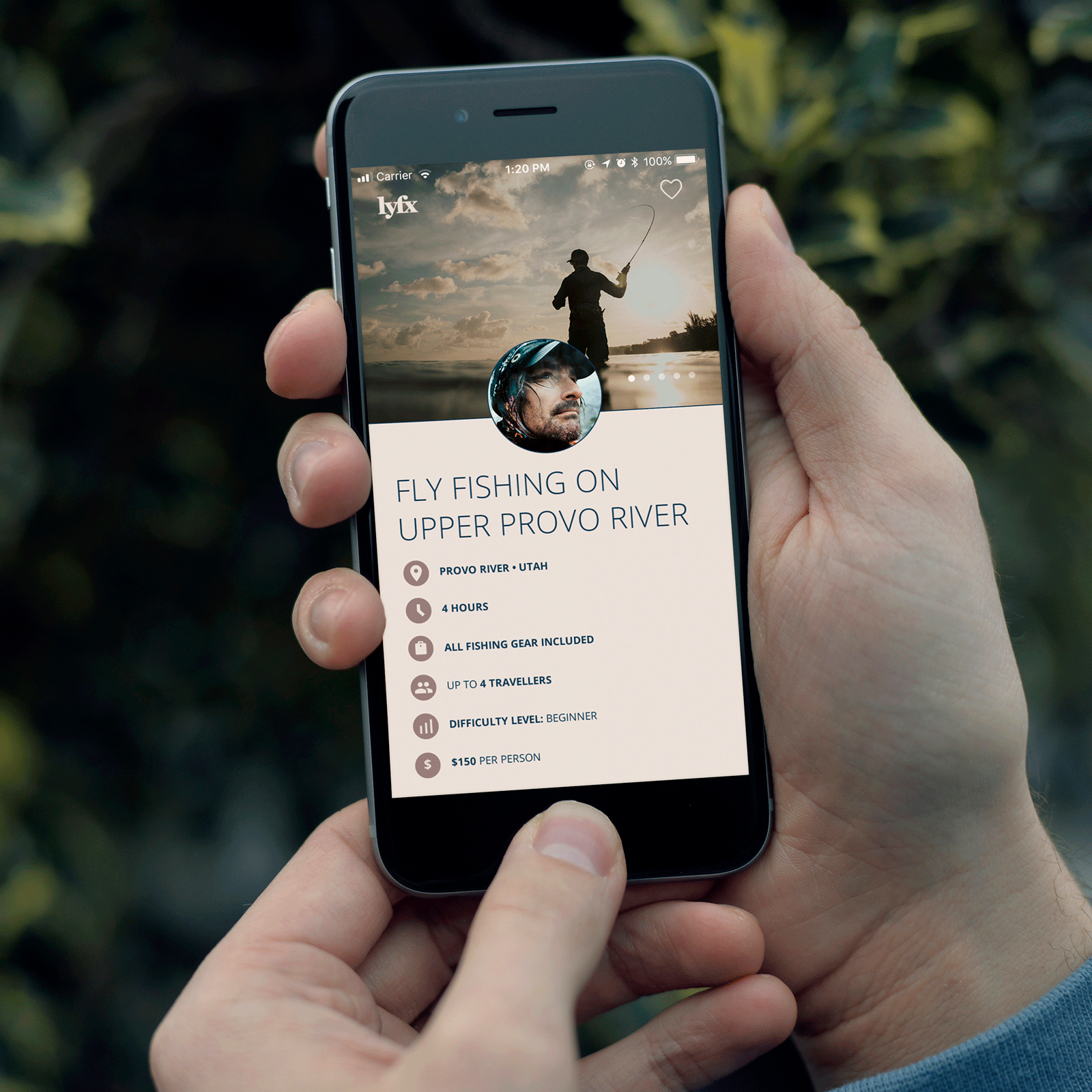 Lyfx
Heading out the door? Read this article on the new Outside+ app available now on iOS devices for members! Download the app.
Pedro McCardell was on a solo motorcycle trip to Patagonia when he realized that he needed help. The mountains that dominated the horizon were inviting, but access was a puzzle. "I needed a local to show me around, but I had no good way to connect with them," says the Italy-based former advertising executive. That experience led him to create Lyfx. (Silicon Valley slang for "life experience.") The app launched in Utah, Colorado, and California in July, and aims to be the Uber or Airbnb of adventure, connecting travelers in need of beta with knowledgeable residents willing to show them around for a fee.
Lyfx isn't the only app trying to disrupt the guiding industry. Climblife connects wandering dirtbags with would-be guides, Showaround lets international travelers book a variety of experiences led by locals, and Back40 links up venturesome vacationers with "hosts" throughout New England.
Of course, similar platforms have come and gone. In 2015, James Hamilton launched GuideHire but couldn't keep it afloat. "It wasn't an issue of getting people on the platform—we had plenty of guides and plenty of users," he says. "But we couldn't get people to book through us. They'd use us for research and then book directly with the guide."
Hamilton thinks his timing was off and travelers weren't willing to reserve adventures without a bit of personal interaction first. But given the ubiquity of Uber and the rise of Airbnb Experiences, the short-term-rental giant's attempt to get into peer-to-peer activities, the market may finally be ready.
"I think people will use the service," says Nikki Harth, co-owner of Surfhouse, a hotel and guiding outfit in Encinitas, California. Like Lyfx, Surfhouse seeks to plug guests into the local scene. "People are now spending more money on experiences than things," he says. "When you're surfing, having a local show you around makes the experience so much better."
Alex Kosseff, executive director of the American Mountain Guides Association, is intrigued by the idea of guiding apps and believes they could be beneficial for guides because many don't have the time or know-how to market themselves effectively. But he's less sure about the legality. "Guiding on public land in this country is incredibly regulated," Kosseff says. "Anyone taking money for that service needs to have a permit."
To work around this, Lyfx launched with professionals that already have the necessary paperwork and requires its peer-to-peer experts to abide by any applicable laws and regulations. However, the app is leaving it up to its nonprofessional guides to obtain all permits and certifications. But a few situations, like showing someone your favorite point break, don't require dealing with any red tape. And if Lyfx or its competitors can overcome all that, they'll still face the hardest challenge of all: securing market share. "Until one of these apps gets traction and gains that critical mass of users," Kosseff says, "I'm afraid they'll continue to come and go."
Trending on Outside Online