The Best Supported Bike Rides in the Country
Crews carry your gear and provide meals and campsites as you cruise through some of America's most scenic back roads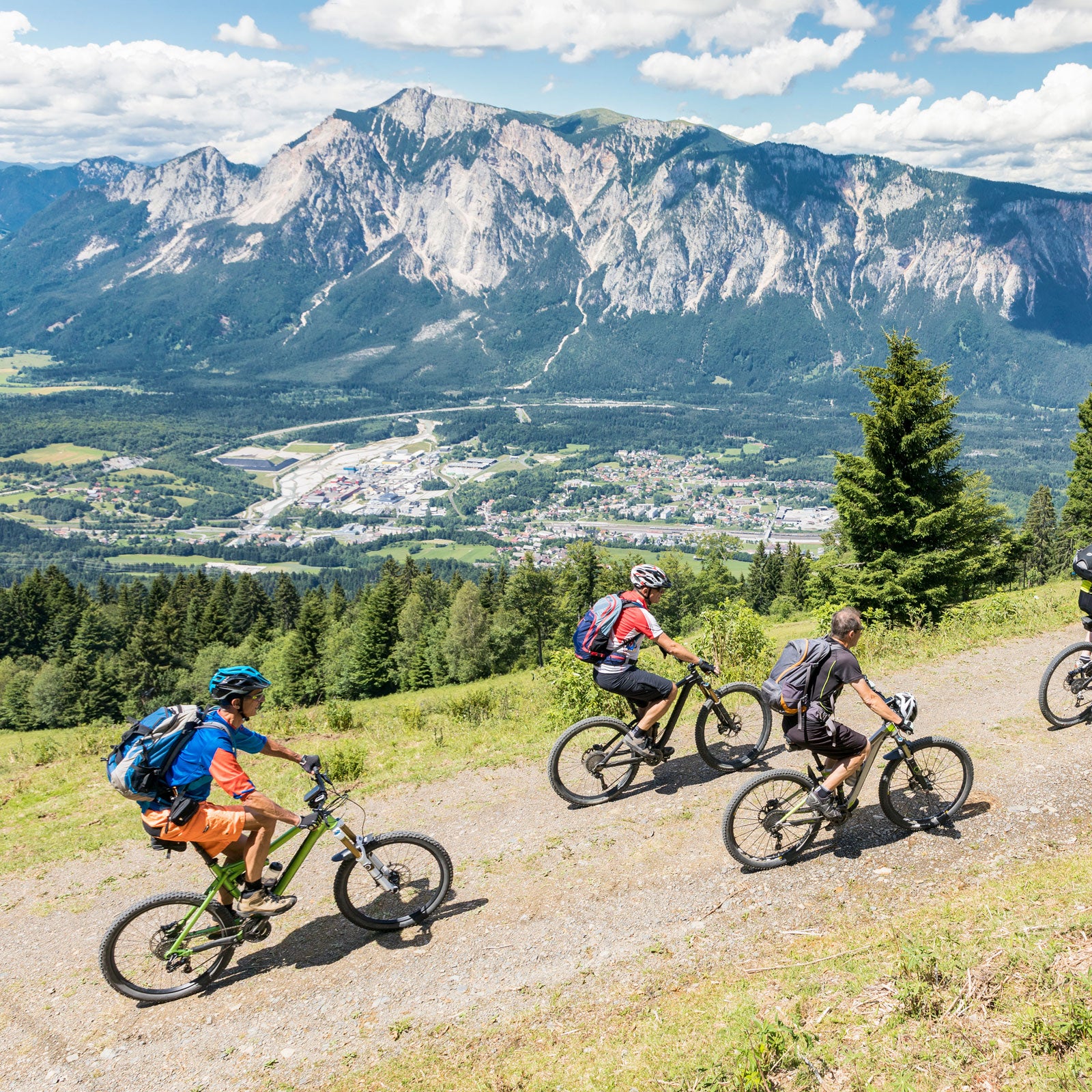 Saro17/iStock(Photo)
Heading out the door? Read this article on the new Outside+ app available now on iOS devices for members! Download the app.
Everything's still wet with dew in late August when nearly 400 riders mount their bikes, preparing for another 70-mile day through central Michigan. They've gathered here for the Dick Allen Lansing to Mackinaw Bicycle Tour (DALMAC), now in its 49th year. The marked route through undulating, rustic farmland seems like a perfect way to end the summer—on a bike, with a hint of fall in the air whooshing by.
I'm tagging along in a camper van with a friend who is riding, rubbing elbows with people from around the country—the participants total more than 1,000. At night, high schools are converted to campgrounds for us, complete with showers, green space for tents and a movie projected on a big screen, and calorie-dense meals, like tacos and hamburgers. All of this is courtesy of the ride's organizers—made possible with a $300 entry fee—who also carry cyclists' gear in moving trucks and have hired bike mechanics to help with any bike repairs.
Supported bike tours can now be found in almost every state and can draw anywhere from a couple hundred riders to more than 10,000. Cyclists typically have the essentials provided for them, but some tours offer luxuries like post-ride massages or yoga. Entry fees range from free to under $1,000. Most rides take place in spring and summer, with a few in fall or winter in the South.
Here's a list of the best supported rides around.
Cycle Zydeco
Where: Louisiana
When: April 24 to 28, 2019
No one throws a party quite like the folks in southern Louisiana's Acadiana region, whose local laissez les bons temps rouler attitude makes for one hell of a bike ride. What organizers call a festival on wheels, Cycle Zydeco traverses bayou country for four days, typically 40 miles a day along flat blacktop, with local festivities peppered along the way. In 2019, the ride will share a weekend with Festival International de Louisiane—the largest international music festival in the country—with the New Orleans Jazz and Heritage Festival commencing the next week. Expect pleasant spring weather and a lesson in how to peel crawfish.
Ride the Rockies 
Where: Colorado
When: June 8 to 15, 2019
On this six-day tour of the Rockies, be prepared for tough climbs—last year's riders experienced more than 25,000 feet of elevation change over the course of 418 miles. But you'll be rewarded with some of the best views Colorado has to offer, traversing this year through scenic mountain towns like Crested Butte, Snowmass, and Gunnison. (Routes and towns vary by year.) "You really get to see quintessential Colorado," says tour director Deirdre Moynihan. "You get it all—the mountain passes, and you get to stay overnight in these great mountain communities."
Sierra to the Sea 
Where: California
When: June 15 to 22, 2019
Designed for experienced cyclists, this eight-day route traverses the Sierra Nevada before snaking down to the California coast. The route wends 420 miles, with an average day topping out at 60 miles. Other mileage options are available for those who want an easier or more difficult ride. Along the way, riders travel through some of the state's best-known locales, including Lake Tahoe and Napa Valley, finishing with a jaunt across the Golden Gate Bridge. The tour is limited to 130 people, giving you a more intimate experience with fellow riders.
RAGBRAI
Where: Iowa
When: July 21 to 27, 2019
In 1973, two Des Moines Register columnists—John Karras and Don Kaul—gathered some friends for a ride across Iowa, eventually drawing a few hundred people to bike across the state. Today, the Register's Annual Great Bicycle Ride Across Iowa is one of the biggest cycling events in the country. Last year, the 46th annual event drew 10,000 riders and thousands of other revelers from around the world, who rode nearly 500 miles over seven days. "When the ride started, people were stopping at farms for a slice of watermelon, and now it's morphed into this street party in small-town America," says director T.J. Juskiewicz. While the route changes every year, it normally begins near Iowa's western border on the Missouri River and ends at the Mississippi River across the state. Don't expect too tough a ride or much elevation change, but what the ride lacks in vistas, it makes up for with its party atmosphere and welcoming locals.
Ultimate Cycling Vacation 
Where: New York
When: August 17 to 23, 2019
Created by the Cycle Adirondacks organization, this six-day tour provides cyclists with a taste of the region, from local craft brews and food to insights into the mountain communities around the wilderness. When you're not riding, there are plenty of hiking trails and swimming holes to explore—there's even a yoga class included in the ride package. Organizers hope that folks who participate will take away an appreciation for the 6.1 million–acre Adirondack Park and its mountains, wetlands, and old-growth forests, all unique in size and biodiversity for the Northeast. Through a partnership with the Adirondack Mountain Club, part of the ride's proceeds go toward education and conservation efforts in the region.
West Yellowstone Old Faithful Cycle Tour
Where: Wyoming
When: Fall 2019 (date not yet announced)
Fall is one of the best times to explore Yellowstone National Park, as the summer crowds die down. You'll have the golden aspens, bugling elk, and Old Faithful almost to yourself on this 300-person, daylong tour, says Moira Dow, the ride's cycle coordinator. The easy 60-mile trip snakes around a loop, starting in West Yellowstone and heading south past some of the park's most famous geysers. After the ride, check out other classic attractions, like the Grand Canyon of the Yellowstone or Hayden Valley, where you might see elk, bison, grizzlies, and wolves. Then, trek down to nearby Snake River in Grand Teton National Park to catch a glimpse of the cottonwoods, willows, and other deciduous trees turning red and orange.
WACANID Ride 
Where: Washington-Idaho-British Columbia
When: September 10 to 15, 2019
This tour circles through the Selkirk Mountains, a range that sprawls across the Idaho Panhandle, eastern Washington, and parts of southern British Columbia. For 370 miles over six days, cyclists ride on secondary highways, off the beaten path through breathtaking scenery. There are some pretty tough climbs on certain stretches, but a rest day in the middle allows you a day off from the 70-mile rides. If you have the energy, there's plenty of hiking around and small communities that offer local food and beer. In September, the nights and mornings are crisp, while the days are warm and sunny. Keep an eye out for mountainside aspens transitioning to gold.
Mountains to Coast Ride 
Where: North Carolina
When: September 29 to October 6, 2019
Roughly 1,000 people gather each year to ride for seven days from the Blue Ridge Mountains to North Carolina's coast through high-country forests, pine woods, and wetlands. This year's route will start in Blowing Rock, a village named after a rock formation that overlooks the best of southern Appalachia's mountainous topography. After more than 400 miles, the ride ends at Atlantic Beach, one of several communities along the Bogue Banks barrier island, which boasts 21 miles of beachfront. Expect some elevation changes in the first half of the ride until leveling out and then coasting downhill until you reach the sea.
Big BAM on the Katy 
Where: Missouri
When: October 7 to 12, 2019
This year marks the second installment of the Big BAM on the Katy, the fall version of the Big BAM, or Bike Across Missouri. The Katy Trail is nearly 240 miles and the longest rails-to-trails project in the United States. It's off-road riding within Katy Trail State Park, closely following the Missouri River. The route passes through the state's wine country—near the town of Hermann, German settlers have been growing grapes since the 1830s. "You'll find great bratwurst and beer, plus there are a dozen wineries in the region," says Greg Wood, the ride's executive director. Daily mileage ranges from 40 to 60 miles, but with easy grades and no cars to contend with, it'll make for an easy ride that's perfect for beginners and younger cyclists.
Lead Photo: Saro17/iStock