I've Pet That Dog Is The Best Thing on Twitter
Meet Gideon, the ten-year-old boy who has pet 600 dogs and counting—and is making the internet a better place, one pat at a time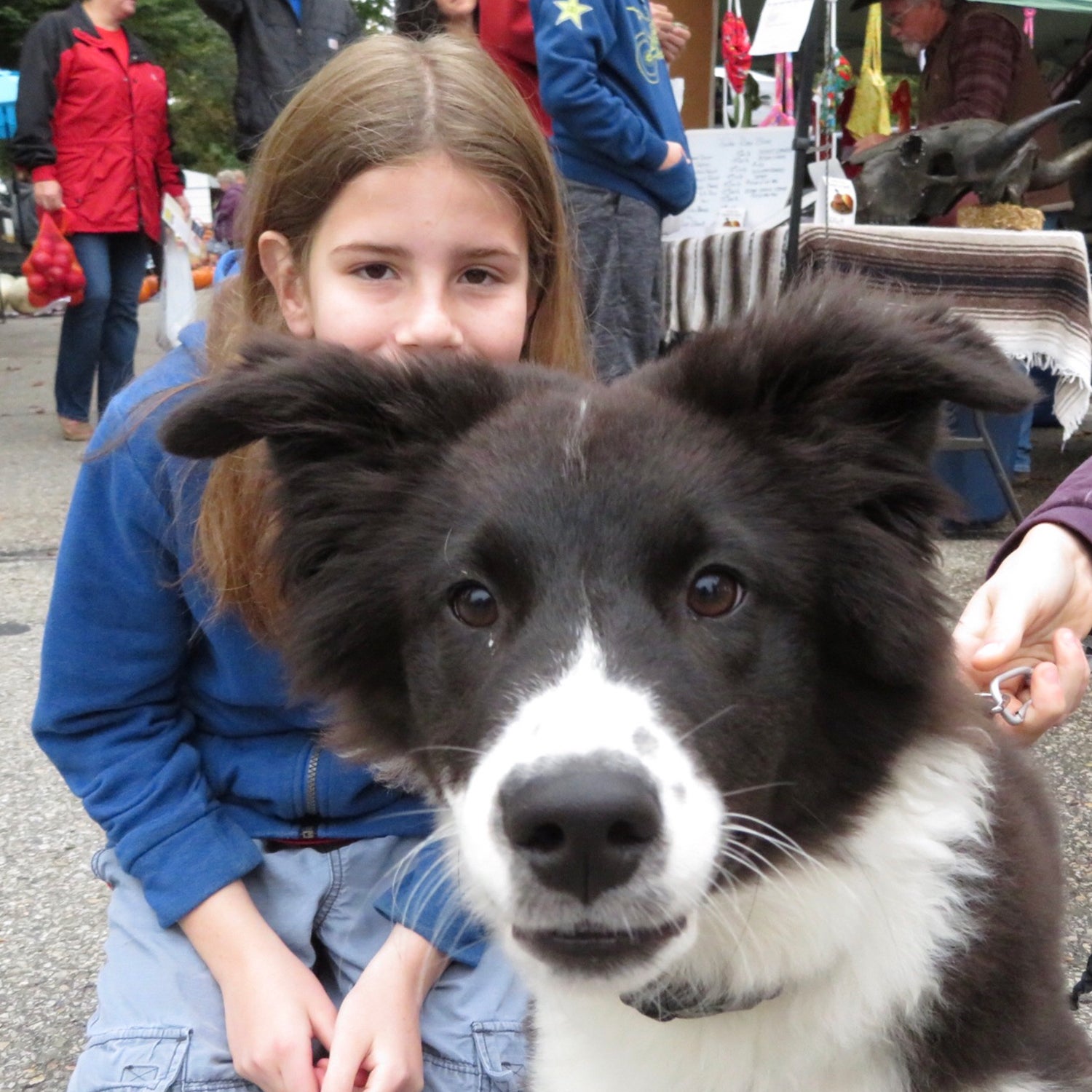 @IvePetThatDog(Photo)
Heading out the door? Read this article on the new Outside+ app available now on iOS devices for members! Download the app.
I met Gideon. He's a ten-year-old boy from Cedar Falls, Iowa. "When I was eight, every time I saw a dog, I needed to pet it," he told me. "So I asked my mom, 'Can I post pictures of dogs online?' and she said, 'What do you mean?' And I said, 'I want to post pictures of dogs online.' I love dogs so much, I want them to have a little bit of fame."
Two years later, the dogs are a little bit famous—and Gideon is, too. He runs the Twitter account @IvePetThatDog, which has more than 130,000 followers at last count, and which may be, objectively, the best thing on the internet.
Gideon plays piano, drums, bells, the xylophone, and mallet percussion. He has a dog (the medium-size Walter, who likes belly rubs and ham) and runs a Chihuahua fan club with a friend in California (they discuss things they like about Chihuahuas, such as their tiny heads). His first posts on Twitter, in April, were simple: pictures of himself meeting dogs, sometimes with little stories ("Sasha came from a litter of only two puppies, which is rare"). One day in May, he went to school in the morning and had 100 followers and came home to find 5,000: with a few high-profile retweets, the internet had done its thing. Five months later, his account continues to grow, and he's now met more than 600 dogs. Is there pressure having this many eyes watching him pet dogs? "No pressure," Gideon says. "Only happiness."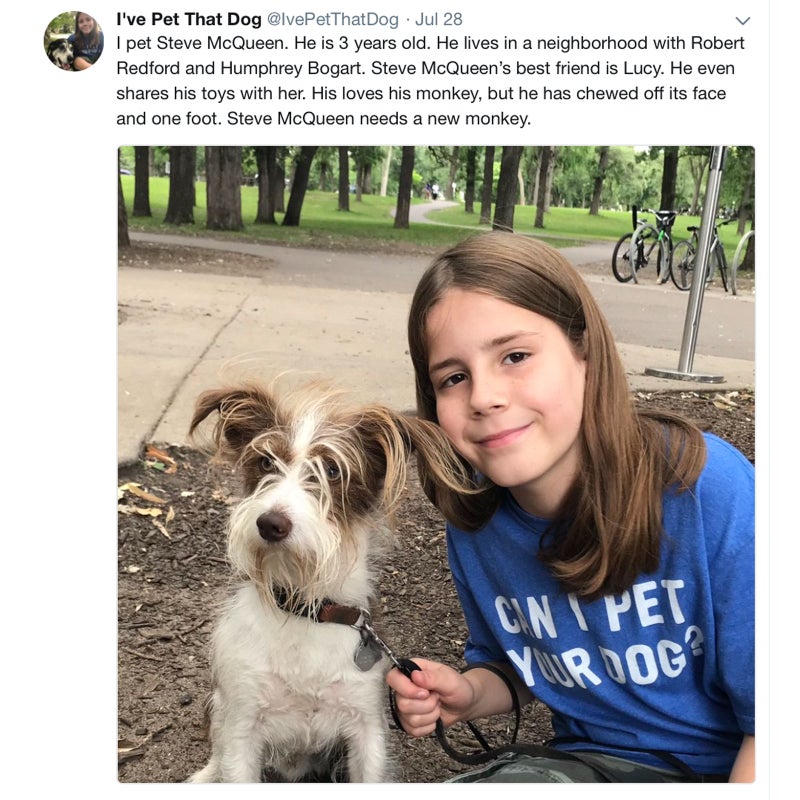 Three or four times a week, Gideon goes with his mother, Rachel, and his little brother, Nigel, on dog-finding missions. "We find all the dogs we can get," Gideon explains. They scope out the dog park and the farmers' market, often running into old friends. But the Cedar Falls Farmers' Market is closing in a few weeks, so they'll have to get extra creative. Now that they've met all the dogs in their neighborhood, they sometimes have to drive for 30 or 40 minutes to find a new dog. When they see one, they circle back—"Do we have this dog?" Gideon asks himself—and pull over. "Sometimes the people look nervous," Gideon said, "like, Are they stalking us?" But it doesn't take long before the eager ten-year-old puts his new friends at ease. About half the time, people already recognize him. Cedar Falls is a small town, and he's developed a reputation.
While Nigel sits in the car and reads graphic novels, Gideon asks owners a series of questions about each dog: How old is she? What's unique about him? Do you have any funny stories? If it's OK with the owners—in his posts, Gideon calls them caregivers—Rachel takes a photo, and Gideon composes a description, which he dictates to his mother. The result, as you scroll through his Twitter feed, is soothing in its familiarity. There's Gideon, his face bright, long hair swinging as he leans toward his new friend; the dog—a collie or a pit bull or a flat-coated retriever—gazes at some unseen movement; a leash extends out of the frame. As a follower, you sense the owners' patient presence, just as you sense the loving parent snapping the shot.
I pet Daisy, each post begins—or Ellie or Milo or Mayhem. It continues: She is a six month old Chiweenie. Her favorite toy is a pig that oinks….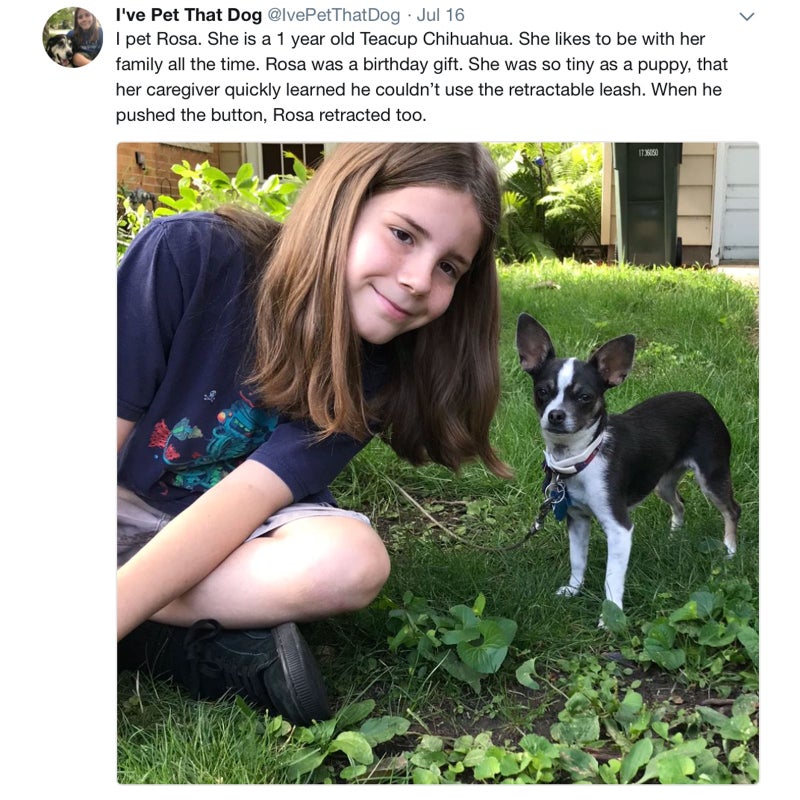 The rhythm is childlike—as in the best children's books, Gideon's feed establishes a pattern, then breaks it in surprising ways—without being childish, and it's the combination of the two that makes it so compelling. Our relationships with dogs are a microcosm of human relationships, not dumbed down so much as distilled, and to glimpse the love between so many (unseen) people and their animals is to recall, in microdoses, the purest parts of human community. Folks on Twitter describe the act of reading Gideon's posts as "self-care," but it's also, in many ways, an act of witnessing and caring for each other.
The project has been transformative for Gideon, too. For instance, he never even knew what a Labradoodle was! Now he knows so many dog breeds. "I'm a little more popular," he tells me solemnly. "I've met a lot of friends, like you and @dog_rates. I've learned that all the people I've met love their dog." If he could interview the dogs that he meets, rather than the people, he thinks that their stories would be about the same: "The human that pets me and loves me is my best friend," he imagines the dogs might tell him. But he doesn't speak Dog, so for now, he talks to the humans.
Fifth grade is a big year, and Gideon has big plans—to pet more dogs. "There's still tons more dogs left in Cedar Falls," he says. "I'd say maybe 50. I get to look out the window and say, Do I have that dog? That dog looks awesome."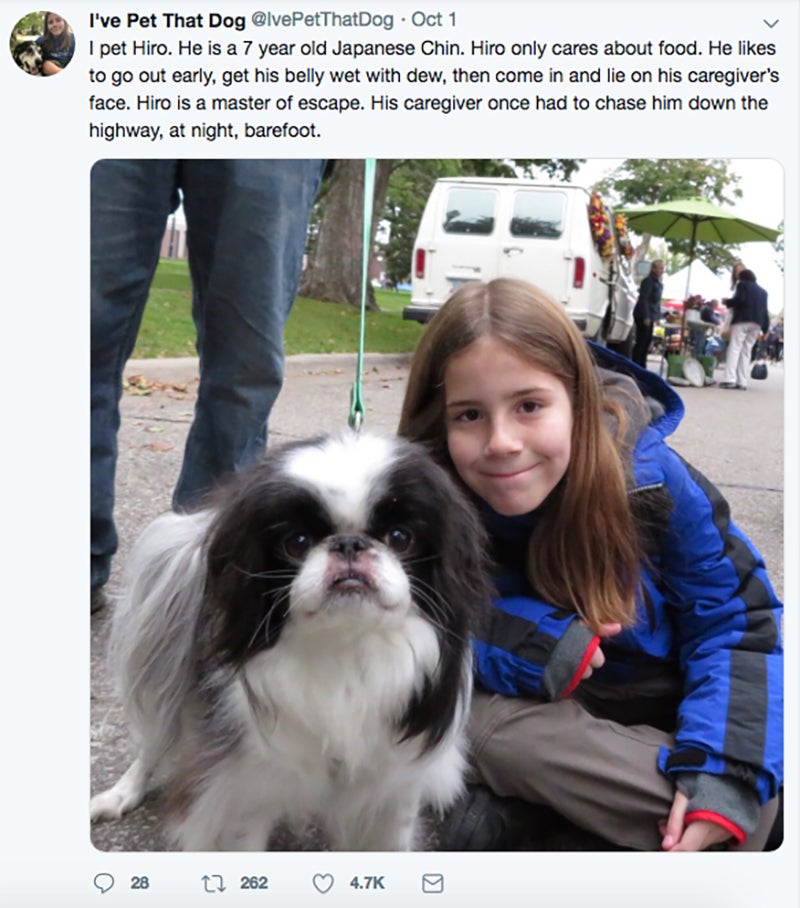 Lead Photo: @IvePetThatDog
Trending on Outside Online