Couple Found Dead on Grand Canyon Trail
The bodies of Garret Bonkowski and Jessica Bartz were discovered on October 1 on a South Rim trail. How they died remains a mystery, and their families want answers.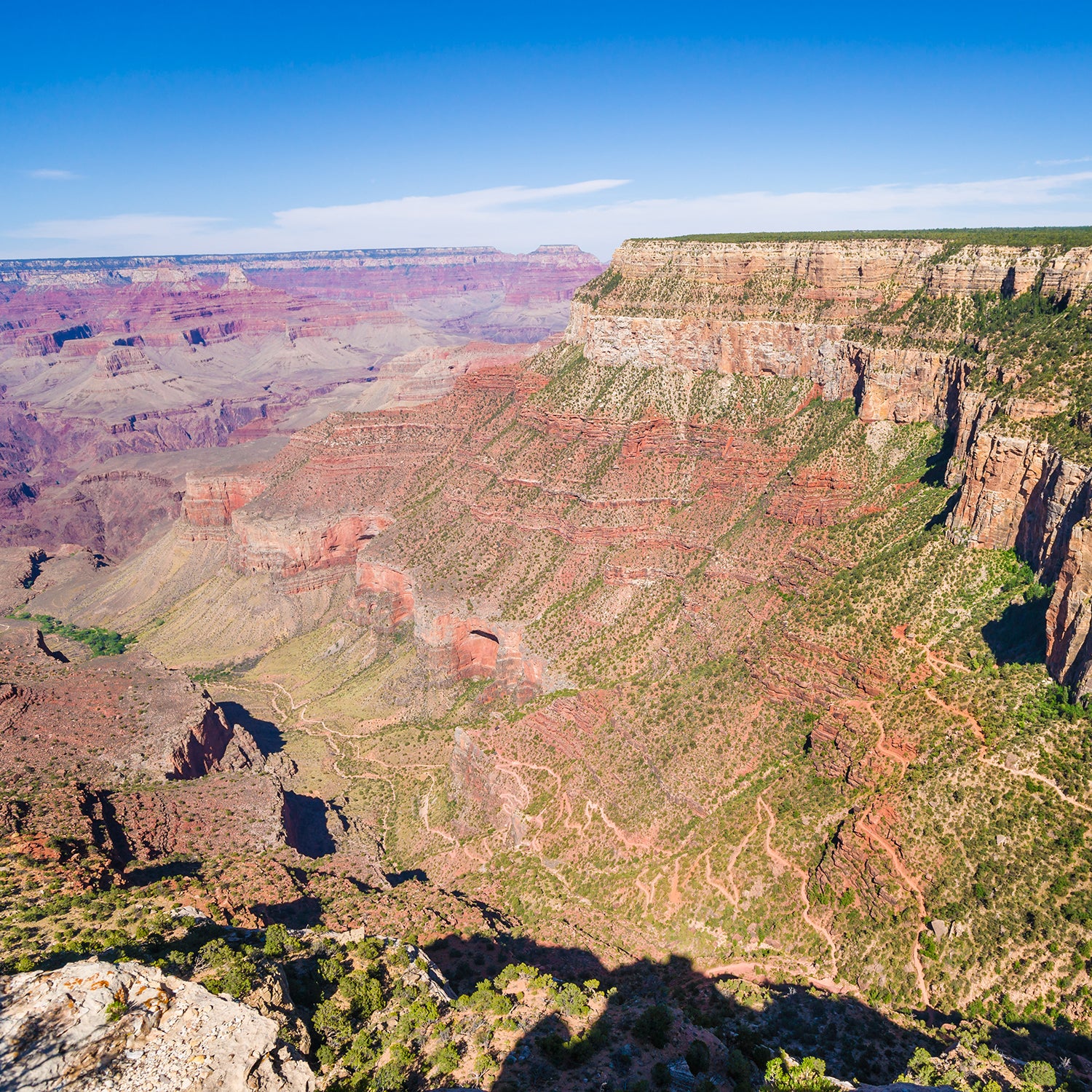 miralex/iStock(Photo)
Heading out the door? Read this article on the new Outside+ app available now on iOS devices for members! Download the app.
On October 1, two hikers traversed a cliff about 100 feet below the South Rim of the Grand Canyon. They were on what's known as a social trail, a path that is not maintained or recognized by the National Park Service but is created over time by visitors as they step off established routes. This particular social trail runs below the Trailview 2 Overlook, one of the park's most popular destinations. On a clear day, you can see the full expanse of the canyon from the overlook, including the legendary Bright Angel Trail, which stitches its way six miles from the rim down to the Colorado River.
As the two hikers made their way around the base of the cliff, they came across the bodies of a couple in what park spokesperson Kari Cobb calls "close proximity" to one another. Neither of the deceased carried any identification with them, nor was there any evidence that they had brought a backpack, water, or other supplies. It wasn't clear how long they had been dead or how they had died.
In the days that followed, a few of those questions would be answered. The deceased individuals were identified as Garret Bonkowski, 25, and Jessica Bartz, 22, both from Peoria, Arizona, a suburb of Phoenix. The couple had been recorded entering the park at approximately 3:30 p.m. on September 18, presumably as part of an extended road trip they were taking as they relocated to Bartz's native Iowa. Her car was found parked in a designated lot near the overlook.
Everything else about what brought Bonkowski and Bartz to the Grand Canyon—and more importantly, how it is that they died on this trail—remains a mystery. And that's proving intensely frustrating for their friends, family, and park officials.
---
Each year approximately six million people visit the Grand Canyon. That's about 20,000 a day. The overwhelming majority of them—about 90 percent, Cobb estimates—visit the South Rim. From sunrise to sunset, tour and shuttle buses disgorge passengers at the Trailview Overlook every 15 minutes. The overlook is also an easy walk from the park's visitor center and main village. If any of the thousands of people who visited the overlook that day saw Bonkowski and Bartz, they haven't yet spoken up, despite repeated calls for information from the National Park Service.
"We have no idea what happened to them," says Cobb.
Presumably, she says, the couple fell to their deaths. The Trailview Overlook is part of a paved network of walkways. There's a sturdy metal guardrail intended to keep people from falling. Although it's prohibited, visitors sometimes hop over the rail to get better views or scramble down to the top of the cliff to sit or pose for pictures.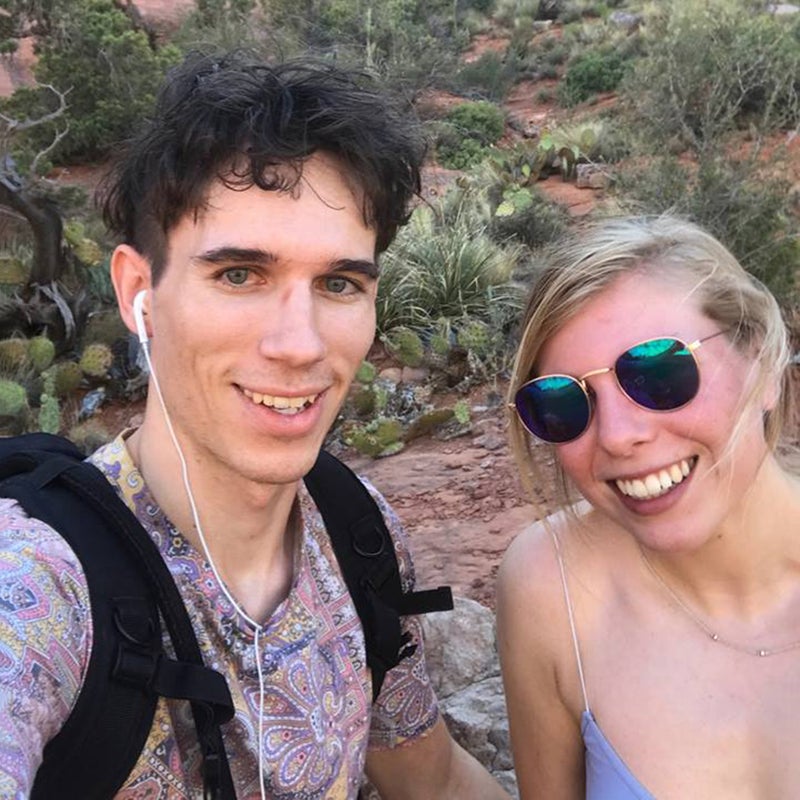 Could Bonkowksi and Bartz have tried to do the same? Did she begin to tumble and he made a fatal attempt to save her? Or was it something more tragic or sinister? The Park Service hasn't ruled out foul play or that a crime may have occurred.
Certainly, accidents happen in the park. Of the 19 fatalities last year, eight were ruled accidental. One included a teenager who lost his footing on some snow and ice near the South Kaibab Trailhead. Another included a middle-aged man who presumably tried to retrieve his hat as it blew toward a precipice. In July, visitors at the South Rim's Mather Point watched with horror as a 24-year-old nurse from Illinois climbed over the rail, intent on landing just on the other side; instead he fell 500 feet to his death. (And this week in Yosemite, another national park with high overlooks, a couple plunged to their deaths from Taft Point. The Park Service hasn't released their names and is investigating the cause of the fall.)
Each death is undeniably tragic. But prior deaths in the Grand Canyon had witnesses able to recount what had happened. And that offered at least a little closure for family and friends.
Brian Bartz, Jessica's father, is seeking some of that for himself. What details are known of her death, and Bonkowski's, he says, just don't add up. "We don't believe this is a simple case of two people falling off a cliff," he says.
He says that his daughter would regularly wake up before dawn to set out for a day in the mountains. She was a responsible hiker, and he'd taken her on wilderness trips. She was a motivated young woman excited about life. "She had a lot of dreams and plans for the future," he says. "She wanted to go places."
Sally Liddicoat, Jessica's friend and former employer, agrees. Two year ago, Bartz attended Liddicoat's real estate school in Phoenix and became like a daughter to Liddicoat. She describes Bartz as "always happy, always upbeat," even when she was working two jobs and taking courses. On an employee-orientation form, Bartz listed Reese's Pieces, tennis, and the color purple as some of her favorite things.
What details are known of Jessica and Garret's deaths, her father says, just don't add up. "We don't believe this is a simple case of two people falling off a cliff," he says.
Jennifer Follis and Gary Bonkowski, Garret's parents, say they want answers as well. They agree on the character of their son. He was a visionary thinker, they say: self-taught in art and metaphysics, he read deeply about artificial intelligence, spirituality, and existentialism. For Garret, they say, the canyons and mountains of Arizona were a leveling place to head when he needed renewal.
Bartz and Bonkowski began dating two years ago and moved in together shortly thereafter. Bartz waited tables and worked at a department store while she studied for her real estate license; Bonkowski was teaching himself computer programming. Last spring, when money got tight, they moved in with Follis. But everyone agreed it was temporary. Bonkowski had been talking about moving somewhere different. He first thought about the Bay Area, and then said he had a job prospect in Florida. In May, Liddicoat began helping Bartz figure out how she could work in Florida in real estate. But in July, Bartz stopped returning her employer's texts and calls. Liddicoat imagined that she was lying on a beach somewhere in the Sunshine State, doing what happy 22-year-olds do. She reluctantly removed Bartz from her staff roster.
Meanwhile, Bartz and Bonkowski both told their parents that his job offer in Florida had fallen through. After that the couple made plans to move to Cedar Rapids, Iowa, together, but those plans became unclear, as both Follis and Brian Bartz cite that Jessica and Garret's relationship had become rocky. What is clear is that the couple left Follis's house the evening of September 17. That was the last time any of their parents heard from them. That wasn't uncommon, they all agree. According to his father, Garret had always been a bit of a wanderer—the kind of guy who let you know he was taking a backpacking trip after he had finished.
"He was an adventurer," says Gary Bonkowski. "He was always going to do his thing and follow his heart, and you'd maybe get a text a few days later."
Bartz was the same way. She moved to Arizona after high school, excited about starting a new life. She wasn't always great about staying in touch with folks back home. Neither she nor Bonkowski was the type to consistently log the details of their lives on social media.
But they were both undeniably well loved. On October 13, more than 60 people attended a memorial service for Bonkowski at the Church of Latter Day Saints in Glendale, Arizona. This week, Bartz's friends and former coworkers got together in Arizona for a commemorative dinner near the restaurant where she worked part-time. On November 3, her family will host a memorial service for her in Iowa.
In the meantime, the National Park Service Investigative Service Branch (ISB) is working to solve the case. Brian Bartz is hopeful that the medical examiner's report, due to be released next month, will shed light on what happened. It could offer important clues about how and why the couple fell. It will include a full toxicology analysis and details about the injuries sustained by Bartz and Bonkowski and could help flesh out the narrative of their deaths and indicate whether a crime was committed.
The ISB will issue its own report, says Cobb. Its aim is to determine the nature of Bartz and Bonkowski's death. While it's rare for two people to die together of accidental causes in the park, it does happen. Last year a grandmother and grandson were both swept away after losing their footing while crossing a creek there. Of the remaining 17 deaths last year, six were ruled suicides. A murder-suicide hasn't been recorded in the park since 2011.
To make headway on the case of Bartz and Bonkowski, Cobb says, the park needs witnesses to come forward. "Right now we literally have nothing to go on," she says.
Anyone with information that could help investigators is being asked to call or text 888-653-0009. Information can also be submitted online at nps.gov/ISB or by e-mail at nps_isb@nps.gov.
Lead Photo: miralex/iStock