All the Bad Habits We Won't Give Up in 2019
The editors weigh in on all the things we ought to give up... but won't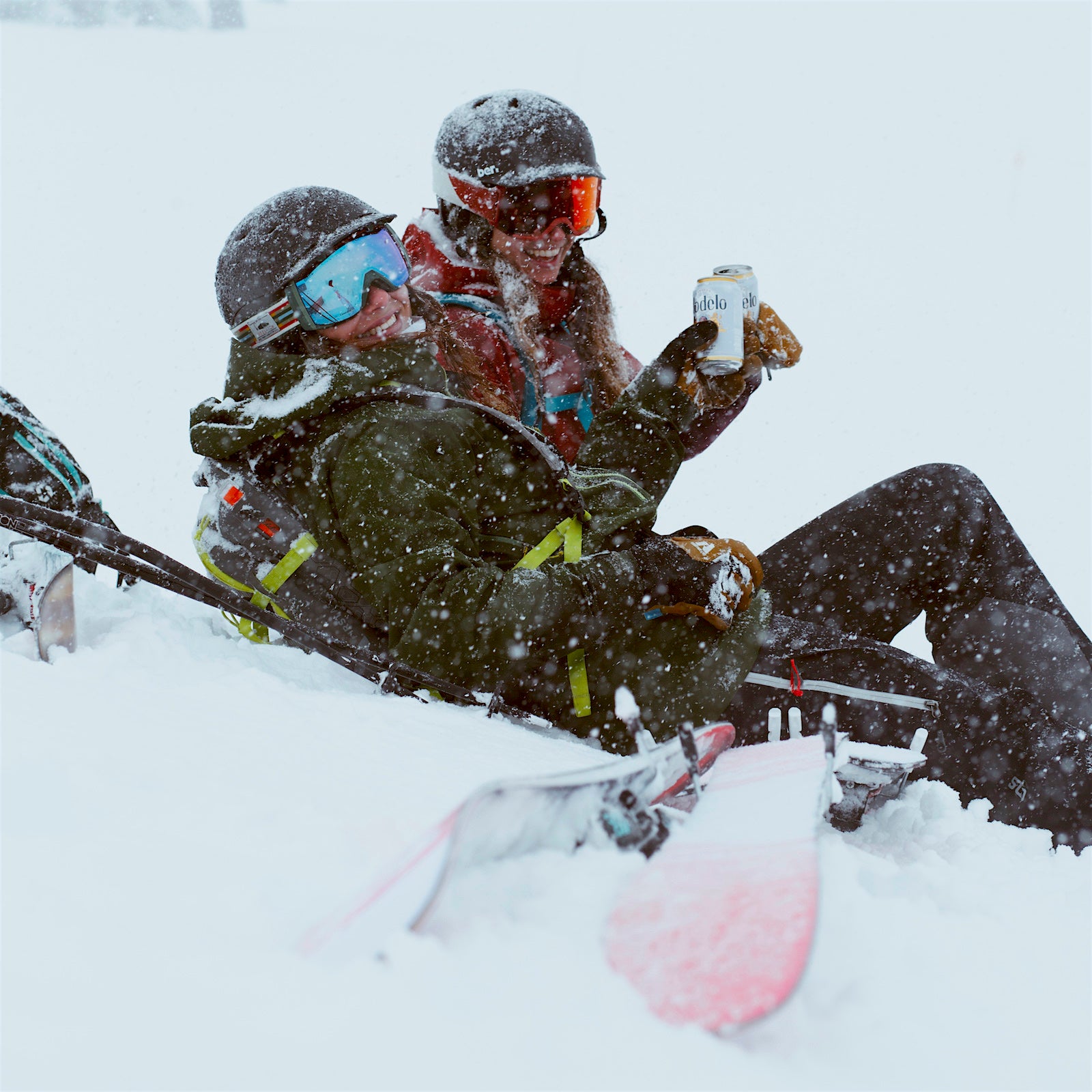 Heading out the door? Read this article on the new Outside+ app available now on iOS devices for members! Download the app.
Resolutions are so 2018. At Outside, we're athletes, but we're human, too. After spending the year reporting on how the fastest, strongest, and boldest people in the world live, eat, and train, we definitely know better. But there are plenty of bad habits we just can't be bothered to kick. Here are all the vices we'll be hanging on to in the New Year. 
Midday Beer
Beer isn't exactly performance fuel. It's liable to explode in my backpack, and it doesn't make me ski any better than I do stone-cold sober. But I'll never pass up a chairlift brew. Something about sharing a Modelo midlift makes the boot-packs, bump runs, and warp-speed groomers go down a little smoother. Plus, it's hydrating!
—Abbie Barronian, assistant editor
Skipping Yoga
Every few months, I will attend a yoga class after a long day at work, and it will feel life changing. I get back in touch with my breath, stretch muscles I forgot I had, and feel my core awakening with each vinyasa. At the end I think, Wow, Luke, you should do this every day. Then I march up to the counter, purchase a pass that costs more than my car-insurance premium, and proceed to not go to yoga for another two months. While I will do my best in the New Year to improve my work-life balance and commit to an exercise routine, I am fairly confident that this routine will implode by mid-January, and my 2019 pass will go unused for a while—when I will attend another yoga class, have a life-changing experience, renew my pass, and do the whole thing again.
—Luke Whelan, research editor
Ice Cream
I eat an ice cream sandwich for dessert nearly every night of the week—preferably a Trader Joe's Sublime ice cream sandwich. It contains nearly half of my daily recommended sugar intake and has zero health benefits, but it's inexpensive and tastes damn good. Every couple of weeks, I tell myself I'm going to stop buying them, yet they inevitably find their way back into my freezer. And I don't think that's going to change in 2019.
—Ben Fox, affiliate reviews manager
Human Hibernation
I used to crank it up in January: lace up my Gore-Tex running shoes, strap on my Yaktraks, and huff and puff on a frigid winter run. And I truly hated January. Last year, I went full 360: I still ski, of course, but January is now for walking the dogs. For reading. For sitting. For detoxing all that holiday wine. I like to think of myself as a bulb that needs that long cold month of hibernation to fully bloom in March. But I will say, that first run in February is extra painful.
—Elizabeth Hightower Allen, features editor
Constant Caffeine Intake
I drink coffee from the minute I wake up until I eat lunch—probably around five cups. I know it's bad for me. I know my body should be getting water instead. But by golly, I'll never give up my endless morning joe. It's a ritual of sorts.
—Emily Reed, assistant editor
Afternoon Candy
Every Friday afternoon, I grab a quarter, head to the Outside kitchen, and purchase a handful of peanut M&Ms from the candy dispenser. Because I try to avoid sweets during the week, this little ritual marks the start of a weekend hopefully filled with hikes, runs, and other outdoor activities. It's something I'll continue into the New Year, until the candy dispenser stops working—or I run out of quarters.
—Kelsey Lindsey, assistant editor
Post-Anything Bagel 
For the few years that I lived in Santa Fe, I suffered through a miserable, bagel-less existence. I moved to New York about six months ago, and I've rediscovered the satisfaction of the post-long-run bagel. And my fix has expanded: it turns out bagels taste just as good without the long run. I hesitate to even call this a bad habit, but I'm certainly taking it with me into 2019.
—Molly Mirhashem, associate editor
Liquid Sugar
Nine months out of the year, hot chocolate seems too extravagant and not caffeinated enough to drink casually. But when snow hits the ground, God help anyone who gets between me and my cocoa drinks. There is no wrong way to prepare it: straight up, with marshmallows, topped with tons of whipped cream, spiked with peppermint Schnapps, or even directly from the packet with lukewarm water. As long as it is basically warm and basically tastes chocolatey, it fills me with the warmth and comfort that I need after slipping around in snow all day, on skis or on foot.
—Erin Berger, associate editor
Poor Recovery Tactics
I will not stop ignoring my foam roller. I know I should make friends with it. I know it will probably keep my hips looser, my calves happier, and my tendinitis at bay. I know it takes only ten minutes. But there are so many more fun things to do with those ten minutes, like eating snacks and scrolling through Instagram—very important business, OK?
—Ariella Gintzler, assistant editor
Post-Send Pizza 
Many climbers have pre-send rituals—brushing the crux hold a specific number of times, retying their shoes, completing a series of dynamic stretches. Well, I have a post-send ritual, and it takes the form of frozen arugula pizza from Trader Joe's. While I realize loading up with carbs after intense exercise isn't exactly optimal, pizza is the one food that satisfies me physically and emotionally after a hard day of bouldering (or pulling plastic).
—Jenny Earnest, social media manager
Gummy Bears
I know that these are terrible for me and also rot my teeth, but I don't care. The boost a handful of gummy bears (obviously, the clear ones are the best) gives me after a long run or a day at the crag is well worth the empty calories.
—Abigail Wise, online managing editor
Breakfast Burritos
These aren't as bad for my body as they are for my wallet. I can't count the number of times I've started a morning intending to eat cheap oatmeal and then been seduced by the thought of a hot, savory, cheesy, green-chile-filled burrito. At roughly $6 a pop, depending on where in Santa Fe I go (that's a story for another day—sussing out the best breakfast burrito in town), it's tough for me to avoid spending $30 a week on breakfast. I try, but I don't try that hard. And in 2019, I doubt this will change.
—Svati Narula​​​​​​, associate social media editor
Pocket Bacon 
First of all, I don't consider this a vice. It's performance fuel, people, filled with delicious, savory calories. But for all you Strava fiends who think that bacon is too fatty and too greasy, and who might argue that I'd be better of with some superfood that tastes like cardboard, know that this delicious snack, wrapped in tinfoil, tastes like the best thing ever after I've been ripping laps for half the day and need a chairlift pick-me-up. 
—Axie Navas, executive editor