Liza Howard Is Busy as Hell—but She Finds Time to Win
The coach, NOLS employee, and professional ultrarunner attributes part of her success to her hectic schedule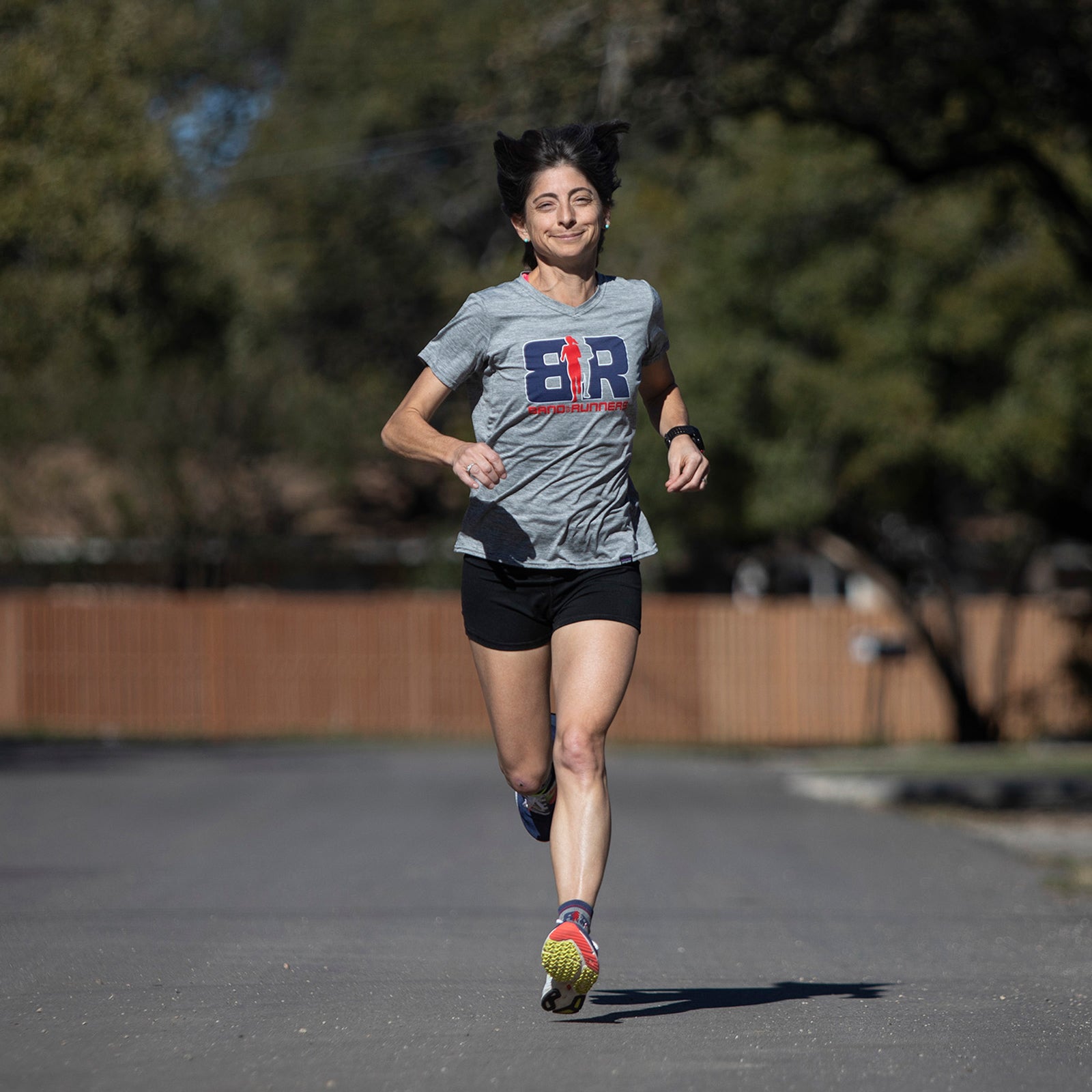 Lisa Krantz(Photo)
Heading out the door? Read this article on the new Outside+ app available now on iOS devices for members! Download the app.
Liza Howard is a podcast aficionado. The 46-year-old professional ultrarunner loves running podcasts like Marathon Talk and Becoming Ultra but also investigative true-crime podcasts, episodes about big political scandals, and series about medical procedures gone wrong—especially series about medical procedures gone wrong. And you can't really blame her. Instead of setting out on lengthy trails, Howard trains for her 100-mile races by running on the same 2.1-mile loop in her San Antonio neighborhood for hours or slogging up to 40 miles on the treadmill. In all this monotony, it's crucial she keeps herself entertained. So, podcasts—and trashy TV. "Nothing too serious. It needs to be a guilty pleasure," Howard says. 
Such is the life of a professional trail runner who works at the National Outdoor Leadership School on weekends and is raising two kids (ages eleven and five), one of whom she homeschools. While some of her peers can dedicate large chunks of their days to training, Howard has to squeeze it in between work, errands, sick kids, math tests, and soccer games. In other words, she's a lot like most mothers: she's busy as hell. 
But instead of seeing her career and family as an obstacle, Howard has decided it's her secret weapon. "I think parents have a high tolerance for putting up with pain and suffering," Howard says. "And that's what running ultras boils down to." This mindset has helped Howard rack up wins at big races like the Leadville 100, the Rocky Racoon 100, and the Javelina Jundred, as well as bag multiple USA National Championship titles, including the 100K Championship in Madison, Wisconsin, last spring that earned her a coveted spot on the U.S. ultrarunning team. Last September, Howard donned the stars and stripes at the 100K World Championships in Croatia.
In fact, Howard may have never found ultrarunning if it weren't for her busy schedule. Although she dabbled in road racing in her twenties, she didn't think about ultras until she was 35, shortly after having her first kid. "I was living in a new town where I didn't know anyone, and had a new baby that was kind of grumpy. Getting out of the house to run for several hours sounded like a good idea," Howard says. "And honestly, ultrarunning is so much easier than parenting."
After winning the Cactus Rose 100-miler in 2009—just a year after running her first ultra—Howard kept hunting for new challenges. "Running really long distances turned out to be something I was good at," she says. "I'm not fast, but I can keep going at the same speed for a long time." While running the Umstead 100 in 2014, after having her second child, she stopped three times to breast pump—and still set a women's course record. 
Howard says that coming to the sport later in life has given her a certain amount of patience that young runners don't always have. The day before the World Championships in Croatia, Howard broke her pinky toe. She ran, but not fast. While some runners might be upset by this setback, Howard remains unfazed. "I didn't do much to help our team, but it was still an amazing experience," she says. "The older you get, you have a better perspective and understand that nobody really cares if you place third or first or last."
"I think parents have a high tolerance for putting up with pain and suffering," Howard says. "And that's what running ultras boils down to."
But the wisdom that comes with age doesn't change the fact that Howard is competing against many runners who have more free time and fewer responsibilities. While Howard teaches her son about Vikings at the kitchen table and sneaks in a run on the treadmill after dark, her Instagram is populated with fellow runners traveling to mountain summits and training at elevation. Howard might be wise, but she's also human. "For sure, there's envy," she says. 
At first, Howard spent years being frustrated with the limitations her life put on her running, but she eventually made peace with her situation. "I was tired of being frustrated all the time. I decided to be OK with not being able to do the same things as a 20-year-old living in a van," she says.  
It's a lesson Howard tries to pass on to other runners. When she's not training, raising her kids, or at her job, Howard is coaching private clients in the fine art of ultrarunning. In addition to working on hill climbing and rock-garden techniques, Howard tries to teach her athletes to be kind to themselves. "If you can only squeeze in a ten-minute run on the treadmill some days, that's OK. It's like a snowball that builds as it rolls down a hill. Every little bit counts," she says.
Howard's advice for staying motivated: set a big goal. "Something that will scare you enough to motivate you to train but attainable enough so you won't give up when things get hard. It needs to have some romance to it," she says. (Some other advice: it's OK to watch trash TV while on the treadmill.) Howard's own goals for 2019 include running the Badwater 135 in California, which spans 135 miles from Death Valley to Mount Whitney; making the U.S. ultrarunning team again; and trying to set a marathon PR. "Slowing down is on the horizon somewhere, but I'm not there yet. I know I can run a faster marathon, and I know I can run a better race at the World Championships. I have some unfinished business there."
Liza Howard's (Kinda) Superfun Treadmill Workout
Howard admits there's nothing exciting about running on a treadmill, but it's a great tool for speed and hill work. Here's one of her favorite routines for the ol' hamster wheel. 
After warming up on a low speed, start playing with the pace and incline. Every tenth of a mile, increase the speed by one mile per hour until you can't hold it anymore, then drop it down to a reasonable pace. Repeat. When you're bored with that, do the same thing with the incline, increasing it by one degree every tenth of a mile until you reach your limit.  
Lead Photo: Lisa Krantz
Trending on Outside Online