Indefinitely Wild
Why Harley's New Electric Motorcycle Costs $30,000
The LiveWire is a giant leap for Harley, if only a small step for the motorcycle industry as a whole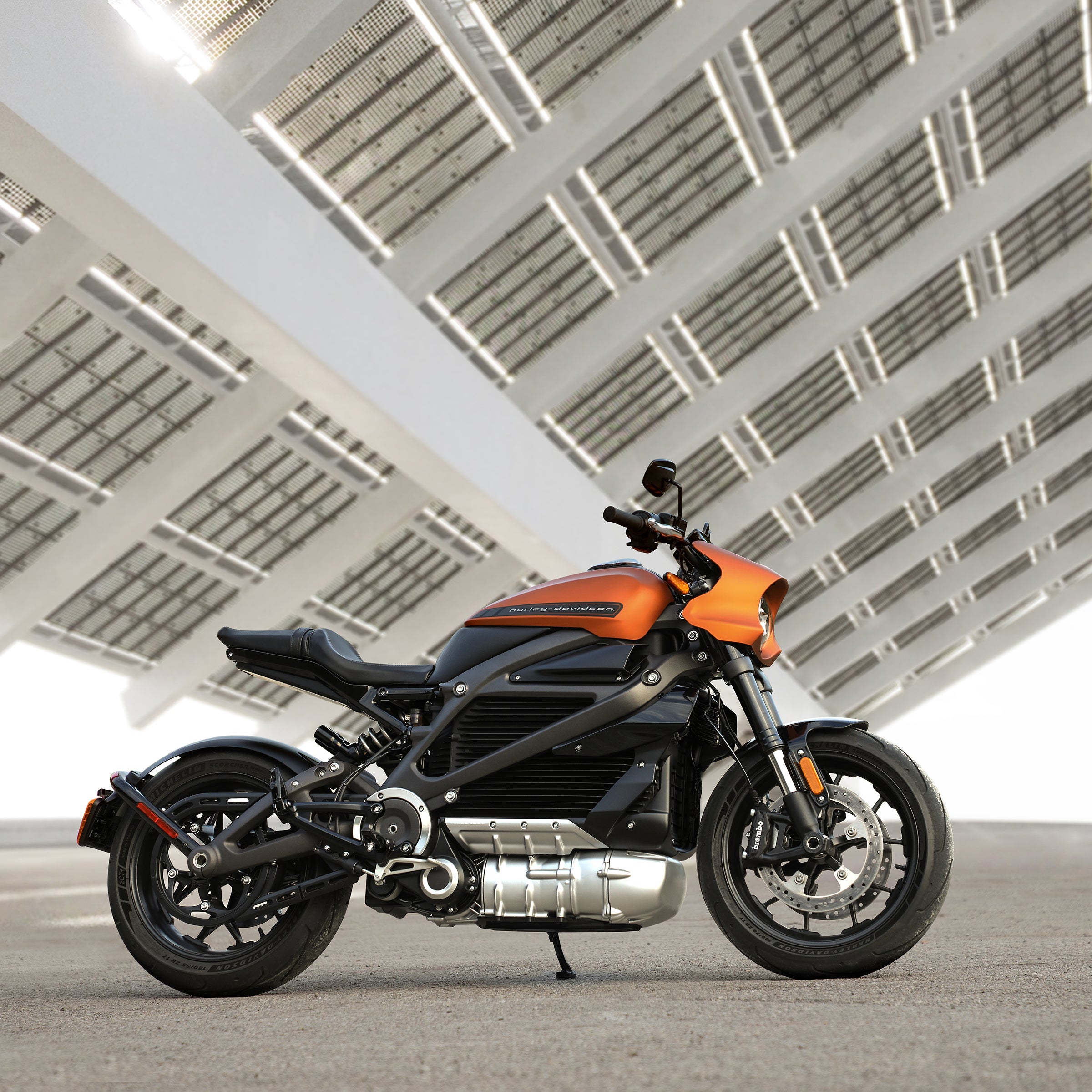 Heading out the door? Read this article on the new Outside+ app available now on iOS devices for members! Download the app.
The motorcycle world is full of contradictions. On one hand, innovation is relatively inexpensive. It can cost as little as $5 million to $6 million to develop a new motorcycle, whereas for a car, that number is closer to $5 billion or $6 billion. On the other hand, motorcycle riders are incredibly conservative and don't typically welcome change. 
Adding to that conundrum, motorcycles make ideal personal transportation for the increasingly congested roads in our increasingly urban world, but our society is becoming so averse to risk that motorcycles are seen and used as dangerous toys—not practical transportation. 
All that explains why we saw a boom in the development of electric motorcycles a decade ago, before electrification really took off in the car world, then a stagnation in available electric motorcycles over the last few years, even as electric cars started to become more commonplace. Now the largest motorcycle brand in the United States—Harley-Davidson—is finally putting its first electric bike on sale. If you've got $30,000, you can order the LiveWire right now for August delivery.
Why has it taken so long to get an e-bike from Harley, and why does it cost so much? I think I'm uniquely positioned to answer both questions. 
Back in the late 2000s, when the first electric motorcycles were beginning to hit the roads, I started a little motorcycle blog as a side project. I was eager to create content for it but couldn't compete with the big motorcycle magazines for access to the Ducatis and Hondas of the industry. But those same magazines were incredibly skeptical of electric vehicles, so I was able to leverage my enthusiasm for seat time on those. I ended up reporting on a bunch of electric tech developments during what ended up being a time of exciting change for the motorcycle world. 
Because it was so much cheaper and simpler to develop electric motorcycles, a host of innovators saw them as a way to try new ideas and develop expertise around batteries, electric motors, and the software that controls them. The idea was that, by building some really neat bikes, they could then sell all that intellectual property back to the much richer car world once the inevitable electrification took hold. And that competition to develop electric vehicle (EV) technology led to real-world competition, as those innovators started taking to racetracks in an attempt to prove who had the best ideas. Electric motorcycles went from dorky little commuter bikes to unprecedentedly fast-racing prototypes in just a couple of years. 
While the hope for a big payday remained that a car maker might come knocking, that the rapid pace of innovation and the racetrack success began to make the prospect of a mainstream-production e-motorcycle seem viable, too. Someone just needed to figure out how to pack a feasible range into a fun package and bring that to market at a price people would pay. 
The first manufacturer to bring a genuinely good electric motorcycle to production was a little startup called Brammo, based out of Ashland, Oregon. Its Empulse was the first electric bike you could buy that had a maximum range of over 100 miles and a top speed of over 100 miles per hour. On top of that, it was an absolute blast to ride, something I discovered in the mountains above its headquarters, where I spent a couple of days carving up twisty roads with Brammo's in-house racer, Eric Bostrom. Thanks to the relatively quiet nature of electric motivation, it was the first time I could actually hear the leather peeling off my knee sliders as they scraped along the asphalt through corners. It felt like the future had finally arrived.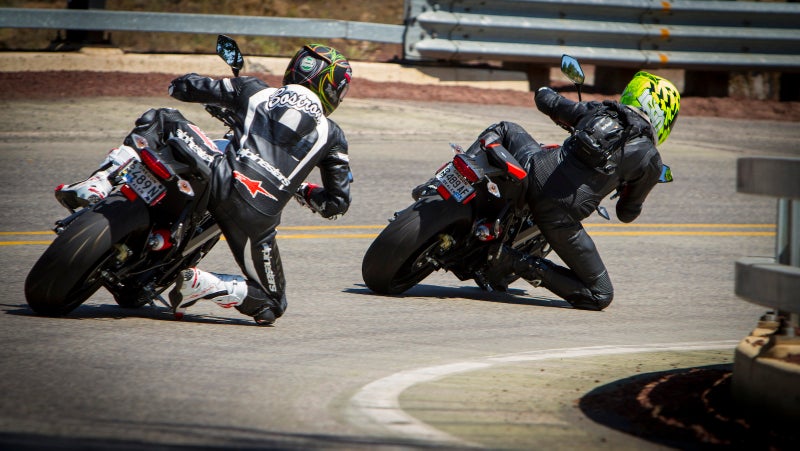 That ride took place in August 2012, a date which feels particularly relevant because it was exactly seven years before deliveries of the LiveWire would begin, and it was around that same time that Harley started development of that bike. Also, the new LiveWire appears to be shockingly (get it?) similar to that old Empulse. 
The LiveWire's top speed is claimed to be 110 miles per hour. I maxed out an Empulse at 105. Measured under the Society of Automotive Engineers' test cycle, Harley says its LiveWire will have a maximum urban range of 110 miles. The same metric for the Empulse was 121 miles. While Harley isn't releasing the capacity of the LiveWire's battery, we can extrapolate from the similarity in performance and range that it will be close to the Empulse's 9.3 kilowatt-hours. Batteries remain the most expensive single component on electric vehicles, so this transitions us nicely into a discussion about price. 
Most signs pointed toward the Empulse becoming a success. Brammo had secured the investment necessary to put it into production. It was winning races around the world. The company signed major manufacturing partnerships that could have given it the scale necessary to respond to huge demand. But that demand never really materialized, in large part because, at nearly $20,000, the Empulse cost more than twice as much as the internal-combustion-engine bikes Brammo identified as the competition. Rights to the Empulse were eventually acquired by Polaris, which sold the bike under its Victory brand. When that brand went under a couple years ago, it took the Empulse with it. 
I was taken by surprise, then, when Harley announced that the LiveWire would cost $29,799. Back in 2012, EV batteries cost about $800 per kilowatt-hour. Today, Tesla has whittled that cost down to $190 on its Model 3, while the Chevy Bolt's batteries cost General Motors $230. Surely, given the economies of scale Harley is able to leverage (it sold about 230,000 motorcycles in the U.S. last year, while Brammo never sold more than a couple hundred) and the time that has passed, Harley should be able to sell this bike for substantially less money. So I called up Marc McAllister, Harley-Davidson's vice president of product planning and portfolio, and asked him what gives. 
"We don't expect mass-market adoption," McAllister says. In addition to parts and materials, the price of a new motorcycle is a function of the cost it takes to develop it, spread across the projected-sales volume. Because this is Harley's first electric motorcycle, the cost of new-production processes, equipment, and facilities, as well as employee training, are also a factor. McAllister wouldn't tell me the number of sales Harley is targeting for the LiveWire but, at $30,000, we can assume that number will be fairly low. 
https://youtube.com/watch?v=DRy9H_6qbtM
Rather than sell the bike in huge volumes, McAllister tells me that it's the LiveWire's job to drive interest in the idea of an electric Harley, because more of those are on the way. "The LiveWire is the beginning of a portfolio of electric motorcycles," he says. "We see this portfolio ranging from a few thousand dollars all the way up to LiveWire." Harley has already shown an electric scooter and an electric dirt bike it plans to put into production soon, and its future range of EVs could include everything from pedal-assist electric bicycles to heavy cruisers. The idea is that a lot of people will be interested in buying a $3,000 electric scooter from the brand because it shares some of the excitement of the $30,000 LiveWire. 
The big question hanging over the LiveWire, then, isn't its cost, but whether it will be exciting enough to shine a halo on the rest of the company's forthcoming EVs. The rest of the motorcycle world hasn't taken the last seven years off. Right now you can buy a $19,390 electric bike from Zero Motorcycles that has an urban range of 223 miles and similar performance to the LiveWire. Lightning Motorcycles will sell you an electric bike with a 218-mile-per-hour top speed for $38,880, and it just announced that a new model, coming in March, will have a 150-mile range, a 150-mile-per-hour top speed, and cost just $12,998.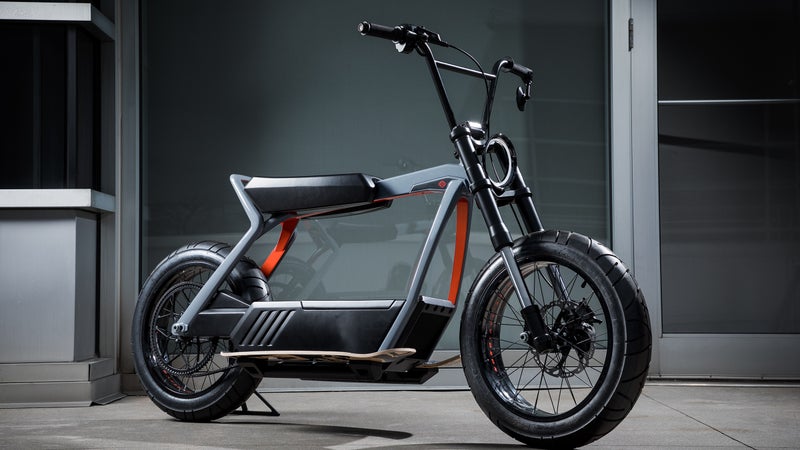 I asked McAllister what the LiveWire (or other future Harley EVs) will offer that the cheaper, faster competition does not. "First of all, we're bringing an authentic Harley-Davidson experience to an electric motorcycle that handles and develops power in a great way," he says. "We also bring 115 years of experience of how to service customers, and we bring a lot more support and capability at ensuring riders have a great experience wherever they are." 
McAllister says that, later this year, the LiveWire will be available at a network of over 200 Harley dealers nationwide, a number the company hopes to grow over the coming years. Neither Zero nor Lightning sells more than a handful of bikes (they don't release exact numbers) and have scarcely any dealer presence. If you need service or support, or just want to take a test ride, odds are you'll have a Harley dealer who's able to help you nearby. No other electric-motorcycle brand can say that. 
Why hasn't another major motorcycle brand put together a mainstream electric motorcycle yet? To understand the answer to that question, you have to understand Harley's unique position in a rapidly changing market. Motorcycle sales are in the toilet here in America. The industry focused almost exclusively on selling luxury bikes to baby boomers in a prerecession economy where credit was cheap. When the housing market collapsed in 2008, it took American motorcycle sales with it. Foreign brands like Honda were able to refocus their efforts on stable markets like Southeast Asia—but Harley sells the vast majority of its motorcycles here in America. The company tried for years to market its existing product range to a new audience, before acknowledging that, in order to survive, it needs to find new ways to reach that new audience with new products. And those new products in the U.S. are going to be EVs.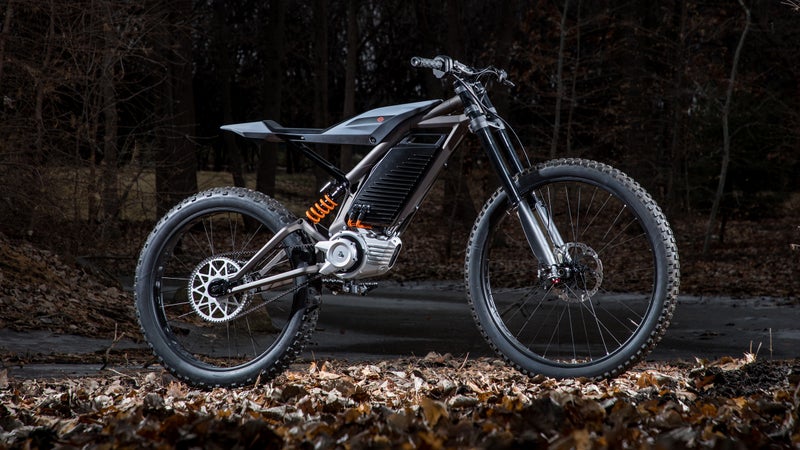 McAllister is keenly aware of the barriers to entry that have prevented his brand from reaching new riders and is pitching this new portfolio of EVs directly at those barriers. Getting a motorcycle license is expensive and time-consuming, so he says Harley will sell products small enough that they can be legally ridden on the road without a motorcycle license. Think of those as a gateway drug to faster, more expensive Harley electrics. Motorcycles can be intimidating to ride, and in the hands of the inexperienced, they can be dangerous. So Harley is adopting forward-thinking safety tech like Bosch's cornering antilock-brake system. That's present on the LiveWire, which is also fitted with programmable riding modes that alter everything from traction control intervention levels to the motor's power delivery in order to make the motorcycle both safe for beginners and exciting for experts. The American public's buying power is now concentrated in cities and in a younger generation, both of which are unwelcoming to the brand's traditional cruiser archetype. As a result, Harley is exploring ways in which it can translate its brand recognition to an entirely new generation of products that will exist across categories Harley has never before considered. 
Just like the wider motorcycle world, Harley's path to success in an electric future is full of contradictions. It needs to sell affordable e-motorcycles, but in order to make you want an affordable electric motorcycle, it has to not sell you an expensive electric motorcycle first. If you want a LiveWire, but can't afford one, then Harley has succeeded. 
Lead Photo: Josh Kurpius