Tough Has More Fun
Sponsor Content
Southern California's Urban Outdoor Playground
Surfing gets all the attention, but there's great hiking, climbing, and cycling near Los Angeles too
Non-Californians might find it hard to believe, but you can get real outdoorsy real fast in the greater Los Angeles area. Santa Monica is best known for its surfing, but it also offers great road cycling. There are tons of group rides to join, but seasoned (and serious) roadies might want to start with a visit to Helen's Cycles and the La Grange bike club. "In midseason, the A pack might include 70 riders hitting speeds of 30 miles per hour" on the flats, says frequent hammer Perkins Miller. More casual roadies should check with the Rapha Cycling Club for their weekly spin.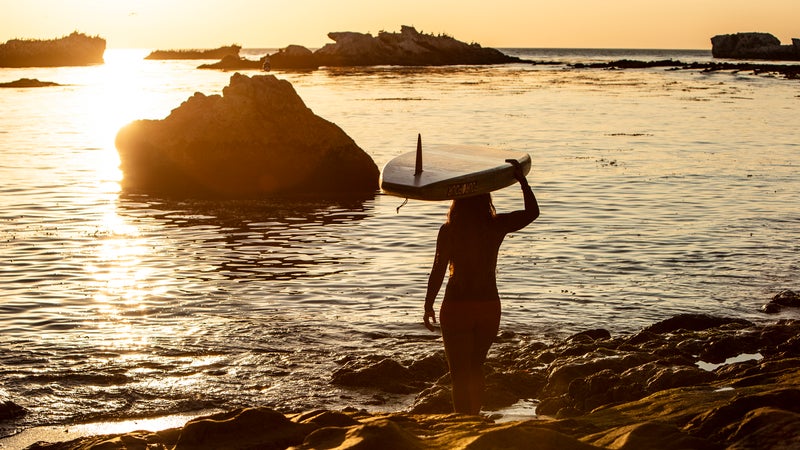 Looking for a day hike or a trail run with a wild feel? Head to Topanga State Park, the closest real hiking to L.A., where you can run or walk to the overlook on Eagle Rock Trail. On a clear day, the views extend beyond the Santa Monica Mountains all the way to the Pacific. But seeing how it's California, it's hard to stay away from the water for too long, and L.A. beaches—especially Malibu—are the hub of the stand-up paddleboarding scene. "They keep calling it the fastest-growing sport in the world," says professional SUP racer and surfer Alejandra Brito, who is training with the dream of competing in the Olympics. Need a friendly place to learn? Head to Redondo Beach, where the crew at Olympus Stand Up Paddle Boardingrents boards and gives lessons.
---
We took the all-new 2019 Ford Ranger all over the country to find where the best adventure is. We went fat tire biking near Seattle, cold water kayaking near Denver, surfing outside of Boston, hot air balloon base jumping outside of LA, and more. We had lots of adventure. And lots of fun. To find out more about the all-new 2019 Ford Ranger, click here.
Lead Photo: joe morahan